Ubereats, Grubhub, Zomato or Swiggy etc..the list of the online food delivery app can go on and on. These food delivery mobile apps are the savior of your hunger pangs. Think of a delectable dish you wish to relish, and it's served on your plate at the comfort of your home by these online food delivery app. Absolute pampering. Right??
With urban life hustle, these food ordering software are making hectic lives easier. These food delivery apps accept orders and deliver food 24*7. Now, with growing demand, the food delivery app is tieing up with individuals who cook homemade simple food and fulfill the orders. While restaurant peppy menus are an all-time hit, simple, nutritious home-cooked meals are also equally liked and ordered.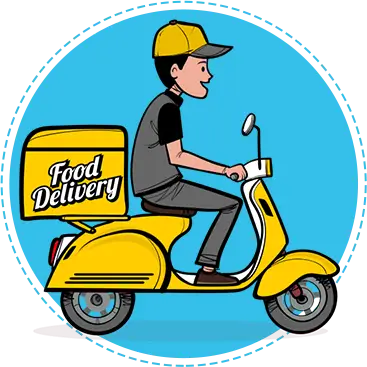 Step By Step Guide To Build Delivery route planner app
Opt For Advanced Technologies
Customization With Separate Panel
Food to Navigation via Smartphone's
Why Create A Food Delivery App? Find Out Below If Your Idea Is Worth It
The food ordering and delivery industry is booming for sure. The facts and figures speak volumes of growth. In 2019, the revenue from the food delivery industry was $94.385 billion, which is expected to grow to $ 134.49 billion by 2023, good 9.3%growth annually.
According to a recent report, the mobile food delivery app market will record a high of 27.9%growth and will reach a $16.6 billion market by 2023. The online food delivery industry is expected to reach $365 billion markets by 2030
Due to the COVID pandemic, there is a 169% increase in the restaurants actively using online ordering and delivery. There was a huge 840% increase in sales volume by the online ordering of the restaurants.
It's clear from figures and statistics that the online food delivery industry has great earning and growth opportunities for restaurant owners, delivery boys, and the owner of the food delivery app of course. So take a plunge into the sea of opportunities and grow by leaps and bounds.
There are a few essential steps to adhere to before getting directly into the field. Let's learn one by one how you can build on-demand food delivery app
Step1: Validate Your Business Plan: The on-demand food delivery apps are a blessing in disguise. Make a conscious effort to validate the business plan you have.
Firstly, try to discover your niche. A niche with the least competition is the best but not always risk-free as well. You can validate your business plan by the following steps:
Analyze The Needs Of The Target Audience: It is very important to understand the need of your target audience and see if your business plan can cater to the needs. You can make online surveys, use different forums to extract the information.
Analyze The Competition Through App Stores: Keeping a close eye on the competitors is a good thing. Try and offer something more or something that your competitors are not able to provide the customers with.
These steps can validate your business plan and let you gain an idea of how feasible your online food delivery business plan is.
Step 2: Plan Your Budget: The second most crucial step before starting a food delivery business is to plan your budget, that is :
See how much investment you can make.
Analyze different funding sources
How to allocate how much money to different areas to optimize the money resource
How to cut down on the cost of operations etc.
A well planned backed up budget can go a long way in establishing a successful online food delivery business. A well planned and allocated budget is the backbone on which your food delivery app will flourish. Lend full time to plan a full-proof sound budget by keeping in mind the above-mentioned points.
Step 3: Decide The Business Model: Now that you have a business plan and budget is also planned, the most crucial step on which the whole success or failure of the food delivery app solutions depend upon is choosing the right model of business. There are three models of online food delivery business. They are described In detail:
The Order Only Food Delivery App: The name of the model itself tells the story. However, let's expand it more. The model allows the user to connect with nearby restaurants and order food. The owner has no headache of delivery. The restaurants take care of the delivery aspects. The restaurants pay 7%to 15% as commission for each received order to the owner of the food ordering software. Zomato is one example of the business model.
The Order And Delivery Model: The marketplaces like Caviar, Deliveroo use this model. This is an integrated food ordering and delivery app. The users can order and get their food delivered directly. The app owner ties up with restaurants and delivery boys and earns a commission. The delivery charges are nominal and the delivery is fast. Ubereats app uses this model and customer satisfaction is 60%.
The Fully Integrated Model: In this model, the company prepares meals, delivers to the customers. The company builds food ordering software. There are no restaurants involved in the process. Corporate clients are the main customers of such food ordering apps. They aim to prepare tasty and healthy meal plans for corporate clients at their offices. The plan however needs large investment and the right resources. Metabolic meals are one good example of such a plan.
So, you can choose one model and build a robust food ordering app depending upon the resource available at your disposal.
Step 4: Build A Food Delivery App: In the process of how to build an online food delivery app is getting your business plans and ideas taken in the shape of a food delivery app. For this, you have to take the help of the experts. Food delivery app development companies with comprehensive experience in developing on-demand food delivery app solutions can do your job. As per the records, around 204 billion app downloads in the year 2019, shooting the mobile app revenue to $462 billion. It indicates clearly how mobile apps can help you boost the business and extend your reach to the targeted audience. While developing a food delivery app, take care to integrate following must-have features of the food delivery app
Easy registration
Profile management
User-friendly UI/UX
Easy search option
Easy list or recommended list
Preferences on the home page
Seamless payment method integration
All GPS tools incorporated
Ratings and reviews
Push notifications
Offers, coupons, discounts
Initially, you can go for a minimum viable product but these must-have features that your food delivery app should accommodate.
Step 5: Integration With The Best Logistics System: When you are in the food delivery business, delivery is the only main concern. How quickly you deliver the order and how effectively without much trouble to the delivery and the client. So, it's imperative to have a good logistic channel to pick up easy routes, routes with the least traffic, etc. A well-designed logistics with feature enriched food delivery app is a total game-changer in your favor.
Step 6: Market Your Business With Innovative Marketing Strategies: As all the background work is done, from finalizing the business plan to allocating resources and building a food ordering app, it's time for the final show. The app is for the foodies, your clients, make sure-shot efforts for the food delivery app to reach its target audience with marketing strategies. You can resort to social media platforms, blogs, run ads, etc. Make sure your first impression is the best impression.
How To Grow Your Online Food Delivery Business With A Route Planner App
If you are into an online delivery business, like grocery, food, flowers, etc. Delivery on time is crucial. It's especially important in the food delivery business where delivered on time and with the freshness of food is what foodies expect. The better your service, the best is your reputation. And it goes without a mention that
HAPPY CLIENTS ARE ASSET.
With digitization, nothing is difficult. There are numerous route planner apps that can help your business with its best and unique features. Read along to find out why route planning is important and how you can grow your online food delivery app with route planner app:
Find Out The Best Route: The route planner app helps find out the best route to the destination. Bestbrourr means the route which is a shortcut route, less traffic, less road blockage which will together fasten the delivery process.
Take Up Multiple Deliveries: When your online food delivery business will start getting more orders, it will necessitate you to make multiple deliveries to complete each order on time. The route planner app will help you to upload the multiple addresses and the algorithm pops up with an optimal route to make multiple deliveries in time with less fuel and less labor.
Reduce Logistics Cost: In the food delivery business, almost 30% is transportation costs. When the route is optimized, fuel expenses and delivery labor is optimized cutting down the cost.
Enhances Customer Satisfaction: When you are in a food delivery service, you can't keep your foodies waiting for long. With a route planner, deliver on time and satisfy their hunger pangs.
Offers In-App Scanning Of All Parcels: The route planner app allows in-app scanning of the parcels to be delivered. The in-app scanning helps drivers to check the parcel before delivery, avoiding the wrong deliveries. In addition to it, it helps the dispatch team to complete their checklist through the automatic system.
6 Essential Features Of Route Planning App:
Plan unlimited routes and unlimited stops
Upload delivery spreadsheets directly in the app
Track delivery progress
Enable round trip route
Automate reports weekly for sales insights
Save hot routes and addresses.
Now, let's check out the different route planner apps.
Top Route Planner Apps:
There are many route planners apps that you can use to fit your online business plan.
1. Google Maps: I'm sure we all have used Google maps for finding out the exact route to our destination. It's quite easy to use and exact on its location finder.
Advantages Of Google Maps:
Free to use, can download from the play store in one click.
Accurate ETAs
Monitors real-time traffic
Gives turn by turn navigation
The Disadvantage Of Google Maps:
Doesn't optimize multiple routes.
Have to manually type each address.
2. RouteXL: Is a great app to find out the optimum route
Advantages Of The Routexl:
Available on their website
Free uses up to 20 address
The paid version can let you use up to 100 address
The Disadvantage Of The Route XL:
Only available on the third party website
Cannot load spreadsheets
Cannot set up for individual drivers with different shifts and starting locations.
3. Onfleet: Is a good route planner app for small. or big business
Advantages Of The Onfleet:
Various settings for each delivery
Effective route optimization
Specific time window service duration
Real-time tracking
Available on play store and
The Disadvantage Of The Onfleet:
The android app is prone to crashing
The basic package is costly.
4. Multi-Stop Route Planner: It allows to curate multiple stops, decides the route which avoids traffic.
Advantages Of The Multi-Stop Route Planner:
Custom stop curating helps in timely and accurate delivery
Sync with team members by saving routes
It engages the user by providing details about routes, stops, etc
Smart reporting by XLS, PDF and CSV file generation
The Disadvantage Of The Multi-Stop Route Planner:
No continuous voice assistance
Can't reverse the route and sync the unsaved routes.
5. Route4Me Route Planner: This is a comprehensive route planner. Its yearly subscription cost is USD 70 monthly which provides unlimited stops.
Advantages Of The Route4me Route Planner:
It's very user friendly
Saves time
Cost-efficient
Can use multiple addresses daily
Voice assistance for proper navigation
Puts drivers pickup, route, deliveries in best sequence as.per the optimized route.
Used by FedEx, DHL, Amazon flex, On Trac drivers.
The Disadvantage Of The Route4me Route Planner:
You cannot message routed directly from the app to another
Not so good customer support service
Cannot go back to older routes
6. Waze: The Waze mapping software updates instantly about the route, traffic, and other hazards on the delivery ride. It's one of the most widely used route planner apps.
Advantages Of Waze:
Gives precise Information on accidents, traffic, police, etc on the delivery ride
The app is directly connected with car display
It also informs about cheapest gas stations on the way
Disadvantages Of Waze App:
Doesn't work offline.
No continuous voice assistance
Not so user-friendly in-app functionality
A Few Other Popular Route Planner App Are:
Road warriors
Badger maps
Routific
Route savvy
Final Thoughts:
With the rapid rise in the on-demand online delivery services, the food delivery business is hitting a great high. And the coronavirus lockdown has even instigated the growth to its maximum potential. It's like the golden time to float in your online food ordering and delivery app and make the most out of it.
In this article, we have elaborated on the concept of the online food delivery business, its various aspects and also explained how a route planner app can help in achieving the aim of the business, which is ON-TIME DELIVERY AND CUSTOMER SATISFACTION. A good feature enriched online food delivery app integrated with the best route planner app can go a long way in the success of the online food delivery business.
We hope this article provides you with all the information required to get started.