Decentralized Ecommerce platforms have become a new norm in the digital world. These platforms are loaded with advanced features and functionalities for the safety and security of users' data. 
Building a platform with the state of the art that works for low transaction fees & a user-driven experience can help to achieve unmatchable business opportunities. Unlike traditional platforms, decentralized e-commerce platforms help to resolve ongoing business operations and make a business a trustworthy platform in the modern era.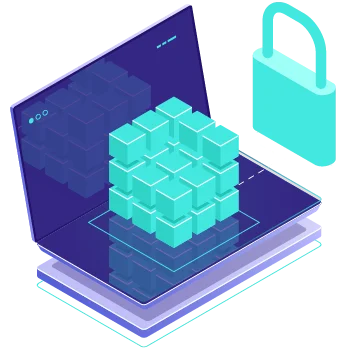 Want To Redefine Your Business Idea? Give Us A Chance!
We are a well-recognized Enterprise Blockchain development company serving businesses across wide industry verticals with best-in-class blockchain solutions.
Get in Touch
You are at the right place if you plan to build a decentralized platform that ensures 100% data security and enhances business transaction speed at a low cost. Here, we will discuss in detail the benefits of a decentralized platform and how you can build it.
You can also fill out the form and schedule a 20-mins consultancy to build a blockchain-based eCommerce platform.
Let's scroll more and understand the potential & building scenario of the eCommerce industry for betterment.
Why Build A Decentralized Ecommerce Platform?
The advantages of building an online marketing platform on the customized blockchain are clear to almost everyone. Let's spread light once again. 
Secured Transactions
Easy Procural
Efficient Provide Chain
Real-Time Chase
Seamless Purchase Expertise
Customer Privacy
Loyalty Reward Programs
Scheduled Delivery
Reasonable Value Worth
Flawless Logistic And Transportation Management
Blockchain In Ecommerce
Blockchain technology has already paved the way for modern businesses with whole new revenue-generating opportunities.
Ecommerce is one of the leading platforms that modify the country's economy and let it outshine, irrespective of the circumstances. But from time to time, the platform faces certain challenges and issues related to data safety. Their blockchain technology helps to make every trading transparent, unchanged with the network and helps to trace back dealing details.
The anonymous feature of blockchain technology keeps the information safe and untouchable by authorities. The extensive features and functionalities such as Machine Learning, Artificial Intelligence, the Internet of Things, and more allow owners to understand customers' tastes and preferences. Accordingly, businesses offer attractive offers to drive leads and sales. Adopting Blockchain technology in e-commerce platforms also ensures a secure payment gateway to sell your digital assets and get money in customized crypto wallets.
The ultimate approach of blockchain technology keeps the eCommerce business-enhancing and expanding.
Various Blockchains Technologies To Build Decentralized Ecommerce Platform
There are various blockchain technologies available in the market that make your eCommerce platform a perfect fit option. These technologies enable faster transaction speed, low processing time, and affordable charge services. The top-rated blockchain technologies to build your decentralized platform are:
Ethereum
Hyperledger
Polygon
Polkadot
Solana
Corda
How to build a decentralized eCommerce platform?
Now you have enough knowledge about a decentralized Ecommerce platform, now it's time to build a platform. Here we have a few brief steps that will be discussed in detail during the development process.
Find out your business purpose and scope of project development
Build a proof of concept to understand project layout & technical feasibility.
Team build for project planning and design
Product launch and release
Final product marketing is essential.
1. Gather Business Requirement Information
The first step is to define your functional and business requirements for a decentralized eCommerce marketplace. For this, you can divide the task into small fractions. For instance, you want to use open-source code, peer-to-peer transactions, zero-commission transactions charges, or more. You need to focus on open-source code that creates peer-to-peer transactions at the lowest possible cost. Your selected blockchain technology can make online secured, transparent, and efficient payment processing.
2. Design Your Market Ecosystem
There is a need to set specific rules about the NFT platform or other eCommerce platforms for registration and effective buying and selling worldwide. To enjoy the ultimate advantages of shopping from anywhere, make sure your platform should be embedded with a less complicated ecosystem, where users can trade without any restrictions. Otherwise, users will skip your platform and plan to access the marketplace.
3. Plan Accomplish Architecture
The next step is to define your business architecture, it could be a little daunting task as you have to decide between the market server and transactions server for enhanced security. For this, you will need an experienced blockchain developer's opinion. Our developers at Suffescom solutions are ready with our blockchain consultancy services before building. It will help you to take the best industry platform advantages. 
4. Design User Interface
Your eCommerce platform interface should be clean and user-friendly. Your users can get information and navigate through the platform easily. The web or app interface should be responsive and easy to adopt, irrespective of the screen size. You can catch our designing team, which creates Minimal Viable products before building a final version of the platform. You can ask for amendments to make it a convenient choice for your users.
5. Create API Integration Specs
Developing API integration is an important part of an eCommerce platform. It helps to add customer-focused features that make the platform convenient to use. The API integration includes data type, response format, response code, and mode that make it capable of automatic task completion and allow users to enjoy multiple cloud platforms. Considering the right type of API, businesses can develop faster, better, and at a lower-cost platform.
6. Test The Market Backend Process
It is important to focus on eCommerce platforms' backend process. Testing helps you to find whether every piece of code is functioning properly or not. It also helps you to fund bugs – manually and via the system. Our team conducts precise testing of every software and coding to ensure everything is functioning properly or not. We have a team of dedicated project developers who only work on testing segments. If the error is found, prompt actions are taken by the team to make a trustworthy and bugs-free platform.
7. Test Frontend Functionality
In a decentralized eCommerce store, another crucial step is to go with front-end testing. This testing defines the real-time experience of how the users will interact with your platform. Therefore to make a friction-less experience, blockchain experts start by conducting purchase item testing. From downloading apps to registration, in cart items verification, resolving address issues, and making payments. Everything is verified by testing developers on your platform. 
8. Deploy Your Platform
You need to launch your platform by confirming only two factors at this stage. The first is to check the internet connection. It enables smooth machine functioning on nodes that ensure autonomous peers in the marketplace. Secondly, you need to be sure that your nides can verify ownership of ERC721 tokens (in the case of the NFT marketplace).
Still, if you have a query regarding decentralized e-commerce platform development, reach us NOW!
How Much Will it Cost to Build a Decentralized eCommerce Platform?
The cost of building a decentralized platform is based on several factors – features, functionality, blockchain technology adoption, smart contract building, APIs integration, analytics power, and more. Every step adds value to your project but increases the business budget too. Normally, decentralized eCommerce platform cost ranges from $70000 to $120000. To know things in detail, you can also approach our experts, who have a complete picture of eCommerce decentralized project development.
Why Choose Suffescom Solutions for a decentralized eCommerce marketplace?
We have a team of blockchain experts here who have already served global clients and delivered user-centric projects. We consider building a platform is not our job, but consider it our PASSION to build innovative solutions. Know more about us:
Cybersecurity Professionals
We build a fully secured solution that complies with cybersecurity norms, considering the data privacy and confidentiality forms. We leave no stone unturned that can lead to system or platform failure and harm your business image.
We focus on clients' needs.
With 13+ years of expertise in building eCommerce stores, we have a solution for every challenge. Our experts only eliminate those complications in the beginning stage to make a flawless platform.
Shaking hands with Suffescom Solution means you are looking for a perfect solution with the ability to expand business reach globally. Our every solution is perfect in terms of management requirements, business needs, customer expectations, and more.
On-Time Service under Budget
Blockchain systems must be submitted on time to meet current market trends and automated business processes. Our superior quality platform ley you enjoy business with modern market trends.
Final Thoughts!
Hope you got an answer to every query on how to build a decentralized e-commerce store. Remember, a Decentralized eCommerce store is the industry's future to provide decentralized information available for all but in a secured manner.
As the blockchain is soaring high and it's the right time to jump on the bandwagon. We have the right combination of technologies, designers & developers at Suffescom Solutions, who have developed imbued decentralized eCommerce marketplace, meeting all your business purposes.
To take advantage of modern technology with experts, call us NOW!