For the past few years, we have been looking at the immense rise of cryptocurrencies. Investors globally are keenly speculating the future possibilities of this new technology—the first and, in particular, a cryptocurrency that gained tremendous popularity as Bitcoin. After Bitcoin, the other cryptocurrencies reached the surface in late 2020 and early 2021. After the world got hit by the pandemic wave, there have been sudden shifts, and many holders are utilizing cryptocurrencies as a mode of transaction.
100% Customizable Coinmarketcap Clone
Be one of the best finance entrepreneurs in the market by launching your own Robinhood Like App and get showered through its endless benefits. Increase the profit margins with our multiple revenue generation models.
Suffescom Solutions can assist you throughout the process. We have already developed feature-rich apps like Binance Clone, WeBull Clone, WazirX Clone, MetaMask Clone, CashApp Clone Upstox_Clone
We deliver not just app but THE MARKET SUCCESS TOO.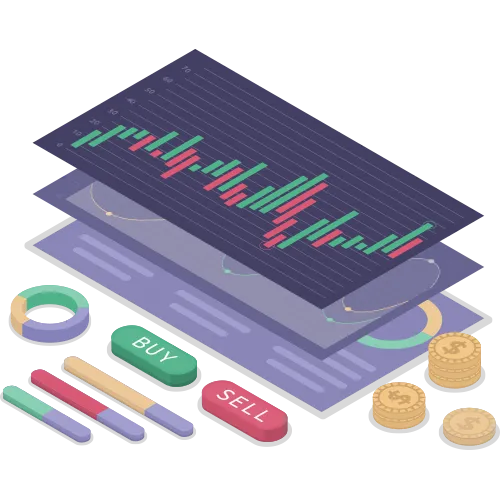 Launch Your Own CoinMarketCap Like Marketplace
Are you looking to make the powerful Coinmarket Cap Exchange Portal? Let's connect with the right people & products that help your dream to flourish.
Approximately $12 billion is being traded daily over the blockchains of Bitcoin, Ethereum, and Litecoin, with millions of users using cryptocurrency for daily payments. When it comes to crypto, prices are generally the focus, but transaction counts demonstrate how extensively a network is used as a means of trade. Daily transactions on the Bitcoin, Ethereum, and Litecoin networks have surged sixfold in just over five years, from 250,000 to over 1.5 million per day.
This way, we can speculate that it may become upset as well. Trading successfully in the financial markets necessitates a wide range of abilities. They include analyzing the direction of a stock's trend and examining a company's fundamentals. Neither of these technical abilities, however, are as important as the trader's mindset. As a result, the optimal investment is to develop a platform that tracks cryptocurrency prices in real-time. You'll be a part of the Web3 universe, and you'll play a key role in producing passive income profits.
What is a CoinMarketCap Clone?
In the fast-increasing cryptocurrency market, CoinMarketCap Clone is one of the most-referenced price-tracking websites and apps for crypto assets. Its goal is to make crypto more accessible and efficient around the world by providing unbiased, high-quality, and reliable information to retail consumers so they can make informed decisions.
The CoinMarketCap platform displays prices, available supply (the number of coins/tokens currently in circulation), trade volume over the previous 24 hours, and market capitalizations for major cryptocurrencies. Historical snapshots, a currency converter calculator, a crypto dictionary, an API service, an events calendar, and a watchlist for users to personalize are all available on the platform. For other websites, the platform also provides a cryptocurrency price ticker widget. The website gathers cryptocurrency prices and creates price averages for users to see.
The Clone is based on the original CoinMarketcap. When it comes to real-time bitcoin price tracking, the platform is unrivaled. It has become one of the most well-known brands in the rapidly-growing crypto-space since its start in May 2013. The website and mobile apps aim to make cryptocurrency more accessible to everyone. And to provide real information that is always accurate and of the greatest quality to regular investors.
Coinmarketcap remains one of the most trusted sources for retail investors, institutions, and media when it comes to comparing the prices of crypto-assets. Our native cryptocurrency EUM currently sits in the top 6% of all CMC-listed assets.
As we have piqued your interest. Further, we will be filling you in on that exactly; cryptocurrency traders need robust apps to serve as portfolio trackers, and startups are stepping in to provide them with some. If you are one such startup, we will aid you in building a Coinmarketcap Clone app in this article.
Jaw-Dropping Features Of Our Coinmarketplace Clone
Events Calendar
Consider all of the upcoming crypto events throughout the world, such as summits, meetings, seminars, shows, and publications, as soon as possible.
Newsletter
By subscribing to the app's newsletter, you can avoid missing important updates, interesting articles, and invitations to special events…
Currency Converter Calculator
Change the costs between the two cryptographic types of money in the constant using the built-in online mini-computer.
Crypto Glossary
Find in-depth explanations of cryptographic money-related terminology to add to your vocabulary.
Day/Night Mode
Switch between day and night settings with a single check for a quick journey across the app.
Favorite Coins
Clients can use this feature to bookmark a few coins that they consider to be their best picks in order to keep track of their favorite currencies.
Top Risers
Administrators can use this component to create a list of the top-moving digital currencies so that brokers can find the bulls on the prowl.
Top Fallers
Administrators can use this component to create a list of the top falling digital forms of money so that dealers can see the bears on the prowl.
What are the Top NFT Marketplaces That We Have Already Cloned?
We have already developed below mentioned popular NFT and Trading NFT Marketplace. All are popular and in demand nowadays. Our clone app is 100% customizable and beyond the original. We can add features in chatbot, AI BI, Analytics and prediction dashboard, and more. Request a demo and launch your own trading app.
Coinbase Clone
Polkacity Clone Script
Axie Infinity Clone Script
Ghost Market Clone Script
Decentraland Clone Script
Gods Unchained Clone
Sandbox Clone Script
NBA Top Shot Clone Script
Why Its Right Time To Launch App or Website Like Coinmarketcap Clone?
A cryptocurrency's value can be measured in a variety of ways, including price. Market capitalization is used by investors to present a more complete story and compare the worth of cryptocurrencies. It might show a cryptocurrency's development potential and whether it is safe to buy in comparison to others as a vital metric.
Let's look at the market capitalization of two hypothetical cryptocurrencies to see how this works.
The market cap of Cryptocurrency A is $400,000. It has 400,000 coins in circulation and each coin is worth $1.
The market valuation of Cryptocurrency B is $200,000 if it has 100,000 coins in circulation and each coin is worth $2.
Despite the fact that Cryptocurrency B's individual coin price is higher than Cryptocurrency A's, Cryptocurrency A's aggregate value is double that of Cryptocurrency B.
It's also worth noting that, because of their volatility, the market capitalization of several cryptocurrencies can swing substantially.
Aspects Of Coinmarketcap Clone Beneficial For Your Users
CoinMarketCap clone allows you to compare the overall worth of one cryptocurrency to that of another, allowing you to make better investing decisions. Cryptocurrencies are divided into three groups based on their market capitalization:
The market capitalization of large-cap cryptocurrencies, such as Bitcoin and Ethereum, exceeds $10 billion. Because they have a proven track record of growth and typically have better liquidity, investors consider them to be lower risk investments. This means they can sustain a bigger volume of individuals cashing out without the price being significantly damaged.
Mid-cap cryptocurrencies have market values ranging from $1 billion to $10 billion, and they are often thought to have greater untapped upside potential but also more risk.
Small-cap cryptocurrencies have a market capitalization of less than $1 billion and are the most vulnerable to market sentiment fluctuations.
Market capitalization is a useful indicator for evaluating the entire worth of cryptocurrencies, but when weighing the dangers of any investment, you must also consider market trends, a cryptocurrency's stability, and your own financial status.
CoinMarketCap Clone Development Services
Charts
The average value is supplied to the chart of prices for the selected token, which are obtained using the site. Keep in mind that this is the best price on the interval; you are unlikely to be able to buy bitcoins, altcoins, or tokens at this price. Why? These are prices from the past; they are no longer valid.
Markets
A list of cryptocurrency exchanges where tokens may be bought and sold This list does not include all existing trading platforms; rather, it only includes those that are connected to the service and are routinely synchronized with the site's database. Beginners, on the other hand, should limit themselves to the exchanges listed above. It's more secure.
Social –a sample of recent records from social networks, including the cryptocurrency under investigation An investor's use of the Internet is tremendously beneficial. In the event of a dramatic drop or rise in price, in order to comprehend the causes for the rate's movement (and not to succumb to stupid throws).
Tools –You may download a free widget for your website that will display the most recent info on the token here. You may see an example of this widget on the right side of our site, where the information about Bitcoin is displayed.
Historical Data – a database of quotes that can be sorted by time intervals. If you want to check the correlation between multiple cryptocurrencies, this information can be informative (later we will publish instructions on how to make it easier if you are creating an investment portfolio).
Paid Plugins Of CoinMarketCap Clone Platform
Integration of a Bitcoin Wallet $1000
Integrate our bitcoin wallet and begin trading with tens of thousands of bitcoin users around the world. It is really safe and seamless.
Integration with WordPress
Using the CoinMarketcap clone APIs, automatically construct a coin page for each cryptocurrency. It's simple to sort by cryptocurrency price, rank, volume, and market capitalization.
Translation of Languages
Choose your favorite language for the app's backend and frontend, and then relax and enjoy the simplicity of the interface.
Price Alerts for Cryptocurrencies
Keep up to date with real-time app notifications as your favorite coins climb or fall in value.
Management of a Portfolio
Manage and track your coin gains with ease in a portfolio intended for easy tracking.
Conclusion
CoinMarketCap clone can be thought of as a rough indicator of how stable an item is likely to be. (It's worth noting that even Bitcoin, the cryptocurrency with the largest market cap, is subject to volatility.) A cryptocurrency with a lot greater CoinMarketCap clone is more likely to be a more stable investment than one with a much smaller market cap, just as a larger ship can safely handle strong weather. Digital currencies with smaller market capitalization, on the other hand, are more sensitive to market whims and can see massive gains or catastrophic losses as a result. Many top organizations have begun to incorporate blockchain technology in their day-to-day company operations, thus owning a bitcoin data website would provide you a competitive advantage. Within a week, you can have your own CoinMarketCap clone up and running.