Are you looking to invest in NFT and launch NFT Marketplace? Run your own NFT marketplace using the NFT clone script to rule the future fintech industry. If yes, here is the expert advice to the businesses on how to build and launch an NFT marketplace clone platform like OpenSea, Rarible, using the NFT marketplace clone script.
What Is NFT Marketplace and How Does It Work When Build Using NFT Marketplace Clone Script?
Go live in 15 min with our fully functional Open Sea Clone Script
The world is moving forward, and so is digitalization. Everything we do nowadays has a digital platform to make it more accessible, easier and quicker. This is where NFTs have come into power, bringing a digital storm across the globe. You can witness the rise of digital collectibles in their selling and trading. This is all because of the NFT marketplaces. Yes, with people going digital, their ownership of digital assets has increased in number. According to the fact, the NFT market value has risen to triple by 2020 and keeps on growing.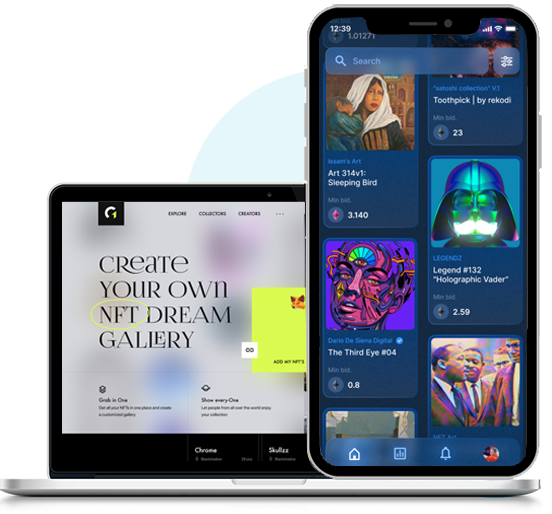 Launch Your Own OpenSea Like NFT Marketplace in Just 15 Minutes
Get the most reliable NFT marketplace platform comprising all the latest features required to turn business into a success.
There is no doubt that NFTs are setting trends and revolutionizing the digital industry to its peak. Many businesses and users because of this reason and looking forward to developing the marketplace. This is where the use of the NFT marketplace clone script comes in. Such scripts make it easy for users and businesses to build an NFT marketplace clone and generate revenue through them. Seems interesting? Keep reading the article further to know what the NFT marketplace is and how you can develop its clone using the NFT marketplace script?
Let's Hear About NFT Marketplace Clone Script
A non-fungible token (NFT) is a unit of data stored in a digital ledger in the blockchain technology system. This system certifies a digital asset as unique and interchangeable. NFT can be anything from photos, videos, audio, arts, real estate, and so on. These digital assets can have copies of the original ones and buyers who have authority over every document. Because it is based on a blockchain system, it allows NFT owners to track their royalties and provide the owner with proof of ownership distinction from copyright.
If Exactly is the NFT Marketplace?
Before we dig into building an NFT marketplace clone from clone scripts, it is necessary, the signup verification and why people are moving towards it. Here we go!
The complete form of NFT is a Non – Fungible Token. NFT marketplace is an entirely decentralized solution that helps users across the globe to trade and store their NFTs. With this, they can earn huge revenue in the NFT marketplace. A comprehensive revenue system developed in the NFT marketplace uses different blockchains ranging from Tron, Ethereum, Binance Smart Chain, etc. With this, it provides users strong ownership, security, and the opportunity to get most of their NFTs. Also, NFTs owners can bid over their NFTs to sell them effectively within the marketplace.
What is NFT Marketplace Clone Script?
To build an NFT platform where you can easily buy and sell digital collectibles, you need an NFT marketplace script. Such scripts make it easy for you to create an NFT marketplace clone that you can customize as per your needs. The script is a readymade platform built using blockchain technology. Having a script can help you to launch a clone of the NFT marketplace within a few weeks. It comprises all the tools and technology built within it. In turn, this makes it easy for businesses or users to start their own NFT for selling their royalties without much hassle.
The script is tested several times and comprises all the incredible functionality that one needs to run the NFT marketplace seamlessly. You can quickly develop and launch your own marketplace within a short time. NFT marketplace clone scripts is a one-stop platform for digital content creators, artists, and crypto enthusiasts to showcase their creativity and increase their sales to the peak.
What are the Must-Have Features In NFT Marketplace Clone Using Script
High-intend UI
The clone script must be featured with a high user interface to provide a seamless experience to the user. And NFT marketplace clone script with high intended UI makes it easy and quick for users to create a perfect marketplace clone.
Admin panel
Admin panel is another feature that is a must in the NFT marketplace clone script. Admin panel helps the user and the one who owns the marketplace manage the NFTs efficiently. One can have complete access to the NFT and can track the selling, trading, and displaying quickly.
Crypto wallet integration
The Crypto wallet integration feature in the NFT marketplace clone script helps you get the NFT marketplace clone to sell your NFTs quickly. To sell the NFTs, you need to have a medium of currency exchange, and crypto wallet integration o have it to the fullest.
Multiple payment methods
No doubt, there are a lot of digital payment gateways that people are using nowadays. In that case, you can't go wrong with having a clone script that does not offer multiple payment options. It is a must-have feature to be included in an NFT marketplace clone for easy exchange.
Encrypted transaction
Security is a priority no matter what you are out to use. This is the reason the NFT marketplace clone script got it covered for their users. Such crips offer clone building with encryption features. The person who starts marketing or trading within the clone offers them encrypted transactions without any kind of loss.
Escrow system
Another feature of the NFT marketplace clone is the escrow system. This one can securely hold the ETH of the highest bidder until the end of the auction within the NFT marketplace. In this way, it reduces the risk of the bidder not go anywhere else with a purchase.
KYC and AMl verification
KYC and AMI verification is a must for secure and easy transactions. For those who are out to invest, trade and sell within the If, the signup verification them a secure place. The 2 step verification that is KYC and AMI make that NFT marketplace clone secure to the peak.
High scalable trading
NFT marketplace clone platform lets users and businesses trade seamlessly. It allows people to trade, store and display any sort of digital collectibles. The platform offers high scalability to the user helping more and more people to accept the platform.
What are the Top NFT Marketplaces That Can Be Cloned Using Our NFT Clone Script?
There are several NFT clone scripts available in the market used to create the NFT marketplace clone platforms. Some of them are discussed below:
Coinbase Clone
Polkacity Clone Script
Axie Infinity Clone Script
Ghost Market Clone Script
Decentraland Clone Script
Gods Unchained Clone
Sandbox Clone Script
NBA Top Shot Clone Script
What are the Major Industries That Our NFT Marketplace Script Can lead?
There are ample segments where NFT Marketplace has come into the picture and provides people with benefits. They are being used in several digital collectibles, some of which are listed below:
NFT for Music

NFT for Photographs

NFT for Arts

NFT for Games

NFT for Real estate

NFT for Domain

NFT for Infrastructure

NFT for Licenses

NFT for Ebook

NFT for Videos

NFT for Audios
How to Get Started With the NFT Marketplace Clone Using Our Script Platform?
Now, if you are well acquainted with the NFT marketplace clone script features and plan to get started. Here is a step-wise guide of how the NFT marketplace clone platform works. Let's begin!
Sign up
The first step to start within the NFT marketplace clone platform is to sign up. The user needs to enter the details and sign up for the platform. However, the site where the NFT marketplace is being created, the signup format can differ. Therefore signup is a must to get started within the NFT marketplace clone.
User Registration
The other step of the NFT marketplace clone process is to register the user. After doing the sign up the user heads towards the registration process. Here, the signup verification is sent to the email address and phone number once you are done with your move for the NFT marketplace clone account.
Verification of Identity
Identity Verification is a critical step in the NFT marketplace. It is where the protection of the account you create is being checked. Here the user ID is verified at several levels to prevent fraud and scams in the future. With this step, one can have the secure working of the NFT marketplace.
Buying and Selling NFT
Once all the verification and registration process within the NFT marketplace is done, you are ready to buy and sell digital assets over it. Although it is a complicated process, this is all for which the NFT marketplace using NFT marketplace script is created. Here is how buying and selling are carried out.
The first phase is to upload the digital asset that you need to sell. Enter the price and expectations.
Once it is done, the next is to start an auction to bid over the digital asset.
The next step is the verification of the digital asset via the NFT marketplace clone. The platform will check the legitimacy of digital assets.
Once it is verified, the next is the listing of the digital asset for sale. Here the item with the price is listed officially.
The last step is when the buyer comes and bids on the product, and the NFT process starts.
Minting the NFT
Minting the NFT is the last but not the final step in the NFT marketplace clone platform. In this step, you need to associate your NFT with the wallet you possess. It can be any Ethereum, Binance, or any other. Once you have started with the wallet, you can carry out the transactions and reap benefits over the royalties.
Reasons To Choose NFT Marketplace Clone Script To Start Within NFT Marketplace
After you know how you can start with the NFT marketplace clone but are still pondering whether you must get a script to create a clone or not, here are a few reasons that will help you make a clear decision.
Practical and straightforward methodologies of design to make the building of the NFT marketplace platform easy.

Easy categorization and classification of the buying and selling assets helping NFT marketplaces to make a pricing difference between different digital collectibles.

Transparent platform providing daily activity tracking, be it trading or transactions done within the NFT marketplace clone.

Provide easy assessing and monitoring of NFT tokens within the NFT marketplace, which no other way can offer.

Provide seamless transactions when any digital asset buy or sold, making it easy for the one to know where their digital assets and savings are moving.

You can have time-bound transactions in the NFT marketplace

The NFT marketplace script makes sure to create a clone that is highly secured and verified. KYC and AMI verification are done within the NFT marketplaces created through the script, depicting the authenticity of the scripts.

When using a compelling script to create an NFT marketplace clone, there is no chance of loss, scam, or data breaching.

History of every transaction, payment, trading or auction done making it easy for the NFT marketplaces to manage their users and customers.
FAQ Related to NFT Marketplace Clone Script
What is White Label NFT Marketplace Clone Script
Whitelabel NFT marketplace clone script is ready to code. We can create any NFT marketplace like OpenSea, Rarible marketplace using our clone script. It is time-saving and cost-effective.
Which Type of NFT Marketplace Can be Created Using Clone Script?
Using our clone script, Anyone can launch an NFT Platform like Opensea and Rarible
What are the top 10 NFT Marketpalce That can be Cloned Easily?
Let's have a look at the top 10 NFT marketplace that can be cloned easily
1. Foundation Clone Script
2. Rarible Clone Script
3. OpenSea Clone Script
4. GhostMarket Clone Script
5. OnlyFans Clone Script
6. PolkaCity Clone Script
7. Sorare Clone Script
8. V.cent Clone Script
9. NBA Topshots Clone Script
10. Decentraland Clone Script
11 Axie Infinity Clone Script
12. Gods Unchained Clone Script
13. Sandbox Clone Script
14. Solible Clone Script
15. Niftgateway Clone Script
Summing Up:
NFTs have transformed the way people are investing and trading within digital assets globally. With time, the value of NFTs and the NFT marketplace is increasingly providing a lucrative platform for many people to own and sell digital assets.
If you are looking to develop or own an NFT marketplace clone using the NFT marketplace script, you are at the right place. We at Suffescom Solution are the leading mobile app development company in California serving worldwide clients to provide best-in-class NFT marketplaces. We pioneer in providing highly functional NFT marketplace scripts that let you launch and start your market instantly.
We understand the need for a bug-free platform; thus, make sure NFT clone app development is carried out in the best way to adapt to your business needs. So, what are you waiting for? Get in touch with our experts today!