"I want to build a telemedicine app but fret about what will be the cost of a telemedicine app" If you are one of those struggling with the same issues. Don't worry. You are at the right place. The blog will cover everything from the cost of telemedicine app development to the launching of telemedicine apps like Teladoc, Zocdoc Clone app.
Today, the outburst of the COVID pandemic raises the demand for telemedicine apps rapidly. Almost every hospital and healthcare center is willing to develop telemedicine apps for their business success and to serve the community to a large extent. If you are one of those, Great!! But concern for the cost of a telemedicine app development. Don't fret; we are here to help you!!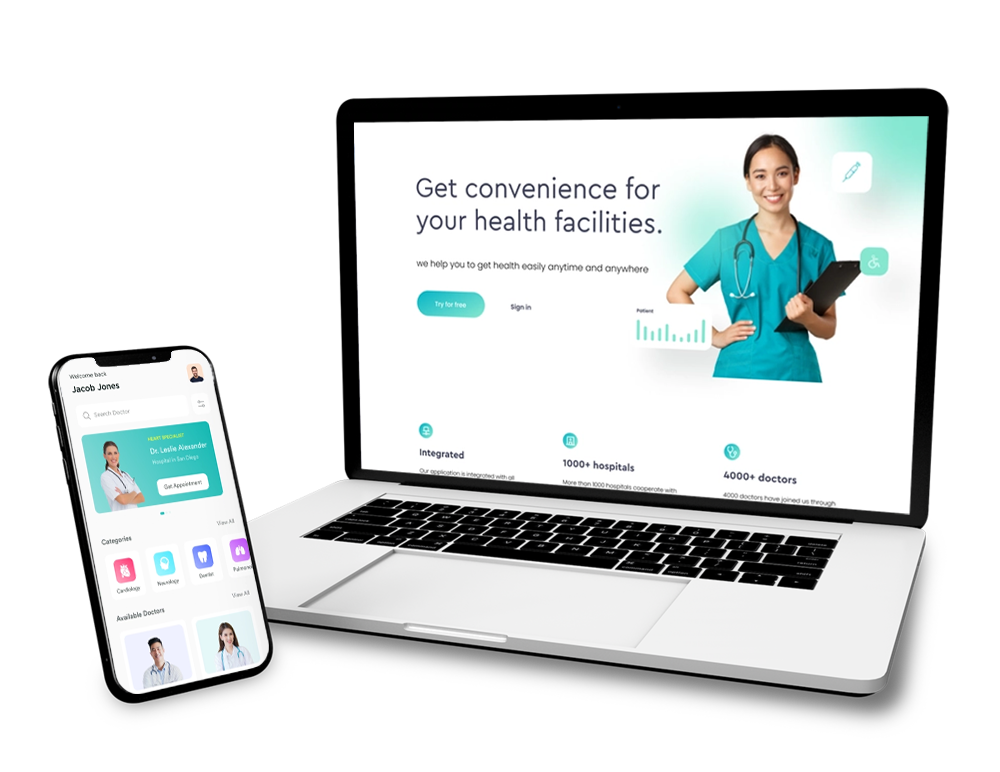 Launch Feature-Rich Telemedicine App in Few Minutes
Get the most powerful teladoc clone app and Zocdoc App to bridge the gap between patients and healthcare experts for quick medical help from anywhere, anytime!
Every app includes an admin dashboard, doctor's app, and patient's app. So, the cost of a telemedicine app depends on all these factors with add-on features, developer's service, legal compliances, and maintenance charges. In simple words, the estimated cost of these features can vary between $60,000 to $95,000.
But, if you want to enrich your app with modern features, like secured payment options, broadcast messages, analytics reports, or more, the cost will be higher. It might be between $120,000 to $185,000 (depending on features). All this will take an average time between 3-8 months, based on project complexity and security.
Top Takeaways:
There will be a shortfall of 46,900 to 121,900 physicians, forecasted for 2032.

In 2020, the top digital health category in the market raised $4.3 billion.

According to Statista, 60 to 75 percent of US adults are willing to use the telemedicine app in their routine life.

70% of users are entirely happy with the telemedicine app services.
Features that Affect Telemedicine App Development Cost
A Telemedicine app is a long-term investment. You need to conduct an in-depth investigation about must-have features in your app. Here we have listed some obvious features for your assistance. Check out these;
Patient Panel Module:
Patients are the end-users of the application. Therefore features must be considered knowing their convenience. These should be simple to use and straightforward. These features are also deciding factors for customers to use or uninstall your app.
Quick Sign Up and Sign In

: Minimum steps signup and registration are highly appreciated by patients, especially when they are in a hurry. Therefore, keep the things like next to nothing.

Simple Call and Chat option:

Whether the patient is using a chat box or video calling, everything should be error-free and just at one click away. It improves engagement level and app visibility in play stores.

Easy to find doctor or book appointments:

Your app must allow patients to look and book doctors from nearby locations. Even if they want to book an offline appointment, there must be an option for it.

Clinical History:

Patients want to add and update general medical records such as prescriptions, medicines, allergies, and surgeries.

Online Payments: The app allows patients to make an online payment via a secured gateway such as cash clone app, PayPal and Payoneer. It builds users' trust in your app.
Reviews And Ratings:

Modern customers always want a platform where they can share feedback. Hence, allow your customers to share valuable feedback so that others can review or follow it.
Doctor Panel Module
Doctors are service providers, and they need features that can assist in serving hassle-free services. These involve interaction with patients via video calls, chats, or voice calls. Some of the doctor's favorite features in apps are:
Profile Management:

Your telemedicine app must have easy to edit and update a doctor's name, address, specialty, photograph, and availability. The easy to edit option and following updated information allows the doctor to add advanced- education or services in the portfolio.

Scheduling Appointment:

After locating the particular medical practitioner, the patient must be able to schedule an appointment with the doctor and define medical conditions. If the specific slot is busy, the system should be able to provide other available doctors at the same time.

Patient Records and Medical History:

Your telemedicine app must be able to store patients' past medical records. It saves time and hassle of checking prescriptions and medicines details.

Digital Prescriptions:

Online prescriptions keep track of patients, upcoming appointments, and upload options assist in adding manual details. It benefits the patients to purchase medicines and look for medical facilities.
Admin Panel Module
Admin panel keeps track of all activities storing user data, performing analysis, generating reports, and broadcasting messages. You can also look at doctors' and patients' activities. If you have created this platform for profit-making, you can easily find out commission charges. Admin panel also provides information regarding the number of users using the app and what features they are expecting. These features provide aid to overcome any cost of developing telemedicine apps.
Further, it is imperative for businesses to adhere to customer data protection regulations. Here choosing the best telemedicine app development company can help you, as they are well-versed with the modern technologies used in app development.
Before discussing technologies, let's check out.
Important factors affecting telemedicine app development costing
Since the digital healthcare industry is producing skyrocketing results and in the long run, experts are expecting better results. Therefore, your decision to step into the fastest-growing technology is outstanding. Suppose you are still worried about telemedicine app costing. Here we have highlighted essential factors affecting telemedicine application cost.
When you start estimating application cost, the first thing that affects your cost is a choice of app platform, like whether your app will be native or working on a multi-platform.
Cross-platform apps are a solution for all gadgets. Developers have to spend huge time and effort testing apps on various devices. On the other hand, native apps are budget-friendly solutions for your business needs, especially when you choose single platforms, i.e., window or iOS.
Your app design is another important cost determining factor. For instance, you are looking for a basic design with limited features, surely, its cost will be less. Whereas if you are looking for a smooth and well-functioned app, you don't have to prioritize money. The bigger the budget, the better the project will be in the context of user retention and designing.
Application size is another determinant for considering the telemedicine software cost. The size primarily depends on the number of features you have selected, like ways to manage doctors' and patient databases. You can also include easy to reach a patient's history, managing reminders, doctor's recommendations, and more.
With the development of technology, users want to enjoy add-on features in your telemedicine apps. These involve Video conferencing, Voice-only calls, Cloud-based e-record storage, Payment gateway, Push notifications, Insurance plan, Digital prescriptions, etc. No doubt, these features provide a great customer experience that benefits the business in the long run but also adds cost.
Technologies Used In Telemedicine Apps
Artificial Intelligence
The combination of telemedicine and AI's technologies revolutionized to bridge the gap between healthcare experts' demand and supply. AI in telemedicine is not only confined to research labs, but also assists in diagnosing, tracking, and treating a wide range of illnesses.
Bear in mind, the accuracy of results gets improved when AI is monitored by experts. In telehealth apps,
AI assists in tracking remote patients, particularly, for patients who are reluctant to leave their homes and stand in long queues. In short, telemedicine is something that provides a prompt solution to users without waiting for a long time.
Internet Of Things (IoT)
IoT has changed the industry with a wide range of high-quality services. IoT empowered smarter devices have been released in the market that helps users to access real-time data. For instance, a smart medicine tracker reminds patients and loved ones to take medicine on time and avoid double doses. It warns the family members if a patient missed something.
Remote Patient Monitoring
Remote patient monitoring allows the doctors to treat patients without actually coming in contact. Patients sitting at one location and doctors at another can safely evaluate and give recommendations for the illness. Even the patients in today's era can access the best medical facilities while sitting on their own couch. During a pandemic, telemedicine apps assist doctors in keeping continuous track of patients' health conditions.
Blockchain
Decentralization, encryption, and immutability are some key factors enhancing the popularity of blockchain technology. Why? These codes are written in blockchain technology, once written, are hard to crack.
Users can store a large amount of information such as medical history, payment gateways in the app without caring for security issues. Best of all, only authorized patients will be allowed to join telemedicine app platforms, and every time a user makes the payment, blockchain modifies transaction details.
Machine Learning
ML has great significance in apps to find and detect frauds. In the healthcare industry, ML helps to provide decisions at a rapid and exponential pace. Chatbots help the customers to reach desired medical practitioners while chatting. Further, AI-based machine learning methods present exciting opportunities for extracting new inferences and actionable insights with the potential to enhance health results dramatically.
Cloud
Today, cloud computing has changed the way data is processed and retrieved through devices. The telehealth industry has benefited after Considering cloud computing in telemedicine apps in many folds. The scalability, agility, and elasticity features make it an ideal tool to get results promptly without putting a burden on your pocket.
One of the advantages of the cloud includes that doctors can directly connect to cloud folders instead of checking emails and files. Notably, doctors can access information from anywhere from mobile, computer, or other gadgets.
Give your dream wings with the best Telemedines app development company!!!
Suffecom is a well-known name for developing telemedicine apps at affordable costs. Our research team has been in the IT industry since 2011 and setting milestones with highly secured and functional applications. We have also empowered many leading pharma and healthcare businesses with the best-in-class telemedicine software solutions.
Conclusion
Telemedicine applications are gaining great popularity in less time. It serves as a perfect platform to replace doctors and patients without physical visits, especially when both are at two different zones and there are non-emergency situations.
Online consultation via video calling, chatting, or voice calling saves patients time and boosts doctors' income. It also helps in lowering clinical operating costs and filling global healthcare gaps.