On-demand delivery apps are taking the digital world by storm. With everyone living a busy lifestyle, the trend is booming and has skyrocketed worldwide. The entry of leading giants like Postmates has drastically transformed the way people shop. Whether courier delivery, food delivery, or else, almost every industry leverages on-demand apps that are here to stay for a very long time. This implies that the people's expectations are on the rise and they want their services delivered faster than ever.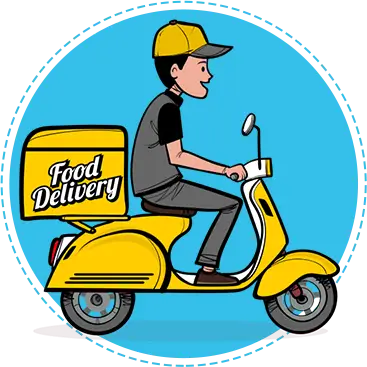 Create An Application Like Postmates
Opt For Advanced Technologies
Customization With Separate Panel
Food to Navigation via Smartphone's
Who can get the opportunity here?
Of course, entrepreneurs like you. You can provide buyers with the same experience and enhance business growth by building your own Postmates on-demand delivery style App. In this post, we will explain the process of developing delivery apps like Postmates and how you can drive massive benefits from such a solution.
So let's get started….
Introducing Postmates
Postmates is the leading name among food and other delivery services that originated in 2011. This all-in-one platform creates a spectrum for merchants and customers to work together to offer on-demand delivery services. All thanks to the unique business model of Postmates that helped the startups acquire a large customer base and massive revenue.
Unlike the other on-demand delivery services, Postmates sets itself apart in terms of reliable services. The platform allows its users to get anything delivered to the doorstep, including food, grocery, or anything in between. The platform has a strong connection with merchant partners, making it easy for users to find the most relevant information. So how Postmates earned the trust of millions of customers:
Exploring & Searching Specific Stores: This feature of Postmates displays the big list of stores and products. Customers using the feature can view the products and use the filters to get the specific one.
Adding Specific products to the cart: Customers can add as much as products they want to buy in their cart. The cart can be used to store each product's details and calculate the total price that needs to be paid by the customers.
Performing Payment Process: Once customers add all the required products to the cart, they can proceed with the checkout process. They have made the payment for the products via an online payment facility. After the successful payment, the customer order will be dispatched immediately for delivery.
Finally, It's Time To Shop: Once the customers place the orders successfully, an app like Postmates will further notify the delivery services providers from where the items have been placed. The delivery agent will store and shop for the products in the next step.
Tracking The Deliveries: Finally, customers can track their orders with the live tracking feature. Also, the delivery agent will remain notified in case there is a delay in the delivery of items.
Revenue Generating Ways Via A Postmates Like App
Are you still wondering how Postmates help you earn revenue from the entire process? The answer to this question is below:
Delivery Charges: Postmates like an app collects delivery charges for every order that customer places. The charges or fee depends upon the delivery location of the customer. For short distances, the charges might be less and for long ones, the charges are quite higher.
Convenience Fees: An app like Postmates also charges convenience fees to customers. The customers are happy to pay for their convenience as they truly want their goods to reach them on their demands.
Does A Food Ordering App Like Postmates Work With Restaurants?
Postmates is the most powerful delivery app designed to help restaurants to engage customers who don't have time to dine in. People can easily search for the listed restaurants and order their favorite foods on this popular delivery platform for restaurants.
Related Article: Food Ordering App 2022
See The Three-Step Working Process of Postmates for Restaurants:
A customer has to sign up on Postmates to place the orders.
A restaurant further prepares the meal and packages it for takeout.
The delivery agent arrives at the restaurant to deliver the meal right to the customer's doorstep on the next step.
An app like Postmates also allows restaurants to interact with their customers directly.
Benefits Of Postmates Like App For Restaurants
Below are some of the most amazing benefits of using Postmates for restaurants:
More Visibility: If you are an owner of a small restaurant, you can have the advantage of getting more visibility by building apps like Postmates. You can also advertise your restaurant on platforms like Postmates. This will help you find more customers.
Wide Customer Base: Postmates for restaurants offer you access to more and more customers. The platform allows restaurant owners to serve people who can't leave their homes.
Boost In Revenue: Having more visibility and more customers are great. The main purpose of the restaurants is to list on Postmates like a platform to take your revenue level to the next level. It allows restaurants to price their food correctly and make good bucks with quick selling.
How Much Does Postmates Charge Restaurants?
Delivery apps like Postmates don't disclose the commission rate but mention that they charged the total product sold pre-tax amount. When restaurants sign up on the platform and partner with them, they have to agree on some commission rate ranging from 15-30 per cent. Below are a few highlights:
Postmates like delivery apps charge a commission between 15-30% or orders from restaurants listed on the platform.
All the orders are processed through an electronic ordering app which is completely free for partners. Means, partnered restaurants can save up to 3 to 6% on credit card processing fees.
Important Functionalities For Delivery App Like Postmates
An on-demand delivery mobile app consists of three main panels: customer panel, delivery agent panel, and restaurant panel. We have created the most important features and functionalities that you can add in your Postmates like app and make it a big hit.
Features Or Functionalities For Customers
No-contact Delivery Options: Doorstep contactless delivery is in trend due to COVID-19. Such a functionality inside the app enables delivery agents to leave parcels outside the customers' premises. The app can be added with the new methods of collecting proof of delivery. Some of them include:
Sending a clicked picture of the ordered items to the customer's location.
OPT based proof of delivery.
Customers can sign up on their smart devices, perform all activities right from there, and avoid contacting the delivery agent.
Advanced Search: An advanced search feature inside the app enables users to search and compare different restaurants and order from their favorite one. The feature allows customers to browse the app by price, cuisines, location, and restaurant names as per the needs.
Real-time Tracking: When customers place orders, they want their items to get delivered as soon as possible. Using features like real-time tracking, customers can track their orders and remain updated with the status, from preparation to delivery.
Favorites: There is also an option in the app that allows customers to make a list of their favorite items. Such a feature eliminates the need to search for their favorite items again and again.
In-app chat: It is common that users may have some inquiries about their orders. In-app chat features inside the app allows users to resolve their specific queries.
Simplified Payment Process: If you are going to build a delivery app like Postmates, it is important that the payment process must be simple, quick, and secure. You can go with the integration of various payment options like e-wallets, credit cards, and any other alternative to securely pay for bills.
Features Or Functionalities For Drivers
Delivery Management: The delivery agent should get orders on time for its delivery. Delivery agents have all freedom to either accept or reject orders. Using the feature, delivery agents keep proper track of all deliveries.
Order Status: The delivery agent gets timely updates and will be informed immediately if there is any change in the order specifications related to order location, addition in any item, and any other change.
In-app chat: In-app chat must-have functionality embedded inside the app so that drivers can contact customers directly with customers.
Functionalities For Restaurants
Restaurant Account Management: Restaurant owners have the option to manage everything at once, right from menu, contact details, and all other things. A restaurant panel of a food delivery app must allow owners to make all kinds of edits and updates.
Accept or Reject Orders: Another important feature of the food delivery apps is that allow restaurant owners to cancel the order anytime. In case an order is taken to deliver, the user has all freedom to cancel it.
Payment Management: An advanced restaurant panel with the feature of payment management allows owners to transfer money from the app to the bank.
Things To Consider Before Gearing Up In The Delivery Industry
So, if you're planning to develop an app like Postmates, you'll need to research and analyze your concept to find out the best path for you. We have a list of things that one needs to keep in mind for successfully entering the delivery industry.
The market Study Comes The First
Always begin by conducting the market research as it helps you evaluate the competitors' on-demand food delivery services. This will put you one step closer to creating the most profitable Postmates-style app. UberEats, DoorDash, and Grubhub will be your immediate competitors in this area. Look into the journey of each competitor, what they advertised, and how they promoted their business. In addition to this, you also don't forget to look at the application insights, metrics, and more. Just keep in mind that careful research is something that can assist you in competing with the market leaders.
Sketching The Right Fit Business Model
Another step essentially entails visualizing your business model. If you're new to the delivery industry, it's a good idea to sketch out a business model initially. It will assist you in getting deeper into the planning process, and you will become a pro-level expert in no time.
Before beginning the development of an on-demand delivery application, it's a good idea to think about all of the potential challenges that could arise during the process. Make an effort to engage with service providers and incorporate their offerings into your own.
Try To Build Something Out-Of-The-Box
Are you seeking the proper solutions to help you create something distinctive while remaining competitive? If that's the case, try coming up with a set of unique features, bonuses, deals, or services that aren't currently available on the market. Just think outside the box! To do so, conduct the market research and define your target audience appropriately. Once that's done, come up with a unique value proposition for your product or service that will make your customers go crazy for the app!
Take a look at the sample of on-demand delivery business app we've created for you:
For Service Providers
High savings on deliveries
Big delivery orders
Wide customer base
For Customers
Doorstep services
User-friendly interface
Special discounts and bonuses
Conducting a Business Analysis
A business analysis is carried out to determine the market demand for your product, service, or apps. It aids in the creation of a buyer persona, the selection of a promotional approach, and the selection of the appropriate monetization model.
You will receive an accurate cost estimate at this stage before beginning the development and related procedures. To accomplish so, you must first comprehend the distinct customer types offered on the market. Various types of users prefer to use a variety of delivery apps depending on their needs, including:
People who are willing to spend a little more to have things, services, or food delivered to their homes.
Restaurants, cafes, and others who are searching for a way to market their services and products without having to invest in developing an in-house app.
Where Does Postmates Deliver – Coverage Areas For Restaurants To Perform Delivery In the USA
Postmates expands its delivery services to more than 1k US cities:
Atlanta
Austin
Baltimore
Bellevue
Berkeley
Bloomington
Boston
Brooklyn
And so much more.
Conclusion
After learning all the countless benefits of building Postmates like apps, you need an expert on-demand food delivery app development company to get started. It is the most important step if you are not from a technical background. So approach an expert mobile app development company like ours to get the on-demand delivery apps like Postmates. We at Suffescom offer delivery app development for the delivery of multiple services via a single platform.