eCommerce marketplaces like Amazon and name a few have taken people's shopping experiences to the next level. Now with millions of active users, Amazon is leading worldwide. This further increased the demand for shopping app development among entrepreneurs looking for massive business revenue and growth. However, developing a multi-vendor marketplace app like Amazon is not that easy one thinks to be. You need to add the right features, implement monetization strategies, and many other essentials. So, how will you go about developing an Amazon-like app? Without further discussion, let's have a look at the details!
Facts & Stats about Amazon and E-commerce Industry
According to a recent survey, most US consumers rely on the internet for shopping. About 95 percent of purchases are likely to be performed online. With the exponential increase in the internet and digital population of 687.6 million people, the online retail business is estimated to be worth $73 billion.
Users like to purchase at stores that give more discounts and coupons. Experts predict that by the end of 2021, US mobile commerce sales will surpass $420 billion, owing to the three times the greater conversion rate of mobile applications than mobile sites. The way people shop has changed due to technological advancements, and the e-commerce sector has undergone significant changes as a result.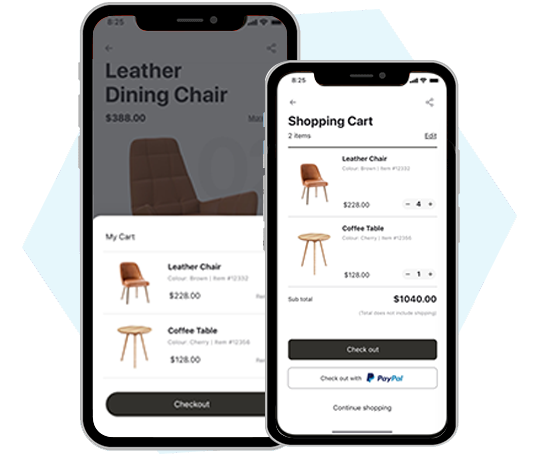 How to create an app like amazon?
How Much Does It Cost To Make An App Like Amazon
App Design
App Platform
App Size
The Growing Need for an eCommerce App like Amazon – Reasons Explained!
It's fair to say that Amazon is the world's most successful eCommerce platform as of now. Thanks to the pol app, that played a crucial role in the success of Amazon. Looking into the core of the app, credibility is something that Amazon has gained over the years. The rich usability and flexibility make Amazon popular. Another benefit of the Amazon-like eCommerce app is that it has brought several new technologies to improve processes.
Below are a few major benefits of eCommerce apps like Amazon:
More enhanced brand value
Gain Higher Business Profits
Provides better customer satisfaction
Enabling sellers to connect with the worldwide audience.
Business Model Of Marketplaces Like Amazon
Amazon became a one-stop-shop for everything. The online store is the foundation of Amazon's business model. Another important aspect of Amazon's overall business model is Amazon Prime, a subscription-based program that encourages users to spend more money and become more engaged with the platform.
Aside from that, Amazon has its AWS cloud infrastructure, which is the best globally and a profitable business. Aside from that, Amazon assesses its success by focusing on the customer experience, cutting prices, maintaining a stable technological infrastructure, and generating free cash flow.
Steps Explained In Building Amazon Like App – How to create an app like amazon?
Market Research on Your Things: When it's about how to make an app like Amazon, the first step is to decide which products to sell and who your target market is. After completing this, the following step is to conduct market research in your niche. Conduct thorough research by spending some time on the internet to see what other applications sell similar products. This will assist you in making the best selection for your business plan, and you will be able to move forward without fail.
Make List of Features for Amazon Like App: The features used in an app are the most crucial thing to consider when designing an app because they will determine the app's future scope. You must improve the usability of an application that should be simple to use. The user experience will be improved as a result of this. Creating a straightforward application will attract more users and convert them into prospective clients. Here are some of the features you should think about while creating an Amazon-style app:
Login/Signup: Users' login and registration should be simple and quick, requiring only the most basic information.
Ease of Use and Navigation: An e-commerce app is a location where individuals scroll through possibilities and search the entire app for what they're looking for and then end up buying stuff they didn't want to buy in the first place. To provide a good user experience, it is critical to provide easy navigation and UI.
Advanced Search: You must improve this feature so that users may search for anything they want and receive an acceptable result.
Show Related Searches: To optimize the shopping experience, a relevant product must be displayed when selecting a certain item.
Wishlist: By enabling this feature, users will be able to save things they might like to buy in their wishlist and keep track of price changes.
Many Payment Options: Multiple payment options should be available for greater convenience and a better buying experience.
Multi-currency Support: If you want your app to be successful and popular worldwide, you can't afford to ignore this functionality. Users would be able to purchase things from all around the world due to this.
Return Item: You should implement this feature to increase user trust and ensure that they can return an item at any time if they don't like it. This will increase sales.
Easy Checkout: The checkout process should be simple and quick, requiring only the most basic information.
Push Notifications: Notifications for any app are one of the nicest features. By including this function in your app, you may increase user retention by alerting them about discounts, special deals, new arrivals, and more.
Ratings and Reviews: Users prefer to buy a product after reading reviews; thus, by including this feature, users will be able to rate the product they have purchased, which will assist other customers when making a purchase.
Select the Appropriate Operating Systems: The next stage determines the platform for attracting users. Google Play Store and Apple App Store are the two most popular platforms. Let's look at some of the aspects that will help you choose the best platform for your app launch.
Use Industry Best Technology for eCommerce App: Technology stack plays an important role in building eCommerce apps like Amazon. If you want to make an app like Amazon, there is a large ecosystem of programming languages, databases, and other most essential technologies. The overall performance of your eCommerce app totally depends upon the kind of tech stack used by the app development company. Below is the technology stack you can take into consideration to build Amazon like app:
Front-end Technologies: HTML, CSS, Javascript, Node.Js, Angular, React.js
Back-end Technologies: C#, web server
Databases: MySQL, MongoDB, DynamoDB, PostgreSQL
Find The Best E-commerce App Developer or Company
Hire In-house Developer
Pros: If you engage in-house eCommerce app developers for apps like Amazon, you can communicate with them face-to-face and ensure that they fully grasp your requirements. Working at the same office during the same hours allows for clear communication. Face-to-face communication reduces misunderstandings and improves efficiency.
Compared to outsourced development, in-house development is substantially more expensive. It isn't easy to find a good app developer at a reasonable price. The booming IT market has increased demand for tech expertise, making it difficult to locate an app developer due to the increased competition.
Outsource App Development Company
Pros: Several companies throughout the world provide low-cost services. Many technical people with knowledge and experience are available in the IT sourcing market. Outsourcing gives you a lot of options for finding the best app developer. Depending on your needs, you can increase or decrease the number of professionals involved in the development process. Outsourcing app development allows you to spend less time on recruiting. It aids in the speedier completion of your project.
You can use Suffescom as your outsourcing partner to increase your company's efficiency. You can grow larger and obtain a competitive advantage by continually increasing your reach. We have a combined experience of more than 12 years in this field. We give excellent service at a reasonable cost without sacrificing quality. Our only aim is to satisfy our customers. You may rest and trust us with the full app development process.
How Much Does It Cost To Make An App Like Amazon
Developing an app similar to Amazon is somewhere between $8,000 and $25,000. Wireframing, UI/UX design, programming, testing, and launch are all included. The price of an eCommerce app also varies depending on the platform, features, and complexity. Also, there are some factors you can take into consideration to determine the cost of an app like Amazon:
App Design: You can hit the app store with an attractive and user-friendly app design. A simple app design costs less than a complex app design.
App Platform: Because of the increasing use of Android mobiles, the cost of Android apps is quite higher compared to iOS apps.
App Size: Several features and functionalities in combination measure the size of the app. If your budget is less, you can consider adding a few features.
Conclusion
Now that you are well known for how to create a shopping app like amazon, you have to evaluate the costs of each phase. To develop an Amazon-style app, you should make it cross-platform to run on several platforms like iOS and Android. Because there are so many applications on the market nowadays, you must think outside the box and be distinctive to stand out from the crowd.
You also need to employ an experienced amazon clone app development company to turn your thoughts into reality, such as a perfect online shopping app like Amazon. Suffescom, being one of the leading companies, is the best option for you. Get in touch with us right away!