Our advanced technology has paved the easy way of doing business with a touch of a button. The concept of waiting and waving for taxis on the road has been greatly replaced. The increasing demand for convenient transportation has brought the ridesharing practice into limelight.
With Uber and Gojek in the lead, many others struggle to make their mark in the flourishing transportation sector. And, of course, why shouldn't a newcomer in the taxi sector opt for this trend when numerous ride-sharing apps promise faster, efficient, and comfortable rides for everyone.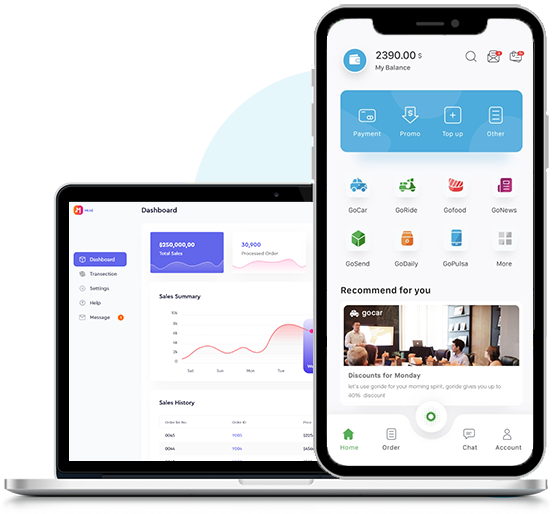 How To Start Your Own On-demand Ride-share Business
Ride-Sharing Services
Carpooling Services
Peer-to-Peer Car-Sharing Services
If you are a startup looking for a great business idea, you can think about joining the bandwagon of this ever-blooming ride-sharing business. So how to start a ride-share business? This post helps make your idea beneficial and find the engagement of riders in the early stage.
Ride-sharing Apps Are Making A Huge Difference In The Taxi Industry – How?
If we talk about the major factor that concerns every passenger is "waiting time." With this in mind, the concept of a ridesharing app was introduced and came into the picture. In a few clicks, individuals can now book their rides, and all they need is to mention their pick-up location and destination in the app.
The search mechanism of the ride-sharing app will connect the users with nearby drivers. This further saves the time of the passengers they spend waiting for their rides. Ride-sharing apps are quite simple and easy in terms of booking taxi rides. Ride-sharing services with huge success made a huge impact in the global market.
When comparing regular taxi services to ride-sharing applications, there are a number of key distinctions to consider. You can better appreciate the breadth of establishing a ride-sharing app if you understand those main differences. Take a look at some of the major distinctions.
Mobility Is a Boon: The predicted arrival time is substantially less when using on-Demand ride-hailing app Gojek, Uber Taxi. The app's technology connects the passengers' destination with available drivers in the area. As a result, the pick-up and drop-off times are managed efficiently. Accepting or refusing ride requests is completely up to the drivers.
Fixed Ride Fares: The ride fares are computed using algorithms that include factors such as journey duration, distance, traffic, and en route uncertainty. Users are informed of the fare quotation at the time of booking. As a result, they will not have to pay any further fees at the end of their journey. Users can, however, browse the sorts of vehicles available at the time of booking and choose the one that best meets their needs.
Payment Options: There are a variety of payment options available. When it comes to ride-sharing, the app offers a variety of payment methods to consumers. People prefer con-tactless transactions in the current situation. As a result, some apps have integrated various banking options into their portals, such as online banking, UPI, card payment, and so on.
Varied Types of Ride Sharing Services You Can Pick For Your Taxi Startup
When developing a ride-sharing app, it's critical to think about the numerous included types. The following is a list of the various types of services available:
Ride-Sharing Services: One of the most recommended types of taxi service one can pick for a taxi startup. Users can utilize ridesharing apps to enter their pick-up and drop-off locations and plan for a ride accordingly. Also, it is not necessary to share taxi rides with others as you can also go with individual service. The most popular examples of ridesharing apps are Uber, Lyft, Gojek, and name a few.
Carpooling Services: Carpooling services are unique. In this, the driver will keep you up to date on the trip plans. Those planning to travel to the same location are all welcome to join the same ride. The carpooling ride will be updated with the same information, and users have all freedom to book rides using the app.
Peer-to-Peer Car-Sharing Services: This app service is for people who own automobiles or companies that own cars. They'll hire out their automobiles to others who want to take a ride in them. The app will be updated with the renters' information. Using an app, users can request an automobile, and the app will remain updated with the latest rental rates so that users can book them at their convenience.
How to Make a Ridesharing App In A Few Simple Steps
Now you will learn how to create a rideshare app in this section. We'll walk you through each stage and explain everything thoroughly. Let's have a look at the first step.
For your rideshare app, conducting market research is vital
You have to make a list of the finest ridesharing apps that are currently accessible. In general, users of the app communicate their needs and challenges in the feedback section. It enables you to plan for your mobile application properly.
Examine all of the applications to understand better how they work and how they flow. You can examine the application's features and its UI and UX. Also, keep an eye out for your competitors' blunders. All of these factors will assist you in identifying a market opportunity for your app.
Determine market trends to learn about your users' needs.
Conduct market research to make strategic decisions.
Examine your competitors' social media channels to learn about their techniques.
Understanding the concept of building a ridesharing app
Types of Panels
If you're wondering how to establish your rideshare app, the first thing you should think about is implementing its best features. Ridesharing app development is undoubtedly reaching new heights with rising demand and market share. A good ridesharing app should include a customer panel, a driver panel, and an admin panel. The best rideshare app has a script that can be edited, deleted, and added new features according to the owner's needs.
Customer Panel: You are all welcome to join the booming ride-share business market, whether you are a new startup or an established one. The smartest and most effective approach to stay afloat while riding higher in the market is to have a one-in-a-million ridesharing app with the correct functionality and careful design. Launch thinking about how to start a rideshare company from your customer's standpoint. You need to provide them with the experiences they desire.
User-Friendly Sign-up: This is the initial interface your users will interact with your app. You must ensure that the sign-up process is user-friendly.
Real-Time Tracking: Once a user has successfully requested to share a car ride, the real-time tracking system must be activated immediately. Typically, apps include a Google maps API that aids in the tracking of a driver's movements. This GPS tracking is a boon to the riders because it prevents miscommunication and inconvenient situations, especially when multiple riders are involved.
Ride Cancellation with No Hassle: A rider should never feel obligated to take a cab just because they booked one. If they feel like canceling the journey at any moment, they should do so! Your new ridesharing app should include a flexible interface that allows you to cancel the journey quickly. When it comes to the cancellation fee, you should include a time limit during which cancellation should be free.
Push Notifications to Keep Users Up to Date: Regularly interacting with your user base is a terrific way to keep them engaged. At the end of a ride, your app should be able to communicate ride details, ride start notifications, and fare details. You should also use these push alerts to communicate about any current discount deals.
For Drivers
Apart from the standard functions like sign-up, notifications, reviews, chat, and support, there are a few more that give the driver's panel more power:
On-boarding driver-friendly: You will need drivers to join you on your new road to profit. The UI for the driver of a car ride-sharing app should make account creation simple. For quicker sign-up alternatives for the drivers, you could include the same Google and Facebook login.
Accept/Reject Ride Requests: The driver is just as vital as the rider for the business. Assume responsibility for providing people with the option to accept or decline transportation at their leisure. This will encourage them to continue using your carpooling services.
Built-in Navigation: Your mobile app development company must also include map navigation on the driver's side. This will not only assist the drivers in arriving at each rider's location on time, but it will also assist them in taking the shortest route feasible.
Integrated Payment System: Integrated wallets should be a priority for your ridesharing app development efforts from the outset. It allows consumers to pay quickly and easily, and it allows drivers to receive those payments quickly.
Simple Driver Dashboard: Each driver should have a well-maintained profile in your database. When a driver goes to their dashboard, all necessary information should appear.
Other Special Features: You've reached the right site if you're still wondering how to start a rideshare company and what additional features may be added to make it more popular.
SOS Feature: The need for an SOS button has become critical in the context of rideshare emergencies. Whether it is the fault of the driver or the rider, both must be able to communicate an emergency in order for prompt countermeasures to be taken. Assured safety is, after all, an essential component that contributes to the reasons why the best ridesharing app of all time was created.
Exciting Offers: Your ridesharing company will require aggressive branding as you add new customers to the database. The best-proven marketing approach of all time is to provide new users with special incentives and discounts. You can also provide a referral benefit to your users who help you grow your user base.
Tide Scheduling in advance: Your carpooling app should allow users to reserve a ride ahead of time. Because consumers frequently want to avoid arranging rides at the last minute, this will be an added convenience.
Choose a Mobile Development Platform
To build a ridesharing app, you must first choose a platform. You are choosing between a native and a hybrid platform. You need to gather a basic understanding of both systems. Native mobile apps are created exclusively for a certain platform, such as iOS or Android. On the other hand, hybrid mobile apps are built to run on both platforms, regardless of the operating system. You must decide on the platform for your app based on the needs and preferences of your target audience.
Hire an App Development Company
Hiring an app development company can assist you in turning your concept into a fully functional product. An Android and iOS app development business is familiar with the competitive industry and has dealt with challenges promptly to meet your needs. Hiring a ridesharing app development business has the advantage of bringing together all of the necessary resources under one roof. Furthermore, app developers have the knowledge and experience to create a ridesharing app using the most up-to-date technologies and make suggestions to improve the overall product development.
Create Wireframe and UI/UX of the App
The goal of creating a wireframe is to understand the app's workflow. Making a wireframe allows you to sense the final product's design. Assists you in laying the groundwork for your app.
Development of Ride Sharing App
You can design a ridesharing MVP version of your app if you only want to develop a rideshare app with a few features and a small budget. A minimal viable product (MVP) is a product that is created with the least amount of effort and the most amount of study into the demands of clients.
Testing and Deployment
A mobile application development company's QA team tests ridesharing apps after they've been developed with basic functionalities. The goal of testing is to determine whether or not the application meets your criteria.
You may need to maintain your app after it has been released, or you may need to integrate key functionality. It improves the mobile app and aids in the long-term success of your app. This ensures that the application's quality remains high for your users.
THE FINAL SAY
Take your ridesharing business to the next level by going online. Ridesharing apps have made people's lives easier, which is also good for the environment. Now that you've learned about the procedure on how to start your own rideshare business, you have a better notion of how to create your own rideshare app. The most popular ridesharing and carpooling apps on the market are Uber, Lyft, and Gojek.
Do you have an idea for a rideshare app? We have a dedicated team of engineers and designers with years of experience in application development. Contact us right now. We are a top software development business in the USA, with dozens of successful projects under our belt.