Multi-service apps, so-called super apps, or digital front doors are ruling the on-demand market at the current time. Since the lockdown, such apps have been on the rise, when people were left with no ideal option to fulfill their daily needs. Whatever the need is, ranging from on-demand grocery delivery to ride-booking, everything can be done using just one application. Having an app that delivers anything you want would definitely help you excel in your on-demand services business.
Uber offering food delivery, scooter rentals, and medicine delivery, is one of the biggest examples of a major industry giant with a concept of super apps. Entrepreneurs can use an on-demand app solution to offer several services in a single app. In a nutshell, this is a useful program for successfully running a business and taking it to the utmost heights. Go ahead with multi-service app development if you're an entrepreneur who wants to build an app that delivers anything to your customers.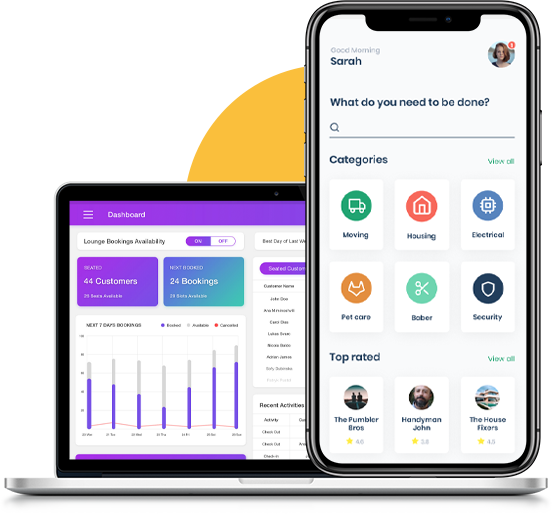 Launch Your Own White label Multi-Service App That Delivers Anything You Want
AI Ride services – Taxi ride, Car rental, and Moto rental.
Delivery services – Food delivery, Courier delivery, Grocery delivery, Medicine delivery, Flower delivery, Fuel delivery, etc.
Other services – Plumber, Electrician, Car wash, Reapir, Fitness,
Latest Stats About Multi-Service Apps
Entrepreneurs are now towards adopting a new trend shifting from single-purpose to an app that delivers anything to customers.
Consider this– How many apps do you have on your smartphone? How many of these do you use daily, and how many just once or twice a month? It won't be surprising to say that some apps are only on your mobile phone, but you never use them frequently.
The stats show that people spend 50% of their time on a single app, but 70% of our app usage comes only from three apps. Agree? So, this is where the concept of multi-service app development or Super Apps comes in. There are many well-established multi-service apps in the market already. But at the same time, many others are waiting for the launching of such types of apps. Launching a multi-service app for entrepreneurs and people looking for new startup ideas can be an excellent opportunity to start their business.
What Multiple Services Offered Via an App like Go-Jek That Delivers Anything
A multi-service app solution like Gojek offers multiple services under one roof. Such a solution built on scalable technology easily accommodates taxi ride services, food delivery services, handyman services, and other delivery services. Building an all-in-one multi-service app helps boost businesses. It's time for you to get anything delivered app for you and start serving common services categorized as follow:
Ride services
Users using the multi-service app can hire rides at their doorstep. They don't have to go for a separate app to get such a service as a multi-service app comprises all the must-have features one needs while traveling. Below are a few ride services that one can prefer adding to the multi-service app:
Taxi ride: Taxi booking service makes the customers book the cabs from anywhere anytime in just a few tabs.
Car rental: Car rental services via an app allows anyone to book a car on rent via a smartphone.
Moto rental: Moto rental service app is designed to offer fanatic motorbikes on rent at any time.
Delivery services:
Delivery services via a multi-service app deliver an easy and smooth customer experience resulting in enhanced sales. By adding delivery service under your multi-service app, you can deliver anything right from food, medicine, flower to fuel.
Food Delivery: Customers using the food delivery service can order the food online from top-listed restaurants and get their food delivered right to their doorstep.
On-demand Courier Delivery: A courier delivery service ensures hassle-free delivery to customers at their doorstep.
On-demand Grocery Delivery: Allow customers to fulfill their daily grocery needs in a few tabs of a multi-service app like Gojek.
On-demand Medicine Delivery: Another service to add in your multi-service app and deliver essential medicines to customers.
On-demand Flower Delivery: Build a one-stop multi-service app to make faster flower deliveries to customers.
On-demand fuel-delivery: Add on-demand fuel delivery service under the multi-service app and start serving industrial and commercial customers.
Other services
A multi-service app is not just limited to ride and delivery services but can also accommodate handyman services, including plumber, electrician, car wash, fitness, handyman, car repair, and beauty services.
Biggest Reasons To Invest In On-demand Multi-Services App
The foremost reason to invest in building an app that delivers anything is that you have a chance to offer multiple services on one platform. People do not like to install so many apps for availing of various services and prefer a single app for that purpose.

Secondly, the incurred cost that comes with a multi-service app is less when compared to the single service app.

Thirdly, customers feel more convenient in availing themselves of various services in one platform.
How A Multi-Service App Helps You Make Money
A business model of an app that delivers anything has expanded far beyond its original scope of services. Each year, a multi-service app makes a significant amount of income. Some of the monetization tactics are as follows:
Business Commission: You can work with various businesses to help them grow their sales while also earning a commission on successful orders placed via your platform.
Fee to the customer: Customers would appreciate the convenience of a one-stop-shop by meeting all of their demands with just one app rather than navigating to numerous apps for different needs. Customers must pay a small fee for each order placed in exchange.
Delivery commission: Drivers pay you a modest commission for each order they deliver. A slight commission cut benefits both parties as long as the drivers can fill several orders and earn money.
Step By-Step Guide To Build A Multi-Service App
What Platform Should You Choose?
There are mainly three options you can for:
Native Apps: These apps are built for a single platform, either Android, Windows, or iOS.
Cross-Platform Apps: In this, a single app is built and then optimized for multiple platforms.
Web Apps: A website is created and is fully optimized for mobile.
If you are in a dilemma, how many platforms do you want to target, only Android, Only iOS, or both? It depends on your target audience. If the reach is limited to a specific audience, you can consider moving with a single platform app. On the other hand, if your reach is wide, you might have to go for two separate apps, each for iOS and Android.
What features do you need to include in your multi-service app?
When you want to compete against some of the industry's biggest names of apps that deliver anything, such as Gojek Clone and Grab, you need to look at what features they offer in their apps. This single platform and the features you add in the program support the entire application.
A reputable multi-service app development company will advise you on the best features to include in your app to make it stand out. The app that delivers anything would have four screens on which to work.
Customers can easily place orders with the help of a customer screen.

A vendor/service provider can manage services with a few taps on the service provider interface.

The delivery person screen allows the delivery executive to manage deliveries easily.

This allows the administrator to govern and control the business process.
Social media integration: Users will log in to the app using this functionality, making the signup and login procedure quick and straightforward.
GPS: Users will be able to track service providers and learn about their current positions using GPS.
Multi-language support: The program supports different languages, allowing users to select their preferred language. This will also cover a vast number of people.
Schedule booking: Users will be able to plan ahead of time if they need to commute regularly or daily.
Send push notification: Service providers will be able to send notifications to users about updates such as orders received, orders dispatched, orders about to arrive, and more using the Push notification capability.
Payment gateway integration: Users will be able to pay online if they use an online payment method.
What technology can you use for multi-service app development?
The technology stack you chose is critical to a successful mobile app development process. Multi-service app development is a one-of-a-kind app creation that necessitates meticulous attention to detail. React Native, Native Script, Xamarin, Flutter, and other technologies are proposed for use here.
What is an Ideal business model for a multi-service app?
You must pick the model that will help you generate money. To create an app that delivers anything, you can use a variety of business models. An aggregator approach, a delivery-only model, a hybrid model, or an on-demand model are all options. Before you establish the business plan for your multi-service app, discuss with hired mobile app developers or your development partner.
There are also various revenue methods that might assist you in producing money while designing an app that delivers anything you want. Depending on your company commercials, you can choose between commission-based and advertisement-based models.
What aspects to consider for multi-service app development?
Integrate the Multilingual and Multiple currencies features: Never let language be a barrier to your business. Therefore, incorporate the multilingual feature so that customers can use the app in their languages. The global launch will help you to have a more extensive user base for your app. Just like language, do not let the currency restrict you from launching an app that delivers anything.
User-friendly design: The UI/UX of the app has to be appealing and straightforward. This plays a vital role in gaining more customers. If the design is not user-friendly and unimpressive, they won't prefer your app next time. Instead, they prefer using your competitors' apps for availing multiple services. To gain new customers and to retain the existing customers, focus on the app design.
App platform: To cover all the audiences, consider launching an app that delivers anything on Android and iOS platforms. Decide on which platform you will launch the app based on your target audience.
White-label solution: It is a known fact that making from scratch needs more time and requires a considerable amount of money. On the counter side, creating the app using the white-label solution is budget-friendly and time-conserving.
Because it is a readily available solution, any new features can be incorporated based on the requirements. It has been difficult for entrepreneurs to manage multiple on-demand services under a single roof. Instead of creating separate apps for every service, think of an intelligent way.
Design and Development
It's time to start with the architecture after you've finished with your app's goals, target audience, business strategy, and features. After you've finalized the app's functionality, such as features, how users will interact with it, and the app's overall navigational flow, proceed with making wire-frames.
You have the skeleton of your mobile app using wireframes. Before beginning with the actual back-end development, wireframes are made to visualize your future super app. Text fields, buttons, pop-ups, and other elements are included. If you're happy with the wireframes, you can request that the developers begin working on the front-end and backend code.
Have you ever imagined a single app that could supply different services such as meals, shopping, and pharmacy? Want to deliver numerous benefits to meet multiple people's demands from a single application? Create an app that delivers anything by combining transportation, food delivery, courier delivery, and other high-end local services into a single app.
Testing and Going Live
Make sure your fantastic app is bug-free and easy to use before releasing it to the public. Your development team will do internal testing of the software. However, you should always test your app with real users. Testing will help you get users' feedback on app performance and users' experience with your app. Now that you've fixed all of the flaws and issues that consumers have reported, it's time to put your great software on the market.
Some useful ways to create a multi-service app
The app that delivers anything can be built from the ground up by contacting an app development firm.
Developing from the scratch
This method of constructing a multi-service app entails starting from scratch. During development, thorough market analysis and planning are essential. One of the key advantages of designing an app from the ground up is that it can be tailored to your exact needs.
Approaching an app development company
Approaching an app development business is one of the best approaches to create the app. These businesses develop on-demand apps. These white-label apps can be customized to meet your exact needs. There is also the benefit of having a fully equipped technical team on hand.
Ensuring Guaranteed Success With Multi-service App Development – How To Start A Multi-service Business & Become Successful?
Entrepreneurs worldwide have recognized the potential of building multi-service apps. If you are also the one who is looking for maximum returns on investment, then building a white-label on-demand multi-service business app is a great idea. With a multi-service app, you can enjoy the following advantages:
Strong Audience Base: Having a white-label on-demand multi-service app helps grow your audience base. This means that a digital platform offers businesses a way to deliver services quickly and efficiently. With the convenience that comes with a multi-service business app, you can allow more and more users to download the app and use it.
Good Earnings: Since the multi-service app works on varied revenue models, you can make good money for every service. Without going around to offer your services, the app itself does the job from your side. All you need is to sit back and relax while your multi-service app makes money every time a new booking is made.
High-level transparency: The best thing about a white-label multi-service app is that it automatically generates invoices at the end of every service. Therefore, you will ensure no mishandling of your funds inside the system. An app is designed to guarantee high-level transparency, allowing you to cash in every service securely.
The End!
The decision to start a business with an on-demand multi-service app is solid because the market is expected to grow in the coming months. Take notes from this blog to help you survive in a highly competitive market. Contact our highly professional team if you need an app that delivers anything. We offer a scalable software solution that can be customized to meet your specific requirements.
One of the top startup ideas for entrepreneurs or businesses searching for new chances is to launch an on-demand multi-service app. Now is your opportunity to break into the on-demand sector and build an on-demand app that genuinely benefits your audience.
Suffescom, a leading on demand gojek clone development firms, has years of expertise developing apps and solutions for people worldwide. We've taken numerous offerings to the next level. We supply you with a high-quality Clone Script that you may use to launch your own on-demand multi-service application.