You go to the doctor to get an ache treated, and he writes a prescription, saying it is treatable with medication. You go to a local pharmacy store, and the cash register shows you an amount that is too high. Result? You come out of the pharmacy store without the medicines.
Can you feel the suffering? It's a scenario that happens to people across the globe. Unquestionably, everyone deserves affordable and convenient healthcare. Apps like GoodRx are providing better ways for people to seek the best care at the lowest price. And seeing its popularity, the trend of medicine delivery app development is on the rise.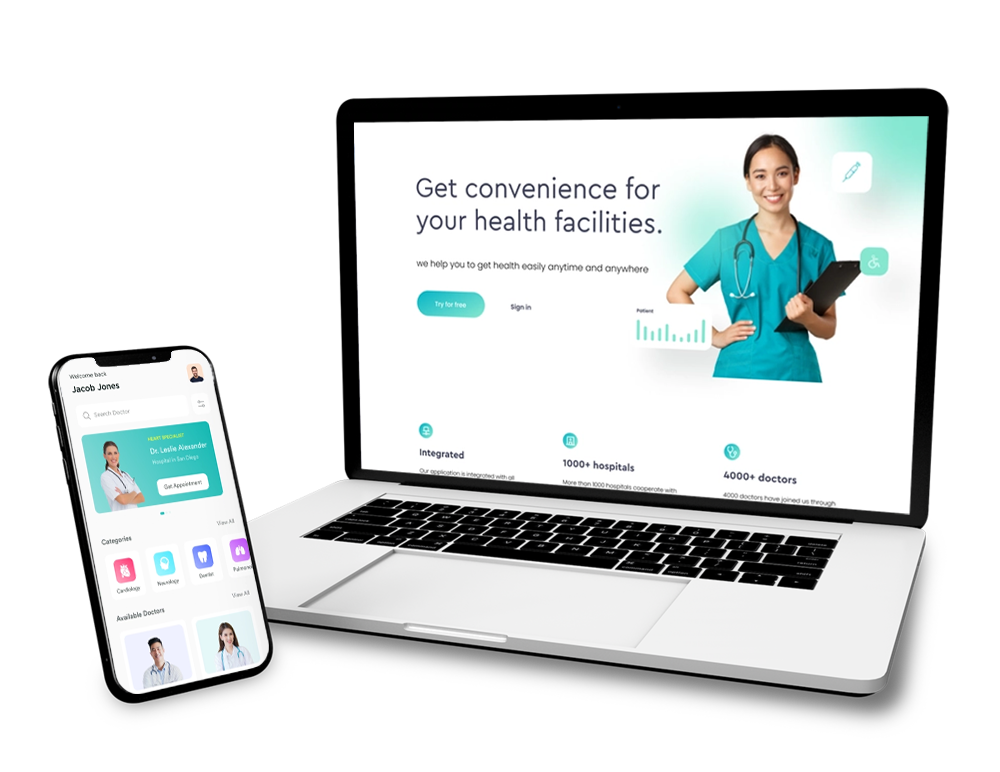 Launch Feature-Rich Telemedicine App in Few Minutes
Get the most powerful teladoc clone app to bridge the gap between patients and healthcare experts for quick medical help from anywhere, anytime!
What Is GoodRx?
GoodRx offers a range of services to help people get the healthcare they need at affordable prices. At present, the app sees 10 million users a month with an estimated $9 billion total in savings. It is a telemedicine platform with a website and mobile applications to reduce the expenditure incurred by people on drugs. 
Success Numbers Of GoodRx
GoodRx has raised a total of $872.9 million with 6 rounds of equity funding. It went public in September 2020 and raised another $1.1 billion.
When it IPO'd in 2020, it was valued at $12.7 billion.
It has increased its valuation to $21.86 billion.
For the fiscal year 2020, the platform generated $550.7 million in revenue.
Why Develop An App Like GoodRx?
Providing the freedom of choice to users buying medicines is the need of the hour. Most consumers come across price differences of drugs available at different pharmacy stores. This makes their buying experience overwhelming. But with GoodRx like app development, consumers are able to find healthcare products and services at the most competitive prices.
Also Read: Launch An App Like CVS Pharmacy or Walgreens
How Will An App Like GoodRx Work?
GoodRx Clone will help you find the drugs at the lowest possible price from the pharmacy.
The users will first have to download the app or visit the website. Account creation is the next step and allows users to avail discounts.
The second step is to search the required prescription in the search bar.
You'll receive a list of the medicines at the lowest prices from the pharmacies near you.
On finding the best price, the user can either print out a coupon or have it sent to their phone. App users can show the coupon to the pharmacist from their device.
How To Earn Money Through The GoodRx Clone?
GoodRx makes money via fees paid on coupon redemptions, monthly subscription fees, online telehealth services, and advertising on the platform.
Let us take a closer look at the revenue streams that will make your app like GoodRx profitable.
Coupons offered to patients constitute a significant revenue source. Patients get to save money on prescriptions.
GoodRx offers more than 150 billion prescription pricing data points, and its coupon codes are accepted at more than 70,000 pharmacies across the United States.
It collects fees whenever a customer uses that code to fill a prescription. Partners, which are PBMs then pay to the customers. The fees are either in the form of a percentage of the fees that partners earn or a fixed amount per transaction.
Remarkably, the platform also generates revenue when a customer refills their prescription. The code is saved to the customer's profile at the pharmacy. The coupon then begins to apply to all future refills.
GoodRx launched a premium subscription offering known as GoodRx Gold. This program provides discounts on over 1000 prescription drugs and healthcare services.
GoodRx has built various telehealth-related products that include health checkup services.
It offers its own medical checks and a comparison platform for third-party medical services. The consultations cover every ailment and generate revenue from the fees paid by the patients.
Most searches on the platform are aimed at brand medications that are protected by a trademark. The medications tend to be very expensive because of their limited capacity.
To find a solution to this problem, pharmaceutical companies have developed multiple solutions and are making the medications affordable. GoodRx then advertises these solutions and receives a fixed fee in exchange. The campaigns run for a limited period of time as per the agreement.
Must-have Range Of Services Of The GoodRx Clone
GoodRx like app development process requires an in-depth analysis of the services that are an indispensable part of the platform. Let us have a look at the range of services that you must include in the solution.
Prescription Savings
With an app like GoodRx, the users can find out how much medications cost to get the best prices available in the area. Surprisingly, a drug's price can differ by large amounts, and prescription savings can help the consumers to a large extent.
Online Appointments
Developing an app like GoodRx means you can allow users to book same-day appointments with an online healthcare provider at affordable costs.
Lab Testing Options
Consumers can find at-home lab tests or tests at a service center available in their area at costs that are much lower than the standard prices.
Membership Programs
By offering membership programs, you can let your consumers access better healthcare savings, free delivery of medicines, and exclusive medication discount cards.
Health Information
An app like GoodRx must provide information for consumers on healthy living, disease management, and ways to save costs.
Support
The platform must support doctors, pharmacists, and other healthcare professionals to better the quality of care.
Group Of Consumers Your GoodRx Clone Can Serve
The decision of GoodRx like app development means you are planning to serve a certain group of consumers that are facing issues in getting healthcare at affordable prices. Here are the two groups that an app just like GoodRx serves.
Uninsured or Underinsured Consumers
Consumers can leverage pharmacy benefit managers (PBMs') scale and purchasing power to negotiate drug prices and bring them down from 'usual and customary prices.
Commercially Insured Consumers
GoodRx Clone will allow consumers to access PBMs' discount programs to identify when discount card options are lower than the consumers' insurance copay.
Values That Can Make Your GoodRx Clone Successful
There must be a sense of purpose to support GoodRx like app development.
A platform can be successful only if it revolves around the needs of the consumers. If your solution is able to help the consumers seek the best healthcare at affordable prices.
Everyone should have equal access to high-quality and affordable healthcare irrespective of any factors.
Your platform must be supported by a team that can maintain the highest standards of integrity, responsibility, and quality in providing the highly required services through it.
Presenting information in an objective manner that is easy to understand is extremely important. It is because the consumers need to make the best decisions so that their healthcare needs are met.
If you are planning to develop a GoodRx Clone, you must understand that treating patients, healthcare patients, business partners, and others with honesty and respect is of prime importance.
Maintain Consumers' Privacy
GoodRx works in a way that consumers can seek its services without providing any personal data that includes name, account details, address, and other information.
How Much Does It Cost To Develop An App Like GoodRx?
Providing the exact pricing for an app is not an easy task. The total cost relies on multiple factors like:
Features Integration
The more features you want to integrate, the more the cost. Once you have decided on the list of features, you can get in touch with a GoodRx clone app development company to extract information on the total cost.
Application's Complexity
The level of application's complexity determines the price that you will have to pay for GoodRx like app development.
Mobile Platforms & Devices Supported
If you wish to target mobile users only, then the cost will be different. However, if you want to launch a desktop application along with it, the price will be different. You need to understand your requirements before getting in touch with a solution provider.
Maintenance Plans
Thinking about a maintenance plan costs a certain amount of money. There is an arms race going on between operating systems, and keeping the apps up to date is essential. This adds to the development cost of GoodRx.
Most Frequently Asked Questions About An App Like GoodRx
How much can consumers save with GoodRx?
An app similar to GoodRx, if developed aptly, can save consumers up to 80%. This factor gives consumers a reason to choose the platform over other options and save a good amount of money.
Can the platform be combined with insurance?
Primarily, an app like GoodRx cannot be combined with your health insurance.
If you have insurance, you can compare the price to your insurance co-pay to check which is cheaper. Consumers can always use the solution instead of insurance.
Will the clone sell personal data?
A healthcare company like GoodRx operates a telemedicine platform and a free-to-use website, makes money from advertisements and not by selling personal medical data. However, it shares data in some cases for advertising and analytics purposes.
Is the platform only for generic drugs?
Generic drugs are a lot cheaper than their branded counterparts. Upon searching for medications, you will see a generics list. But you can also view pricing for branded drugs.
Will the platform set medication prices?
The clone will not negotiate or set any medication prices. In fact, pharmacies or pharmacy purchasing groups and PBMs negotiate.
How can pharmacies benefit from the GoodRx clone?
The solution enables patients and pharmacies to compare prices and find options that save costs. This brings the patients to the respective pharmacy store to fill prescriptions they may have taken elsewhere. There is also a probability that the consumers will purchase no-prescription medications at the store.
Conclusion:
Now that GoodRx has popularized the consumer-first model, it is a good time to invest in the development of the GoodRx clone. The number of competitors mimicking its marketplace model is rising with each passing day, and the growth of the trend remains to be seen.
We, Suffescom Solutions, can be your perfect partner in the process of GoodRx like app development. Enter the most promising areas for business development by leveraging the potential of our expertise.