Suffescom has already developed an advanced, feature-rich, and most powerful NFT marketplace on Solana and Polygon. Our NFT marketplace is designed to sell, buy, and bid on any digital assets like music, images, video, crypto-collectibles, and more.
Our Opensea website provides an AI riched NFT buying and selling experience. View all features of our NFT marketplace.
Minting is an indispensable part of the NFT marketplace. In simple words, Non-Fungible Token minting on the platform involves the process of monetizing artists' artwork or digital assets. As you are planning to make an NFT minting website, you are at the right place. Here we can take you where the world is moving in the digital age.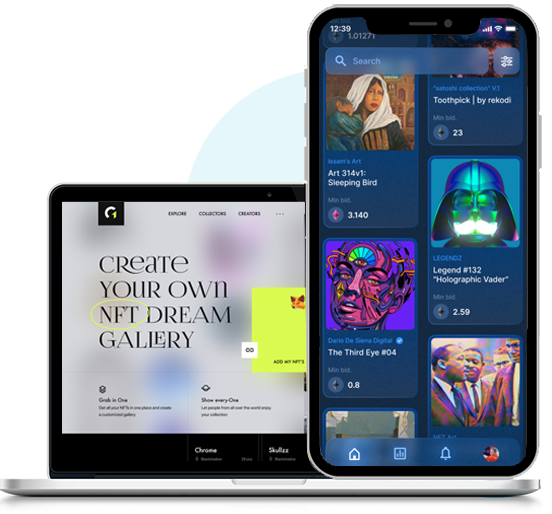 Launch Your Own OpenSea Like NFT Marketplace In React Technology
Get the most reliable NFT marketplace platform comprising all the latest features required to turn business into a success.
We Have Already Developed an App like OpenSea Request Free Demo
Build your NFT minting platform like Opensea. We have the right set of experience and expertise under one roof. Our blockchain technology team has delivered more than 5 NFT marketplaces. We are open 24*7 to take your queries. Before creating your NFT minting website, we recommend you to consult with our business advisors to understanding what is trending in the NFT market!
NFT Minting MarketPlace — The Beaming Trend
The popularity of NFTs brings a sudden turnaround in the marketplace. Therefore, now the NFT minting process is not only limited to a few artworks. Every day the list is improving, and more items are added on NFT platforms for minting. These will include domain names, gaming, real estate tokenization, sports tickets, paintings, architectures, property trading, and so on. Hence, the cluster of items is making it the most spoken topic in the Cryptosphere. The best thing is that every creator is getting a chance to avail a globally renowned marketplace and mint their creation.
How To Create A Website To Mint NFT?
Developers plan to make nft mint websites in different modes. But one thing is common that everyone follows two basic steps to create an nft minting website. These are:
Building an NFT minting website based on collectibles
Create an NFT marketplace based on blockchain technology.
Building NFT Minting Website Based on Collectibles
NFT marketplace based on collectibles is designed by considering the collectibles. If you plan to build a website for gaming purposes, the design will be different from a universal collectible platform. The best examples can be Axie Infinity and OpenSea. These vary from a design by considering the audience. Further, there are lots of options in collectibles such as;
Art
Music
Video Game Items
Real Estate
Fashion
Music
Photography
Domains
Ebook
Infrastructure
Create an NFT Marketplace Based on Blockchain Technology
It's really hard to imagine the NFT minting marketplace without Blockchain Technology. It ensures security, transparency, authenticity, and accessibility. When it's about choosing blockchain technology, plenty of options are available in the market. These offer extended support towards the Non-fungible tokens. These are:
Solana
Binance Smart Chain
Polygon
PolkaDot
Huobi ECO Chain
Hedera Hashgraph
Meter
Raydium
Chainlink
Tron
Must-have Features to Make a NFT Minting Website
When it's about launching your NFT minting platform, features are something that you cannot ignore. This helps users to conveniently navigate through your platform. So do not forget to include these significant features on the platform.
This is the primary feature on the minting platform where you get artwork, bids, preview owners, price history, and more. In short, the feature keeps you up-to-date with what's trending on the platform. The feature has the ability to engage users, therefore making this feature highly accessible.
Search options allow visitors to find the first NFT listing on the platform in a blink of an eye. So, place this option on the top right side of the platform. The quick search option has great significance in boosting your sales, too.
Filters can make it easy to find the right NFT in less time. You can decide it based on filters, price, categories, and more details. It can make your search narrow and can help them to find recent additions, hot offers, best selling, and trending content. It helps users pick items faster and increase the probability of buying.
Listing is something hard to deny on the NFT platform. It allows creators to list their unique artwork and start earning. Allow creators to list items with easy steps. It brings more talent to your platform.
Keeping users updated on the latest developed collection is as important as selling them. Therefore, do not ignore the significance of push notifications on your platform. Send an alert to registered users for your latest news, offers, and collectibles listed on your platform.
Make easy access to bidding options for sellers and buyers on your platform. It attracts users, especially those who want flexibility in pricing and are not interested in buying articles at a starting price. So, make bidding fun for them on your minting website. Add bidding expiry time on page for more aggressive buying. You can also allow creators to bid on multiple artworks simultaneously. Like a special creator's whole collection is on sale. Also, add a separate auction watchlist that keeps users aware of it.
Users always look for safer places to receive and store non-fungible tokens. With this, you cannot avoid the convenience of multiple wallet options. Why? Multiple currency wallet options never let your users stick to one payment mode. Offer them Ethereum, Litecoin, Bitcoin Cash, and Cardano types of crypto payment methods.
Rating and review options are for beginners, especially those who have no idea where to start. The rating can make their choice process faster by looking at the number of people who purchased or were excited to buy via the rating option. Most importantly, users on the NFT platform always stay fascinated with top rating NFTs and take less time while deciding on purchasing.
What Would be the Cost To Make A Website To Mint NFTs?
The Cost of minting platform is the most talked about topic, particularly for budding entrepreneurs. Keep in mind that when it's about building a minting website, two major factors decide your platform costing. These include whether you want to;
Building a website from scratch, or choose
White-label NFT minting solution
Building Website From Scratch
Building a website from scratch involves lots of details and research work. Commencing from project need to theme, developers have to work on various aspects. They have worked on flawless functionality and data security aspects. The whole process may take 7-8 months based on the required functionalities. Of Course, the budget and time will be more with this option. To save your time and cut costs, Suffescom Solution builds an MVP that provides you with a layout of your project. You will get a preview and ask for changes.
White-label NFT minting solution
White-label NFT minting solution or called ready-made NFT minting platforms. These are cost-effective, and ready to launch solutions can be ready in a few days. White label solutions are 100% customized solutions and ready to adopt high functionality. You can integrate solutions with blockchain technology and multiple crypto wallet options. As it is ready-made and ready to launch, it will cost less than building from a ground solution.
Let's dig deeper to know more about NFT Minting Website costing;
With the above-mentioned building criteria, we have curated other factors that decide the NFT minting marketplace's Cost. These are
UX/UI Development: whether you want simple or complex UX and UI will decide your budget.
Security: Security levels and types in blockchain technology also have a contribution in deciding to price.
User Profiles: How long users' profiles be? This means a number of criteria are required to fulfill while signing up for the first time for creators and customers.
Main Page: The homepage's appearance is a deciding factor for users to stay or leave the platform. Users also look for navigation features on the main page and how easily these are accessible on the platform.
Product Page: How many products you want to list on your platform is an important decision. It will affect a website and page loading speed + Cost.
Rating Page: whether you want to see ratings on the page or not. Your budgeting will vary accordingly.
Notifications: Prompt notifications let users know the latest mintings and offers. The best strategy is to boost sales but add value to your budget, too.
Crypto Integration: Make sure your website must be connected with approved crypto wallets for payment integrations. If you want to go with multiple payment options, your budget will be higher than a single or limited wallet integration.
Buyer/Seller Panel: The number of features you want to see on the buyer/seller's panel will decide to cost factors.
Admin Panel: Dashboard or Admin panel have all the rights to enjoy full website access. Adding more features means you have to pay for those too.
Management (different types): Management costing includes a number of project managers and developers who will be employed on your website building. Determining technology choice and software are other costing determining factors.
To know more about NFT mining marketplace costing, consult with our experts.
Final Say!
Building an NFT minting website is a crucial decision. Therefore you should be clear with all the above-mentioned aspects. We are also here to help you to make your dream project a reality.
Why Suffescom to make your own NFT minting website?
We are Committed To Deliver Quality.
We offer professionally tested and globally approved services at affordable prices.
We develop Smart contract wallets with a number of features.
At stop destination for Crypto Wallets creation.
We have developed 50+ NFT white label solutions.