Leverage the approach of the NFT marketplace with a world-class Whitelabel NFT Marketplace Platform Development. The aggregator's NFT marketplace provides enormous opportunities for unique creators and collectors with an unbelievable market niche. Budding NFT monopolies can also enjoy the amazing potential of the NFT marketplace to try luck and explore more products on their platform.
Suffescom is ready to provide you with a one-step-ahead NFT aggregators marketplace approach that supports you to understand industry and customers' requirements. You can make crucial business decisions, accordingly.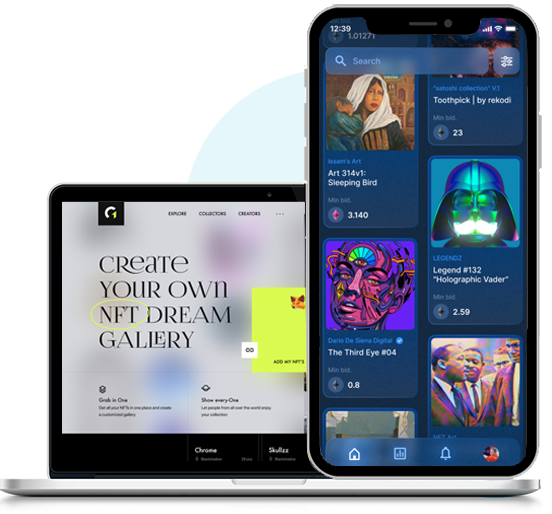 Launch Your Own NFT Aggregator
Get the Most Reliable NFT Aggregator Platform Comprising All The Latest Features Required to Turn Business into a Success.
What is the NFT Aggregator Marketplace?
Despite NFT (Non-Fungible Token) marketplace becoming a fantasy term for unique pieces collectors, the platform is still at a pioneering stage. There are only selected people aware of the aggregator's platform. We are glad that you will be going to one of those soon.
An aggregator is a platform that brings various shops to one marketplace. In NFT, the role of NFT Aggregators is to take initiative and bring crypto and NFT at one destination. Users can sign up at the NFT aggregator platform to check and buy tending NFTs instead of signing on multiple platforms. Launching your own advanced NFT Aggregator app with Suffescom can open up new market opportunities for your business and target audience.
Reshape The NFT Industry With NFT Aggregator Platform Development
Gear up to the most advanced NFT aggregator marketplace to build long-term connections with clients. The NFT aggregators platform is empowered with crypto and blockchain technology to ensure high-end security. The advanced analytical NFT tools allow individuals or business entrepreneurs to analyze top leading NFT collectible performance. We provide white label NFT aggregator's custom solutions such as NFT aggregator website, NFT aggregator mobile app development, and NFT Aggregator Web application at affordable prices.
Challenges Faced to build NFT Aggregator marketplace development
Launching an NFT Aggregator marketplace is not a five-finger exercise. Our expertise works on the following niches to build world-class solutions for you and your audience.
Our expertise knows how to tackle NFT industry complexities and build super easy-to-use platforms for our clients. We focus on what is important for – you, your clients, fans, and content.
We know the value of real-time content accessibility in the market to beat the cutting-edge competition. Our NFT tech expert built an NFT aggregator platform to track and allow online auctions on various marketplaces.
We are well versed with every technology used on building platforms. These include Ethereum, Flow, Tezos, Cardano, IPFS, Filecoin, Pinata, ERC-721, ERC-1155, FA2, dGoods, TRC-721, and more.
Our professionally developed platform involves Chat-bots, NLP, NLU, NLG for quick customer assistance. Data analysis assist in preventive maintenance, Fraud detection, and other solutions.
Everything NFT at one place
We help you to unlock every piece of content on your platform. You can enjoy the top-notch featured NFT aggregator marketplace with an ability to integrate CRM, Analytics, Marketing, etc.
Simply Decentralised platform
We are aware of the rising number of cybercrimes. So we assure you to build a completely decentralized platform that throws all interfering activities out of the window.
Improved Token-experience
Our professionals focus on improving customers' experience with well-organized token cases. A well-traded platform gives a seamless overall user experience.
Benefits of NFT aggregator marketplace
Liquidity: NFT aggregator marketplace serves the users and content creators with more liquidity options. A single platform lets them enjoy tech giants in one place that is resulting in more minting and accessibility and liquidity.
Volume: Your NFT Aggregator platform provides an additional point of view to list and access more assets. It delivers volume to the marketplace and visibility to sellers.
Convenience: Users and seasoned traders can access NFT markets without scrolling hundreds of marketplaces. It is also easier to compare price tags and gas fees charges.
Accessibility: Basically, most NFT marketplaces rely on BTC and ETH for payment transactions. You can offer the same features to NFT marketplaces, customers, and artists for ease of payment and royalty earnings.
How Does A NFT Aggregators Marketplace Make Money?
While there are many ways to earn money for NFT aggregator's marketplaces, here are these strategies for your revenue model.
Commission: The most common way to earn money for NFT aggregators is to charge commissions from sellers and other NFT platforms like OpenSea or Rarible. The commission can be based on product price, popularity, or a fixed percentage.
Freemium: freemium is the most common tool to attract customers and other businesses on your marketplace. But to access the network and enjoy features, users have to pay a fee to the platform. Some of the most common features include providing personalized recommendations, showing results on the top of the list, etc.
Listing Fee: marketplace makes money by charging the creators for every product listed on the platform. You can also charge a listing fee from NFT platforms or creators to list their products for the first time on the platform. On the other hand, you can also offer a free listing for new additions but can charge if users list products under a specific category.
Subscription: Although the revenue model is not very common, it still has the potential to generate huge revenue for your NFT aggregator marketplace platform. You can charge a subscription fee from customers to access the marketplace.
What we offer in our NFT Aggregator Platform Development
You can cheer up the industry with the exclusively featured NFT aggregator software solution. We assure you to provide the following attributes in your marketplace.
Admin, creator, and users can track live auctions and participate in biddings. Admin and creators have the authority to set the lowest bidding price expiry date and trace customers' data.
Smart search bar options allow you to build solid & lasting relationships with customers. Users can directly search for the content rather than navigate through menus.
You can attract more customers at certain brownie points by sending real-time platform updates. You can send recently added content notifications, bids, offers, and vouchers.
Multiple NFT Wallet Integration
You can set multiple NFT wallet integration on the platform for the ease of users. They can sign up with the desired one and purchase unlimited content from your platform.
Allow your shoppers to create personalized digital collections lists that they can buy to save for future reference. A wishlist signifies customers' interest and their intent to purchase.
Admin and creators can easily track order history – a number of people who participated in bids, placed orders, and pending transactions. Also, you can check audience participation location, currency, and more info.
You can set various referral programs to boost users participation on your platform. You can also create various discount techniques for tagging gift vouchers from the admin panel.
We develop a platform where users can go through the rating and review section of a particular NFT. It builds their confidence before buying and motivates them to share their experience.
Every transaction on your NFT aggregator platform will be embedded in a smart contract for proper minting of NFTs and IP tokenization. It builds users' trust and keeps the token secured.
How Your NFT Aggregator Platform Development Will Work?
Offer a simple and elegant workflow on your platform for the ease of users to create and sell.
Step 1: Wallet Setup
First, your users have to set up a wallet before signing up on the platform. It can be MetaMask, Ethereum, Coinbase Wallet, AlphaWallet, Enjin, Trust Wallet.
Step 2: Create Your Profile (customer & NFT marketplaces)
The next step is to allow customers and platforms like OpenSea, Rarible, Axie Marketplace, and others to create accounts. You can set the required information based on the target audience and users.
Step 3: Users can check and buy collectible
Users will get plenty of options for the same asset on different platforms. They have the option to choose a platform offering the same artwork at competitive fees like gas fees.
Step 4: Pay From Wallet
After selecting particular artwork, users will pay the amount from the crypto wallet. And the right of NFT transfer to the buyer. All the transactions get secured through smart contracts.
What you can list on your NFT Aggregator Platform
There are plenty of options for you to list unique artwork on your aggregator platform. Here we have created a list of a few options.
Marketplaces for NFTs
NFT for Software Licensing
NFT for Loans
NFT for Physical Assets
NFTs for Music
NFT for Real Estate
NFTs for Video
NFTs for Art
NFT for the Gaming Industry
NFTs for Sports
NFT for the Fashion Industry
NFTs for Fantasy Sports
NFT for Mortgage and Business
NFT for Comics and Literature
NFT for Content Subscriptions
Explore The Future of NFTs NOW!! Discuss Your Project With Our Project Manager
You can turn your dream into reality by discussing your project requirement. Our tech experts are always ready to assist you with advanced technology and your project needs. We provide with:
Advanced NFT Tools
Tailor-made solution
Decentralized platform
iOS and Android version
A centralized admin panel
Completely brandable
Crypto Wallet integration
Highly scalable solution
100% track record of NFT transactions
Smart contract
360-degree customer support