The NFT trend is picking up pace, and launching the Decentraland clone will bring sturdy growth with ample profits. Swarm up the business space powered by blockchain.
Set Up A Fail-safe System In The Crypto-space With Our Decentraland Clone Development Services
We at Suffescom Solutions are frontrunners in developing smart solutions like Decentraland to assist you set foot in the world of the NFT marketplace. As a pre-eminent Decentraland clone app development company, our team offers top-class services to launch an app similar to Decentraland that is enriched with features.
Be amongst the firsts to take timely action. Contact us!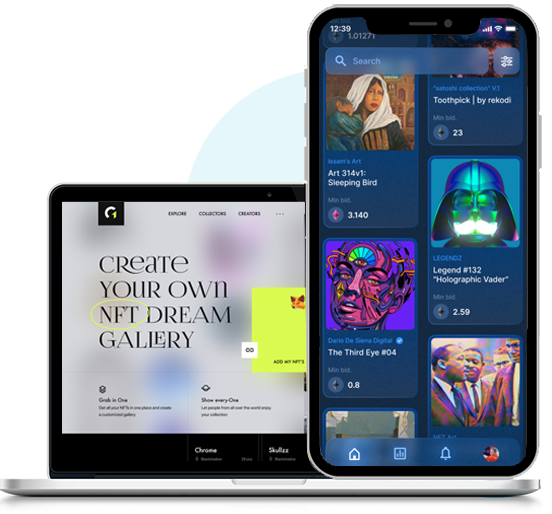 Launch Your Own OpenSea Like NFT Marketplace in Just 15 Minutes
Get the most reliable NFT marketplace platform comprising all the latest features required to turn business into a success.
What Is Decentraland and Why To Clone It?
Decentraland is an Ethereum Blockchain-powered Virtual Reality Ecosystem where users can create, explore, and trade in the first-ever virtual world that they own.
Users can explore and lose themselves in an amazing, evolving world. LANDs, owned by users, can be explored to experience incredible scenes and structures. The minds of community members can craft limitlessly, from a space adventure to a medieval dungeon maze to entire villages.
Users can create scenes, artworks, challenges, and more by using the simple Builder tool. They can also participate in events and win prizes. Moreover, the SDK offers the tools to fill the world with social games and applications.
Decentraland is the virtual destination for digital assets where LAND, Estates, Avatar wearables, and names are in the Decentraland Marketplace. The platform also enables the stocking of digital goods and paraphernalia backed by the ethereum blockchain.
What Is Decentraland Clone Script?
Decentraland Clone Script is a readymade NFT marketplace Clone Script to create a virtual reality platform powered by Ethereum Blockchain. Users can create, mold, and monetize by playing the game.
How Does Decentraland Work?
The application tracks real estate parcels that are defined by LAND tokens. It leverages the Ethereum Blockchain to track possession of this virtual land, and it calls for customers to keep its MANA token inside Ethereum pockets to interact with its ecosystem.
Further, builders have the freedom to innovate inside Decentraland's platform through designing the animation and interactions skilled on their digital real estate.
Tokens Offered By Decentraland
Decentraland is an NFT-based marketplace and is built on an Ethereum-based blockchain network architecture, owning two tokens- MANA and LAND.
The token facilitates the payments and processing of entire goods and services within the environment. Being a perfect alternative for fiat currencies, it could be stored in crypto wallets as well as a custodian site that provides security. MANA is an ERC-20 token and are fungible tokens, meaning they are identical and lack unique properties.
One of the virtual entities that own the potential to split the virtual assets. It is an ERC-721 token, which makes them non-fungible tokens. A LAND token is used to captivate the user's attention. Each token has a unique value and is determined by MANA tokens. It is proclaimed that 1000 MANAs are equivalent to a single LAND token.
Decentraland consists of many-layered components built using Ethereum smart contracts.
The Consensus Layer is responsible for maintaining a ledger that tracks the ownership of land parcels. Each parcel of LAND possesses a unique coordinate in the virtual world, an owner, and a reference to a description file that represents the parcel's content.
The Content Layer controls the activities happening within each parcel, and includes various files:
Content Files- Static audio and visuals.
Script Files- Placement and behavior of the referenced content.
Interaction Definition- Peer-to-peer interactions like voice chat and messaging.
The Real-time Layer facilitates interactions like voice chats and messaging within Decentraland through avatars.
The Payment Channels determine real-time purchases and improve the quality of payment modes in P2P servers.
The Identity Systems acknowledge the ownership of properties and assist users in conceiving competent content and provide access to private keys.
Decentraland has released a marketplace along with a drag-and-drop editor, which users can access to build scenes.
Participants can manage and exchange LAND tokens that are priced in MANA. Owners can transfer parcels and other in-game items.
Owners can curate a unique experience within their LAND parcels by using the builder tools. Its editing tool can design interactive scenes, and developers can access customization libraries and payment implementations.
Decentraland Clone's Features
P2P Communication
People can share a direct connection, and sharing of data and information is easy.
Distributed Content
The platform owns a reference to a file with the content's description that is retrieved from the smart contract.
3D Background
It presents users with a top-class navigable 3D experience.
Metaverse Compliant Infra
The platform's infrastructure stands as a metaverse, which is a shared virtual world.
Entirely Decentralized
The content distribution across the globe follows an entirely decentralized system.
Verifiable Sandbox Marketplace
The clone is tested by Sandbox to become one of the verified NFT marketplaces.
Asset Adjacency
The marketplace becomes unique from the web domains due to the adjacency of assets.
Ownership Ledger
The participants claim the ownership of virtual land on a ledger based on blockchain.
Secondary Market Creation
A secondary market develops around land ownership and rentals due to the scarcity of assets.
Efficient Payment System
The platform provides efficient and safe payment systems all over the world.
What Is Decentraland DAO?
DAO (Decentralized Autonomous Organization) encompasses smart contracts and assets that consist of LAND contracts, the estate contract, marketplace, wearables, and content servers. It is a decision-making tool for MANA and LAND holders in the virtual world.
The community can issue grants and make changes to the lists of banned names, POIs, and catalyst nodes.
Features Of Decentraland DAO
Sequential protocol upgradation
Specified LAND auctions
Community-run content servers
Development of MANA allocated platform
Security advisory board supervision
Use Cases Of Decentraland Clone
There are multiple domains that Decentraland serves:
Education
In the world of education, Decentraland can be used to teach students, especially the topics that are historical or future-related. Virtual reality can benefit the education sector by allowing students to participate in memorable and engaging experiences that they would not otherwise be able to have. Furthermore, it can all happen in the classroom. Virtual reality is available to all students and is easily controlled by teachers. Students can be engaged and inspired in a unique way through virtual experiences. We wouldn't be shocked if VR made it onto the curriculum at some point in the future, given the popularity of VR in education and the positive reception from schools. In the United Kingdom, curriculum-aligned content and structured VR lesson plans have already been established and are available.
Application Development
Decentraland simulates environments to train people and test applications in real-time. It improves data visualization and product interactions. The companies can choose to visualize the solutions that will be developed instead of first developing and then testing.
Virtual Tourism
With Decentraland clones, people can virtually travel to different places and have next-to-reality experiences. The application can be used to capture tourism destinations in an immersive manner. This is achieved using special cameras, rigs, and software. The finished content can then be viewed on either a VR headset, or a daily computer or a mobile device. Many people assume that VR content can only be viewed on a specialist VR headset, but this is often not the case. Although VR is more immersive when viewed this way, it also can be viewed on any device, including mobiles.
Digital Collectibles
Decentraland clone lets users visualize and interact with digital collectibles in multi-dimensions and can be displayed to other users in a complementary environment. Assets may be exhibited to potential buyers and sold right in virtual land. Digital collectibles are already gaining massive adoption, and their integration into social platforms and gaming is an essential part to the decentralized sort of metaverse that we are all striving to create.
Dynamic 3D Creation
The platform has the potential to reimagine what's possible within a virtual world. It can be used for creating animations even if the company or the artist does not have the expertise to develop them.
Advertising
Community members can have their brand displayed in virtual worlds through the Decentraland clone and obtain more exposure & engagement on social media platforms and beyond.
Social Gaming
In Decentraland, the SDK provides the tools to fill the world with social games and applications.
Why Choose Suffescom For The Decentraland Clone Development?
Suffescom is here to aid you in the development of a pre-owned and world-class popular NFT marketplace similar to Decentraland. We are entirely aware of the client's requirements and make sure to offer top-notch solutions via our robust service as a pioneer in blockchain-based technology and in cryptocurrency services. Moving forward, we also make sure to keep up our promise to complete the projects in a quick turnaround time span with affordable pricing; therefore, it is time to save your time and capital all along. And along with that one can also take benefit of our services that are –
Transparent in nature
From the beginning of the development cycle to the end, the client will be authorized to know about every progress regarding app development.
Safe and Secure
The development of applications is highly secured and safe, along with the API permission keys having a vulnerable entryway to the security systems.
Decentralized Environment
The developed applications operate or run on the blockchain-based technology known as the peer-to-peer network of the computers instead of the single computer.
Skilled professionals
Just like the tech stack of application development is supposed to be powerful, the need for skilled professionals is highly recommended. Therefore, to develop a platform like Decentraland, you might need a great set of experienced technologists, and we are ready to fulfill this requirement.
Enhanced reliability
Our piece of software makes sure to operate without any failure and does not stand any chance while in a specified environment over a set duration of time.