As "Technical" as it may sound, Blockchain has proved its existence in diverse industries. People have limited information regarding the application of this magnificent technology. If given a chance to take an opinion, the majority will state its relevance only in the technical field. Little do they know that its pertinence is restricted to the development domain.
It has raised its potential and expanded through various industries. There are multiple sectors where Blockchain is utilized to its optimum level. Such as healthcare, supply chain, education, banking, etc.
After traversing these fields, this incredible technology has also explored the tourism sector. The fusion of tourism and Blockchain is just spectacular. The Blockchain in the travel industry has introduced vast transparency and security. Crucial information is sent to multiple companies while booking flights and hotels for their clients.
Now, this is a huge responsibility because of the large spread of the network. It is not something that is limited to a constrained network. Hence, the accountability to provide secure operational services increases, thereby enhancing the trust factor among members.
In this article, we have illustrated numerous ways where Blockchain is expected to be utilized in the tourism industry. Here we go!
Our blockchain development services are aimed at providing efficient solutions for clients representing especially travel domains.
Schedule Your Demo
How Helpful is Blockchain Technology in Travel Industry?
Maintaining Hotel and Transportation Coordination
The travel industry requires high-level coordination between various modules to reduce inconsistency. Before Blockchain, a centralized system was used where every bit of information was shared within the database. It provided certain benefits, but still, some variabilities were experienced in the system. Sometimes, miscommunication and mishandling of the information were the cause of concern which could not be corrected by any means.
The application of Blockchain technology is meant to work wonders. Based on a decentralized management system, Blockchain enhances resource distribution. It also offers better performance and consistency. Every network member holds a similar copy of the data in the distributed ledger.
In the case of tourism, the big companies get rid of the arbitrator. A token is shared among the authorized members, due to which the data is shared among them. This provides a comprehensive flow of relevant details available at all times. Access to the data is provided broadly to everyone, which inadvertently lowers the management process.
Safe Traceable Payments
Blockchain uses cryptocurrency whenever any transaction needs to process. Such forms of bitcoin payments are more reliable and identifiable.
These blockchain transactions are permanently recorded in the chain and are immutable. There is no intervention whatsoever in the decentralized system, so no delay in payment is expected.
While traveling to other countries, most of the time is spent exchanging foreign money. With blockchain-enabled transactions, there has been a considerable reduction in the time spent on overseas exchange operations. Here, one doesn't require the interchange of the currency. In the case of international transactions, the payments taking place through Blockchain always create a striking impression.
Luggage charge control
The biggest hurdle that a tourist faces while traveling is the management of their luggage. It has been seen several times that the luggage of the people gets misplaced. Sometimes it gets recovered, while it is not retrieved at all on some occasions. In several instances, a lot of time gets consumed on updating the details of the lost belongings.
This is one of the most common reasons that pisses off a person. Such an act shows sheer negligence and mishandling at the management level.
To curb such awkward situations, the big hoteliers and the business owners have decided to integrate this Hitech technology into this industry. It will benefit by keeping tabs on the location of the luggage. The most frequent site for baggage disappearance is the check-in counter.
Let's suppose such a situation again takes place then; blockchain technology will be able to perform tracking accurately. This is completely feasible to get the details about the suitcase.
Business Reviews
Whenever we make a plan to travel to various locations, we look at the reviews provided by the users. Now, how accurate they are, no one can confirm that. This means a person is wholly solely dependent on the ratings mentioned by the unidentified people. The application of blockchain technology brings immense clarity and builds consumers' trust.
This is because everything on this network is universal, transparent, trustworthy, and, most importantly, safe. Thus, it becomes convenient for the customers to believe in a steadfast platform with extraordinary integrity.
Deceit Prevention
If we have a wide glance at the stats, it is visible that millions of passengers have been duped on the internet. This has happened while making a booking for the rooms, and the total loss of money is approximately billions. To prevent such kind of fraud, this industry has introduced Blockchain where the adequate verification and documentation of the travelers is done.
As we know, the passengers' identities are kept safely in the blocks, so there is no physical checking of the bookings by the travel dealers. This will drastically lower the chances of losses. It is evident that Blockchain will enjoy a superb future in the tourism domain.
Reward Framework
The whole plot of any business is to multiply its customers. Several methodologies are applied to fulfill this criterion. One such type is the reward system, where users are provided with loyalty cards. Various travel companies create such schemes.
The main crux of these programs is to repeat their clients at any cost. What this does is that the points gained in the reward form get interchanged in the cryptocurrency form. This gives a discount to the customers during their next trip or stay.
Besides this, a solid word of mouth about staying or traveling to a place at affordable prices is appreciated by everyone. This ultimately leads to gaining new customers, which is prosperous for any industry.
Talking so much about its benefits, let's have a quick look at some of the big names that have started using blockchain technology!
For Startups Using Blockchain
Accenture: This IT-based company, in association with the World Economic Forum, has initiated a "Traveler Digital Identity System ."This particular system will help store every detail related to the passenger in its distributed ledger. Everything related to biometrics and cryptography will enable travelers to exchange their data with the concerned authorities.
The main advantage is offering flawless air travel and developing faith among the foreign partners. The document verification activities are stimulated fast, thereby reducing the congestion at the airports.
Winding tree: This travel marketplace company is building a decentralized travel distribution network. The objective is to remove the broker and simultaneously lower the cost up to 20%.
To promote this idea, blockchain technology with adequate use of Líf tokens will connect various service providers and travelers. This will reduce the fees related to it. The application of blockchain based smart contracts is known for dispatching prime savings for the travel business. This technology aims at offering reduced prices for travelers and giant profits to the service providers.
Travelchain: It is a blockchain-based platform that hands over the original data to the businesses to be one step closer to their customers. This helps in giving a fantastic experience to the travelers. It is all set to frame an open-source system to maintain relevant information that is controlled by the majority of market players. There will be consistent tracking of the user's data, and the customers will accept tokens as compensation for sharing data.
Sand block: The customer loyalty programs work best for the travel industry. Their intention is to gain customers' attention and make them their loyal client base. They are keen on developing the well-tailored tokens for all travel firms to create their loyalty more successful.
Trippki: It is a cryptocurrency and hotel reservation platform that authorizes diverse firms and people to straight away get connected with each other. Now, they are trying to build a loyalty program with the help of blockchain technology. While residing in a specific hotel, the travelers are allocated tokens. These tokens are recorded in the Blockchain that can be redeemed at any time without getting expired.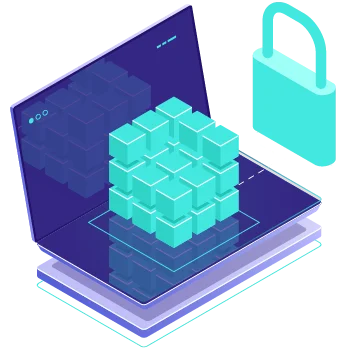 Want To Redefine Your Business Idea? Give Us A Chance!
We are a well-recognized Enterprise Blockchain development company serving businesses across wide industry verticals with best-in-class blockchain solutions.
Get in Touch
For Travel Companies Using Blockchain
TUI Travel
This travel group consists of hotels, airlines, and agencies that use Blockchain to harmonize activities through its multiple chains. A single blockchain network is created to control progression more proficiently. Specific attention is given to the project bed's checklist known as BedSwap. In the near future, this travel company will try managing all its details in the blockchain network.
Travelport
This travel company, in connection with IBM, is operating distribution systems worldwide to manage travel-related transactions. A private blockchain is built that carries out trustworthy transactions. The fundamentals aim to resolve the issue of discovering travel services that are reliable.
AXA
This insurance company has applied Blockchain for its flight delay insurance. Now, the supremacy of this smart contract is to automatically compensate the client's when their flight gets delayed by two hours. This condition is reached when the air traffic database is used to track delayed flights.
Why is There a Need for Blockchain Technology in Travel Industry?
There are a lot of luxurious travel companies that have jumped on the bandwagon of crypto and Blockchain. Now, traveling is something that is enjoyed by everyone. But people having above-average incomes can afford the luxury. Also, there is an emerging class of stakeholders that wants to satisfy their traveling wishes. They want to include spectacular customized services by using high-in-demand cryptocurrencies.
The requirement for blockchain technology is so much significant because the potential market whose focus is majorly focused on "luxury" are the millennials. More than half of the global prospects are interested in the crypto investment community. Also, to entice the budding section of the investors and to create a system that is more systematic and coherent, the selection of the blockchain technology is appropriate.
Blockchain as technology will allow travel-based firms to offer unique and multifaceted facilities to their customers. Various loyalty programs that serve as rewards for the users, physical tokenization of the assets at the hotel or resort in the shape of NFT (Non-fungible tokens).
Going along the future, the growing popularity of the Metaverse has played an influential role in the transformation of dedicated travel locations. The probability is truly ceaseless, due to which the travel key players have started looking into the business opportunities. This is an innovative way of utilizing a 3-D environment for travel enthusiasts to have a virtual visit to almost any location in their digital avatars.
The use of NFTs integrated with artificial intelligence protocols is tremendously transfiguring the travel realm with smart techniques. The topmost priority is to build a seamless connection with the people globally. Additionally, it authorizes the ecosystem with real-time sharing and reward solutions. Blockchain has the power to acknowledge and rectify these universal issues with utmost precision.
Wrapping up!
In a true sense, traveling should be congenial, affordable, and pretty much relaxed. Common issues like abrupt cancellation of booking, substandard living experience, massive prices, etc., disturb the whole scenario. Tourism is a giant market industry, so whatever drawbacks it possesses will require a substantial amount of time to get rectified. The application of Blockchain in travel and tourism is still in its emerging state and will take time to fully utilize its capabilities in the long run.