Of course, letting go of something is not a new concept; it is common to see people selling old stuff to those who need them at a reasonable cost. However, such a trend has taken a speed up in the online world, with people flocking to buying and selling websites. The reason for this is the numerous advantages they may obtain by using online buying and selling platforms or Multi-Vendor Ecommerce Marketplace. Many startup enterprises and entrepreneurs can establish their own businesses and earn considerable money due to this.
The eCommerce industry has completely transformed the process of purchasing and selling used goods; even older things in good condition are now available for purchase. What are the responsibilities of sellers? They must post their used products to the website, and if the buyer is interested, they may proceed to make additional purchases. A vendor posts their used items on the site, and if a buyer is interested, they can purchase the item.
This blog is for those who want to understand the eCommerce industry's potential and start an online classified marketplace like Letgo or offerup clone and carousell clone. It contains in-depth information on how to create a classified marketplace similar to Letgo. Our Letgo clone is a user-driven script that helps various enterprises improve their market performance.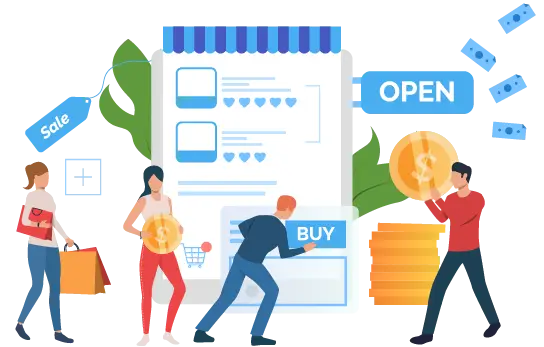 Start Selling Stuff Locally With LetGo Classifieds Script
Buy and Sell Marketplace Like LetGo
Idea and Concept
Basic and Advanced Functions
UX / UI design
The Scope Of Online Buying & Selling Marketplaces In 2022
The biggest truth is that the online marketplaces have a massive scope in 2022 and other coming years. With the increased use of the internet and smartphones, people are now more towards opting for online shopping. Also, the statistics state that more than 50% of internet users prefer shopping online. This means the classified retail sales are expected to grow by 20% CAGR by the end of 2023 globally.
We can say that this is the exact time to make a start and build your own online marketplace for recurring revenue. Kick-starting your online marketplace at this hour will surely help you establish your strong online presence and access a larger customer base. So without wasting much of your time, let's begin with the basics:
Reasons Behind the Success of LetGo
LetGo's growth and success can be attributed to a number of reasons. One needs entrepreneurial skills to make their own marketplace like Letgo a big success along with the right expert who helps you grow strategically. So let's know the reasons that contribute to the popularity of LetGo:
Strong Marketing Strategy: LetGo used a 360-degree marketing plan to promote their business, which included funny TV advertisements, YouTube ads, social media marketing, etc.
Reach and Exposure: Another reason for LetGo's success was the broad reach it provided to vendors who registered on the app. LetGo claims to have surpassed the milestone of 100 million downloads in its first three years of operation.
Diverse Range of Products: LetGo is a marketplace where you can sell anything. Real estate and autos are among the categories, as are home gadgets, gardening supplies, apparel, and baby things.
High-level of Security: To grow a customer base on a classified platform like Letgo, it's critical to ensure the safety and security of users. In all realistic scenarios, the public will only sign up for classified sites that sound trustworthy and dependable.
How Does LetGo Work?
There are three key user types on the LetGo app, which are:
To ensure smooth classified operations on the app, all of these user types follow the same workflow:
The site allows buyers to upload their products.
The listing is checked by the administrator.
Buyers can see listings that have been approved.
Buyers find a product they like and contact the vendor.
The product is sold by the seller.
The admin also has the option to reject a listing or send it back for moderation in the workflow. The vendor can re-upload the identical listing once it has been moderated.
The buyer and seller can discuss the price in a chat message and come to an agreement.
The buyer/seller is also in charge of the product's delivery or pickup.
How Does LetGo Make Money?
LetGo does not charge a registration fee to its vendors, nor does it remove a commission for each sale or purchase made using the app. As a result, the topic of how the app makes money emerges. LetGo's revenue generation methodology is distinct from those of other eCommerce platforms. We've included some of its well-known revenue-generating tactics below:
Display Advertising
LetGo makes money by displaying advertisements on its app. It enables different sellers and providers to place promotional banners or other marketing collateral throughout the app. The bigger the number of visitors who click on these ads, the more money LetGo makes. LetGo even sponsors commercials in specific geographic regions, giving its display advertising strategies more value.
Subscriptions For Free
LetGo also makes money using a freemium approach. Sellers can upload listings for free with a freemium subscription, but they also receive access to a premium function called 'Bump Up.' When used, the Bump Up option places the seller's listings at the top of the search results for seven days in a row.
Paid Subscriptions
For vendors, the Letgo classifieds script offers two premium subscription options. These are the following:
Letgo professional plan is designed exclusively for commercial vehicle dealers that wish to use the app to sell used cars. With advanced capabilities like feed integration and buyer callback, the plan focuses on assisting dealers in lead development. Under the LetGo Pro Plan, car listings are also made public right away.
LetGo offers a super boost mode membership to every seller that signs up for the platform. LetGo pledges to offer at least one product from the merchant every day as part of this subscription. LetGo collects data from all products on the marketplace and evaluates them for their likelihood of being purchased for this reason. As a result, the items with the best chance of selling are automatically added to the feature list and displayed to customers.
Although the aforementioned revenue streams are not unique to LetGo, they are distinct from commission-based marketplace businesses, which charge a commission to vendors on every transaction. This also suggests that the software application will have diverse features to help with online classifieds business operations.
Features To Add In Your Letgo Like Marketplace
| | | |
| --- | --- | --- |
| User Onboarding | Profile Management | Order History |
| Active/Inactive Ads | Upload Ad | Search Filters |
| Product Categories | Built-In Chat Module | Report a User |
| Whishlist | Verified Listings | Chat Messenger |
| Social Media Handling | Chat Filters | Sold Products |
How To Build A Buy/Sell Classifieds Platform Like Letgo, Olx, Craigslist, Etc
A buy and sell marketplace can be deployed to buy and sell anything from new to old used items. The most popular examples of applications that allow buying and selling of used items are Letgo, Olx, Carousell, and more on the list. You can build such a marketplace to sell items like books, furniture, vehicles, laptops, mobile phones etc.
The Complete Process To Build an Online Classifieds Platform
Before you get on the road of the development process, you need to find out what your users want. Extensive research is necessary to look for current trends in the market and utilize them within the app.
Start With A Unique Idea Or Concept: The main idea behind marketplaces like Letgo is to connect the sellers acquiring second-hand things with buyers who actually need them. If you want your marketplace to grow, you ensure that it contains all the distinct features so you can target more and more audiences.
Testing Out Your Ideas: Bringing more than one idea in use is common, but it is important to test each and find out whether they will suit your needs. It is good to make a sketch of the prototype and run through the series of tests before you come up with the final outcome.
Consider Advanced Functionalities: Considering Letgo advanced functions is certainly a good way to create your own buy and sell marketplace. If you want to succeed, it is important for you to stand out from the competition. All you need is to consider unique functionalities that your app must have.
The advanced functionalities you can take into account are following:
Registration: You make sure your marketplace app has the function of registering via either email, phone, or any social network.
Profile Creation: Users can build their profiles by entering the personal data. This data can also be retrieved from the social media account.
Ads & Listings: Thanks to the in-built technologies like AI and Image recognition system, Letgo enables you to create ads automatically.
Built-in chat: You can also go with the integration of popular chatting apps like WhatsApp, Telegram, or Facebook for quick chat.
Built-in Camera: The feature allows users to edit photos, cut them, and also make adjustments to the brightness and contrast as per their need.
Comments and ratings: It allows you to create a reputation for each user to protect the buyers from unreliable sellers.
Hiring A Dedicated App Developer: For the development of a feature-rich buy/sell marketplace, you make sure to have an experienced app developer on your side to bring the project on a successful track.
Challenges That Faced By Most Of The Buy/Sell Marketplaces
Disconnection Between Buyers & Sellers: One of the primary challenges faced by people is to maintain smooth communication between buyers and sellers.
Lack of proper information: A lack of information related to products and their descriptions.
Loyalty issues: If return and refund policies are not explained properly, contacting third-party sellers directly becomes a hectic task.
Issues Associated with Revenue Models: There are also most of the business owners having doubt about revenue models to fulfill the cost of running a profitable business.
The Cost To Develop A Buy/Sell Marketplace Like Letgo
The cost to develop a marketplace like LetGo mainly depends on the functionality, features, and technology stack that has to be implemented in the app. But on average, local marketplace mobile apps cost around $10k to $25k but a sophisticated buy-sell app development costs around $40k. Also, the cost of a Letgo like app varies with location of the developer. If we talk about the terms of functionalities of buy and sell app development, the cost is defined below:
UI/UX design – $1k to $2k
Front-end and Back-end development – $10k to $ 20k
Technical documentation – $1k to $2k
Polishing and bug fixing – $1k to $2k
Cover Note!
Without any doubt, it is fair enough to say that building a marketplace for local selling and buying is a profitable business idea. If you are on the same route to build a Classified platform similar to Letgo, you must understand the essential workflow to bring your idea to reality. From defining the distinctive features to searching out the best app development company, you have to eye on the best. What else is holding you behind? Are you in search of the best Letgo clone script in the market? Then, connect with the team to learn about specific aspects of a buy and sell used ads platform and app development. Our team of professionals will be ready to guide you. So, Schedule your free consultation now.
At Suffescom, we are highly driven to keep our skills sharp in widely used technologies. Our team of professionals will be ready to guide you. So, Schedule your free consultation now. We are the best choice for aspiring entrepreneurs like you. Our skilled development team will provide you with app development and well-informed technical assistance beyond. You can get a well-crafted classified marketplace as per your business requirements and specifications with us. Be quick and release the flawless marketplace app like Letgo and remain on the competitive edge.