Love is not only in the air anymore. Yes! You read it right. It's not only in the air but in people's smartphones, too. Right from finding friends to meeting soulmates, things are happening around. All thanks to the tinder like app for android & iPhone.
Not only has modern technology impacted man-machine relationships, but it is also changing people's perspective on interpersonal relationships.
Tinder Like App As Game Changer In Online Dating
Tinder became available to smartphone users in 2013, and it ushered in a new era and redefined romance.
There has been plenty of hand-wringing over how the tinder app for android & iPhone could transform the dating concept. People speculated that it would transform dating into a virtual marketplace where people could look for companionship, or give dating a form of on-demand hookups.
Sean Rad and Justin Mateen, founders of Tinder, once said in an interview that their own general dissatisfaction due to lack of dating opportunities inspired them to build the Tinder clone app for Android.
As per Statista, Tinder had 6.44 million downloads in January 2021.
Few considerations are crucial for app makers to consider if they wish to build dating app like Tinder.
Tinder's clone script main features
Working of the dating app
Making of a dating app
Cost of developing an app like Tinder
Tinder like app business model and how it makes money
The above-listed concerns must be considered if you are seriously aiming to develop a flirting app. Let us go through the elements.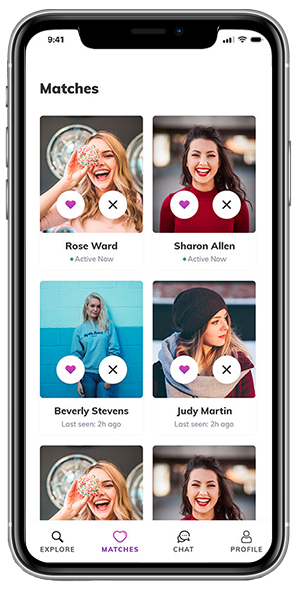 Launch Your Own App Similar to Tinder With Our Readymade Solution
Mobile Dating apps similar to Tinder help find your soulmate. Get a complete guide to build tinder clone app like a pro
Request Demo
Pay
Go Live
Tinder's Like Script Main Features
Users can access the app's features only if they have profiles. Providing an authorization option with any existing social media profile enables users to log in without remembering the login credentials.
The profile can include information like bio, dating preferences, travel goals, lifestyle, and habits for finding ideal matches.
You can also feature a dedicated onboarding experience to let users know about the app's functionalities.
Some online dating apps possess Instagram integration that can show your pictures on Instagram in addition to your plan of making a dating app.
Geolocation & Communication
If you are planning on how to make a dating app, you cannot afford to miss the feature of geolocation. The feature allows users to find people within the proximity of, for instance, 100 miles.
In case you are building it for Android, the app developer will use the Android location package and MapView classes. For iOS tinder app clone code, the development team will use CLLocationManager class and Map Kit framework.
You can also add more location-specific features that include information on social activities like how often your prospective date visits cafes, restaurants, and other places.
Search filter, one of the most crucial Tinder's like script features, allows users to approve or disapprove profiles based on filters like location, age, gender, preferences, and more.
The feature is premium and allows people to match with anyone in any location.
Users, irrespective of gender, must be able to use an app like Tinder. Besides, the app should be stuffed with features to include users' gender info along with sexual preferences.
The technicalities to build dating app that look like Tinder should provide liberty to users to change age settings and select the age range preferences.
The most vital feature that you ought to consider while building a Tinder script is matchmaking. When both the users swipe right to each other, it means approving each other's profiles. If they swipe left, it means 'no'.
After finding an ideal match, users can chat with each other using a private chat feature. They can also send BitMoji and GIFs for interactive messaging.
Interaction of the application with Apple/Google servers can help implement the push notifications feature.
The app developer can use FCM (Firebase Cloud Messaging) for Android and APN (Apple Push Notifications) for iOS flirting app code.
A Tinder related app business model can only be successful if it integrates the blocking feature. Users must be free to block another if they do not wish to receive their messages.
The feature ensures users' privacy and safety for incredible experiences.
The Swiping feature, though limited, generated massive user activity. Apart from the premium matchmaking options, there are other monetization sources like rewind last swipe, turning off the ads, location change, and more.
Working Of The Dating App
The dating app algorithm involves a two-way process.
One part involves mapping the user's real-time location for finding potential profiles. The location-based algorithm considers the distance between two users that is determined by the possibility of meeting in real life. Once a user performs a particular activity, it leads to some predefined outcomes.
The second algorithm works on the basis of some critical features- likes a profile gets, interaction with suitable profiles, etc. This algorithm takes personal details and preferences, which makes implementation easy.
The users can make the most out of the app by following a series of activities.
The users, first of all, need to set up their profiles and add the relevant information to them. This will help them find prospective matches by users swiping right on their profiles.
Users can adjust the settings of their profiles and even subscribe to premium services to make their profiles better than others.
If two users like each other, they get notified about a new match.
The app offers a basic chat feature where users cannot share photos or links. This avoids the spread of any abusive or inappropriate content.
You can also match or report a person if the communication is not going the way you expected it to be. Consequently, the chat will be deleted, and messaging between both the profile users will be disabled.
How To Make A Dating App?
Tinder has hit the right chord amongst the youngsters, which is why entrepreneurs are eying to build similar apps.
Go through the chronology of requirements that you need to fulfill for building apps like tinder.
Have the right team in place. Look for a team that is dedicated, having a project manager as your point of communication. Ensure the team is of a decent level and knows the integration of Android and iOS tinder like app code. Ideally, the team should consist of:
iOS/ Android developers

Backend developers

UI/UX designer

Project manager

QA engineer
1. Tweak The Solution
Do not go for copying the Tinder app but add functionalities that can make it better than the existing application. You can discuss it in detail with the app development team.
2. Target The Right Audience
The market is flooded with numerous dating apps. Undoubtedly, it depends on you to make it outshine others. Plan to offer specific benefits to your target audience to confirm its popularity and inflow of revenues.
3. Choose The Right Set Of Requirements
Intend to add core functionalities to your dating application to make it more functional.
4. Design & Development
Building an app like Tinder is, in other words, developing an attractive solution. Make an app that is appealing with a beautiful interface design, fonts, and more. The team will work on the app design to make sure the development process goes smoothly.
Tinder App Development Cost
The basic version of the tinder clone application might cost somewhere around $60k depending upon the platform you choose, either iOS or Android. On the other hand, a multi-platform app with high-end features might cost you $135k or more. If we talk about the time-frame of the simple tinder app development, it might take up to 4 months and even 6 months, depending upon the project complexity..
Developing an app like Tinder is a dream project for millions of entrepreneurs. It stands to reason that the total cost depends on multiple factors like:
The choice between developing one or multiple versions of the application

The choice of whether or not to create a minimum viable product (MVP)

Integration of features that are above the basic
These features largely impact the total cost of developing an app similar yet better than Tinder. You must also bear in mind that there is a difference between the integration of the iOS tinder app clone code and Android, which means the cost will be different, too.
Launched in 2012, the application has expanded the reach of singles' social networks and promotes interactions between people who might never have crossed paths in life. We are shedding light on the monetization models of Tinder, enabling you to know how to earn from it.
Tinder changed its operating model in 2015, though launched officially in 2013, to charge for features like unlimited swipes, location change, etc.
Tinder Gold is an extension of Tinder Plus and is an exclusive paid service, which offers Tinder Plus features in addition to the new 'Likes You' feature.
The new feature shows the number of likes you have got, people who have liked you in a grid format. Users can like them back, check, or dismiss the person's profile.
Various corporations and events partner with Tinder to show their sponsored content in the form of profiles. Whenever a user swipes right on a sponsored profile, he gets matched and receives a pre-drafted message. The user can then communicate by clicking on the link.
The feature makes the user's profile the top profile in the region for 30 minutes. This increases the chances for a match and profile views.
Why Choose To Develop An App Like Tinder?
Tinder clone script main features are going above and beyond just letting people find matches for romantic purposes. So, even if you are in a relationship, you can find good value in Tinder. In this context, Tinder and other similar apps travel from being dating apps to friend apps.
Tinder has provided a different context to relationships. Following its success, entrepreneurs all over the world are coming up with the idea to develop an app like Tinder. Here are a few but strong benefits of building a dating app clone.
Higher User Engagement Levels
The more time users spend on the platform, the higher the revenue will be. Therefore, it will turn into a smart idea to get an app developed that can compete with Tinder.
Revenue-generating Source
The entrepreneurs can choose the monetization model amongst subscriptions, advertisements, third-party services, and more.
Users can access the app anytime and anywhere to search for suitable matches.
Amazing Tinder App Facts
Tinder had 6.44 million downloads in January 2021.

Millennials constituted the majority of Tinder users globally in 2020.

Tinder is available in 196 countries, and most of its users belong to the US.

In March 2020, Tinder had 59 million visits.

As a whole, 13.6% of couples that met on a dating app got engaged or married.

Over 50% of Tinder users in the US are between 18 and 25 years.

It is expected that by 2023, the number of Tinder followers will be 425 280.

As of January 2021, Tinder was the fourth grossing non-gaming app in the world.

In 2020, the number of Tinder paid subscribers was 6.6 million.

Direct Tinder revenue amounted to $1.4 billion in 2020.
Revenue from Tinder reached $65 million in January 2021.

95% of Tinder matches meet within 2 to 7 days of matchmaking.

1.6 billion swipes happen each day on Tinder.
Bottom Line:
Swipe, get matched, flirt, and date– The ultimate Tinder app model.
The role of theTinder like app as game changer in online dating has replaced dating, meaning people swipe right and find a prospective match.
It is a wildly popular app. As a matter of fact, weird but true, people have stopped looking for potential partners while they go about their work or attend social occasions because they find Tinder highly suitable.
You cannot speculate enough about its growth potential. Hence, now is the right time to build an app like Tinder and outgrow the expectations of the users.
Suffescom Solutions is one name that is known for developing the Tinder Clone app, which have performed well in the market. We are pretty sure you are in haste to begin with the journey. Give us a call, and our team of experts will be more than delighted to answer your queries.