On the battle lines of COVID-19, we can see significant shifts in consumer behavior and their expectations, particularly in the logistics industry. Maintaining positive client experiences is now at one's wits' end. Performing same-day contactless last-mile delivery to meet consumer needs is a major difficulty. Because clients demand end-to-end transparency, such as:
Knowing where their orders are?
Who will be the one to deliver it?
When will it be delivered?
The needs of customers don't just end here; they also expect for flexible and speedy delivery. They don't want their packages to take so long to arrive at their doorsteps.
Every day, people in the logistics and transportation business ask themselves, "How can I keep my customers happy?" "How can I stay one step ahead of the game by doing so?" because they believe that if they can't win, someone else will. However, the reality is that more than half of logistics organizations are ignorant of innovative technological solutions that can help them handle last-mile problems. To succeed in this growing logistics business, you must understand the growing importance of last-mile delivery management software, as well as its other key features.
Understanding The Basics- First Mile Vs. Mid-Mile Vs. Last-Mile Delivery Solution
First-mile delivery: The transfer of goods from the merchant's site to the distributor center is referred to as first-mile delivery. Improper packaging, delays, poor labeling, and other issues are the most prevalent issues encountered with this delivery.
Mid-mile delivery: In the mid-mile delivery, the complications of first-mile delivery are further resolved. The distribution of all products from the warehouse to traditional retailers is referred to as mid-mile delivery.
Last-mile delivery: The last leg of a logistics operation is referred to as last-mile delivery. The products are transferred to the warehouse and then to their final destination in this manner. Last-mile delivery aims to get customer products to them as quickly as possible.
The Importance of Last-Mile Delivery Software in the Digital Era
Last-mile delivery management software is critical for meeting client demands more quickly. As a necessary component of logistics and supply chain enterprises, such an innovation saves a significant amount of time and money to run the company efficiently. As now it is imperative to stay ahead of the competition, logistics services providers have grown increasingly in their business operations.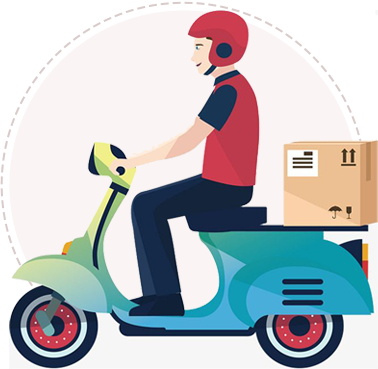 Build Last-Mile Delivery Management Software in USA, UK
Last Mile Logistics System
Delivery Management Software
Warehouse Management Systems
Visibility in Real-time
Last-Mile Delivery Software Solution Helps Logistics Businesses Keep Growing
All e-commerce businesses can benefit from e-commerce last-mile delivery software to optimize their end-to-end logistics operations. Take a look at some of the latest trends in last-mile delivery solutions that are making a big difference. Both external and internal fleet management can benefit from last-mile delivery. The procedure is divided into five steps:
Orders are processed using a centralized system. As a result, both the client and the server will be able to track and understand where the order is in the supply chain.
The order is completed and transported to the distribution center. The goal is to shorten the time between arrival at the hub and delivery at the final destination.
The delivery assignment is a systematic strategy for allocating packages to a route and the most cost-effective delivery option.
When leaving the transportation hub, orders are scanned to keep track of them, and stakeholders will be kept informed for the final mile.
Finally, the package has arrived at its destination and has been delivered.
Classification Of Last-Mile Delivery Software
Last-mile delivery is the final stage of the delivery process where goods are traveled from the distribution hub to the customer's doorstep. Although SaaS software solutions help solve the last-mile delivery challenges, last mile logistics software is a great alternative to address the entire chain of last-mile logistics, right from warehouse management to collecting customer payment.
Delivery Management Software: Delivery management software is one of the powerful tools you can have to manage your last-mile delivery operations. Although there are several tools in every category of last-mile delivery software, a pick-up of the wrong one can hurt the performance of your business operations. So you need to be careful while choosing the software.
A Powerful Mobile Application: The last-mile delivery app for drivers provides them with route schedules, right order information, navigation, etc. Another benefit of the mobile app is that it enables the dispatching teams to track delivery status accurately. Suppose we talk about the key feature of the mobile driver app Proof of Delivery. Using the feature, drivers can provide all relevant information for each order.
Warehouse Management Systems: Logistics businesses that optimize their last-mile delivery operations need a holistic approach across their manufacturing and distribution centers. And that's where the warehouse management system helps businesses with that. A warehouse management software helps you sort out picking lists, assigning the appropriate priority to each shipment, and so more. And by doing so, businesses can easily align with transportation requirements and speed up the goods dispatch process.
Important Features & Trends of Last-Mile Delivery Logistics Solutions
Dynamic Routing For Same-Day Deliveries
The dynamic routing capability allows logistic service providers to reduce delivery times. Sophisticated software offers the most efficient routes by dynamically scheduling routes based on some previously traveled routes such as time, location, and traffic. The software automatically develops a route based on the fuel consumption, allowing the agents to reach the customer's location swiftly and on the same day.
Customer Experience Enhancement Through Real-Time Tracking
Logistics firms can make their last-mile courier tracking process more transparent than ever before with last-mile logistics software. Businesses can better assist their customers by providing real-time delivery updates. You may give clients total visibility of the delivery process from beginning to end. Customers can instantly contact delivery service representatives via chat or phone in the event of delivery delays.
Related Article
Electronic Proof of Delivery Is A Real Game-changer in Logistic Industry
In the logistics sector, electronic proof of delivery is a game-changer. A robust last-mile delivery solution that includes electronic proof of delivery function reduces the amount of human paperwork required to generate client bills. Consumers may simply obtain delivery receipts, and businesses can correctly capture client details and acquire insights using smartphones and devices. You and your consumers can be tracked throughout the process if you use last-mile delivery software.
Audit Key Metrics, Reporting, & Analytics To Track Everything
Logistics companies can visualize the most critical indicators with the most robust logistics management software. Success rates, on-time rates, distance traveled, and a variety of other measures are all important. Furthermore, the app allows users to filter data by day and week.
Benefits of Last-Mile Delivery Software Solutions
Now that we've addressed the must-have aspects of last-mile enterprise delivery management System let's look at how these elements work together to help logistics companies.
More Flexibility: Modern customers expect their orders to arrive on time, and they value companies that provide this service. Logistics companies can use a sophisticated Last-Mile Delivery system to provide flexible services and improve client experiences.
More Productivity: Last-mile delivery software is a huge help to logistics and transportation companies. By providing deliveries in the shortest amount of time, such software aids productivity.
Service providers can complete the greatest amount of deliveries by efficiently organizing their routes. The last mile delivery software increases productivity by minimizing any unnecessary idling or unintended detours.
More Profitability: Logistics companies may scale their businesses, improve client experiences, and increase retention rates by using last-mile delivery software. All of these elements contribute to the companies' increased profitability.
Increased Business Productivity: The productivity of the logistics firm can be increased by using last-mile delivery software to automate various processes. This type of software aids in the organization of operations. The more effective your business operations are, the better connected you are to your customers.
Current Challenges With Last-Mile Delivery Management Software
Although the primary goal of a Last-Mile Delivery solution is to get products to customers as quickly as possible, many obstacles slow down supply chain processes. When it comes to performing last-mile delivery, the present COVID-19 requirements cause some serious issues. Let's take a look at the issues of last-mile delivery.
Shortage of Transparency
Buyers are interested in knowing where their items are and when they will arrive. As a result, visibility is the most critical criterion for creating credibility. The majority of businesses provide package trace IDs that show the status of a product's delivery. In today's tech-driven environment, people are dissatisfied with tracking codes.
High Cost of Delivery
Retailers and logistics companies are faced with the challenge of offering a great delivery experience while being profitable. In fact, the last mile is responsible for 28% of the entire delivery cost. One of the key issues is a lack of infrastructure to deliver products on time. Failure deliveries, long routes, driver salaries, and fleet operations influence delivery costs.
Uncertain Elements
When it comes to last-mile delivery, one thing is certain: it will be unexpected. Some last-mile difficulties, such as traffic, weather, and flat tires, are beyond human control. The only thing logistics companies can do is keep in continual communication and establish a backup plan for quickly delivering goods.
Insufficient Route Planning
For a beginner, route planning can be complicated and mentally draining. Several factors play a role, including fuel economy and environmental legislation. Poor route planning is the primary reason for late deliveries. Logistics companies might use route optimization software to overcome this hurdle and boost productivity.
Plan for the Environment
Businesses must partner with several logistics companies to give clients a superb delivery experience. On the other side, an eCommerce company can be a significant generator of carbon emissions. Last-mile enterprise software solutions that minimize pollution must include electric cars as people become more cognizant of environmental problems.
Visibility in Real-time
Retailers need real-time inventory visibility across the whole store and supply chain process to accurately accept, fulfill, and complete orders across various delivery options. Companies must be precise with inventory placement to enhance planning, execute orders quickly, and reduce mistakes across the supply chain.
What Does the Future Hold? The Last Mile Logistics Delivery Management Software's Purpose
The eCommerce industry will continue to grow, and the logistics sector will adjust to accommodate it. To remain competitive, eCommerce merchants and the logistics companies that support them must adopt best practices for last-mile delivery software that allow them to provide appropriate delivery options and services to their customers while increasing efficiency at every stage of the delivery process.
Today's technology makes it easier than ever to optimize the delivery process, allowing businesses and service providers to boost efficiency and revenue. Merchants and logistics providers must address their present problems while also ensuring that they are prepared to meet whatever demands are placed on them in the future.
Changing fulfillment locations, deploying autonomous cars or drone delivery, or launching a new delivery service are all examples of this. A powerful delivery and fulfillment cloud platform can help retailers and logistics providers expand and optimize their last-mile operations. It becomes automated and digital, reducing the workload and allowing businesses to expand flexibly.
UTILIZATION OF SENSORS
The likelihood of logistics organizations using sensors to track item temperature is increasing in the future. The logistics companies will be able to analyze the temperature and humidity levels throughout the delivery process as a result of this benefit.
DELIVERY BY DRONE
Another future trend will be the delivery of important commodities by drones. The majority of logistics organizations are already moving toward autonomous cars to expand last-mile delivery. If such a future trend occurs, it will undoubtedly reduce the labor costs of many logistics firms.
ARTIFICIAL INTELLIGENCE
Artificial Intelligence and other cutting-edge technology are critical to the shipping industry's bright future. The use of such technology will soon fundamentally transform the last-mile delivery procedure. Moving items to distribution hubs, monitor delivery routes, and properly keep stocks.
Last-Mile Delivery Software Cost Estimation
The cost of last-mile delivery software is determined by various factors, including the complex technological stack used, the features and functionalities given, the platforms integrated, and so on. As a result, deciding on the finest mobile app development firm for your app is essential.
Suffescom makes every effort to keep our clients up to date on the last mile delivery solution process and next steps. If you intend to include any notable features in your software, though, the expenses will almost certainly rise.
Consider building a cross-platform mobile app to promote your last-mile delivery services if you're on a tight budget. The factors that determine the cost of building last-mile delivery software are as follows:
UI/UX Design
Frontend & Backend development
Project Management
QA Test
Features & functionalities added
Technology stack
Platforms integrated
A basic app could cost somewhere between $5000 and $15,000 to develop. If you wish to integrate sophisticated features and technologies, the development cost could rise from $20000 to $25000. However, this is merely a rough estimate, and the firm you choose will be able to provide you with a more accurate budget for developing last-mile delivery software.
How Last Mile Delivery Management System Benefits Logistics And Multi-service Delivery Enterprises in 2022?
With the increasing demand for door-to-door delivery, logistics and multi-service delivery businesses are looking to invest in technology like last-mile delivery software. Recent technology improvements in the last-mile delivery software have made it easier for businesses to manage the increasing demands of customers more efficiently.
A software benefits multi-service businesses similar to Gojek with:
Better management of deliveries
Real-time tracking of delivery orders
Enhancing the visibility of the shipments
Optimizing best possible routes
Customizable and flexible deliveries
Improvement in productivity
Better business performance
FINAL CONCLUSION!
During the pandemic, logistics and transportation companies have to revamp up their last-mile delivery services. This is where modern technology solutions can assist in propelling the company to new heights and increasing earnings.
All you need is to take a step forward and adapt the latest features and trends that make the last mile delivery management software smarter. Regardless of the COVID-problems, the value of last-mile delivery solutions cannot be underestimated. Based on current patterns and future scope, the last-mile delivery solution is still a helmet to secure your organization.
Being a leading custom software development firm, Suffescom offers you highly robust, scalable, and responsive last mile delivery software. We effectively leverage technology to run the entire last-mile delivery process from collection to delivery.