Discord is first and foremost a communication tool. It is mostly geared at gamers, but it has been known to be used by other groups. Many crypto (blockchain) firms, for example, utilize this chat software since it has no restriction on the number of members per channel and is incredibly easy to control, complete with bans and reports that operate effortlessly.
Discord, on the other hand, is primarily used by the gaming community. It's a location where you can collaborate utilizing private servers that include voice and text chat and are meant to run in the background while you play your favorite game. Discord's popularity has soared in recent years, thanks in large part to popular games like PUBG and Minecraft. Using the App Like Discord is the simplest way to connect with a complete server.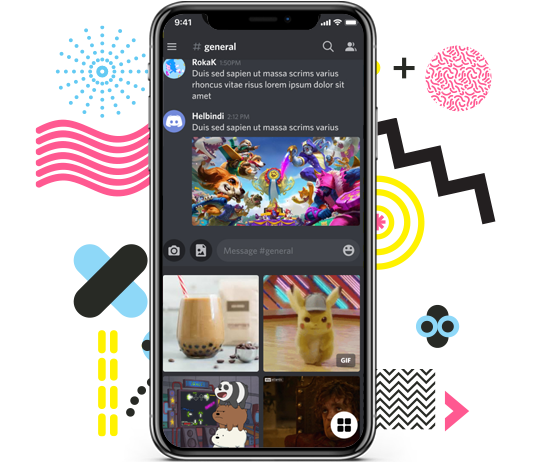 Launch Your Own App Like Discord With Our Readymade Solution
Request Demo
Pay
Go Live
Why Did People Switch To Discord?
The opportunity to construct a server with Voice and Text at no extra cost was the most compelling incentive for users to migrate to Discord. This was a significant issue for gaming groups because TeamSpeak required the rental of a server and text chat wasn't very good on it. Other services only allowed you to create a "group chat," so you couldn't have several voice channels.
At no cost to the user, Discord provided the two most crucial elements these communities required. It sounded too good to be true, but it's extremely accurate, and it's still the norm even among Discord alternatives. Discord's popularity stems from this revolutionary shift in how we communicate with one another, but it isn't the reason people continue to use it.
Who Uses Discord?
The majority of Discord users are still using it for gaming more than 6 years after its introduction, but it is evident that gaming is not the primary focus. Social groups for general debate have grown in popularity, a trend I believe has been hastened by the Covid-19 pandemic, which has caused people to be trapped indoors during lockdowns.
Fine arts, Anime, and Content Creators are some of the other popular communities. Discord has begun rolling out its Student Hubs, which has resulted in a rise of Educational servers.
From this, I deduced that the bulk of Discord users are gamers or were gamers at one time, but that this is rapidly changing as more individuals join the network for non-gaming reasons. According to my own experience, the Discord community has evolved so much in 2019 compared to now that labeling the app a gaming chat platform is a terrible distortion. It's self-evident that Discord is a location where you can find a community that shares your hobbies, whether they're gaming or not. If that community does not currently exist, you can start one.
By now, you might be aware of the Discord app, and there might be one thing striking to your mind – The cost to develop an app that works like discord. We will also be focusing on How to add games to the Discord library. But first, we will be focusing on how much likely it will cost to develop an apps like Discord.
The Breath – taking Features Of An App Like Discord
Talking about the popularity, there are several reasons why many people are thinking and looking forward to Discord style app:
Support multitasking

Bandwidth efficiencies

Increased accessibility

Clear and uninterrupted voice quality

Enhanced flexibility and compatibility with smartphones

Reduced costs

Complete portability

Highly scalable

Advanced customized features
To make it easier for you, we will be explaining some of the features, making your decision firm on launching an app like discord. The platform itself implies that it is one of the futuristic solutions for the audiences. If you are finally inclined to develop Like Discord app, then it is necessary to have a look at the features.
Servers or/and Channels
Servers, like channels, are venues where people can talk to each other in groups. Chatting can take place throughout an organization's workflow, at a group gathering, or during a school assignment. Each Discord server allows for the creation of up to 500 subgroups and the addition of up to 5000 team members.
If you are unable to locate a server that meets your requirements, you can construct your own. You can invite community members or friends and plan a meeting using your server in your Discord clone app. The following are the powers that the server administrator has:
Text and speech channels are being created.

Assigning people to tasks

People are being invited to join the server.

Changes to the verification settings for joining the server, as well as channel levels, to prevent bot accounts and spam.
Roles & Permission Management
Admins have the ability to give roles to other accounts and modify permission settings within channels and servers. As an admin, you have complete control over who is granted permission to read and send messages, as well as join the server or channel. You can define permissions either individually or collectively, depending on your preferences.
Around 30 authorization options are available, which can be combined in a variety of ways. It is also possible to transfer the management permission. Many people have been drawn to Discord like apps because of this freedom.
Discord Chat App
Discord was built primarily to improve voice communication. This software does, however, include text messaging capabilities. Participants in private conversations and channels can make video calls in addition to text and voice interactions. There are also dedicated video and audio talking channels on some Discord channels that do not have a message option. This communication was built using WebRTC. This is an open-source project that makes use of APIs to provide high-quality video and audio transmission to programs.
File Sharing
Discord like apps also offer a useful function called File Sharing. Though not as advanced as Telegram or Slack, it nonetheless allows free account users to upload files or documents up to 8 MB in size. Discord subscribers have the ability to upload files up to 50MB in size. You'll need a robust server to add this feature to your apps that are similar to discord.
The cost to develop an apps like Discord
Discord has been in the news for the past five years and is successfully being the only hub for the gamers, and other than that, as the market grew, we all can say that Discord has got a place for everyone. The platform itself had made an enormous buzz in the market by grabbing more than 250 million users globally. There has been massive competition in the industry itself. Having new apps like to discord with unique and jaw-dropping features engages more users and helps generate a much higher revenue all along.
This proves that if you are willing to offer those same set of features in the Discord style app, one can seamlessly develop and launch an app like to Discord within a few days. It will possibly cost you around USD 20k to $ 30 k including all the deliverable. The amount is only applicable to the basic features only.
As we have cleared you the necessary and minimum amount of developing an apps like Discord, moving on. We will be discussing how to add games to the Discord library.
How To Add Games To Discord
How many times have you seen players on Discord with a status that corresponds to the game they're playing? This is something you can do as well, and it's entirely free. You can add a lot of games to your library and then play them whenever you want. Your buddies will be notified via Discord that you are playing a specific game.
In addition, Discord will show you how long you've spent playing this game. This indicator is quite useful, and we'll go over the advantages of discord status later in the tutorial. Let's look at how to add games to Discord in the meantime.
Follow the steps below to add games to your Discord and see their current state.
Open the Discord application. Then, click or tap on the "User settings" options in the bottom left corner of your screen.

Click the "Game Activity" tab in the left pane of the user settings window.

Then enable the "Display currently running game as a status message" toggle. In the library below, every game you have on your device or system will appear.

If you don't see your game listed, select "Add it" and then search for it. When you find your match, pick it, and it will be added to your library with an icon and a tiny blue tick next to it if Discord supports it.

Discord will automatically detect that you are playing the game you just added when you play it. Everyone who can see your Discord profile will know that you have an active game session.

However, Discord does not support or verify some games. How can you add a game like this to Discord so that you can modify its status as well? You'll have to manually add the game file and edit it in order to establish a custom status.
Will An Apps Like Discord Be Able To Maintain Its Popularity?
The world is always evolving, and what people want or need from a talk, hang out and chat platforms like Discord now may not be what they want or need in 5 years. We believe Discord will be able to ride the waves of change as long as its users are satisfied. Of course, a business must generate a profit, but consumers are an essential component of any profit.
Discord has established a robust platform that has the ability to exist for many more years if they keep their primary function of delivering free text and audio chat. They must, however, examine how changes would affect people's opinions. A single blunder will not destroy a company, but a series of blunders over time can do damage and leave them open to competitors lurking in the shadows.
As you are aware of the specifications Discord platform is willing to deliver, we also thought of adding up a section for game bots. A game bot helps in making the server much more fun in order to keep the users active and running on the server. Therefore, have a look at some of the Discord game bots that one can add up in their apps like Discord and make it super exciting for the users as well.
Top Discord Game Bots – An Insight To
IdleRPG
IdleRPG is a Discord game where you can play a text-based roleplaying game. You can make your own character, complete with race and social class. After that, you can embark on quests and fight monsters, purchase and sell wondrous objects, join guilds, communicate with gods, and even marry other people.
PokeMeow
On Discord, PokeMeow is the most popular Pokemon bot. You can catch Pokemon on your server, trade, and battle with other players, and complete quests for in-game currency and items with this Pokemon bot. As you build up your Pokedex, the Pokemon bot also allows you to compete with other users on the global leader-board! PokeMeow is a fantastic Pokemon Discord bot for fans of the series.
Rock Puppy
Rock Puppy is a straightforward Discord bot that incorporates a number of classic games. Connect four, Truth or Dare, Trivia, Tic-Tac-Toe, Russian Roulette, and Would You Rather are some of the Discord games you may play with Rock Puppy. You can also have tarot readings, utilize a magic 8-ball, or roll dice. Play classic board and party games on your server with Rock Puppy to get to know your users better!
TriviaBot
TriviaBot is the most popular Discord trivia bot. It contains over 90,000 questions, and you can even submit your own for inclusion in the bot. Members can form and join teams in order to compete in competitions. You may also create a public leader-board to display who is performing the best on the server. TriviaBot also has its own Discord-wide leader-board, with the winner receiving a month of Discord Nitro Classic each month.
Concluding
The Discord platform itself is fabricated with a diverse and robust tech stack. It is on the verge of attaining new heights of success because of the fantastic communicating features and a sophisticated UI. This proves that the market is going to evolve app like Discord more. It provides an ease of convenience and offers an excellent platform for user interaction. If you are interested in building an app similar to Discord, then get in touch with the experts right away!