Are you searching for the best blockchain app development company which provides you with an advanced crowdfunding platform? If yes, go on and read further to clear your thoughts about this.
Blockchain technology is creating vast and modern opportunities for people by gathering momentum around the world. Prior to the introduction of Blockchain, one of the most innovative fundraising concepts, Crowdfunding, just beginning to gain traction among the startup community. Crowdfunding is rapidly growing as the best alternative to traditional capital funding. Nowadays, blockchain disruption enables global outreach and unlocks new use cases with a crowdfunding platform.
Before diving in further, let us have a look at the basics of blockchain technology and the crowdfunding concept.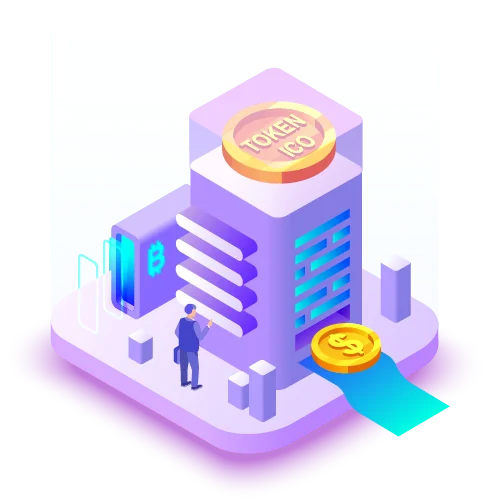 Blockchain-Based Crowdfunding Platform Development
Crowdfunding is rapidly growing as the best alternative to traditional capital funding.Before diving in further, let us have a look at the basics of blockchain technology and the crowdfunding concept.
Get in Touch
Blockchain & Crowdfunding Concept
As we know, the secure and transparent public ledger, blockchain, tracks the assets and transactions that are made in cryptocurrency wallet. The decentralized nature of blockchain helps in working fast and secure in financial transactions and becomes a substitute for third parties. 
Furthermore, crowdfunding is the innovative process of funding different kinds of operations in which any individual can request profit motive and social funds. Typically, the money is supplied in exchange for future products or shares. It entails the use of online social media platforms to connect investors with entrepreneurs in order to generate funds for a variety of projects in exchange for a fee.
Blockchain keeps the in-parties transaction transparent and safe with a unique, and independent system. Blockchain-based crowdfunding is a trust between the stakeholders and the investors. The rise of new techs is having a great positive impact on individuals and crowdfunding organizations. Blockchain-based crowdfunding platforms boost the credibility of various initiatives and ventures, attracting large sums of money from investors and donors.
Traditional Crowdfunding Limitations
Let's start by looking at the current state of crowdfunding. Crowdfunding has numerous benefits for both creators and consumers. It democratizes the investment process, whether it's for a company, an innovation, or a piece of art. Anyone can make any amount of contribution they choose. It also provides new products a chance to shine that would otherwise go unnoticed.
But, there are some flaws with the present-day funding process:
Excessive Fees
Most crowdfunding platforms charge a set cost for each project that is posted. It's sometimes a precise dollar sum, and other times it's a percentage of the donors' donation. This is a disadvantage in terms of funding availability, as start-ups are practically looking for every rupee to aid themselves.
Scam Start-ups
In some circumstances, start-ups are shown to be scams, leaving investors with no choice but to lose their money.
Intellectual Property Risk
A small number of start-ups fail to safeguard their intellectual property, exposing them to other experienced investors who can steal their idea and enter the market with the resources they have.
Do-it-yourself Marketing
Instead of spreading the word, certain start-ups require strong advertising and marketing. And this type of promotion necessitates a significant investment, which puts a strain on startup capital.
Rules and Regulations in the fine print
Not all platforms accept all types of services to be delivered. They have their own set of requirements, and if a start-up does not meet them, it will face challenges in terms of innovation and business.
How Can Blockchain Replace The Traditional Crowdfunding Industry?
Above all, the crowdfunding industry is grown for upheaval by blockchain. Initial Coin Offerings (ICOs), the blockchain's industry response to crowd funding, are already popular among start-ups today. In a digital world, ICOs are similar to public offerings in that they include the issuance of tokens that operate as the company's shares without the need for an equity market. Rather than shares, investors buy crypto-assets (tokens) using cryptocurrency or fiat currencies like US dollars.
Smart contracts, which regulate the terms and conditions of the token sale, govern the bulk of crowd sales. Participants in the token sale contribute their donations using smart contracts, which allow tokens to them automatically. The developers are the counterparty in this instance. As a result, they gather funds from crypto-investors who buy the project's newly issued tokens. Finally, the company gains from its ICO by avoiding the barriers pitched by venture capital firms and banks.
The crypto-world, in fact, will never stop evolving. Initial Exchange Offering (IEO), one of the most recent creations, may soon alter how start-ups raise funds through token sales. The tokens are transmitted to an appropriate exchange that functions as a counter-party in this new arrangement, making them available to private investors.
The amount of initial coin offering (ICO) scams is disturbing. This situation is exacerbated by a lack of regulation and legislation. As a result, IEOs will create a more secure environment for crypto investments. To give you an example, while anyone can create an ICO, only those who pass the feasibility screening will be listed on exchange platforms. As a result, investors may be confident that a company's token sale is legitimate.
How Blockchain Reinforce Crowdfunding?
So, what role does blockchain play?
Blockchain-based crowdfunding platforms terminate the use of an intermediate third party. Have a look at the several aspects where blockchain reinforces and enhances crowdfunding.
Decentralization
Being decentralized means blockchain can enable individuals to raise funds with the help of Initial Decentralized Exchange offering Platform without relying on any single or combination of platforms. This creates many benefits for the members of the crowdfunding community. For starters, you won't be bound by the rules, laws, or impulses of the internet's most popular crowdfunding services. Additionally, every project can create a chance of getting visible and be benefitted from the funds without any problem of fees. Keeping blockchain maintenance costs aside, crowdfunding is less expensive for the creators or investors as they'll cut back on the transaction fees.
Equity Access
Blockchain provides the investors with equity or some similar concept of ownership by relying on asset tokenization, instead of enabling preorders. For instance, an investor who intends to use the funds to develop several new items could give each new investor a tiny ownership stake in the company in proportion to their contribution. With this, the investor's success is proportional to the company's eventual success.
Universal Opportunity
A blockchain-based crowdfunding mechanism can possibly support any project. Those projects can also be contributed to by anybody with an internet connection. Platforms for discovery and visibility may be in demand. However, unlike crowdfunding projects today, there is no basic limitation. Crowdfunders don't need to worry about any kind of fraud, as the contributors will receive some enterprise part or ownership of the project.
Option's Flexibility
Creators or business owners offer liberties using blockchain as asset tokenization. They can issue more fractional enterprise shares to raise more funds and use them to grow more. Creators can, however, immediately leverage those fractional shares. Individuals may, for example, save money on employee hiring by compensating them partially in fractional ownership of the company, effectively turning it into an employee-owned company. Organizations can do more things like hiring marketing and advertising professionals as the asset token become their own form of model currency.
P2P Exchanges
Today, crowdfunded business or product stakes can be exchanged on a peer-to-peer basis, just like cryptocurrencies. Contributors will have more liquidity for their investments as a result of this. It could be used to increase interest in the project as a whole. This shift could eventually lead to the emergence of a completely new form of marketplace.
Blockchain Crowdfunding Aspects
Let's look at the list of qualities that make this technical solution essentially unique now that you know the most common roles of blockchain for crowdfunding.
Multisig Contracts
Contracts that require multiple signatures are known as multisig contracts. It enables users to make decisions as a group. The required signs for transactions or other actions approval can be established by users. You may wish to have everyone on your team sign a contract or set a minimum amount.
Capped Contracts
Capped contracts require a minimum amount of money to make a project profitable. If this goal is not met during fundraising, all money is returned to the investors. It's comparable to the IEO process in that investors won't lose money on non-profitable projects. By combining crowdfunding and blockchain, you can provide your users with the protection and guarantees that blockchain technology offers.
Freezing Tokens
If a project has raised more than the maximum number of funds required, it can freeze the leftover tokens. These tokens can be used for future initiatives or as a donation to others. You'll be able to build the internal currency for the blockchain-based crowdfunding platform and encourage people to invest it in projects in this manner.
Time vault contracts
Time vault contracts allow you to define time limitations after which a user will no longer be able to withdraw tokens. If an investor wishes to withdraw funds, they will be unable to do so once a particular period has passed. Blockchain is redefining crowdfunding by providing this degree of security to both parties.
Working Process Of Crowdfunding
When a creator proposes a new product initiative, interested parties can opt to support the cause and gain early access to the product. Each supporter deposits the needed amount in a stable coin into an escrow wallet controlled by a smart contract. When the total cash in escrow reaches the target within a certain time frame, the creator can begin manufacturing.
Three different blockchain crowdfunding scenarios
The funds are released to the creators once the full product has been made, publicized, and accepted by the majority of contributors through a governance voting system.
A portion of the cash is released to facilitate project progress when each milestone is reached and accepted by a predetermined ratio of supporters.
The funds can be released to the creator with or without donor acceptance, regardless of donor acceptance levels.
Once consensus is established, the predetermined amount from the escrow wallet will be sent to the originator. Donors are thus protected from project developers' judgment errors by the smart contract. If the creator needs funding to complete the idea, the integrating platform can look into DeFi loans backed by assets for the working capital.
Is blockchain knowledge required to use this crowdfunding smart contract?
To use this crowdfunding platform in your business, you do not need to comprehend blockchain. It's a no-code environment that allows non-technical users to use blockchain to improve the way they use apps in their enterprises.
Blockchain App Development For Crowdfunding
Because blockchain is such a vast technology, it is still regarded as a niche. Fortunately, Suffescom Solutions, the best blockchain app development company has a team of experienced developers who know how to create blockchain-based apps that can disrupt the business.
If you want to be a part of the modern blockchain era, you need to understand every step of the blockchain development process. If you opt to hire dedicated blockchain developers, make sure your technology partner is trustworthy and knowledgeable.
Share your ideas and thoughts with us!!!