With the popularity of NFTs blowing up in the online space, Discord has become a one-stop place for millions of diverse NFT communities. The platform is being widely used by communities of various sizes across industries ranging from art to gaming. The emergence of the Discord community server enables an advanced level of engagement with peers. And there are tons of hidden features and tools that help make the most out of the platform; you need to understand each aspect in depth.
If you are a kind of NFT enthusiast or NFT artist desiring to be a part of the NFT community, you are probably searching for the ideal NFT discord server or communities to join. Here in this post, you will learn about the Discord community server, how it is rapidly becoming the internet's favorite place, and marketing strategies that work well in 2022.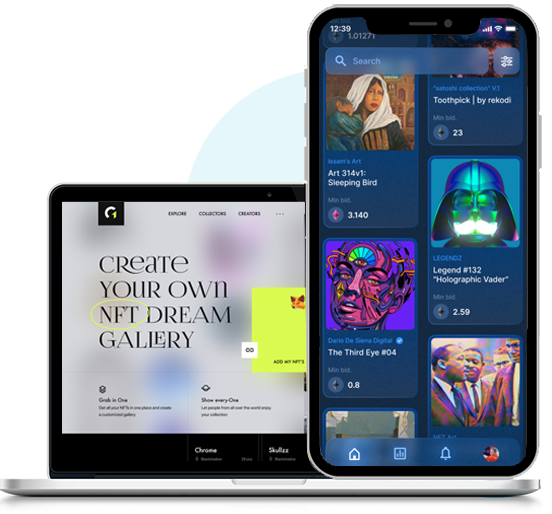 Market Your Own White Label NFT Marketplace With Discord
Launch Your Own NFT Marketplace Platform Comprising All The Latest Features Required to Turn Business into a Success.
Describing Discord Platform & Servers
Many of us are aware of terms such as Discord. It refers to the voice and chat platform for users to join conversational servers to talk to other members about different niche topics. Launched in 2015, the platform has grown for diverse users like influencers, content creators, and businesses. Considering that the platform now caters to various groups, it is a good chance for marketers to join the platform and see if they can help them meet the marketing needs.
Discord servers are online chat rooms that function similarly to other social media platforms. Various online chat rooms and text/voice channels are supported on the server. The service allows users to send invites to nearby friends and family members to join the server. With just a click, users can enter the server in public mode.
Moving further on the discord servers also allows the creation of separate voice and text channels which can be further categorized based on various topics. More than 800 Discord servers are available on NFT, and picking the right one can consume a lot of time. It is likely to see a new discord group on the NFT server, which one can pick as per the requirement. Now almost everyone must be aware of Discord-like social messaging platforms. Its arrival in the industry and existence has played the most vital role across diverse fields.
In addition to communicating purpose, a discord server is also meant for the purpose of marketing and branding specific products. To know more about this concept, scroll down.
Is Discord A Modernized Platform For Engagement
There is no doubt in this that Discord is the most futuristic platform for the engagement of the audience. As the whole world is now rapidly opting for the innovative tech world, platforms like Discord are designed for advanced things. In short, Discord server communities are the place for effective communication with peers and also fulfill marketing purposes of business.
So now comes the main part of the blog, that is how Discord servers are best for marketing purposes? Discord plays the most important role in reaching the audience one aims for because using Discord servers for brand promotion and finding potential influencers would benefit businesses.
To build a winning business, creating an exclusive server for brand marketing and other channels is wise. You can also go with the creation of relevant content and post them on various channels for promotion. Becoming a part of any Discord server community surely helps you reach massive users and boost business growth. Overall, undergoing Discord for marketing is beneficial for companies around the gaming industry.
So Who Can Take Advantage of the Discord Server Community?
Discord is a social messaging platform that benefits many from the fields like:
Growing and Established Brands
Gaming Community
Crypto/NFT Industry
Here Is How Discord Strategy Works For Wide NFT Communities
You must have got an overview of Discord and the benefits obtained out of it by now. Now all readers have to do is analyze the Discord best practices, as follows.
Originating a server for a specific brand: Building a server either from an existing template or from scratch is easy to do with the best discord marketing service provider. Using the server, you can also build up individual channels depending upon the categories. You can share relevant information about your brand projects on a server that further functions in two ways – either private or public.
Knowing Who Your Ideal Audience Is: Discord like platforms is most widely used among youngsters and teens, especially gamers from the gaming industry. But if we keep the current scenario in place, all ages can use a platform for effectively communicating and influencing. Just know your project type and brand purpose, find out users interested in your arena and take your growth to the next level.
Connecting Wide Communities: There is also an option to join the servers and become a part of their community. It is the best way to meet with a larger audience and share detailed information about your brands.
List Of Top NFT Discord Communities In 2022
Discord is a voice/video/text chat platform that has been used by millions currently. The platform is popular among gamers and crypto-related communities. With so many options available, it is also difficult to find the best NFT discord server in terms of user engagement. Below is the list of the best NFT Discord servers. Let's discuss them one by one:
OpenSea – OpenSea is the leading and largest marketplace for NFTs that originated in 2017. The platform is used by more than 300k+ users and over 30M NFT's total transactions. Users owning their own digital assets can join the marketplace for selling. Backed by top industry leaders, OpenSea supports a variety of channels. It meant for those looking to get into the NFTs and developers to integrate the OpenSea technology into the website.
Rarible – It is another most popular marketplace for selling NFTs. Rarible, with its discord channel, becomes perfect for anyone interested in NFTs, whether they are artists, investors, or developers. The platform also holds open discussions on topics around rarible enhancements, the latest features, and discussions on art. If you plan to launch your own NFT project on Rarible, then the Discord community is worth joining. You can call this NFT community the world's most secured one, where digital collectibles are secure utilizing blockchain technology. It is also one NFT marketplace to create, sell, or collect digital collectibles.
VeeFriends – VeeFriends allows one to quickly become a part of their community and get access to VeeCon. This NFT community is exclusively for NFT holders, where they can come together to build strong relationships, share their ideas, and learn together as one community. The Discord community like VeeFriends is massive, informative, and shares information from all around the world.
Mekaverse – The community has an extensive collection of over 8k Mekas. Each of the artwork in this community is original and unique with its own color palette. If we talk about members on the Mekaverse, it is over 100,000 members. All the members that are a part of the community can access what is happening inside the Metaverse universe.
NFT Now – NFT Now is the Discord server community that is full of the latest news, analysis on artists, and new technologies designed to redefine the creative space. The community keeps users regularly updated with the latest news, videos, and newsletter. On the platform, there are more than 2k members.
Larva Labs – This Discord community is best known for crypto art projects. You can consider it a hub for both professional and experimental projects. If you are really in the mood to become a part of the popular Crypto project community, you can join the discord community named Larva Labs.
NFT Hideout: NFT Hideout is also the most dedicated community for NFT and crypto enthusiasts, artists, investors, and creators. Such a community is a smaller one for now, which means that it is highly suitable for users. Just like other Discord channels, members can sell their artwork, easily review all the NFT based frequently asked questions, and also go with an in-depth understanding of the development behind NFT projects.
Go With The Build-Up Of Discord community for your brand
Decide Whether Discord Is Right Fit Or Not
The very step for you is to ensure whether your brand goes well with the Discord community or not. For this, you have to give your focus on the following:
Discord well suits B2C businesses. So check for your industry before you get into it.
Check for the interests of the audience. That means the age plus the buyer behavior in using the Discord.
Setting Up Your Goals
Before you go with the build-up of community, set up your goals that better define your community design. The most common goals you can set for your community are:
Connecting Potential Customers
Building customer loyalty
Getting support for your product
Create Your Own Channels:
Now with your own goals in place, you can go with the creation of your own server and its channels. You can go with the creation of a server either from scratch or choose a template. If you choose a template, there is a big list of channels you can start with. Channels let you communicate via text or other messaging apps.
Define Your Own Rules:
There are some built-in rules pages on the community servers that members have to read and approve before posting. By defining your server's rules, you can continue with creating a safe space for healthy discussions. Once you get all the essential rules in your bucket, the next step is to create Discord roles for members inside the community. These roles will define the admins' permissions, accessible channels, and much more.
Start Promoting Your Server:
Now that your server is all set up, give extra time to promote it in various places, especially where a good range of community members are available. If your community is for all around the public, you can use your platform to the fullest. You can start with more and more sharing on social media as well as on websites.
Stay Involved In Your Community:
As Discord server is your valuable investment, you make sure to keep you involved in the community to keep growing and going. You must keep on assigning admin handling of issues that arise in the community. It is easy to help members utilize the Discord features.
List of New Upcoming NFT Projects Coming In 2022
VeeFriends – It is a type of NFT project in which each NFT is a gateway to VeeCon events. Thus the upcoming NFT project is only attended by the Veefriends holders.
Crypto Baristas – Crypto Baristas is another upcoming NFT project that is expected to launch in the mid of 2022. This NFT project comprises more than 50 caffeine-loving characters.
Guild of Guardians – It's an upcoming play and earn game that is coming in 2022. The project seems to be quite popular and is going to gain huge attention from gamers around the world.
Nouns: This one-of-a-kind project is so affordable that it is going to make a huge difference in the future.
Concluding Lines!
Now is the right time for you to make an entry into the digital world by understanding the finest digital marketing strategies. Once you get a good understanding of the Discord community, try running events by making a selection of reliable one. That's where Suffescom can help you out and take some of your load off when you want to make a beginning in a Discord community. So what are you waiting for? Take your step forward and seek one of the best discord marketing service companies to take your business close to success.