Human wants are endless, and for Liquor, the desire can be more significant than anything else. Now that everything can be delivered within minutes via apps, customers have also started shopping for their favorite liquors digitally. Thanks to the new emerging trend – liquor delivery app development! E-commerce channels and busy lifestyles have made people buy alcohol online in just a few tabs. No matter if your customers want to enjoy Liquor with their friends or just in their own personal space, you now have an option to build an app like Drizly that delivers alcohol on-demand at one's doorstep.
Liquor Market In 2021
Just like on-demand food delivery apps, the on-demand liquor delivery apps like Drizly came into existence and won the hearts of many tipplers. The internet stats say that alcohol sales via apps were gradually increased last year due to the social regulatory measures. More than 50% of beer, wine, and liquor production companies were shifted online and forced to sell Liquor digitally. In 2020, the liquor industry grew its total sales and revenue by an average of 32.7%, whereas Drizly's revenue grew by 78%.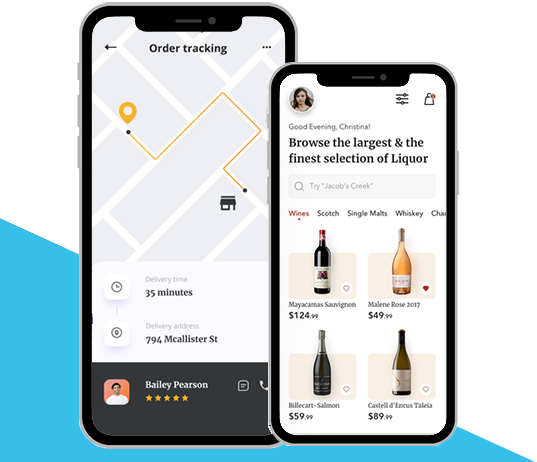 No Matter Which Alcohol Delivery Business Type Or Brand You Have; We Have Readymade Solutions For All
Related Article: How to Start Online Liquor Delivery Business – Strategies, Aspects, And Benefits
Know the Background of Drizly
Drizly, established in 2012, is a popular digital platform designed to link liquor stores with customers. Via this platform, customers can purchase alcoholic beverages in minutes, make easy online payments, and get the products at their doorstep. Drizly's business model focuses on affordable pricing with an exclusive range of beverages for wide consumers.
The delivery of liquors in minutes can help service providers make the one most robust alcohol delivery app. Most entrepreneurs consider investing in Drizly Clone App Development to attain tremendous popularity. Drizly now has over 3k registered stores on its platform and delivers a wide gamut of liquor types. Since its establishment, it is likely to see tremendous growth in this company which quickly became a leader in the alcohol delivery landscape.
Some Popular Features of Drizly
An app comes with a wide range of wines allowing multiple sellers to sell consumers their favorite wine, beer, or any other liquor type.
With the help of such an app, consumers can make informed decisions by comparing the prices of different liquor stores.

The doorstep liquor delivery to the customer's doorstep is as soon as possible.

Drizly is in-built with the features that allow one to have their products delivered timely and track them until they reach the destination.

The easy payment feature within Drizly allows customers to make payment for liquors faster and securely.

24/7 customer support is another feature inside the app that allows customers to resolve liquor-related queries available in that area.
How A Liquor App Development Firm Can Help Set Up Your Alcohol Business
THE GROWING NEED FOR APPS LIKE DRIZLY
The pandemic has forced many startups to get into the business of selling Liquor. Millennials depend upon on-demand delivery apps for fulfilling their basic needs. The demand for liquor stores increased immensely online in a few months. By meeting customers' needs faster and making quick delivery at doorsteps, most of the entrepreneurs took their liquor delivery services to the next high level. Drizly app and few more apps like Drizly had done well during the lockdown.
With the latest technology advancements, the life of our humans has become so convenient that one can order and serve everything at the doorstep in a few clicks. Even getting favorite Liquor delivered to the doorstep is no more a big deal. Below are a few benefits to launch an app like Drizly:
Customers can place their favorite liquor orders via an app in less than no time.

Customers can browse through a variety of liquor brands and options from anywhere.

Customers can buy Liquor from their nearby stores via the app and reduce their manual efforts.

Customers within an app can enjoy attractive discounts and save a good amount of money.

Customers can enjoy a pleasant liquor shopping experience using features like order tracking, multiple payment options, etc.

Customers can enjoy a tremendous in-app experience due to its easy-to-navigate UI/UX. An app like Drizly better analyzes user preferences to improve the experiences better.
Also Read: How A Liquor App Development Firm Can Help Set Up Your Alcohol Delivery Business
HOW A LIQUOR APP LIKE DRIZLY WORKS?
Like most other on-demand solutions, liquor delivery app solutions have their popular identity. Its purpose is to engage more and more traffic to the nearest stores for liquor shopping. In simple words, such a business model focuses on the selling of an exclusive range of alcohol at the most affordable prices. For smooth operations, an app like Drizly works like following
At first, the customer signs up on the app and signs in to order their favorite booze from nearby stores.

Once the order is placed, the liquor store registered within the app ensures the orders are completed within an estimated time.

The delivery agent further on the way to pick up those orders from the liquor store for delivery to the customer's doorstep. Until the order reaches the destination, customers can track them via an app.

Finally, when orders are collected, customers can further clear the invoice and rate the services as per their experiences.
With these steps, it is clear that the Drizly app acts as an intermediate between the customers and liquor sellers. All thanks to the cutting-edge technology and straightforward functionality, tipplers can register on the app quickly that further brings growth opportunities to the sellers. Liquor store owners can register on the app, integrate their delivery system, and start selling Liquor to a broad audience.
IMPORTANT FEATURES FOR SEPARATE PANELS FOR APP LIKE DRIZLY
It is essential to understand that a smart app needs to be fully prepared to work for liquor shops, pubs, and bars. There is an extensive list of features that developers consider to build an app like Drizly and make it run in no time.
CUSTOMER APP
An app is constructed with a customer panel that allows tipplers to place orders, make easy payments, and get the liquors at one's doorstep. Features of the customer app are
Easy Login: The easy login feature within the liquor delivery app allows customers to get registered with the app and make a login by username and password.
Smart Filters: Smart filtering features enable customers to search for desired Liquor more efficiently and faster. A user can set the required filter, remove an unnecessary listing, and get the favorite drink on the spot.
Multiple payment methods: Another feature inside the liquor delivery app allows users to make payments through the desired payment method and purchase them.
Order History: This feature allows customers to browse the order history to reorder items in the future.
Real-time tracking: In the liquor delivery app, the real-time tracking feature lets customers know the exact time the liquor orders will take to reach the destination.
Ratings & Feedback: The rating feature within an app enables customers to share honest feedback after receiving the liquor items. With the help of those reviews, businesses can better know about their customers and work for their betterment.
DELIVERY GUY APP
An app for delivery agents allows them to complete liquor orders as quickly as possible. On liquor delivery apps, delivery agents can sign up, accept the order per their availability, and make them faster delivered to the customer doorstep. Some of the features of the delivery agent app are
Manage Profile: Deliver agents registered on the liquor delivery app can view, manage, and update their profiles on the app.
Order Status Update: On the successful delivery of customer orders, delivery agents can further collect the digital signature from the specific customer. They additionally can update the order status from pending to successful delivery.
Route Tracking: Within an app, the feature of in-app Google map allows the agents to track the shortest-possible route and reach the customer destination faster.
STORE OWNER PANEL
This store owner panel within the liquor delivery app allows the store owners to manage the store efficiently. Essential functions inside the store owner app:
Product management: Store owners within the app have complete freedom to add or update liquor items. They can set the prices, categories, subcategories of specific items.
Order tracking in real-time: The listed store owners on the app can track the delivery agent and know their exact location to ensure customer satisfaction.
Alerts & Notifications: Store owners have an option within the app to send alerts and notifications to customers about the latest discounts, new deals, and other important information.
Detailed analytics & Reporting: A powerful liquor delivery app provides store owners with detailed analytics and knows the store performance in just a single click.
ADMIN DASHBOARD
Store management: Admins using the attractive dashboard can manage the multiple listed liquor stores simultaneously. They can easily maintain the records of the store.
Customer management: All the customers associated with the app can be easily managed by the admin through the panel and better meet their needs.
Delivery agent management: Just like customers, admins can manage the delivery agents and track their status in real-time with a live location tracking feature.
Analytics: Admins can use the attractive dashboard to avail the analytics report weekly, monthly, and annual.
With the latest market search in place, it is clear that Drizly is one of the leading liquor delivery solutions. Those entrepreneurs who are in the same mood of building an app like Drizly can look at this post. It covers all the necessary steps that work when it comes to building a liquor delivery app.
STEPS TO BUILD A LIQUOR DELIVERY APP LIKE DRIZLY
CREATE A PROPER PLAN
Building an app like Drizly is not that easy one thinks it is. An entrepreneur needs to put an eye on everything right from the budget, costs to more. For better execution of the process, it is good to build a plan in advance as it ensures smooth carrying out of the operations.
Figure Out the Platform
Just after the comprehensive business analysis, you need to pick the platform that suits the customers' needs best. The most popular choices in the list are iOS, Android, and cross-platform app development. If your budget is less, then you prefer to launch the app on a single platform.
Find Out Professional Developers
App development is an expensive dream for many. You need to hire someone who better executes your ideas and plans. A trustworthy team of developers ensures all your expectations will be well fulfilled with proper resources, the right expertise, and technical knowledge. Although there is an option of moving with a freelancer, no one can beat the service of full-time developers. Below are the reasons to go with full-time app developers.
They have more experience

They have a good skill set

They focus more on quality

They offer flexible pricing models

They provide time project status
THE FINAL STEP – GET THE ESTIMATE TO BUILD AN APP LIKE DRIZLY
There are several factors on which the Drizly like app development cost depends upon. Like the functionality, the features to add to the app, the tools required to build the app, the configuration, and others. From idea conceptualization to project delivery, the cost can range somewhere around $20k – $50k. Below are the few factors that can help you determine the cost of building an app like Drizly:
The platform you choose, either iOS or Android

All the features and the complexity of the app

The team members, resources, and expertise involved

And there is much on the list, and only an experienced developer can better explain this.
Ready to Serve the Tipplers with On-demand Alcohol Delivery Apps like Drizly?
Building an app like Drizly has a lot of potential to win customers, increase sales, and earn maximum revenue. Get in touch with the Software engineers at Suffescom Solutions. We can bring you the best-in-class Alcohal App Development Company beyond your expectations. Brands worldwide have trusted us and relied on us for exceptional app development services. For a unique liquor delivery app like Drizly, reach out to us as soon as possible. We help business dreams come to life as quickly as possible.