Are you someone passionate about the food industry or have always dreamt of having a food chain of their own, then we will advise you to follow it with a tinge of technology in it. Before you preoccupy yourself with reading this guide to create a food ordering app, allow us to take you to the conclusion of this article in the very first segment of the blog. Suffescom is a reputable and highly experienced mobile app development company and we have managed to develop more than 100+ food delivery and ordering mobile applications. If you are interested in developing a food ordering application, kindly Request Free Demo.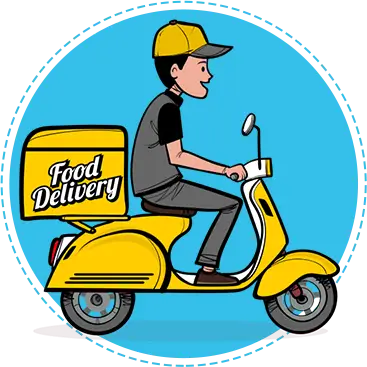 How To Create A Food Ordering App in 2022
Opt For Advanced Technologies
Customization With Separate Panel
Food to Navigation via Smartphone's
Step by Step Guide On How To Make A Food Ordering Application
Having a dream or thought about starting up a new business venture is something that can easily be acquired with a good stack of technology and this can easily happen if we will be looking at the biggest food delivery companies in the world. To know more you can look at our post of top 10 food delivery companies in the world and how did they manage to retain the position.
Moving on it's clear from the popularity of Swiggy, Uber Eats, and Grubhub that the seamless app can do wonders. Agree or not! Nowadays every new food delivery startup wants a mobile app solution that makes them unique. The majority of them are showing interest in food delivery app development so that they could rule and change the way the business operates.
As per the recent survey, around 80% of the audience prefer ordering their meals online. Within an app, customers can order their favorite dishes all from the comforts of home with quick delivery at the doorstep. The improved customer experience helps businesses to experience higher profits and perform better in a competitive market.
Baffled how to create a food ordering app? We have got you covered. This post helps you understand the steps to build a successful application for your restaurant. Along with that, we will be offering you guidance on the set of features, technology stack, and deliverables, one should focus on. Besides that, we also have expertise in creating Dynamic QR codes comprising ordering software for restaurants with POS, Billing, Inventory & KOT. If we have hit the right spot then you should for sure check out our blogpost on Dynamic QR code. 
Related Article: How to Start Food Delivery Business
What A Feature Rich Food Ordering App Offers
Not just allow customers to get the delivery of food at the doorstep, an owner can also show the quality of the restaurant with the app. An app, either based on Android or iOS, will help increase the value of a restaurant if it is developed as per business needs and requirements.
Strong Customer Base
With the increased number of smartphone users, the demand for online food ordering is also on the rise. For more convenience, people are using apps to order their favorite foods. All that means a food delivery application can help businesses to attract the right audience.
More Visible Brand
Thanks to such innovation, restaurants can enjoy more visibility for their brand. An app can help them build a prominent brand presence all around the world. Based on your restaurant items, quality, and prices, you can make your brand thrive in this competitive market.
Customer Retention
By having an innovative and robust app for food ordering, restaurants can retain customers and double the sales. As a restaurant owner, you can offer customers interesting discounts on food and special offers within an app. Offering discounts to customers from time to time can help owners to earn well from existing customers.
Beat Business Challenges
An innovative app for food ordering can help you easily handle business challenges. Investing in the development of apps can help you provide something better to your customers, delivery agents, and management as well. By having an app to handle your tasks, you can concentrate on other things like promotions.
You Earn Better ROI
As the number of customers increases, your market value also increases. Just having a mobile app does not go to work unless it is included with advanced features. With every single detail on the app, the reviews, and availability, you can offer customers a deep business view. This further helps you experience a good return on investment in less time.
Save Millions by Food Delivery Route Optimization
Explaining The Deliverables & Its Features
In a food ordering solution, there is a need to add three separate panels – one for the customer, one for admin, and one for the delivery boy. Let's discuss each of the deliverables in more detail.
User App
Customers need to download the app to their devices to meet their daily needs. One can use the app to place orders from the listed best nearby restaurants. A perfectly made app is included with all the advanced features that make the ordering online experience much better than ever.
Delivery Boy App
Delivery boy app can perform smooth delivery of the order to users by using the driver app. The app allows the delivery agents to know about the latest placed order and further accept and reject them as per their availability. In addition to this, a delivery person can easily find out the details of the customer, drop-off location, and more.
Admin Panel
An authorized person of the food delivery business can bring the admin app into use. Within the app, an admin can do anything from accepting customer orders, managing payment, tracking orders, and performing many more activities.
One can avail the same sort of deliverables in our other business models as well. The most affordable and convenient model for emerging startups we have in satchels is our subscription-based food delivery solution. To know more all you have to do is invest in this highly informative blog post.
What Features To Consider?
Just developing an app for your restaurant is not enough. The one needs to get the app developed with amazing features. The special features that help retain customers, drivers to perform their jobs better, and admin to manage all activities with much ease. Make sure to set up your app with features tailored to business needs. Once figured out, the next step is to make sure the whole structure and appeal are unique compared to all other apps out there.
Smooth On-Boarding
Inside the food delivery app, the registration feature is necessary to add for all – users, admin, and delivery agents as well. Only with a proper profile, they can manage everything with perfection. By allowing the users to easily get signed up on the app, you can increase app visibility.
Smart Search Filter
Inside the app, there should be a smart search or filtering out feature. Don't let your customers struggle to find out their favorite item. A smart search filter allows the user to find their desired items from the best items in minutes. All in all, order placement is quick and easy, further saving one's precious time and effort.
Profile Management
This feature is a must-have for users, agents, and admin. With this, one can easily maintain their profiles. It is important for app users to manage their profiles with accurate information. Whatever the information they want to add, edit, or remove, one can perform easily and faster. The admin of the restaurant also needs to maintain their profiles to represent the business.
Push Notifications/Alerts
Sending push notifications to customers and delivery agents can make a great difference in terms of brand visibility. With such an addition, online food delivery businesses can better connect with customers and agents. An instant notification helps convey all the necessary information related to special offers and loyalty programs.
Tracking In Real-Time
Another essential feature to add to your app. With the help of real-time GPS, users can track the location of their orders and the movement of the delivery agent from anywhere. Such a feature works as two-way tracking as it also helps delivery agents to easily recognize the location of the user and deliver the orders faster.
Multiple Payment Channels
Almost in every business, the payment process plays a vital role. This is the reason the payment module of the app should be smooth and error-free. Don't let the customers face any problems while making payments. Also, prefer adding multiple payment options inside the app is a great idea. It provides the customers full free freedom to make a payment from any of the methods. From GooglePay, Credit/Debit Card, to PayPal, this feature allows users to pay with ease.
Feedback & Rating in Food Delivery App
Customer reviews or feedback is a great help for businesses. The feature of the feedback portal on the app allows one to rate the restaurant and the services provided. Businesses can easily know how their precious customers are responding to their services. The reviews can help them improve their services and take the business to the utmost heights. The good the rating of the app is, the more customers will prefer installing it.
Technology Stack To Create A Food Ordering App
The food ordering application development is in trend and its scope is wide. With the use of various technologies, frameworks, and tools, the app goes into the market. Explore the technologies below that are highly used in the development process.
Augmented & Virtual Reality
The implementation of augmented and virtual reality inside the app can help deliver enjoyable customer experiences. Instead of simply browsing items, allow customers to have a real-life experience of viewing items via AR mode. With such a feature, customers do not need to worry about anything when ordering a meal online.
Blockchain Technology
Blockchain technology can make a difference to the business. It offers numerous benefits not just to end-users but also to restaurant owners. From better security to transparency, such technology helps food delivery businesses to thrive in a competitive market. Online food delivery businesses should consider the integration of such technology within an app.
Big Data Analytics
By using big data algorithms inside the app, one can easily predict the next coming customer orders. This advanced technology makes the customer information to be easily explored. Such technology allows one to analyze the customer's browsing history and based on past orders, it is easier for the restaurant owner to know when the customer is likely to place the order.
Step by Step Guide To Create A Food Ordering App
It's time for you to know how to make a food ordering app. Well, there are several things that contribute to an app's success. The success of an app completely depends upon these factors.
Start With In-depth Market Research
The very first step towards building an app for food ordering is to perform deep market research. By doing this, you will better understand the market, competition, and the audience you want to serve. Gaining knowledge about all these aspects can help better design out your application.
Select An Ideal Business Model
It's right for you to choose an appropriate food delivery business with your goals in mind. The most recommended one according to recent times is the cloud restaurant model. Such a model is profitable as compared to others. Within this, the food is prepared in cloud kitchens with minimal investment. Once the order is prepared at the restaurant, it is further successfully delivered to the customer's doorstep. All that means, there is no kind of physical space where customers sit and eat. It is a completely online process done through the app.
Implementation of Impressive UX/UI
UX is one of those factors that should not be ignored in the on-demand delivery app development. The user interface of the app needs to be minimalist, clean, and smooth. Designing an app with impressive UX helps you drive success in less time. Also, a highly functional app design ensures you have a better customer base.
Watch Out For The Latest Trends
There is tough competition in the food delivery industry. To beat your competitors, you need to develop something unique and innovative. Getting you well-versed with the latest market trends is a great move. The fresh trends you should not ignore like
Artificial Intelligence or Chatbots
Cloud Kitchens
Social Media
And more.
Incorporate All The Essential Features
To have a well-designed food delivery platform, adding the advanced feature is more important than ever. All the features should be selected based on your business. From easy onboarding, real-time tracking, to easy payment options, an app should be feature-rich with smooth functionality. Whether you are going to launch a new app or looking for more revenue in the existing system, you always consider out-of-box features to make a good impact.
Your Next Step Is To Choose The Right Fit Team For You!
Once you are finalized with all the things, make the next move towards choosing the right fit food delivery app development company that could transform your idea into a quality app. Make sure the expert team you are hiring must help you know how to create an app for ordering food. Avoid connecting with freelancers and prefer companies as they are equipped with unparalleled expertise alongside the latest tools. Also, an experienced company helps you get your app into the market with deadlines and budgets.