Food delivery apps are buzzing. With people getting more occupied and technology freak, there is a commendable rise in the food delivery app. Food is integral to humans. So, whatever be the situation, the food delivery app is always in demand. Tyro players of the food delivery business are always inspired by big names of the industry like Postmates, Ubereats, Grubhub, etc to name a few. They aspire to make a food delivery app and enjoy seamless growth opportunities.
Let's learn all about Postmate and how to make food delivery apps like Postmates.
An Introduction To Postmates:
Postmate was founded in 2011 by Bastian Lehman, Sean Plaice, and Sam Street.
San Francisco is Postmates headquarters.
Initially, it started as a courier service delivering consumer goods to the customers.
It was a revolution in urban logistics with a strong logistic team.
Postmates integrated technology and a non-standard approach to business. That is everyone can work as a courier which resembles the uber model for drivers partnership.
Postmates later started an on-demand food delivery service.
Postmates now partners with almost 600,000 restaurants.
Postmates covers 80% of the US market of food delivery business.
Postmates has a presence over 100 metropolitan areas in the USA.
It has a tie-up with food giants like Apple, McDonalds, Starbucks, Walgreens, chipotle, etc.
Let's See Now How The Postmates Food Delivery App Works:
The 4 Step Model About How Postmates Work:
There are 4 steps involved in a cycle loop manner which is responsible for the successful delivery of food.
Step 1: Browse Restaurants And Menu: the foodies can coherently browse restaurants and menu and order it.
Step 2: Payment: the order is said to be received only when successful payment is made. All payments are handled by Postmates.
Step 3: Matching: as soon as the payment is made and the order received, the notification about the order is given to the restaurants and the nearest stationed delivery boy who can quickly pick up the order and deliver. The matching process is such that the delivery is done within an hour.
Step 4: Tracking Your Food: Postmates app has inbuilt GPS tracking tools to track your order. In case of a delay, you can message the delivery team.
Postmates' 4 steps to food delivery are absolutely convenient. As you make a food delivery app you should always aim to keep your app simple and user-friendly to retain customers.
Understanding The Postmates Business Model With Help Of The Business Canvas
Step By Step Guide To Build An App Like Postmates:
Developing a food delivery app like Postmates from scratch can be a daunting task but with the help of the best web applications development company, your dream of an online food delivery app can turn into a reality. Additionally, keep in mind the below points while going for a food app development.
Step 1: Keep Up With Hot Trends Of The Food Delivery Market: make a food delivery app incorporating the best and advanced technologies for providing a cutting edge experience to the customers.
Opt For Advanced Technologies: some of the latest technologies are chatbots, voice recognition, etc provide convenience to the customers and hence are welcomed. However, this can be a little heavy on your pocket.
Customization: make a food delivery app with a separate panel for the customers and the restaurant partners. It will help in providing a smooth experience to the customers and the partners as well.
Augmented Reality: from the visualization of food to navigation via smartphone's camera for couriers, there are limitless technological options you can go ahead with. But let it fit in your budget too.
Step 2: Carrying Out Detailed Research Of The Market: the marketplace comprises customers as well as competitors or rivals. It's imperative to analyze both before launching your food delivery app like Postmates. Some deep analysis of who and what are the strategies of your competitors and the spending capacity of your customer are essential. There are no set parameters to know the positions of the rivals but if you put up a strong fight with the rivals, a detailed market study is imperative.
Go ahead to make a food delivery app after clarifying all the above points. Find real answers to these questions.
Step 3: Choose A Food Delivery Model: if we talk about the Postmates app, the app is an aggregator model. It partners with the restaurants and has colossal logistics partners as well. The restaurants, delivery boys, and the owner work.in aggregation. When you make a food delivery app, opt for restaurants that don't own delivery partners. In such a scenario, they will be happy to be your food partner.
Additionally, payment methods are also important to pay attention to while building an app like Postmates. Incorporate in-app payment methods so that restaurants will be able to receive money for the goods and their cost will be charged from the company's bank account.
Step 4: Cater Something Unique To Your Customers: just creating a Postmates clone food delivery app will not help you stand out in the crowd. Rather, make a food delivery app that has something unique and real to provide to its customers. For this, it's imperative to research in-depth and find out what your customers miss. This unique value proposition is key to why customers choose you among the cut-throat competition.
As you go ahead to make a food delivery app, it's imperative to take care of each step and implement it with great precision to build an app like Postmates.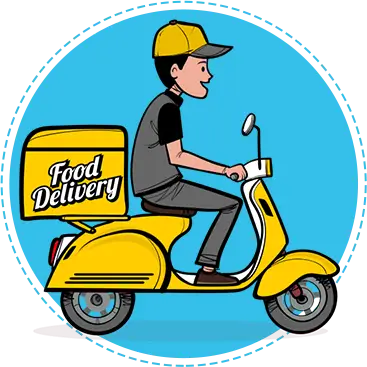 Step By Step Guide To Build An App Like Postmates
Opt For Advanced Technologies
Customization With Separate Panel
Food to Navigation via Smartphone's
The Revenue Model Of You Can Adapt To Monetize Your App:
Earning money or generating revenue is the prime concern with which you wish to make a food delivery app. It's quite natural to wonder how your food delivery app like Postmates can earn revenue. So below are a few ways that a food delivery business can generate massive income.
Delivery Fee: Just for your knowledge, the delivery fee is a major source of income. So, you can keep a minimum delivery charge depending upon the distance between pick up and drop off location.
Revenue From The Restaurant: the partner restaurant will have to pay an amount to the owner of the app as commissions.
Advertisements: this is one massive source of income. The restaurants pay money to run their advertisements to foster their popularity.
Subscription For Premium Membership: while your food delivery app is free for foodies to sign in and order, you can give extra facilities to prime members by taking up premium membership fees. So this can generate revenue for you.
Peak Pricing Model: now this is something very optional way of income generation. Food delivery apps like UberEats, Grubhub, Doordash Clone take up this model. It simply means the higher the demand higher the delivery charges. You can take advantage of Peak seasons and soared demands.
MVP: A Right Way To Build Food Delivery App
A minimum viable product(MVP) refers to a minimum but important feature that you should incorporate while you make a food delivery app. As per experts, going with the MVP model is the right way to make a food delivery app. It not only puts less stress on your budget but also reduces the risk.
With the best, essential minimum features, a startup food delivery app can reach out to customers and serve the purpose very sturdily.
Additionally, it also hints as to what other features can be added for better reach. So, there is always a scope of improvement and customization.
So let's check out what are the features you need to make an MVP model of your food delivery app.
Easy Sign-Up: Registration is vital for any app. Sign up through social media or via phone number or old login and password pattern. Postmates made it convenient for its foodies. It allowed us to sign in through Facebook accounts. As per a recent study, 58% of Americans have their Postmates account. While building an app like Postmates, incorporate easy user sign-in options.
Real-Time Tracking Of Food: being in the food delivery business, it's strictly associated with real-time tracking of the food orders. So, integration with Google maps, geolocation, etc is crucial. Let's take the instance of Postmates, once payment is done and the order received, the customer can continuously track the order. Additionally, the app tells you the time taken to reach the order you. Good technological tools like Mapkit, Google maps, etc are used. Try to incorporate the best GPS features while developing an app like Postmates.
Payment: encourage cashless and contactless payments through your food delivery app. To make your food delivery app successful, providing secure online payment options that comply with data security standards and PCI DSS. The Postmates app has various payment options like:
credit card payment
Apple pay
Android pay
When you build an app like Postmate, do remember to integrate with seamless payment options to enhance customer satisfaction.
Provide Discounts, Referrals, And Offers: discounts and offers are always special. They have a great customer pulling power. So, provide discounts, run referrals programs, etc just like Postmates. Let your customers avail discounts through promo code. Try and incorporate this feature while developing an app like Postmates and it's a hit way to attract targeted customers.
These are the least but essential features that you need to incorporate to make a food delivery app. Apart from these basic features, there is a wide range of high-end technological features which you can go on to develop an app like Postmates depending upon your level of investment.
Some Additional Features You Can Add To Your Food Delivery App Are As Follows:
Gamification
AI chatbots
Personalization
Pre-ordering and order customization
Depending upon your reach, and level of investment, you can go on adding viable features into your food delivery app to provide a seamless experience to your customers.
What's The Cost Of Developing An App Like Postmates
The cost of developing a food delivery app like Postmates can come somewhere near $6,000 to $10,000
Different factors which sum up to decide your cost of developing a food delivery app like Postmates
Firstly, the density of the features in your food delivery app will decide the cost to make a food delivery app. The more the features, the costlier it can get. Thus, it's recommended for startups to go for MVP models to cut down costs and also a risk.
The size.of the expert team will be a determinant factor of the final cost of food app development. the more the number of experts in a team, the more the development cost.
The cost of developing the food delivery app on an android or ios platform will vary from each other. It is suggested to build a food delivery app that is compatible with both the platforms. The final cost will be determined as per on which platform you wish to do so.
Additionally, let me give you insights based upon the location of developing an app like Postmates. However, these are the approximate figures
India: $10 to $ 80 per hour
Europe: $30 to $150 per hour
Us: $50 to $250 per hour.
Cost of the app development = no of features × no of hours dedicated to each feature.
UI/UX design (60 Hours — $1500 to $3000)
Front-end and Back-end development (400 Hours — $7,000 to $ 15,000)
Technical documentation (40 hours — $1000 to $1500)
MVP testing (80 Hours — $2000 to $4000)
Polishing and bug fixing (40 hours — $1000 to $2000)
So, the cost to build a food delivery app will include many factors which will bring you to the final cost of developing Postmates Clone App.
(Note: Price to develop an application fluctuates from time to time according to the on-going offers and discounts. Contact us to know the best possible cost for building a feature-enriched app.)
Below I have mentioned the technologies used by Suffescom solutions, an on-demand food delivery app developer to develop an app like Postmates.
iPhone/Android: React Native App
Backend: Node.js/Express.js, MongoDB, Nginx, Sockets.io
Frontend: React.js, Redux, Material UI
Server: AWS EC2, S3
APIs: Twilio for SMS, Google Maps
Additionally, There Are Other Technologies That Are Widely Used
Amazon EC2
Amazon S3
Socket.io
Facebook SDK
stripe
Fabric
Firebase
Elastic mail
Fire cloud messaging
APNS
These are top technologies that make a food delivery app a complete technological suite meeting all modern-day business challenges and providing a seamless experience to your customers.
Wrapping Up:
The on-demand food delivery apps are here to stay and grow robust day by day. With digitization, smartphones being an integral part of people's lives, mobile food delivery applications have surely a bright future. While it's luring enough to earn money, it's a big task to make a food delivery app. A trusted app developer with your clear business plan will turn your dream business plan into reality if you float in your brand of food delivery app like Postmates.