So you've successfully minted your first NFT, now what's next? Over the last few months, the question blowing up everywhere is, "How to promote my NFT?" Many new techs are rising, and various NFT & crypto marketplace platforms have emerged for advertising.
NFT Discord Marketing! A brand-new, cutting-edge technology dominates the commercial world. Gamers and artists use discord for business purposes. If you're an artist or developer in this field, you can contact the best discord marketing agency for art collection promotion.
Before proceeding further, let us gather some information about what Discord is and how we use it for NFT advertising.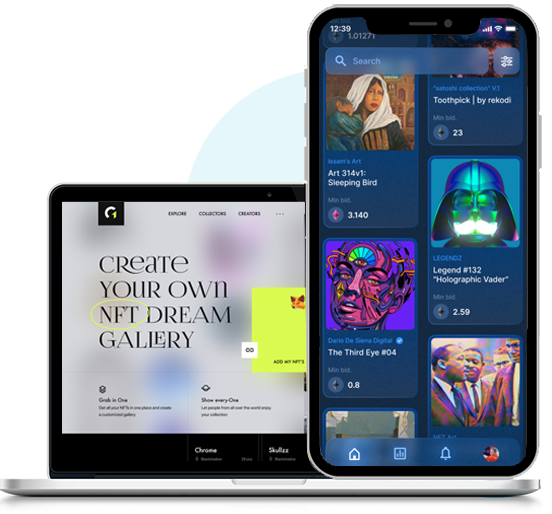 How To Promote Your NFT In Discord
Launch Your Own NFT Marketplace Platform and Market with US on Verified Discord Servers.
What Is Discord & What Makes It Stupendous?
Discord is, unquestionably, one of the most popular platforms where anyone who has built a community can engage for growth. The Discord community is also valuable for individuals who want to promote their NFTs.
Discord is a voice, video, text, and chat platform that has gained popularity due to the wide opportunities for gamers and NFT holders. Many illustrations depict that promoting an NFT project on Discord brings countless benefits.
Discord is stupendous for various reasons, but the User Roles feature is one of the most loving. These roles allow you to send important messages to just those who have that access. On the Discord platform, you may also empower brand advocates, moderators, and other specialized members by assigning them roles.
Furthermore, Discord's video and audio settings are quite impressive compared to other chat services. Other extremely good features of Discord include animated backgrounds, gifs, and profile images. While most of the features are paid, they give the customer more freedom to define their online persona.
Discord is a Social Platform That Gives Benefits to Many Fields Like:
Gaming Community
New & Grownup Brands
Crypto & NFT Industry
How to Elevate a Discord Server
Here are several options for setting up a Discord server:
Open Discord on your computer (or the Discord web app).
When you highlight the "+" sign in the server navigation toolbar on the left side of the screen, it will say "Add a Server."
From the pop-up menu, choose "Create my Own."
Then decide whether the server should be public or private.
Select the option "Create" after providing the server name.
Once you've accomplished these procedures, you're ready to send out invite links.
Build a Community on Discord
Every NFT project requires a Discord community, as this social media platform has evolved into a gathering place for NFT fans. It is simple for people to navigate and form a community of like-minded people in one location.
Crypto artists, designers, creative professionals, global aidroppers, crypto developers and investors, and NFT giveaway seekers are usually drawn to an NFT Discord group. Building an NFT community on Discord may be difficult, but it becomes a simple process with the appropriate strategy.
Begin by including activities such as AMAs that will engage everyone's interest in the community and project.
The team should communicate with the community regularly. This can be accomplished with the help of a Discord community management team.
The NFT community should have a guideline to avoid confusion in the ecosystem.
Having a Discord community management team to oversee things allows the team to focus on the project's development.
Benefits of using Discord For NFT Advertising
Three simple benefits of using Discord for NFT marketing are:
Create your community
One of the most difficult aspects of any brand is acquiring a deeply involved community, and the more you can accomplish this, the stronger your brand will be – especially if you're promoting an NFT initiative.
Rather than spamming links at your like-minded community associates, Discord permits you to get personal with them. You can handle seminars, broadcast live events, bring new concepts, schedule calls, and market your endeavor. You can just assist your community in whatever way you want.
Effective after-sales service
Customers do not want to wait too long to resolve their issues or errors and want efficient communication and receiving services.
Discord is a reliable platform for community members to swiftly communicate and answer their problems. This might even be done through a separate Discord channel designed specifically for customer assistance.
Efficient Branding
You want people to know about your brand story and speak with them. For that, you often need to tell your story to the community members. As branding is all about storytelling, you can tell your story with the NFT project in Discord.
Use of Discord Bots
Bots in Discord are a fantastic feature that can help with various server administration duties. Bots can send birthday greetings, provide music and games to the server, start conversations by throwing riddles and hints, prohibit spammers and abusers, message in channels, etc.
Use of Discord Channels
Discord channels are widely used in the server to let members communicate or can have any discussion related to their topics. For example, there are separate channels for NFTs & crypto in the server, along with NFT gaming, NFT assets, etc. In this way, users can interact with the group members or other members with the same related topics.
Discord Strategies For Wide NFT Community
Now, you must be clear about what is Discord and what are its benefits for NFT advertising. Further, we will discuss some of the best techniques used by the Discord for all its members:
Server Creation
Creating a server from scratch or an existing template with the best service provider is simple. You can also create particular channels based on the classifications with the server. You can share vital information about your brand projects on a server with two modes of operation: private and public.
Excellent Audience
A platform like Discord is most popular among gamers in the gaming industry. However, people of all ages can use a platform to effectively communicate and influence one another. Simply identify your project kind and brand goal, identify users interested in your industry, and take your business to the next level.
Broader Communities
There is also an option to join the servers and become a part of their community. It is the best way to meet with a larger audience and share detailed information about your brands.
How To Reach Your Audience With Discord Marketing
If you're new to the field and want to sell your NFTs and crypto on Discord platforms, the steps below can help you with the good results.
Reaching a wider audience gets easier with Discord platforms, as you can easily join the servers related to the NFTs and crypto. If you're a grown business, you can build up your server and send invites to the people to join your servers for any conversations. You can send invites to the members of the other group also. To make this easy, you can contact the Discord marketing agency for art promotion which helps approach potential clients for your business.
To reach the audience, you can provide the best conversation support to the customers by allowing your clients to directly approach you through Discord chats. Professionals guide you through creating a chatbox with some functionalities to answer the queries of your clients.
The best Discord marketing agency for art can help you manage your community by creating some blog posts, articles, and social media posts to attract customers for your NFT business. They also create memes or GIFs to attract customers with new social media technology.
Best NFT Advertising Techniques
To advertise your NFTs, you can use a variety of strategies. Projects should begin by assessing the target audiences. This aids in the discovery of their ideal clients' motives. Once you've figured out what your target audiences want, you can craft communications that speak to them.
The NFT's target demographic hangs out on specific platforms. You should reach out to your audience with appropriate messages once you've identified where they are. Twitter, Facebook, and Instagram are just a few platforms where you might locate your target audience. The audience can also be found on niche platforms like Discord and Telegram.
Email marketing, content marketing, and joining and participating in relevant online community forums are other ways to promote your offerings.
Another way to advertise your nft marketplace is to target some very affordable blockchain advertising platforms and target the right audience. Every NFT artist should target these sites for NFT marketplace promotion. The users should check the platform's features and crowd appearance before selecting the platform. Some of the blockchain advertising networks are:
Coingecko
Bitmedia
Coinzilla
CoinMarketCap
Lunarcrush
Key Takeaways
NFTs are becoming increasingly popular, and many businesses are taking steps toward developing their NFT projects. Creating a comprehensive NFT marketing plan will allow you to stand out in this industry. You should also work with the best NFT marketing agency for art and NFT marketing to get the best results.
Suffescom Solutions offers exclusive Discord-based community management, promotion, and engagement service to help you raise your NFT initiatives and campaigns.
Feel free to contact us!