Suffescom specializes in developing a fintech solution for banks, stock exchanges, hedge funds, and brokerages to optimize their trading operations. Depending on your goals, we can implement standalone modules or build custom full-featured trading platforms from scratch.
We develop stock market software solutions equipped with tools that help financial industry players analyze real-time stock data from multiple sources and make informed buying and selling decisions.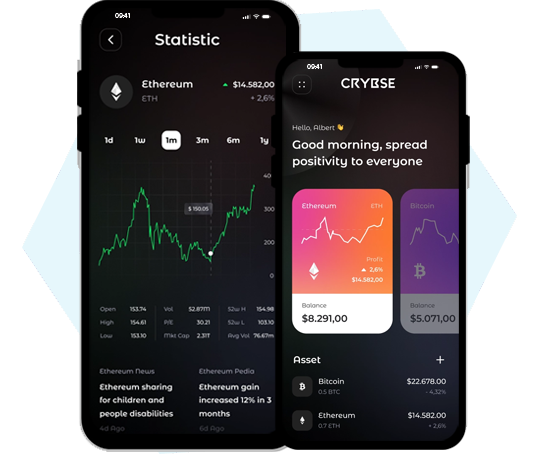 Launch Your Own Trading App & Dive into the Sea of Business Opportunities
Get into the market of crypto trading with our customized WazirX Clone Script.
Request Demo
Pay
Go Live
Fundamental and technical data analysis
Stock market forecast software
Sentiment analysis
At first, glance, starting a trade business appears to be as straightforward as picking a name, registering for taxes, and spreading the news about your new endeavor. However, whether you're thinking about going solo or have just taken the plunge into self-employment, you'll already know it's not that simple. You'll need a business plan first.
Whatever business you're in, you should first consider certain business fundamentals. In this post, we'll give you some pointers on how to start a trading business off to a good start.
We Already Developed the Clone of Popular Trading Apps
We have also developed a Metaverse Platform : Decentraland Clone
What is Stock Trading?
It appears that diving in without knowing what you're doing is perilous. The act of buying and selling shares of a corporation is known as stock trading; if you hold the stock, you own a piece of the company.
To profit from price swings, stock traders buy and sell stocks on a regular basis. Rather than investing in a blue-chip company for years or even decades, these short-term traders wager that they may profit in the next minute, day, or month.
Stock traders seek to profit from short-term market occurrences by selling or buying low-cost equities. Stock traders who purchase and sell many times throughout the day are known as day traders. Others can just be traders who make a dozen or more trades per month.
Stock traders put a lot of time and effort into their study, often investing several hours a day in market analysis. They use technical analysis to analyze the stock's movements and look for trading opportunities and trends on how to start a trading business. Customers can get stock trading information from most online brokers, such as analyst reports, stock research, and charting tools.
How to Build a Stock Trading Platform: A Step by Step Look from Product Developers
Do you know how to create a trading platform for stocks? If you haven't already, you should read this guide. Also, are you familiar with Warren Buffet? You, of course, do!
This is the individual that everyone has pictured as the ideal investor.
His quotes are held in high regard in the world of stock trading and investment.
Buffett's two investment guidelines encapsulate his whole stock, trading, and investment philosophy.
Never throw money away.

Never forget rule number one.
There are a plethora of similar stories out there that extol the virtues of stock trading and guarantee that if done correctly, profits will follow.
The key is to understand how to assist your users in succeeding if you need to establish a trading platform. Traders and investors all across the world are benefiting from technological advancements.
They are not only assisting customers in making sound investment decisions, but they are also learning how to start a trading business adequately.
As a result, in addition to lone wolf stockbrokers, the market for internet trading platforms and applications is growing. Furthermore, the online trading environment is experiencing a generational buying period.
These are the investors who are following in the footsteps of their peers.
A new wave of stock buying advice has appeared on Instagram Reels, YouTube Stories, and TikTok, according to reports. These fictitious recommendations instruct prospective investors to invest in a specific stock. However, they fall short of assisting users in gaining a basic understanding of the stock market.
Yes, online commerce has ushered in a new era.
However, it is a double-edged sword for people who are unfamiliar with the intricacies of internet trading. As a result, it's even more critical that you understand how to start a trading business that's accessible to everyone. Take care of the younger population while attempting to compete with Robinhood, eToro, eTrade, and TD Ameritrade.
To be sure, the moniker Robinhood is well-known in the trading community. Robinhood is a simple program that makes stock trading and investing fun. It popularised online trading as a must-do activity. The app has a user base of over 13 million people.
They attract a wide range of investors and traders who are eager to make a profit from their investments. We think this is the best moment to learn how to create a stock and trading platform. One, because trading apps like Robinhood make it easier to trade.
During the epidemic, the stock market was not as badly damaged as other sectors.
Even though the epidemic created a lot of turmoil, people's faith in the stock market to repay their money helped to keep the faith alive.
The spike at GameStop is the second scenario we want you to comprehend. Why is it vital to gain a better understanding of how to construct a trading investor platform? We want to assist you in understanding the current rapid speed of online trading.
Let's start by learning about the different types of apps that may be used to build a stock trading platform.
What Kind of App Would You Like to Create?
We have some popular models for you
Robinhood, an innovative online stock trading program, assists consumers in putting their money to work.
The program gives you access to a global market and stocks, allowing you to begin trading right away.
The program also assists with Options, Gold, and Cash Management, in addition to conventional stock trading capabilities.
Users have recently gained the ability to invest in and exchange Cryptocurrencies.
You can learn how to develop a user-centric stock trading platform by looking at its essential features.
Commission-free investment

Free stock disclosures

Interactive user interface

One-click signup with no minimum requirements

Profiling

Multiple payment options

Search and filter

Push notifications
All of these characteristics make Robinhood a case study worth investigating.
Before learning how to construct a trading platform, you must first grasp how this software works.
StockTwits
StockTwits is the final site you should research before learning how to build an investing and trading platform.
StockTwits is not primarily a trading site. But, yes, it's possible to refer to it as Twitter for stocks and traders. Users of Stock Twits can share their strategies, thoughts, recommendations, and accomplishments on the network. Trade App, a subsidiary of StockTwits, can be used for trading. As a result, one platform aids users in absorbing knowledge, while the other aids them in capitalizing on it.
News Feed

Push notifications

Read, Like, Share, and Comment

Follow other users

Signup and Sign in
To help you comprehend diversity, we've included this app in our guide on how to build a trading platform.
Did any of these platforms inspire you to create your own?
If so, stay with us since we'll be discussing how to swiftly develop a trading platform in the future.
How to Build a Stock Trading Platform?
Every tale about the evolution of a platform has two parts.
They have a mutually beneficial relationship.
Let's start with how to develop a trading platform from a business standpoint.
The Business Approach
Every model necessitates a method for generating and validating ideas. However, because we already have a hypothesis, we will skip this section and build a more refined hypothesis instead. To put it another way, one must stand out from the crowd and articulate their value offer.
To create an ideal value proposition, one needs to shift their focus on these three questions:
Who is your perfect audience to target?

How are you supposed to attract them?

Why and What problems products are going to solve?
If you are someone serious about building a trading platform, it is essential to offer a customer-centric trading platform.
Moving forward, we will be discussing the technical approach.
The Technical Approach
Examining the business and technical factors does help to determine the final cost estimate. Everything is dependent on planning and progress. To make things easier, one should keep an eye out and estimate how much the technical parts will cost. Make sure to aim and create the MVP first to ensure that the fire burns with increasing intensity.
The technical aspect is divided into four parts –
Designing

Identification of the features

Team type and composition

Tech Stack
As we are done with both the business and technical approaches we will be moving towards the cost of building a trading platform.
Cost of Stock Trading Platform Development
Any developing business and fintech is no different, comes with its own set of dangers, which makes estimating the cost of stock trading application development a challenge. First, one must choose the operating system for which a trading system will be developed, as well as the characteristics that the final product will provide to its users and whether a prototype is required. The country from which the customer recruits software engineers for the project has a significant impact on the pricing, as does the type of collaboration between the parties.
The Cost of Developing a Trading Platform is Further Distinguished into Two Parts
Features, designing, and the aspects mentioned above.

The team you are looking to pick for the development.
Most of the time, the generally accepted development methodology is agile. Looking with the same set of eyes can be beneficial for teams working in collaboration with the owners. The development process includes
The process of discovery and investigation. A product's concept is validated and transformed into a business model and development roadmap. Experts gather all relevant data in order to create the app's features, design strategy, and lineup.

The development strategy is being developed. Platforms, managed cloud services, third-party APIs for essential and non-core features, and other critical tools are all taken into account by developers.

Designing a user interface. Visual analytics is one of the app's most important features. Line and bar charts, stochastic oscillators, candlesticks, and other graphs must all be considered by designers.

The process of creation. Mobile and web, frontend and backend, and iOS and Android are the categories. Software engineers choose programming languages and tools for each situation, such as Java and.NET for writing code, JavaScript or Angular for frontend development, and so on.

Testing, delivery, and upkeep are all part of the process. To determine the optimal performance, QA engineers conduct rigorous testing across platforms and devices. You must provide technical support, troubleshooting, and regular updates after the app is published in stores.
The complexity of the solution influences development costs, feature sets, and other considerations like linking payment gateways and cloud services. A native mobile app takes 5–10 months to develop on average. The hourly wage of the developers, which ranges from US$15–20 to US$100 or more, must be factored into the time cost.
Taking this into account, a stock trading app can cost anywhere between US$25,000 to US$300,000. The overall cost of building a stock trading mobile application is around $55,000 on average.
Conclusion
Stock trading applications or crypto wallet exchange software are becoming more popular now that millennials are driving a new consumer age. Our financial investment decisions are now mediated by free stock trade apps. Robinhood and E-Trade are just two examples of the many free stock trading apps available. Nonetheless, the popularity of these apps is apparent. Nonetheless, if you can answer the main questions regarding developing stock-trading software, you'll have a decent chance of encouraging young people to invest. You might try to create your own trading platform by following the preceding instructions. Be reasonable, try your best to educate yourself, take inspiration from others' triumphs, and rest confident that developing a trading platform will be a worthwhile experience!