The digital landscape is becoming app-focused. Now there is an app to satisfy every human need, right from sorting the finances to finding out the favorite nearby restaurant. From small, medium to large, businesses crave a dedicated mobile app idea to engage customers. Although there are millions of apps with different business models, one as a first-time business owner dreams of a unique concept to succeed.
What's about the app that delivers alcohol on-demand, just like food, grocery items, etc. Ordering alcohol at the doorstep is not just an option for the rich; anyone can do it via an app. Yes! It is an interesting money-making best mobile app idea and already won many entrepreneurs' hearts out there. The best thing is that it is still an unmarked business model in most countries. So, if you are planning to launch such an idea and want to know the online wine delivery app cost – You've reached the right place!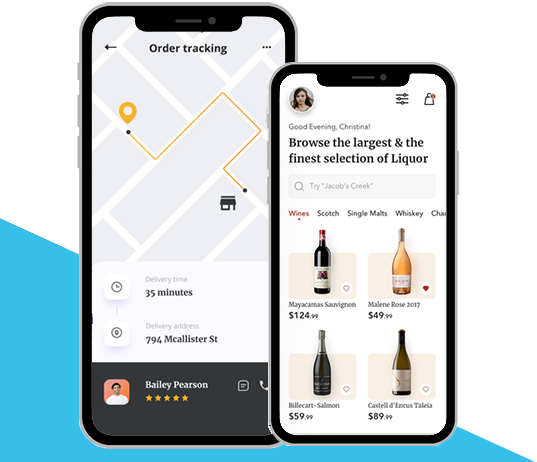 Request Free Demo of our Readymade App Like Drizly or Saucey
Now launching alcohol delivery app is more affordable with our fully customised readymade solution.
Related Article: How To Build & Launch an App like Drizly
The Growing Need Of Alcohol App Solution
As the Coronavirus is still in place, it's not too late to be part of the technology that liquor shop dealers utilize to serve the tipplers better. By allowing them to get alcoholic drinks of their choice at their doorsteps, dealers are making good bucks. Such an easy way to sell alcohol through an app has unlocked the possibilities for retail businesses. Developing a liquor delivery app not just helps boost business sales but maximizes profits.
In this post, we'll let you know how to get the alcohol delivery startup up and running. It covers the development process, liquor delivery app cost, technology stack that an app development firm utilizes to build a successful app. Before moving on, let's first discover some of the amazing benefits you and your business can use with such a type of development trend.
How Liquor Delivery App Benefits Customers
Less to Put, Pay & Wait:
An app for ordering liquor helps save one's effort and money as well. A customer doesn't need to waste time walking up to the store to make a purchase. It's a completely cost-efficient solution.
More Options in Brands:
With a liquor delivery app, customers go through various liquor brand options and products. Somehow which is impossible in offline retail stores.
Contactless Payment options:
On the liquor delivery app, multiple payment options allow users to secure and contactless checkouts.
Interesting discounts:
Customers can also enjoy unlimited offers and discounts within a liquor delivery app.

How Liquor Delivery App Benefits Business
Quick & hassle-free:
An app solution allows your business to serve customers quickly, which further saves their time.
Improve brand awareness:
Transforming your liquor brand into a delivery app will help expand brand awareness, drive better ROI and sales; helps take businesses to the next level.
Build customer loyalty:
With a liquor delivery app solution, businesses can win customer trust and build loyalty by offering them interesting offers and discounts.
Must-have features in alcohol delivery app
There are mainly four separate panels; for customers, delivery agents, store owners, and admin.
Customer as an end-user
Instant & simple login:
The simple login feature inside the app allows customers to quickly login through any preferred option.
Search filters:
Within the smart search feature inside the app, customers can get their favorite liquor with much ease.
Secure payment gateway:
This feature allows users to make payments securely through any of the payment options.
Order previous history/tracking:
Customers can order their previously placed orders. Plus, they can track the order status at their convenience.
Ratings:
Customers can leave their valuable feedback once the order is delivered to their doorstep.
Store Owner
Login process:
The liquor store owner has to sign up on the store to proceed with selling the items.
Drink categories:
Store owners can list the drinks like vodka, wine, and others in different categories.
Price details management:
With the help of this feature, the owners can easily set up the drinks' prices.
View Feedback: One as a store owner can view the customer feedback and improve the services accordingly.
Check to earn status: Shop owners can check the earning status weekly and monthly.
Admin
Login feature allows admin to login and has a watch on entire business activities.

Payment management allows the admin to manage and monitor customer transactions easily.

Tracking in real-time will help the admin view the information related to recently placed orders, delivery status, etc.
Delivery Agent
Delivery agent signup that allows one to get registered quickly.

An agent can either accept or reject deliverables with the order request feature.

Once delivery agents accept the order request, they can further communicate with customers through the chat/call feature.

There is also GPS tracking that allows agents to track the customer location.
How an on-demand alcohol delivery app idea turn into a reality
There are different phases in on-demand alcohol delivery app development. By working deeply in each of them, a team of developers further builds a successful app. The phases are listed below:
A bit of substantial research

Wireframing the app to understand its functionalities

Building a prototype to know how an app's concept works

Designing a look and feel of liquor delivery app

A working prototype is developed successfully
An app further goes through a testing phase to fix bugs

Once the app is successfully tested, it's further deployed or launched
Cost required to develop an app for online liquor delivery app.
There are a few factors that help determine the cost of Alcohol delivery applications
The platform you select

The UI/UX

The app's complexity
The size of the team

And many more
In addition to the above factors, the location of the app development company also matters. It also plays a major role in determining the right price of liquor delivery apps. Countries like India offer app development of the best quality at very affordable prices.
Set up an on-demand alcohol delivery app with an expert
The use of liquor apps is high, especially in current times. So, buck up and take your steps towards developing a liquor delivery app. All you need is the support of the best app developer by your side to launch your app as soon as possible. A Liquor Delivery App Development expert will help take your liquor delivery business to new heights.