Modern technology has opened up possibilities for dating online. You can see the growing craze among people using dating apps to find a partner for a night date or hangout. Despite the availability of so many app-based dating services, most users are still looking for their favorite one. This means you have all the chances to enter the market successfully with creating dating apps and generate revenue from it. You are not the only one who is thinking to drive in this direction but even the mobile app developers too. Building a dating app has become the most considerable demand in the market, especially among newcomers.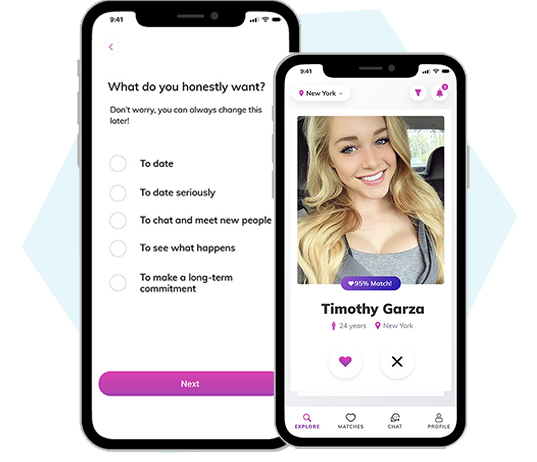 How to Make a Dating App Like Tinder
Revenue Tracking
Multi-language Support
Swipe
So if you want to enter the dating world and transform your app idea into reality, take your next step by hiring the top-rated dating app development company. It is the right time for all entrepreneurs out there to invest in such a business venture and be ready to experience the benefits your business can get from dating apps. This article has mentioned how to make an app like Tinder covering key benefits, features, cost, and much more.
Current Statistics On Dating App Development
As you know, modern technologies have completely changed how one finds a partner. Let's look at the latest statistics showing the growing demand for dating app development.
Over 30% of love relationships occur via the Internet.
There are approximately 50 M people who are currently using dating apps around the globe.
The revenue of dating apps is estimated at around $3 billion annually.
The most significant example – Tinder has a total worth of $1.5 Billion.
As the market of dating apps is accelerating at a faster pace and the demands of customers, it is the right time to enter the industry and learn how to make a dating app like Tinder.
How Dating Apps Work?
Most of us are still in a dilemma about how this online dating occurs either it is through a website or an app. The first thing you need to understand is that you can make dating happen through both websites and apps. We are in the era where most of the audience have smartphones and are likely to depend upon apps for specific purposes. For those searching for a partner, dating apps like Tinder works as a great alternative where people can build long-lasting relationships with the person of their choice.
The working of the dating app starts with matching two profiles of those created accounts on this app. Although certain algorithms power up these dating apps, the criteria that work for profile matchmaking are based on gender, age, location, and interest.
Algorithms Work Behind Matching Profiles In Dating App
Matching Based On Location: It starts with matching the profiles based on locations. Individuals are less likely to face the hurdles of a long-distance relationship, so they always desire to find a partner in their proximity. The dating apps enable searching for a partner in their proximity based on location preference. Dating apps match the profiles and allow users to meet someone with the same interests.
Mathematical Based Algorithm: It is another most widely used algorithm that enables the matching of user profiles. The dating app built using such an algorithm can fetch data from the questionnaire that the user fills. A questionnaire usually contains the field where users have to fill in the details as per their interests.
Behaviour Matching Algorithm: The behaviour matching algorithm works great where data is fetched from different sources such as social media accounts and profiles.
How To Make App Like Tinder – Step-by-Step Guide To Bring Your Dating App Idea To Life
When it comes to making an app like Tinder, it is essential that the solution will be delivered the right way. It is really going to bring you countless benefits if you create your own Tinder like dating app for IOS & Android. For this, you need to find a reliable technology partner and follow a step-by-step guide to build a tinder clone app.
The dating app needs to be created with an attractive design.
The dating app needs to have all compulsory ingredients to make a hit in the market.
Step1: Start With A Market Research: Building a dating app may be a new field for many, so it is recommended to do proper research before stepping into this venture. It would be great to deeply read about the business models, techniques used in building such apps, and much more.
Step 2: Pick Suitable Monetization Model: No one goes with building an app for their personal use. So here, the only clear and cut objective is to earn via an app using any of the monetization models.
Premium Model: By utilizing this model, you can allow users to use the app for free but with some limited functionality. You can convince users to go with more advanced features by paying for the premium version of the dating app. The premium features include the advanced swipe, unlimited likes, gift purchasing, etc.
Subscription-based Model: This model demands users to pay a subscription fee as per the desired plan based on the subscription model. You can start by introducing various subscription plans so users can pick accordingly. The best thing you can do for the users is to have a subscription plan customized according to them.
Step 3: Go With Advanced Technology Stack: When it comes to developing a dating app, the technology stack is an important part you need to consider. You have to make an ideal selection of technology that can be for both front-end and back-end development. Below are a few technologies you need to have in place for the development of a powerful dating app:
Programming Languages like Java, Kotlin, Swift, etc.

Databases like MySQL, MongoDB, and Redis

Frameworks like Node.js, Express.js, etc.

Cloud storage like Amazon S3

Payment Gateway like PayPal, Stripe, etc.
Step 4: What Must-have Features You Need Inside The Dating App:
| | | | |
| --- | --- | --- | --- |
| Must-Have Features | User Panel Features | Admin Panel Features | Advanced Features |
| Live Video Chatting | Real-time Notifications | Revenue Tracking | Geo-location |
| Matchmaking | Google Maps | Multi-language Support | Discovery Settings |
| Social Media Connect | Blocklist | Screen Management | Swipe |
| Photo View/Upload | Bookmarks | Custom Content Pages | Matching |
| Private messages | Text Messaging | Membership Management | Hide Advertisements |
| Credit System | Report User | Feature Access Management | Rewind Option |
Step 5: Wire-framing
When it comes to developing a dating app, preparing for the wireframe of an app is an important step. It will give you a glimpse of how the app will actually look and function just after the development.
Step 6: App Development
Once all the steps are well executed, you can initiate the app development process. If you don't know how to develop an app, hiring a top-rated dating app development company for this work would be excellent. An expert has the potential to craft an impactful app for you that drives massive revenue.
Step 7: Testing
Testing is also a must step in developing a dating app. This helps eliminate the flaws and bugs to ensure the smooth functioning of the app. Under this phase, the app is put under a rigorous testing process. When finally all the errors are removed from the app, you can further go with the launch of the app without any doubt.
How Much Would It Cost To Make A Dating App
Now that you are much aware of the essentials that are needed to build an app like Tinder, the next is to know the cost to develop an app like Tinder. If you require a basic version of the app, then the cost is much less. On the other hand, the cost might be higher if you go with developing a tinder clone with more advanced features. Let's discuss some of the factors that help you determine the cost of building a dating app like Tinder:
The Type Of Platform: This is one of the foremost factors that help determine the cost of dating apps like Tinder. If you go with the iOS platform for your app, the cost is higher than the Android.
Complexity & Features: The more complexity and features you will add to the app, the more the dating app will cost you.
Team Size: If you go with the advanced level dating app, you require a big team size which means higher cost.
Getting to the final Concluding Lines
As for now, you are well-known for the fact that the dating industry is accelerating at a faster pace; it's the perfect time for you to make a start with a powerful app. So if you are looking forward to knowing how to make a dating app like Tinder, we are an option for you that is just a click away.
With years of experience in building innovative technology solutions, Suffescom Solution is a leading It technology partner that serves clients with the most innovative solutions. They are a team of the most experienced programmers and designers who utilize the technology for business excellence and fulfilling customer expectations. To bring your idea to life, contact us today!