Do you know most of the businesses within the medical industry fail to make desired profits? Wondered why? It's the cutting-edge technology, innovations, and cutthroat competition that makes them lack behind to win the race. This is where knowing How to Start a Medical Courier Service can help you to reach the peak.
We have already developed an app like CVS pharmacy, NetMeds, and 1MG. Launch your medicine delivery app in less than 15 minutes.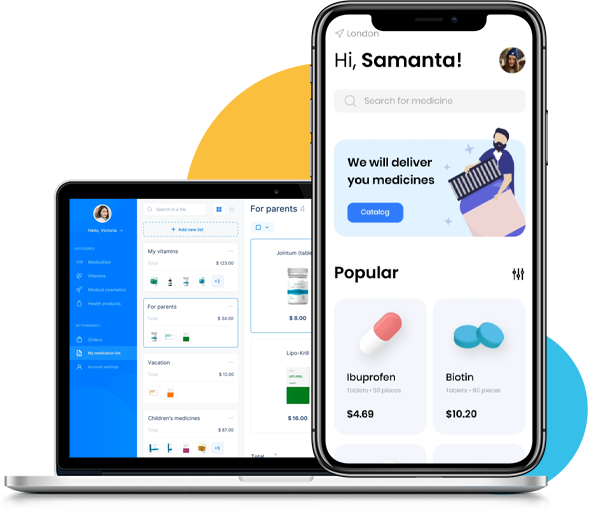 Launch Your Own Medicine Delivery App in Just 15 Minutes
Revolutionize the health industry with our secured, powered by advance tech, feature-riched, robust, and secured Medicine Delivery App.
The medical industry is vast, and so are its aspects. Every year hundreds of dollars are generated as revenue, making this industry important of all. And the number of profits is not steady thus keep increasing with the evolution of innovations and technology. Since the era is digital and after the pandemic, things have changed to the next level. And a 360-degree change can be witnessed mainly in the medical industry, which has opened its gate even during pandemics. The need for medical supplies by the health industry is increasing, and they need it anytime at anywhere. This is where the concept to start a medical courier service strikes. Moreover, telemedicine apps have become the need of the hour, with people seeking doctor consultations without being physically present. Taking cognizance of the rising demand, telemedicine app development companies are developing cost effective robust telemedicine apps to serve the needs. .
Let's Know What Made People Start their Own Medicine Courier Business
.
Almost any medical supplies, be it prescriptions to medical tools, injections, drugs, bandages, to biohazards like blood and samples, can be delivered anywhere by opting for this service. And the need for such service has increased more after the pandemic because people like to stay indoors and look for on-location deliveries.
Here is why the demand for medicine and other supplies has increased the need for entrepreneurs to look out for How to Start a Medical Courier Service delineated with advanced functionalities. Also, this, it has opened new opportunities for aspiring and leading entrepreneurs to make profits. Thanks to next-gen technology like courier services, entrepreneurs are creating ways to unlock the medical industry's potential to the peak. This blog has covered everything one needs when planning how to start your own medical courier business to stay ahead of the competition. Let's read more to know everything in detail!
Useful Article: How To Start A Courier Service
Stepwise Guide Of How to Start a Medical Courier Service
Starting a medical courier service for a healthcare industry requires stepwise planning to make it work smoothly. Several aspects need to be considered to run successful courier services for businesses. Let's go through every step briefly:
Knowing the Market
The first step is to understand the market if you want to maximize the sales. Knowing the current market standards, competition, trends, and ways competitors use can help you make better decisions. Also, you will come to understand how to get an edge of the market with unique strategies. The strategies and planning get the same with the competitors, and it happens when you do not analyze the market. Therefore, to avoid such circumstances, what is needed is to analyze the market, know what is new, and How to Start a Medical Courier Service using those strategies.
Resources You Need
The next thing that makes any business and its service successful is the need for resources within it. When you are planning how to start a medical courier service, look out the resources you need, be it delivery partners, assigner delivery products, checking the delivery route, packaging needs, and so on, consider every resource. Make a list of the help you need, work to have those resources, and move forward to start your own medical courier business like a pro. Also, analyze other business resources to have a better view of it.
Keep a Check on the Current Scenario
Know where your business is currently. This is because it helps you to work efficiently and adapt to innovations quickly. Your current state of the medical business helps to determine the way to set the plan and work for it efficiently. Know these questions to ask yourself to check the current scenario and start your own medical courier business
Do you need courier service?

Is your medical business running efficiently?

Looking to add delivery service?

What is the user base to start an effective delivery service?
Once you are well aware of all these questions, you will get a brief overview of your current business strategy.
Know Laws and Regulations
The next step is to look out for the rules and regulations to start a medical courier service within the medical industry. Every industry has some set of rules which need to be followed to avoid any illegal issues and problems. Also, in some instances, rules and regulations vary based on state or region. Thereby, in that case, know what those rules and regulations are and start your medical courier service accordingly. If you are currently on the way to start a medical courier service, then also don't lack to adopt them within the current tech to make it future-oriented.
Get Started for Optimization
Another step to look out for on how to start a medical courier service is to get started for its optimization. Optimization is nothing but making things accurate to run efficiently. Be it marketing, setting items, choosing routes to deliver the medical supplies, hiring the delivery persons, and so on. Everything needs to be optimized to make sure everything is worked efficiently. The more you optimize the routes, the more it will be suitable for your businesses and the service you started. Optimizing save your medical business last-minute risks and problems.
Marketing is Must
The market is the crucial aspect and steps, whether you are starting a new business, including service within it or upgrading the existing one. Better the marketing, the more it will be good for your business. So, as a person, if you are on the lookout for how to start a medical courier business, don't lag behind to market it.
Marketing will help to make your users aware of the services and what new you are offering. It is essential to understand if your customers are not aware that you are on the way to start a medical courier service, then how they are going to leverage it. So keep this in mind to get started swiftly.
Ensure Your Business
Last but not the most minor step is to look for insurance policies when you are out for how to start a medical courier service. You never know when your business will come across as failure or damage. Dealing with a considerable loss within a loss becomes challenging, but you can manage to set back if the loss is due to others. And all this becomes possible if you have taken an insurance policy for your business. Be it vehicles you buy, people you choose to courier the medical supplies taking insurance on every resource can help you deal with the damages in the future. The insurance policy allows your medical courier service business from any surprise costs.
Growth Market of Medical Courier Services
Before planning to start a medical courier business, it is a must to know the success and growth rate. Here are some significant facts to lookout:
It is recorded that the global medical supply delivery service market size is valued at USD 48.6 billion in 2020 and is expected to reach a compound annual growth rate (CAGR) of 9.3% from 2021 to 2028.
The other growth can be seen in the market size of the medical couriers. The medical courier service market is expected to reach $6.4bn by 2025, and it will grow at a CAGR of 5.9% during the forecast period 2020-2025.
Talking about the country, North America is projected to have the largest share of the Medical Courier market in 2019, making it the top country to start a medical courier service.
Reasons To Give A Try To Start Medical Courier Service
Starting a medical courier service has brought enormous change to the way the medical industry functions. Apart from its easy adaption, some businesses are far from leveraging medical courier services and making profits through it. In this section, we will look at specific reasons why aspiring and new-age medical business owners should start a medical courier service. For these reasons, we aim to undermine the importance of courier services within the health industry.
Saves Time
One of the main things to start a medical courier service is that it saves time for both medicals and patients. People want to get their medicines delivered at the right time as sometimes they cannot physically go and purchase them. In that case, picking out the right and most desirable medical delivery services is the right escaper. Medicines cannot be delivered using the regional or familiar courier companies as they lack to meet the demands of the clients.
Thus, starting your own medical courier service will bring additional benefits by eliminating the client's inconvenience and offering specialized services. Time is essential to us, and having an automated system that saves your time and hassle of managing the bulk order delivery is always great. Courier services, in that case, deliver the whole user experience to your customers, and they will keep on returning.
Increased Profits
The other benefit to start a medical courier business is to maximize sales. Undoubtedly, the ultimate goal of every business is to make profits, and the same is the case in the medical industry. And to generate profits, it is necessary to maintain the pace with current technology. The more you know about technology, the better you can leverage it for your earnings.
And same is the case when you start a medical courier service. Such services let you reach more customers, fulfill their needs to the fullest, manage their demands, and increase profits. As with courier services, you can quickly render your products and services and can make immense profits.
Enhanced Efficiency
Efficiency is the primary aspect of making any business successful. And when you start your own medical courier service, you make your businesses more efficient. Wondering how? Medical courier services increase the speed of medical supplies to be delivered. With medical courier services, you offer a seamless experience to the customers and save their time and effort over getting the medical supplier. Also, when the smoothness within the medical business increases, it will ultimately make them efficient. Recent data shows that the market for prescription delivery alone will exceed $434.3 million by 2030, and do you know why? It's because of the high-efficiency such services offer.
Improved Safety
The best reason to start a medical courier service is the high safety that it provides. Security is essential in the world of medical courier service. No one likes to have a damaged courier, medicines, packages at their location. This is where medical courier service comes as a saviour. Such services pledge to provide safety and protect the packages while delivering them at the site.
They do several things to deliver the courier perfectly to the place. From adding protective layers to the courier, providing insurance to the medical supplies, barcode scanning, photo verification, and electronic signatures, there are many measures courier services offer safe and secure delivery of the medical supplies. Therefore, it is best to start a medical courier service to keep your medical equipment, prescriptions, and specimens safest to the peak.
Summing Up:
No doubt, medical courier services are giving consumers on-demand convenience globally. From medical to lab couriers, such services are popping up to meet the demand of people around the globe. For the people who are out to try their luck within the medical field, the medical courier service, in that case, is the best way to get started. And we at Suffescom Solutions are here to help you in how to start a medical courier service.
Whether you have just started your medical business or are looking to upgrade the existing one, we are here to start a medical courier service efficiently for your businesses. We bring you a wide range of services helping businesses to reach their desired goals. Our team of experts knows when and where your business needs the best help, thus work best to provide the same. Just give a call and give your stress on how to start a medical courier service to us.