Metaverse will be the next big breakthrough in virtual reality, allowing gamers to have a better gaming experience. People from all over the world participate by combining hardware and software resources. Users can achieve things in the virtual world that they might not be able to do in the real world. They can socialize with others, play games, work, create digital goods, and purchase land. Many crypto entrepreneurs are asking how to create a metaverse game these days, and the answer is to hire an expert metaverse developer.
The Metaverse: An Overview
Metaverse is thought to be the next big thing after the internet, with its highly scalable virtual area and its own economy. To provide gamers with a realistic experience, the Metaverse uses augmented and virtual reality (AR and VR) and artificial intelligence (AI).
Virtual reality gaming is now available as a standalone app for VR headsets, phones, and computers, and it offers a 360-degree perspective with a sensory experience. On the other hand, Metaverse provides a single platform through which players can access a variety of virtual reality games. It gives the impression that you are physically present in the virtual environment.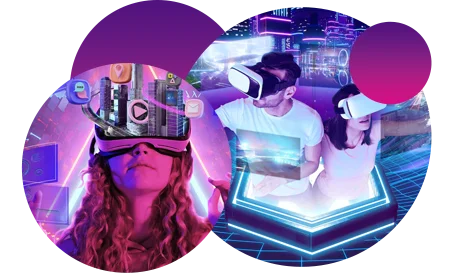 Build A Metaverse For A Variety Of Industries
The next major development in virtual reality will be metaverse, which will enhance the gaming experience for users.
Get in Touch
Build a Metaverse for a Variety of Industries
The industry of Entertainment Metaverse takes entertainment to a whole new level, from interacting with real-life users and befriending AI-driven avatars to managing a virtual concert featuring your favorite artists.
In the form of multiplayer online games, Metaverse gaming has been around for a decade. It provides an amazing gaming experience. As a result, people are using this technology to advance their businesses.
Real Estate: In the sandbox and other virtual worlds, metaverse real estate reaches new heights. It's being heralded as the next big thing in technology, and the Metaverse's real estate market is booming.
Corporate: Due to the Covid-19 pandemic, many people already work online. As a result, multinational corporations such as Microsoft are following suit, and more companies will attempt to send their employees into the Metaverse in the future.
Social Media: Metaverse allows people to socialize through activities by creating technology that allows people to connect, collaborate, and communicate without having to be physically present.
Education: Creating a metaverse for education simplifies the education learning system. It helps to run classes and creates an immersive learning experience by managing campus activities using cutting-edge digital technologies.
Economy: Because the economy is a pillar of society, its viability is dependent on the recognition of digital attributes like a person's home, car, farm, and furniture. It also necessitates freely traveling and trading across borders where laws and rules may differ.
Metaverse Gaming Solutions
In the gaming world, the term "metaverse" is not new. A metaverse prototype has already been included in a few games. A good example of a metaverse prototype is Battle Royale. The gaming industry is gradually shifting to digital avatars and cryptocurrency. The security and safety of transactions in the Metaverse are ensured by blockchain technology.
In Metaverse gaming, the following popular functionalities are available, which are best achieved with the help of a metaverse developer:
1. Online Social Gaming
Metaverse in gaming is distinguished from traditional VR gaming experiences by its core social character. In the multi-player game environment, you can bring your friends and known individuals, communicate with new people, and broaden your circle.
2. Portability Of Game Assets
Assets in the virtual environment can be transferred thanks to the metaverse architecture.
Assets linked to a specific player's ownership maintain their value across settings. Avatars and their associated features, weapons, and graphics can all be easily transferred. The NFT laws that regulate the economy make it possible.
3. Play To Earn
The conversion of assets into cryptocurrency is another important aspect of the Metaverse in the gaming industry. You can sell your valuables to other players in the games in exchange for approved cryptocurrencies.
4. Games As A Platform
This is just one more feature that adds to the allure of the Metaverse. After becoming a part of a dynamic world in the gaming metaverse, you can create your own content within the game. You have the option of creating game sub-modules. In a nutshell, you use the gameplay to create your own content that may or may not be used in the game.
5. Improved Virtual Experience
With a workflow that is similar to that of the real world, the Metaverse provides a better gaming and transactional experience.
What Is The Best Way To Make A Metaverse Game?
You can make a Metaverse platform by following a few simple steps.
Choose the right Metaverse gaming use case. You can choose from a variety of options when it comes to determining your gaming niche.
Create the user interface and user experience (UI/UX) for the platform.
Make a smart contract by writing a code.
Using IPFS to connect to the Metaverse Platform
Create a Metaverse Policies Database for Safer Core AI and VR Capabilities
Launching of the Metaverse Platform
Make the Beta version available by connecting the game owners' servers.
Metaverse Game Creation Steps
To build a gaming world in Metaverse, first, you need to create a 3D world. You can define the world with storytelling, such as how the thing will be aligned in the new world? And whether the character will function in-ground, underwater, desert, or elsewhere. For this, you just need to define requirements for game developers.
The character or avatar allows your users to move around the game. But their dresses, weapons, and accessories matter, check out what the character will use and why? Some of the accessories and weapons are paid for, creating an arrangement for buying them to make them a unique character.
Crypto Wallet Integration
Lastly, your platform should be able to log in using a crypto wallet. It helps users to purchase special tools on your gaming platform. So, while developing, make sure your platform should be created in a Web3 wallet like MetaMask that represents your business in the blockchain.
When it's about choosing blockchain networking, it is essential to go with the right choice. You should plan to build a platform that can support multiple blockchains and natively cross-functional infrastructure. These days, the most trending and speedy chains are Ethereum nodes, Polygon nodes, Arbitrum nodes, BSC nodes, and Avalanche nodes.
Smart contract Development
While building a metaverse gaming platform, you cannot deny writing smart contracts in codes. It helps to eliminate the risk of manipulation by third parties and provides complete control of digital assets through their game participation. Therefore, adding it to the must-have platform features helps to enhance your platform's credibility. 
These steps will assist you in launching your Metaverse gaming solution, which should be accessible 24 hours a day, seven days a week.
Essential Elements of Metaverse Game
Now, apart from a 3D gaming platform, character building, and crypto wallet integration, you need more on your platform to make it successful. These are:
You will need various assets to complete your gaming platform based on your game design. These could be weapons, upgrades, rewards, eggs, and much more. And how these features will look in the 3D world also matters! Experienced developers always recommend you to go with a pre-design process to make your journey easier and save time.
The next big thing is to decide and add royalty-free music options for your users. Music will provide a great experience to users and keep them away from the distractions of the outer world. You can add Celtic, Viking, medieval, and fantasy music for the perfect background for your gaming platform. If you are using other creators' intellectual property, do not forget to give them credit.
Fonts define your gaming world, your users feel connected with the power of words and font style. Therefore choose precise fonts for your gaming platform. Some of the font styles are royalty-free on Google, and for some, you need to pay a significant amount. Still, you need a special style, then approach experts.
Conclusion
A metaverse in the game could just be a concept to represent different universes. Technology adds a new dimension to life and opens up new career opportunities. It would be appealing to live in a virtual world without having to deal with the real world's problems. Metaverse gaming necessitates new discoveries, ideas, protocols, and technology to thrive. The Metaverse is almost certainly the game world's future.
The best bet for you to launch your own Metaverse is to hire the best metaverse developer team.
Suffescom Solutions provides customized services to assist you in developing your Metaverse. Our well-thought-out roadmap and smart strategies cut down on time-to-market, allowing you to launch your Metaverse quickly and gain a crucial competitive advantage.
Share your business requirements with our subject matter experts.