On-demand multi-service apps have been in trend for a while, and the popularity is continuing to grow. It has become a one-stop solution for all modern-day users' needs, from getting faster food delivery to cab booking in minutes. With the arrival of modern technology and smartphones, the way one shops and runs business has completely changed. There are now apps like Gojek designed to deliver everything anywhere and from anywhere. You can also see such solutions attracting millions of entrepreneurs every month because of the multiple services via a single platform.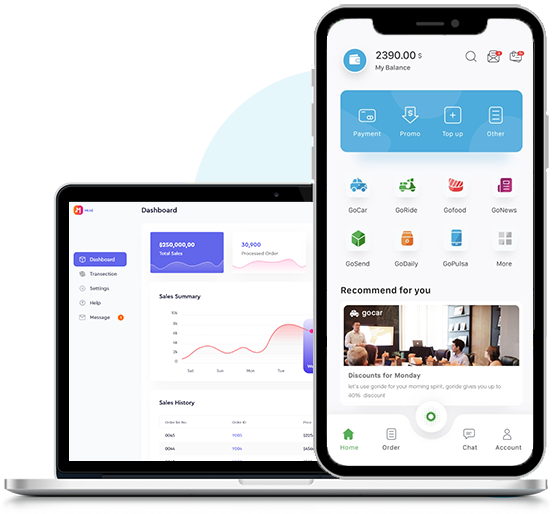 Launch On-demand multi-service apps Like Gojek With Our Ready-made Solutions
AI chatbots
Multi-language support
Social media integration
So if you are on the same road to building a multi-service Gojek like app, this post is worth reading. It covers everything from a step-by-step guide to building the Gojek app and how one can benefit from it.
The Growing Need of Multi-service Platform Like Gojek App
Multi-service platforms have gained a lot of attention because of the versatility they offer. One app can offer multiple services like taxi booking, grocery shopping, on-demand food delivery, and so on. The launch of multi-service apps is that people in this fast-moving world want to attain things easier and faster. Thanks to innovations for welcoming new technology methods. Launching a multi-service platform like Gojek will surely bring a rise in traffic and help you get a hold on high revenue in the market.
Also, the pandemic situation has given rise to multi-service businesses. With people restricted from going outdoors, getting every service right to the doorstep has become a need of many. This made launching Gojek alternative apps a need of the hour among users and entrepreneurs out there.
What Market Scope Says About Gojek Like App
Since its arrival, multi-service platform like Gojek raised a massive 1billion USD in funds. In the starting time, the metric score of Gojek is 4.4, and there is a sudden boom to see that it is 16.4. The app is currently operating in more than 200 countries, and over 1M service providers are working for the Gojek app. Looking into the current situation, the company handles more than 100M+ transactions.
Is Gojek Like App Development A Wise Idea For Entrepreneurs?
Starting a multi-service business by launching the Gojek like app is an amazing idea for entrepreneurs. Equipped with 40+ on-demand services, one single app can work as a super app to meet multiple needs – taxi booking services, on-demand deliveries, and many other services. The planning to build an app like Gojek also provides startups with multiple streams of revenue and steady income growth.
A powerful Gojek like app helps meet the growing modern-day needs of users. Easy to book and schedule services on-demand, a fully customized multi-service platform helps in resolving day-to-day hassles.
Building an app like Gojek will enable you to automate your business operations, allowing you to deal with growing customer demands effortlessly.     
Entrepreneurs can generate multiple revenues by offering multiple service platform via a single app.     
Launching a multi-service platform like Gojek is the most cost-effective solution that helps save your money.     
What Services You Can Consider Adding To Your Gojek Like App
Taxi Booking Services: This service lets users book a taxi in minutes from anywhere and anytime. Via a multi-service platform, you can offer taxi rentals, Moto rentals, and many other services.
On-demand Delivery Services: This will allow users to place on-demand deliveries of food, pharmacy, food, liquor, flowers, etc.
Other Services: This will allow users to directly connect with a range of service providers. A user can demand handyman service, on-demand doctors, lawyers, etc.
Features That Must Be Inside Your Multi-service App Like Gojek
The popularity of the multi-service platform like Gojek has brought great motivation among on-demand service providers by allowing them to build something similar to that. If you want to build an app similar to Gojek, it is good to incorporate the below-mentioned features in your app.
Easy Signup and Login: You need to add an easy signup feature for users to quickly get registered and operate the app with just a single touch.
GPS Tracking: GPS tracking is the most useful feature that allows users to track their orders. Delivery agents can use the feature for tracking the customers and making the delivery to one's doorstep at the right time.
Multi-language Support: You need to make your app available in different languages for a better user experience. If you allow users to access the app in their native language, it will be easier to use the features.
Schedule Bookings: Users can schedule the order deliveries as per their availability. This feature will make your app more user-friendly and convenient.
Push Notifications: This feature allows you to provide important information to users via push notifications.
Multiple Payment Options: It is good to provide users with all payment modes to pay at their convenience. You can give them payment options like a credit card, debit card, e-wallet, etc.
The End-to-End Process Involved In Gojek Like App Development
There are several steps involved in Gojek app development, and you need to follow them end-to-end for the successful launch of an app. We have mentioned a step-by-step process explaining how to build a Gojek-like multi-service platform.
Deciding On The Platform: Based on your target audience, you have to go with the selection of the platform, either iOS, Android or both. You have to decide whether the app needs to be native, cross-platform, or web.
Must-have Features Of App: Secondly, deciding the must-have features of the Gojek like app is a necessary step. To build a powerful app, below are a few Gojek alternative app features you can consider adding:
AI Chatbots
Voice search
Multi-language support
Multiple Payment Gateway
Social media integration
Push notifications
Related Article: Build An On-Demand Multi-Service App Development That Delivers Anything You Want
Picking Powerful Technology Stack: When building a multi-service platform, the technology you utilize should be strong enough to make the app run as seamlessly as possible. The most popular programming languages like Java and Swift are widely used, whereas popular frameworks like Kafka, rails, etc., are the most recommended ones. Also, Google Analytics and marketing tools in the list help build an easy and attractive user interface.
Going With User-friendly Design: The next is the app design and development. Once you are done with your target audience and features, the next is to decide on the app's architecture. Building an app wireframe is helpful as it is an overview of the hollow structure of an app. With this, you will get an accurate picture of your multi-service platform. After finishing with the wireframing and designing, the front-end and back-end development start to execute.
Launching a Bug-free App: Testing is also the most crucial stage of app development. It is essential to test for the bugs before launching the app as it affects the user experience. The app needs to undergo beta testing where the app is open to a few users before a launch. Once all the testing, corrections, and modifications are done, the multi-service platform is ready to hit the market.
Experts Required In The Gojek Like App Development Process
The technology stack you choose is the backbone of your multi-service business. Further, you need experts from the top-rated app development firm having the extensive knowledge of selected technology. Therefore, the development team you choose depends upon the technology you have chosen. With this in mind, we will give you the rough idea of the team size and participants that you need to develop an on-demand multi-service platform for your business:
Android/iOS developer
Marketing team
Quality analyst
Business analyst
Testing & Deployment team
The Cost To Build An Gojek like Multi-service Business
Kick-starting a multi-service business by launching the Gojek like platform is a winning idea for every entrepreneur. If you have also decided to go with app development like Gojek, it is surprising that you will earn massive revenue. But how much it costs is still a big question for many. – Building a Gojek like app depends upon several factors like app platform, app size, add-on technologies, and most importantly, the mobile app development company you plan to hire for the project. All these factors will help you eventually decide the Gojek clone price. If we evaluate an average value, the cost of building a Gojek like app might range somewhere between $15k to $80k.
Let's Wrap It Up!
Now that you are well-known for the benefits of launching a Gojek like app for your business, you should not take much time to launch the app quickly. Also, because people have now adopted the lifestyle of ordering food and other home services using multi-service apps, entrepreneurs like you can make massive revenue by developing such apps for you.
As people have started understanding the advantages of having a multi-service app, there is a great opportunity for entrepreneurs to get started. Hire the most professional Gojek clone app development company with much knowledge of the technicalities utilized inside the app development process. To make the ideal choice for app developers, check their client reviews and samples on the website to clarify the app's performance.