Statista's most recent forecast shows that ride-hailing users will reach 1531.5 million in 2023. According to statistics, the ride-hailing industry made $183,677 million in revenue in 2019. Nigeria's ride-hailing business accounts for 136.3 million dollars, encouraging entrepreneurs and businesses to consider investing in the industry in their city.
In Africa, this business has touched 54 countries and 1.2 billion people. Most crucially, increased smartphone penetration and internet users (a 20 percent increase) have taken Africa by storm. People currently want to make all of their reservations online. They don't want to be bothered when commuting. Uber-like ride-hailing services have become ingrained in their daily lives.
In this post, we'll look at the statistics of the taxi business in Nigeria and how you may establish an on-demand taxi service in Nigeria on a shoestring budget.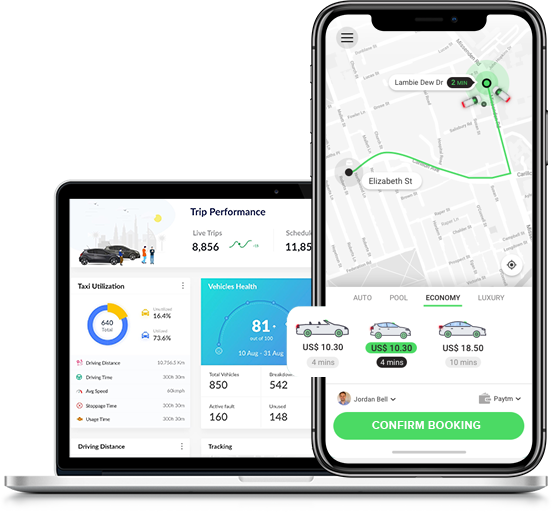 Kickstart Your Taxi Business With Ready to Solution
Get customized & white-labelled taxi dispatch software solution for your business featuring customer app, driver app, and intuitive admin panel.
Request Demo
Pay
Go Live
Most popular Uber clone taxi company in Nigeria
Nigeria has been a large contributor to global cab revenue creation, as evidenced by the data. Uber and other large taxi companies face competition from dozens of ride-sharing firms. Despite the competition, they provide a sizable profit for their owner. The Nigerian taxi sector sought much-needed change, known for exorbitant prices and unpredictable cab conditions. This list of the best Uber clone taxi companies in Nigeria transformed the taxi industry.
Oga Taxi
It was founded in 2016 by Michael Nnnamadim and Ameh Idoko. Oga is Nigeria's local ride-hailing service. Oga has outmaneuvered overseas players like Uber and Bolt quickly by delivering unique features in their app and a good commission to drivers (which uber failed to do).
If riders are traveling in the same direction, the app allows them to ride solo or share a taxi with someone they know. Riders can save up to 40% on their taxi fare.
Oga provides three different ride-sharing solutions. There are three types of accommodations: standard, deluxe, and executive.
Jekalo
Bolarinwa Motoni introduced it in 2015. It's also another Uber clone cab option for Nigerians to get from point A to B. Riders and taxi drivers have options with the ride-hailing service. Those who possess a car can register as a Jekalo driver and use the Jekalo admin panel. They may start a business in Jekalo and make a good living.
Afro
Afro is a Nigerian e-hailing app that competes with other uber clones. This software was known by the name "Afrocab" at the time of its release in 2014. Later, in mid-2015, it was renamed Afro. Nigerian developers created the app. Like any other cab service such as Uber, the taxi app offers three options. Private, limo, and wealthy.
InDriver
InDriver is well known app that is presently active in 31 countries in Africa and more than 300 counties worldwide. The company claims to have placed power in the hands of the passengers. The cab isn't like other car models in that it works uniquely.
Passengers might hire a nearby InDriver cab via the internet. The catch is that before concluding the journey, the consumer can set the fare and negotiate with the driver. The trip will be confirmed if both parties agree. Passengers can save up to 30% by doing so.
OMA
Oma is another successful Uber clone company based in Nigeria. Oma prime, Oma lite, Oma taxi, and Oma Keke are the four ride models available on the app. These models are best suited with enormous types of passenger needs.
Apart from the request, pickup, and payment option, the service offers a real-time live location to passengers' loved ones.
What is the Best Way to Find an Uber Clone?
There is a slew of app developers selling uber clone app solutions. By obtaining a proper solution, you may also start your uber as a ride-hailing app.
It is not required to purchase the same clone for your company. Some elements can be customized to meet your specific requirements. InDriver has a different feature than Uber in the example above. Passengers can set offers and bargain with the driver.
You can begin your search by typing "Uber clone script provider" or "Uber clone app services" into Google. Do not make a decision based on two or three search results. In the clone business, top search results aren't always the best. You might also ask any technical individual with app development experience to assist you with technical issues.
Once you've discovered the ideal clone app services. It would be beneficial if you insisted on certain traits, such as;
A white-labeled solution in its entirety
You can get a free installation, configuration, and launch on your server.
The Nigerian language and currency in a free edition (Naira)
Login using Google, Facebook, Twitter, and other social media platforms.
Internal communication between the passenger and the driver is possible.
SOS Button and other security measures
A free license is available for a website, iOS, and Android.
Clone Script Provider: What Should You Expect?
Because you're new to finding the Uber clone solution, you'll need all of the panels and app features necessary to run a successful business.
Customer Application
The customer application panel includes:
Fast ride bookings: Customers can easily book their rides with native android & iOS apps in our ride-hailing app.
Booking Schedules: Customers can use this feature and schedule the future rides they want to opt for at a particular time.
Tracking or calling drivers: Uber clone app allows you to track the live location of drivers, and customers can call drivers to sort out any queries.
Promo Codes & Referrals: Customers can use promo codes after completing their ride. They can even refer their friends to get more discounts.
Push notification SOS: This feature gives real-time alerts to loved ones during emergencies through push & SMS.
Rides History: This feature gives customers a full record of their past and present booking history.
App for Drivers
The Uber clone program enables users to make money while driving their cars. With this function, drivers can quickly access and manage their ride requests and track their rides and earnings. Customers may instantly book them after they build their platform profiles.
Ride alert: Drivers can get real-time ride-booking requests, which they can accept or reject via a quick alert.
Turn-by-turn route navigation: Drivers may easily approach customers' locations and destinations with an inbuilt tracking feature.
Trip Status (Offline/Online): Drivers can easily set their online/offline status based on their availability. They can use the virtual button to begin and stop their journey.
Summary of Trip Earnings: Every registered driver can keep track of their daily journeys and earnings.
Admin Panel
Surge Trip Pricing: This program allows you to define tariffs and control rates based on vehicle, location, distance, and other factors.
Promo Codes & Promotions: You may control the details of promo codes, such as the type of code, the expiration date, the percentage, and so on. Use this application to send push notifications about real-time deals and discounts.
Verification of Driver Documents: You may verify and manage each driver's background information and documents using the edit option.
Earnings Report Management: Through the app, you may check daily or monthly trip earnings reports and establish commissions and payouts for drivers.
If you want to make a brand for yourself in Nigeria, there is no such thing as an "ideal alternative". With so many applications claiming to be the best, believe me when I say that if this were the case, every On-Demand Taxi Booking App would have made a list.
However, we are aware that the story is not as it appears. As a result, let's be honest and recognize that we can do more to make the Uber Like Taxi Booking App a success by employing several tactics, deploying sophisticated technology, and incorporating the most up-to-date features, among other things.
Stay here if you want to know how to start a cab business app in Nigeria:
Picking the Most Powerful Uber Clone Script
Take a peek at the taxi dispatch software demo before purchasing the Taxi Booking Application. This will give you a better understanding of the features offered.
Always use a taxi booking app that is up to date in terms of technology and features. As a result, your taxi company's entry into this extremely competitive business will be greatly aided. The next phase is to integrate Advanced-level Trending Features, which will enable you to take control of your taxi business in Nigeria's On-Demand Market.
Up-to-date Features That Need to Include in Your Taxi Booking App 
iWatch App By Apple
Now, apple watch owners can book taxis by tapping their wrist on the IWatch app a few times. Users may order a cab, pay for it, and obtain an anticipated arrival time using the app, which works similarly to Cab Booking App. By this, they will be able to hail a cab with their phone.
Putting a Stop to Driver Fraud
We've received complaints about drivers listing rides as "Arrived" even though they're kilometers away from the pickup location, which has irritated riders. This feature stop drivers from making any kind of fraud.
Location-Based Push Notifications
The app owner can deliver Push Notifications to all users in a certain location.
Consent to Use Cookies
In compliance with GDPR and the EU Cookie Directive, a Cookie Consent Popup is displayed to inform users about the use of cookies on your website. If you don't need it, you can turn it off from the Back End.
Graphical Status of Rides
The passenger can receive in-app notifications on the current status of the ride. Create an Uber clone script that is tailored to the demographics of Nigerians. This Uber-like taxi booking app is tailored to the Nigerian demographics would help your taxi business grow swiftly.
An awesome app with some advanced features, safety measures, and user-friendly navigation may help you quickly get your taxi business up and running. The app is accessible 24 hours a day, seven days a week, and it tracks the number of rides done in a day. Contact the most promising taxi booking app development firm for the best Uber Clone Taxi App Solution.
Taxi Service
Get the word out about your taxi booking app, similar to Uber.
To grow your taxi business, you must have an online presence. The first step is to design a visually appealing website.
You're missing out on a tremendous opportunity if you don't have a website with booking features.
A website increases brand awareness and increases your visibility to a wider audience. You can reach many people at once if you have a website.
Last Thoughts
Make sure you purchase your Uber Clone app from a respected white label on-demand Uber Clone App Nigeria development company with experience developing and publishing taxi booking apps on the Google Play Store and iOS app store. Before buying an app, try it out first, and then stick with it. Give your taxi business a chance to earn the trust of Nigerians. If you treat them nicely, they will almost certainly continue to use your app.