No other moment but the present one is the best to seriously consider developing an on demand medicine delivery application. Are you concerned about the cost and development time? Suffescom Solutions provides white label solutions that are all ready to be owned by you. And the best part is the cost-effectiveness of the solutions that won't burn a hole in your pocket.
We have developed a surfeit of highly functional and customized medicine delivery applications over the years. Partner with us, and you will get a dedicated team who will understand your needs to develop a first-class and feature-rich app.
Now that we have introduced ourselves, let us read through the evolution of medicine delivery.
Think. Launch. Grow.
At the end of the article, there are three valuable free gifts waiting for you as a token of appreciation. As we always support startups and entrepreneurs. Suffescom has FORMED A BODY of Business Advisors to support startups like you from beginning to success. Whether you're starting out, or scaling to meet demand, connect with the right people, products, and best practices to help your startup grow. Connect Us Now!
History tells itself that the human body has been prone to one disease or the other. There were times when seeking healthcare services was a distant dream. Be that as it may, the provision of healthcare services has become a necessity, and things will progress at an even faster rate than ever. Talking about medicines, people now prefer ordering and getting them delivered at their doorstep, without having to physically visit a drugstore. 2022 is the year that will welcome numerous medicine delivery applications. It will augment an upsurge in the subsequent development, progress, and popularity of online pharmacy app development.
WHY IS THERE A GROWING NEED FOR MEDICINE DELIVERY APP DEVELOPMENT?
The ever-increasing demand for pharmaceuticals and healthcare products makes it difficult for offline stores to keep up with customer demands, especially during a pandemic. Another essential aspect in the continued expansion of online medicine delivery app development is the ease of purchasing medicines from the comfort of one's own home at reduced prices, eliminating consumers' need to visit stores physically.
Online retailers, on the other hand, can meet a wide range of worldwide needs. That is why many medical businesses and organizations aim to go online, i.e., concentrating on developing an online medicine delivery business. Moreover, customers currently choosing to purchase medicines online can benefit from attractive discounts, quick home deliveries, and substantially speedier home deliveries, among other things.
FOR CUSTOMERS
Customers can acquire their medications while sitting on their couches.
The apps provide substantial discounts as well as additional benefits such as free shipping.
Receive reminders about your medication requirements.
Get access to necessary information on prescription medications.
FOR PHARMACIES
Pharmacies can boost their customer base by having an online presence.
They will be able to recruit new clients and expand their geographic reach.
Stores may manage their inventory digitally without any hassle.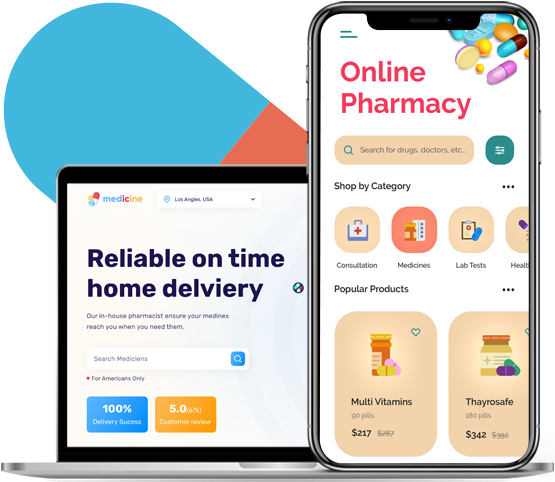 Launch Your Own Medicine Delivery App In Less Than 5000 USD
Request Demo
Select Design & Features
Go Live
HERE ARE THE TOP MEDICINE ORDERING/DELIVERY APPS IN THE USA
| | | |
| --- | --- | --- |
| 1 | CVS Pharmacy | US Based Pharmacy Delivery App |
| 2 | NowRx | NowRx in no time built its identity as a top medicine delivery app in the USA |
| 3 | PillPack | PillPack is an Amazon-owned online medicine delivery company |
| 4 | NetMeds | NetMeds is a leading online medicine delivery app increasingly used in the USA |
| 5 | 1MG | The 1MG app is one of the other most on-demand medicine delivery apps |
| 6 | Medlife | One of the most significant pharmacy delivery apps in the USA |
| 7 | RiteAid | RiteAid is one of the top pharmacy delivery applications in the United States |
CVS Pharmacy – US Based Pharmacy Delivery App In USA
CVS Pharmacy is an American-based company owned by CVS Health. At the current time, this largest pharmacy chain is serving more than 9k areas in the USA. In addition to medicines, this app also offers a way to order the most popular health products, including – first-aid kits, personal care products, etc. With a rating of 4.3 on the Google Play Store, CVS pharmacy is the best example of delivering a seamless medicine ordering and delivery experience for users.
Also Read: How to Develop & Launch a Medicine Delivery App Like CVS Pharmacy
CVS's Main Features
The app's user-friendly mobile platform allows customers access to a variety of shopping and administration capabilities.
Users have more options than simply shopping for medicine from all comforts of home. They can also have their medications refilled.
2. Capsule Pharmacy – US based pharmancy delivery app
The capsule is also a popular online medicine delivery app that guarantees its consumers same-day free medicine delivery. The Capsule Pharmacy Delivery app must act as an inspiration for those who are serious about beginning something like this soon. With a 4.9 star rating on the Apple App Store, fantastic features, and millions of dollars in revenue, the app has become a good example.
Capsule's Main Features
Within Capsule, there is only one store per city, which customers can choose to visit for medicine purchases.
You can learn about your prescription on the app, including how much it costs and how many doses you need to take.
You can also chat with a pharmacist 24 hours a day, seven days a week.
3. NowRx – Prescription based pharmacy delivery app
Founded in 2015, NowRx in no time built its identity as a top medicine delivery app in the USA. The app features an easy registration process to quickly allow customers to join the app and order their medicines. Also, the app enables patients to have a quick video call with pharmacists and get the needed medication directly. The app's functionality depends on emerging technologies that help cut down the long delivery time, associated expenses and focus on delivering the best customer experience.
NowRx's Main Features
The option of video chat with a pharmacist is available on the app.
Within an app, doctors can also send a prescription to NowRx directly.
The app promises to make delivery of medicines within one day.
4. PillPack – Medicine delivery app in United States
PillPack is an Amazon-owned online medicine delivery service that provides free delivery of medications to customers' homes. PillPack has two unique aspects that allow it to provide personalization to its users. First, when consumers buy medicine online through PillPack, the orders are delivered to their homes and sorted according to the amount and time specified by doctors. Patients won't have to worry about forgetting dosages this way.
Another fantastic benefit of the app is that when customers create a PillPack account, they can also access caregivers. This keeps their loved ones informed and allows the pharmacist to contact the caregiver if they have any questions. So if you're contemplating creating a popular drug delivery app, don't forget to check out PillPack's excellent features.
PillPack's Main features
The app is crafted for people who need multiple medicines regularly.
PillPack makes use of PharmacyOS to provide real-time notifications and an online dashboard that allows consumers to manage their shipments, refills, and prescriptions.
5. NetMeds
NetMeds is a leading online medicine delivery app increasingly used in the USA that allows customers to place orders from anywhere worldwide. Using the app, you may submit your prescriptions and place your order in minutes. All sorts of medicines are eligible for a 15% discount, and delivery is done within 2 to 3 days. With 4+ million valuable users, Netmeds has proven to be the world's most popular medicine delivery app that serves medical needs on-demand.
There is no denying that NetMeds offers the most seamless shopping experience to customers. Its star rating on the Google Play Store is 4.4. With its advanced features like quick payments, easy onboarding, push notifications, and simple navigation, NetMeds is becoming a more attractive app to use. In addition to medicine purchases, this app also allows the delivery of fitness-related products.
Netmeds' Main Features
Book a doctor's appointment online and receive a free follow-up appointment.
Get extensive information about medicines as well as other health-related topics.
Online booking of several types of tests and online access to medical reports are also available.
6. 1MG
The 1MG app is one of the other most on-demand medicine delivery apps in the USA that allows users to purchase quick medicines. Such a medicine delivery app has a robust and loyal user network and medical products available at reasonable prices. Dosage, side effects, its use, safety instructions, and other pertinent details are all included.
In addition, you can order a variety of allopathic medicines, homeopathic tablets, Ayurvedic herbs, and OTC medications. It is a complete healthcare app for all medical needs with a 4.4-star rating on the Google Play store.
1MG's Main Features
Free online consultations with top doctors.
Get a 20% discount on pharmaceuticals and the best prices on OTC goods from well-known brands.
Get tailored health advice from some of the most excellent experts in the world.
7. Medlife – pharmacy delivery apps in the USA
Medlife features a user-friendly layout and is one of the most significant pharmacy delivery apps in the USA. The delivery of items takes 24 to 48 hours. You can pay for medication with cash on delivery. In addition, Medlife offers over 100,000 OTC products that do not require a doctor's prescription.
Medlife is a multi-award-winning healthcare app with over a million verified users. It offers healthcare products and services online in more than 2500 cities and 25,000 zip codes. You can order a variety of products and services through Medlife. The delivery of medicines, over-the-counter items, and doctor consultations, and diagnostic testing can all be done in the comfort of your own home.
Medlife's Main Features
You can make a quick doctor's appointment online.
The Medlife app provides up to a 50% discount on a variety of medical products.
7. RiteAid
RiteAid is one of the top pharmacy delivery applications in the United States. It operates a chain of multiple medical stores in the U.S. where people can get their medications with a single tap. The application has evolved into more than just a medicine distribution service. Along with pharmaceuticals, it also allows customers to purchase health, diet, and exercise products through its app. Rite Aid is currently making headlines for opening new CoronaVirus testing centers in New Jersey, Ohio, and Michigan.
So there you have it: the best and most successful online pharmacy delivery applications are now available for download worldwide. If the success of these apps has inspired you, and you see the potential for this market to grow and generate profitable businesses, you should start developing your own now.
What are the Different Types of Medicine or Medical Apps?
Remote monitoring is just one of the many applications of mHealth technology. There are more types of medical apps offered by medical delivery app development companies.
Diagnosis apps
Medicine delivery apps
Medical reference apps
Medicinal journal apps
The clinical decision helper app
Social networking app
Medical news apps
Productivity apps
Remote monitoring apps
Doctors on-demand apps
How Can Suffescom Solutions Help?
Now that you are well-known for the best pharmacy apps in the USA, you can take steps to build a medicine delivery application by hiring a reliable mobile app development company. They provide you with the most robust solutions that help you earn brand recognition and become one of the most preferred medical providers.
Suffescom is a pioneering technology partner having rich experience in building robust, scalable, and innovative solutions. Our professionals work dedicated to achieving the clients' needs and strive to build modern solutions. We understand your business requirements and customers' expectations. Our experts create digital platforms that deliver a fantastic user experience and perform best on all devices irrespective of the size. We help you to lead and shine among your competitors. Feel free to get in touch with us today!
The Final Word!
Medicine delivery apps have brought a big difference to the pharma industry. People no longer stand in queues to purchase medicines from medical stores. Not only this, but healthcare service providers are now also skyrocketing their business by transforming them into apps. All that means a well-designed medicine delivery app can help healthcare businesses accumulate decent money and prevent the customer from roaming here and there searching for prescribed medicines.