The Metaverse is an ideal place for investing in consultancy businesses that are ready to shape future economies. It is a virtual world that can work just like a digital twin world, and that too in 3D. The aid of futuristic technologies like Augmented Reality and Virtual Reality has revolutionized the Web. With a VR headset gear, the Metaverse is a breathtaking concept that offers a highly immersive experience wherein technologies are still getting developed that will make you experience sensations in the virtual world. The future of technology is arriving, and the Metaverse is the lance and carriage.
The consultancy services, when opened in the Metaverse, can be an interactive way of conversing with potential customers. The Metaverse will serve as a perfect platform for hosting hundreds of domains of businesses and helping businesses upscale their ROI.
Remember, the Metaverse is welcoming for both small and large-scale enterprises. Everyone gets to earn a corner in the realms of the Metaverse.
Heard about the Metaverse? Want to utilize its powers to boost the revenues of your consulting business to a skyscraping height?
Well then, Suffescom Solutions Inc. is blessed with the ability to make your business ideas a reality.
We have more than 6 years of experience handling the metaverse technicalities and perks. With already more than 7 projects in our bag, we are not just like other average tech-talkers; we are active doers who assure their clients a quality service. Connect with us and find it for yourself!
Let us dive deeper into the oceans of the Metaverse in this blog and understand the different sectors where you can develop your consultancy services in the Metaverse.
Scope for Businesses In the Realms of the Metaverse
Before diving deep into the depths of the possibilities of the Metaverse, let us pinpoint some ways the Metaverse proves to be a reliable asset for drifting businesses to new heights.
The Metaverse successfully offers a next-generation customer experience.
Metaverse offers an interactive workspace that depicts the collaboration of employees.
The virtual world of the Metaverse offers a learning opportunity for businesses to adopt modern tech-ways for marketing their services and products efficiently.
Metaverse's realm is a provider of augmented operations that create a mixed reality sort of environment along with the VR ones that are entirely artificial. Thus with so many futuristic tech powers, Metaverse is the future of consultancy services.
Companies are assuring that the Metaverse is a safe spot for investing; virtual plots and shops, like a digital twin of the natural world businesses, are being set up on the Metaverse platforms for advertising and marketing.
The Metaverse is in its initial stage and is the right time for you to shuffle yourself up and dig in to explore the possibilities of the Metaverse. Many sectors are looking for ways to capitalize on the unique traits of the Metaverse before seeking an apt opportunity for businesses in the Metaverse.
Wondering about how to start consulting business in the Metaverse? Suffescom Solutions is a pioneer of the Metaverse movement. And our team of metaverse developers and experts await your presence to guide you on the pathway to establishing a consultancy in the Metaverse.

Read More: How To Set Up A Conference Or Business Meeting Room In Metaverse?
Numerous Sectors To Start A Metaverse Consultancy In:
Public Sector Consultancy Services
The public sector can be the health and insurance sectors. Medical facilities saw booming growth in the recent pandemic era. Many medical institutions and hospitals opened up virtual hospitals to demonstrate the steps to be taken for battling the disease.
Many hospitals are actively opening up virtual centers in the metaverse platforms like Second Life clone and Decentraland. Hyderabad, the India-based group of medical institutions, The Yashoda group, has backed up a spot in the Virtual game, Decentraland.
The medicinal institutions set up virtually can be accessed anywhere with a click. This will be a great deal of help in the public sector, providing better and advanced medical treatments by active 3D demonstration. Health consultancy services can be delivered to people in operational need of medical services through the Metaverse.
The robust solutions provided by Suffescom Solutions Inc. can help to create virtual platforms with thrilling futuristic technologies, adding revenues for keeping up with your health consultancy's running expenses.
Education Consultancy Services
Education consultancy businesses can be a great success in the Metaverse. The Metaverse is already hosting many educational institutions and is the best platform for educational consulting services for budding GenZ learners. The second largest university in Britain, University College London, has opened its gates to the Metaverse.
The University of Tokyo is offering specific courses that will only be provided only on Metaverse Platforms. The university will award certificates to the ones taking part in this program. Educational and career consultants can organize virtual university and college tours and give aspiring students an immersive experience.
Educational consultancy business holders are indeed equipped with higher chances of success in the Metaverse as the Metaverse is flooded with virtual museums and academic centers. Suffescom Solutions Inc. ticks all boxes of opening a virtual platform on the Metaverse with its praises even mentioned in top Indian Media like Hindustan Times.
Travel and Tourism Consultancy Services
The Travel Industry has faced a grave setback in the previous two years of a global crisis. During that phase, many amusement parks and travel consultancies were set up with the advent of metaverse-related services. The virtual platform by the name of Second Life has even opened international offices that give virtual tours.
Recently, Israel joined Second Life which now offers a virtual tour of the holy land.
Barbados, which recently became free of the Queen's rule after 400 years, is now going to be the very first country to open an embassy in the realms of the Metaverse.
HR and IT Consultancy Services
Many firms are convinced of the opportunities offered by the Metaverse as a means of conducting interviews along with interacting with their existing employees virtually. It is hard sometimes for individuals to travel for days for just an hour-long interview. With the strength of the Metaverse, IT firms are creating interactive and advanced metaverse workspaces for more possible results.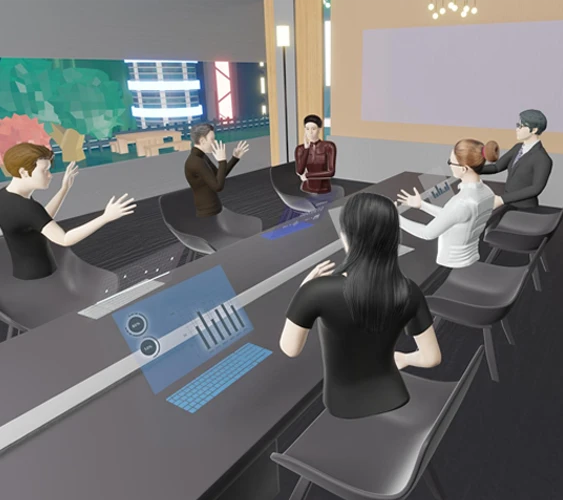 Launch Decentralized Lottery Platform
Development from scratch or Whitelabel
Development of lottery concept
License
Lottery website development
Get in Touch
Do you wish to create a digital workspace in the Metaverse?
Contact Suffescom Solutions for creating your ideal virtual meet space and workspace in the Metaverse.
Fashion Consultancy Services
The Metaverse serves precisely while offering fashion consultancy services. High-end brands like Gucci and Louis Vuitton have already stepped up in their fashion sales by arriving in the Metaverse. The luxury fashion consultancy businesses have a great potential to succeed in the Metaverse as the high-end luxury brands are incredibly pricey, and it is sometimes hard to understand their look before actually investing thousands of dollars while purchasing them.
With a profound metaverse fashion consultancy service provider, the buyer can try and experience the product before buying it.
The fashion consultants and stylists that cannot keep traveling with most fashion lovers can interact directly with other users via their avatars and guide them about the trends and changes in styles.
While drawing your business's metaverse strategy, make sure to analyze how your clients will react in the next 10 years.
Sports Consultancy services
The sports sector is flourishing well in the Metaverse, with many brands opening their own virtual games. Nike has opened its showroom in Decentraland and sold a bunch of their virtual shoe line, and made a good amount of money. In the same way, their game has a sports-land where they host races and other events.
A sports consultancy can define the powers of the Metaverse to people who want to try the power of Artificial Intelligence and Augmented Reality. With the aid of the Metaverse, many organizers can host virtual game leagues and tournaments in which people can take part using their virtual avatars.
Eager to create a Metaverse Game Development platform that reflects your ideas about sports and empowers your Consultancy Services? Buckle up for a cruising ride by Suffescom's brilliant team of game developers and Metaverse experts who will drift your dreams to reality.
Gaming Consultancy Services
The gaming sector has seen a bucket full of changes in recent years as the play-to-earn system came along. The gaming sector isn't just a skill-based zone now; it is completely transformed with a fused income that comes along with the skill.
The gamers can win cryptocurrency by playing skill-based games, and business people who see this blockchain-crypto power-packed combination game can hire professional gamers and try their fortunes. A gaming consultancy in the Metaverse can guide both game developers and gamers to understand the potential of the gaming industry as a whole.
Picking Suffescom Solutions Inc.
Suffescom Solutions Inc. has successfully crossed skyscrapers as a successful Metaverse Development company in the business with customizable White Label Solutions through a skilled team of developers. We start from scratch but finish in style while offering a wide range of metaverse services, including creating Metaverse Consultancy offices on different virtual worlds per the client's wish.
Our client is our top-most priority, and we assure the best possible services to all our global clients and those who will join our journey of flourishing the virtual world and creating a bright future.
Grab and hold onto your seats while choosing to cruise with our digital drift:
We have more than thirteen years of experience in the wondrous world of blockchain.
We are recognized and awarded by national and international media like Hindustan Times and Business Insider.
Eleven years of unmatchable experience in creating application development and ensuring their functionality.
We have more than six years of experience analyzing the Metaverse's scope and developing virtual platforms with full 24*7 customer support.
Don't get late as we await for you and your enterprise to be a part of the impeccable world of the Metaverse. No need to embrace for impact when the digital crash is outmaneuvered by an unbeatable team of developers at Suffescom. Contact us to know more!!