Finding a romantic love connection in today's day and age looks quite a tedious task. But still, people want to explore every option to find the love of their life. Dating, some years back, was not taken in a positive sense rather was considered a desperate move. The traditional form of dating has now taken a back seat because of the busy schedule of people. The other medium that has replaced this completely is online dating. There has been a sudden shoot-up in the number of users using online dating applications. A lot of credit for this goes to the pandemic as well, where people were just lying in their houses feeling hopeless. That longing for affection has certainly been fulfilled by various dating apps. Some of the topmost dating applications are tinder, bumble, hinge, OkCupid, etc. Before moving further, let's have a look at the astounding statistics of dating apps.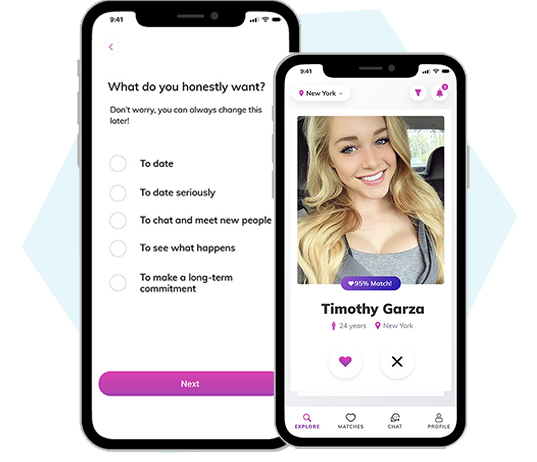 Launch Tinder Like App with Our Readymade Solution
Request Demo
Pay
Go Live
Statistics of Online Dating Apps
The top 5 countries who have max. user penetration are United States (18.4%),United Kingdom (16.9%) ,Belgium (15.9%), Netherlands (15.8%) and Luxembourg (15.1%)
Similarly, according to revenue generated the 5 leading countries are United States ($1.43 billion),India ( $1.28 billion),China ( $1.07 billion) ,Japan ( $273 million) and United Kingdom ($232 million)
The top 5 players in the online dating realm are Tinder (51%), Bumble (32%),Match (31% ), eharmony (28% ) and OkCupid(24%)
About 54% of Americans are of the opinion that relationships on a dating application is much better than in-person
Nearly around 53% of Americans consider meeting people through dating apps safe
About 39% of men and 53% of women think that dating sites are absolutely a safe platform to discover love
During the past five years of online dating, approx. 57% of men and 24% of women complain of not getting ample messages,
How to build a dating app?
Building a dating app is not a tough process. But due to the availability of so many applications in the market, it's important to serve the audience with something unique that they have never seen before. In this article, we will provide a step by step guide to create a dating app;
Competitor analysis: As discussed above, a plethora of dating applications are available in the market, so better be sure what to offer. Find your target audience, create a survey among them and see what other features they would like to see in the app. Analyzing the demands of the audience is the key point in fetching big numbers. It's also important to see what attributes are being offered by successful dating sites or apps. For instance, popular dating apps like tinder, bumble, and OkCupid are all distinct, but deeply one can notice the slight variance.This means although at the superficial level, they might look the same, at the deepest level, these trivial things make all the difference. So, by taking cues from the other best apps, ensure that a new idea is put forward.
Authenticate your idea: There have been several surveys and studies been conducted on the utilization of dating apps. Although the results are not satisfactory ,yet the demand for these applications is increasing day by day. This contradiction can create a sense of ambiguity for the business entrepreneurs who want to invest in this realm. Hence, double check your idea, and take assistance from someone who has a deep understanding of the market. The popularity can be gauged through the following factors;
Related article: A Complete Step-By-Step Guide To Build App Like Tinder
Building a connection: As human beings, it's our nature to have a connection or attachment with other fellow beings. Through the conventional methods, it might be a little awkward to start a conversion but with the online dating apps, the initiation of conversations have become much easier. People feel much more comfortable exchanging their thoughts for the opposite gender on an online platform.
Online popularity: Initially, when online dating was just in its starting phase. The people who used it had to face some disgrace. But everything from paying bills, to shopping, booking tickets etc have changed the perception. This way, the use of online dating apps has been normalized, and people are enjoying finding their ideal date with no judgment.
Customization of choices: The biggest benefit of online dating apps is that the partner selection method has become very easy. One can set their preferences like height, complexion, weight, religion, culture, etc. Every aspect is taken care of, and that's the biggest reason why it is in such high demand.
App structure development: To create a robust app structure, a series of high-tech services needs to be included in all the mobile apps, desktop apps, server apps, etc. It also requires the designing of the API as well as the backend part. A lot of emphasis should be paid in choosing the best database, data transferring, and storing structure. The elemental functionalities that are included while creating app structure are as under;
Registration: To use the app, one needs to register to that platform; therefore, this is the significant section that needs to be created. Now, there are various ways through which the user can sign up. Either they can use their social media channels or email, phone number, or just fill-up the form by feeding their personal details.
Search filters: This provides great help to the users while searching for their partners. One can filter out the gender, age, distance, etc. The other added characteristic of the search filter is to enable the online and offline option.
Selection partner method: There's a specific technique that is integrated into every dating application. This is precisely, for the way to choose the opposite gender. Generally, the most popularly used mechanism is the swiping and scrolling option. One can very conveniently see the person's images, and on personal preference, they can either swipe right or left. All this takes place in a short period of time.
Push-up notifications: This feature is integrated into the app to build user engagement. These notifications should be sent to the users very swiftly. It includes specifics like how fast the picture of the user has been liked and how much time is taken during the entire conversation between two persons. Any reward or gift-related information to the users should be provided instantly.
Voice and video calling option: This is not a usual social networking site. Hence this cannot be subjected to mere texting. A full-fledged voice and video calling attribute is required so that things get moved beyond the formal conversation. When two parties are interested in one another, then there is the need for the heart-to-heart talk, which obviously is something intimate and confidential. Such types of talks are done via voice or video call, depending upon the comfort level of the individuals.
Popular dating applications
Tinder: The most popular dating app amongst all is tinder. It caters to both sets of people. One who is interested in a long-term relationship and the other who is looking for a casual hookup/relationship. The biggest reason why users mostly download this app is because the bio of a person is extremely short and crisp. Therefore, it helps the person to make the decisions very swiftly on whether to give a right swipe or not. On the contrary, brief information can create a dicey situation. Some people find it difficult to make a decision based on little details. But overall, most individuals are in favor of this characteristic. A lot of safety elements are added to the tinder app, such as a panic button that includes functions like tracking location, image verification, emergency assistance, etc. At Suffescom Solutions, one can hire tinder app developers to make a superb app like tinder.
Bumble: Bumble has a unique feature where women can take the initiative of making new friends or can line up the dates according to their wishes. After a successful connection between two individuals, for instance, of the same gender, one has got 24 hours to establish the connection. Within that time frame, if the connection is accepted by the opposite party, then the relationship can be taken forward; otherwise, after 24 hours, the connection vanishes automatically. Other than making romantic relationships, there is a distinct attribute for individuals looking for business contacts. To break the ice and to introduce fun in the video chat, there are added game features that develop a smooth transition in the chatting process.
Advantages of dating apps
Fast and effective: When we use an application instead of a dating site, the delivery process is superfast. The messaging through text, video, or voice calls takes no time to reach from source to destination. The user interface is absolutely seamless,thus, the person enjoys going through each and every section. They are highly portable, so when you are traveling on any bus, train, or airplane, you can fully use them. They are flexible and save a lot of time which is the biggest thing an online dating app can serve.
Shows mutual connections: While using the app, mutual friends pop up on the screen. If a person is interested in those, they can send requests to them and take the relationship to another level. This is probably the best way when a friend inadvertently acts as a cupid between two individuals. If the mutual connection and their friend belong to the same school, college, or workplace, then building a relationship with that person will be slightly easier. Because in comparison to a completely new person, the foremost one gets a little bit of edge because of certain common factors. This is again beneficial for saving the user's time for dating purposes.
Getting messages from people that interest you: The added benefit of the online dating app is that one can receive messages from the person they like. The thing that distinguishes online dating apps from regular social media channels is this wonderful feature. That's why people who used to try building connections on social media are shifting towards highly credible dating apps.
Perfect for people who have busy lives: Today, people are busy with their work and hardly get time to make a move to start a relationship. So, for people like them, it is an exquisite option. They don't need to go to any social places or gatherings to find the love of their life. Also, there is no dependency of an individual on others to take their help while getting into a relationship.
Serving dating opportunities across regions: Online dating is not restricted to a specific place. One can enjoy having a relationship with the individuals who possibly live in different cities, states, or countries. This attribute is totally stunning as one gets an opportunity to date people of various regions and get to know about their culture and lifestyle.
Dating app development cost:
The dating app development cost varies according to the intricate details that one wants to integrate into that platform. The more exquisite features, the more exorbitant its budget will be. Usually, the cost lies between $16K – $72K, but again it all depends upon the client's need which involves the working timeline and advanced facets.
In Sum Up:
Online dating has served as a boon in the 21st century. It has created an easy way to discover love. Its popularity has become one of the reasons a lot of companies are investing in dating apps. If you also want tinder clone app, then hire dating app development company.