We have already entered 2022 with new hopes! How good it would be if you make a start by "Letting go" of old stuff and "offering up" to those who actually need it. Now let me ask you what you consider – Selling old stuff for free or for money? Of course, you pick the second option. And that is what you can do by building an amazing buy and sell marketplace where Letgo and OfferUp are not just a name. They are an opportunity that entrepreneurs can acquire to sell and buy thousands of stuff locally in exchange for money.
Building a buy-sell marketplace has greatly facilitated the process for both local buyer and local seller as they are the perfect way to get things done in minutes. In this blog post, we are going to discuss the various aspects related to "Let go"and "Offer Up" like apps, their business models, and more.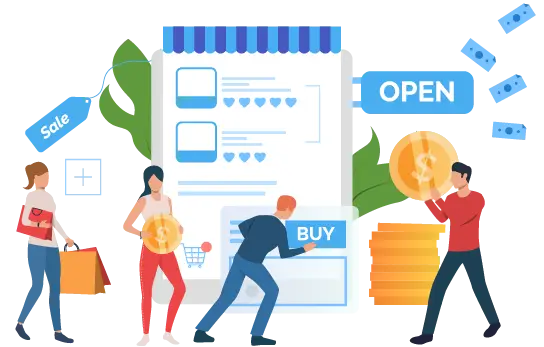 Start Selling Stuff Locally Leveraging Offer-up Clone Script
Buy and Sell Marketplace Like LetGo
Idea and Concept
Basic and Advanced Functions
UX / UI design
About Letgo & OfferUp App
Both Letgo and OfferUp apps are the most straightforward and easy-to-use platforms that make people buy and sell in a virtual environment. These apps are so popular among people with over 100 M downloads and 400 Million listings worldwide. You can also call them vast reseller markets selling thousands of used articles, electronics, cars, collectibles, furniture and other items.
Local buy and sell marketplaces like OfferUp and LetGo is a great business idea allowing buying and selling locally for both sellers and buyers. As per the latest statistics, more than 1.8 billion people prefer online stores for shopping old stuff instead of going to specific places to buy. Also, the e-retail sales touched 4.0 trillion dollars in 2021, indicating revenue doubling in 2022.
Now with "offer up" and "Letgo" merge, there is an opportunity to combine the strengths of both marketplaces to deliver a better experience to both buyers and sellers. All that means that sellers can reach more buyers by selling faster on this combined marketplace whereas buyers will get access to more deals.
The End-to-End Working Of OfferUp & Letgo Type Apps
Letgo and OfferUp are simple to use local integrated buy and sell marketplaces. It's similar to Facebook, but it's for buying and selling used items in your neighborhood. Before you can post or buy anything, you must first sign up. How do you go about doing that? To create an account, open the app, enter information into the fields provided, and press the signup button. The app's home screen will appear once you've signed in. A search bar will appear on the main screen, allowing users to narrow down your search by category and find specific things to buy.
Once the results appear, you can easily scroll through the listings in the app and select the one that appears to be the best fit for you. After that, when you view a specific ad, you'll see photographs of the item, some basic information about it, and the price. You can either ask questions about the product or make an offer to buy it.
Business Model Of Marketplace Like Letgo & OfferUp
OfferUp and Letgo Similar App are mainly for selling and buying used items. These buy-and-sell applications all follow the same business strategy, which is based on generating revenue through advertisements. They don't charge a fee to create a profile, register, or even make a deal. Reseller eCommerce application development like Letgo is one of the top platforms that allows the selling and purchasing used items like home-garden, fashion, accessories, and automobiles. If we talk about the business model, then LetGo's model is based on charging a fee from sellers for each sale made plus the shipment of the product via its platform.
Consider some of these monetization ideas if you want to learn How To Build A Buy and Sell Marketplace App Like LetGo?
How to Start an E-commerce Business in Turkey?
There are various planning and legal steps you need to follow if you plan to start an eCommerce business in Turkey.
Start with performing competitor research in Turkey and find out the space to establish your eCommerce brand.
Next, select your business name and get it registered legally plus obtain all necessary permits and licenses.
Build a powerful marketplace for the sale of hotels in Turkey, used home and garden items in Turkey, used electronics in Turkey, and used kid items in Turkey.
How Does Letgo Make Money – App Ideas To Make Money
So, now it is time to discuss the main point, i.e., how an app like Letgo makes money. It is already clear that Letgo is a free marketplace platform where users can easily advertise their products. There are still some revenue models to discuss:
Ad-based Model: One of the revenue models that drive success to Letgo in a very short time and helps the marketplace increase the number of users. This model has numerous benefits for advertisers, from displaying many banner ads to earning good revenue. The more users engaged towards banner ads, the more revenue is generated.
Freemium Model: The freemium model of the Letgo platform is especially for those product owners who are seeking to list their products on the top. This model comes with the feature "featured listing," allowing product owners to attract a high audience with sales.
In-app purchases: This refers to the option to purchase special offers in-app or for sellers to pay to have their adverts appear at the top of the app. Your service can also act as a middleman, allowing merchants to expand their trading zone.
Letgo & Offerup's Top Features Listed!
Registration via social media: This is a feature that all of the greatest applications for selling things locally have. It boosts users' trust in your service and makes the identity verification procedure easier. They also won't have to manually enter their information because everything would be pulled from a social network.
Profile creation: Sellers and buyers' personal information, as well as all objects for sale, a list of addresses, and cards, will be displayed. Users must also be allowed to edit their profiles.
Search engine: Keep in mind that the search should be done based on the location of the clients. As a result, provide the ability to broaden or narrow the search range. It'll be simple to do because practically all contemporary smartphones have GPS built-in.
Advanced filters: They are required to make the search process simple and quick. To save shopper search time, categorize all things into categories, groups, price, size, location, and other parameters. If the merchant has some similar things with different versions, choose one from the list (by color, fragrance, and other parameters) or enter one's own. It would also be helpful to have a sizing chart.
Built-in camera: This feature allows you to take images in the app and immediately upload them. The ability to edit images, crop them, and modify brightness and contrast would be a welcome addition that the vendors would appreciate.
Built-in chat: One of the most popular and beneficial aspects of such apps is built-in chat. It makes it easier for users to communicate and debate deal details.
Support for many languages and currencies: If you want your software to work in several countries, it needs to support the appropriate currencies and languages.
Push notifications: This is a low-cost tool that will keep your users up to date on all new features, updates, and changes, as well as receive notifications of new messages in the chat.
Some Additional Features
Compare prices: This is a fantastic opportunity for users to quickly and easily select the best things.
Offer hot deals: A seller's ability to offer hot deals, discounts, or coupons is extremely valuable. If you charge for this feature, you'll be able to earn some more money.
Add the following categories: Adding categories like top deals and recent offers is a great method to encourage vendors to be more honest and increase their ratings.
Scan photo feature: This feature allows your Letgo Similar App to make suggestions on how to fill up product descriptions and categorizations. You may also check the quality of the photographs you've posted. Customers complain about the quality of the photographs or that they are fraudulent on numerous forums. Some services address this by canceling a deal and requiring a seller to upload at least one live snapshot of an item.
Inbuilt payment solution: When clients utilize your service for the first time, it asks for their credit card information as well as their phone number. The users next input an email address, and a unique code is sent to that address to confirm all of their information. As a result, it is not essential to input it each time you use the service.
Delivery feature: Agreement with outside delivery services to provide the greatest user experience and reduce transaction time.
Rating and comments: The feature safeguards clients against untrustworthy sellers.
How To Build A Buy and Sell Marketplace App Like LetGo best websites to sell stuff locally
Consider the name for your marketplace: Your app's name should be appealing to begin with. The title is the first thing that users see, so it should be brief and relevant. There are a variety of brand name generators available to assist you in selecting the ideal name for your next app. Other important considerations are the app's title size along with target audience expectations.
Have an engaging UI/UX: The importance of a good-looking UI/UX cannot be overstated. Beautiful graphics and a simple user experience are important, and your potential customers will notice. Users want to see a familiar model of an app like this, thus your buy-and-sell app should have a basic and intuitive UI and UX.
Put a shopping cart: People can buy a variety of things through your app, and they should be able to add those products to a virtual shopping cart. Buyers can go to this cart and go to the payment page or pick payment on delivery, depending on their preferences, after making a list of things they require. A shopping cart allows you to properly sort all of your products.
Integrate payment gateway: Whether it's PayPal, Stripe, or another payment method, choose the best payment gateway for your buy-and-sell software. If you're having trouble deciding, research the market and your competition, look at successful solutions, and so on. Pay attention to local government regulations as well, and don't overlook payment processing security.
Related Article: How To Start A Multi-Delivery Service Business?
Some Important Aspects to Consider
Choose a niche: Do you want to build a local selling app for selling items in your area, or do you want to build an app that allows you to purchase and sell across cities and borders? The first stage in this procedure is to decide which market you want to focus on. You must also choose the commodities with which you want to work. You can design an app to sell second hand products in a particular category or a broad-spectrum app.
Experience of the user: Depending on whether the user is a buyer or a seller, a single online marketplace app is seen as either a buying or selling app. In both circumstances, the user experience should be taken into account. Apps for buying and selling should be performance-driven and feature-rich.
Fraud prevention: The key to a stable market is fraud prevention. As an entrepreneur, you should invest in client protection and deploy fraud detection algorithms. They must be vetted before buyers and sellers can register with your buying and selling software.
An Estimated Cost to Build a Marketplace App Like Letgo & OfferUp
The cost of Letgo & Offer Up reseller mobile application development is determined by a number of things. Among the most important are the following:
Features and their complexity
Time
App development company
Location
Budget
Keeping the essential functionalities in place, the total cost to make a buy-sell application leveraging offerup clone script would be somewhere between $20K to $40K. The cost may differ as per the features and the location.
Wrapping Up
This post attempted to clarify the critical business factors, fundamental features, recommended features, and projected cost of designing the finest Reseller eCommerce application development like Letgo. It's time to put your doubts aside and start thinking about how to construct a buy and sell marketplace app.
There will be unexpected problems, hurdles, and flaws in starting any venture. The most essential thing is to eliminate them and go forward. Our dynamic and performance-driven apps have earned us a reputation as a top-rated software development firm.
We at Suffescom, are pleased to answer any questions or concerns you may have about how to create a buy and sell LetGo clone marketplace. We are recognized for our interactive performance-driven mobile apps. If you have some query or need more information, connect with us. Our expert will get back to you in a short time.