The healthcare dynamics are showing revolutionizing changes with the advent of online healthcare consultation where patients who are not able to go to the hospitals can have a video chat or simply talk to a doctor through an online consultation platform. It has been around for quite some time but, only recently has it come to the proximity of healthcare companies because of mass access to the affordable internet. Many companies are operating in the market which is actually changing the concept of online doctor consultation.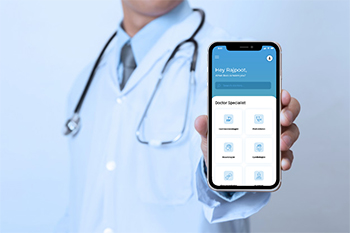 Launch Online Consultation Platform With Our Ready-made App Solutions
Start your own online healthcare consultation marketplace like Practo, TelaDoc Clone and ZocDoc like App.
This online business model is beneficial for people of all ages, but mostly it works for old age individuals because, at times, old people couldn't make it to hospitals in case of emergencies. In such a case, he/she can pick up the phone and get the treatment instantly by showing or sending the previous health records. There are some advantages to online medical consultation. Some of them are:
Saves time and money: Every time you come up with any kind of emergency or you are not feeling well, you can connect with your doctor instantly through your device. Earlier, every individual has to visit the doctor in case of any medical urgency, but with the advent of new technologies, you just need to download the application associated with online medical consultation and connect with them easily.
Privacy and security: You can discuss every problem easily through a video chat or a message chat with the doctor and get the prescription instantly. An online application ensures the privacy and security of a patient and his/her data. An individual can also show her prescriptions to the doctor so that they can assist you accordingly.
Instant medical attention: When you go to see the doctor at his place, you sometimes, have to wait for a long time to get yourself checked up, but when you are consulting the doctor online, you get instant feedback and the desired prescription of medicines.
24/7 Availability: In online health consultation, doctors are available 24/7. You can contact the doctors the moment you start feeling unwell, no matter what the time is. This can be an important option when someone is suffering from chronic diseases like cancer. He/she can talk immediately to a doctor through an application.
These are some of the benefits for customers attached to the online consultation platform. Not only customers but entrepreneurs who are building this kind of platform to connect patients with the doctors are also regularly getting the commissions out of the fees patients pay online. Every online business has its own revenue generation model and they choose the percentage of commissions that they will take from every payment on the platform.
Building your own doctor consultation app, you should keep in mind certain features that you can add in your app. Some of them are:
User management
Quick and easy registration
Searching panel for doctors and scheduled session
Calendar tracking feature
Chat integration
Audio/ video call integration
Consultation and prescription management
Protected Health Information (PHI) and data security
Billing management and commissions
The healthcare industry has been changed and new treatments are coming in through new ways. All thanks to the growth of the internet and prevalence of devices like smartphones and tablets through which not only medical consultation but all the on-demand services can be operated easily. The medical applications already operating in the market have some important functionalities which fulfill the patient's needs and requirements. You can also use these functionalities if you want to build a feature-enriched application for medical consultation:
Ability to access electronic medical records.
View the complete schedule of the doctor
Book change and cancel appointments according to the needs.
Access lab results
Get appointment reminders through calendar invitation
Request prescription refills
Get notifications for the latest hospital news and events.
Download and upload X-rays, scans, MRI scans, etc.
Track and monitor cholesterol levels, weight, height changes through an app
Call a doctor in an emergency
View complete information about the doctor
Encrypting medical data:
Maintaining security standards and ensuring the protection of patient's data should be a top priority when developing a medical app. A password should be created for a particular patient so that only he/she can see his/her data. Currently, the encryption method is the most reliable way which is being used by most of the organizations nowadays to maintain confidentiality. Not only in the medical industry, but data should be protected in every industry to keep the trust of the customers for a long time.
How much does it cost to build a medical app?
The overall cost of building a medical application lies somewhere between $3k to $25k depending upon various factors like location of the company, no. of features and functionalities you want to add, the number of developers and working and the number of hours they worked, no. of platforms you want your application to be built, etc. Once you have decided on the app development company, you can discuss your budget and business model ideas with the project manager of that company.
Online medical consultation business is increasing currently and will continue to increase in the future as well. This is a big opportunity for entrepreneurs who have a little money to invest and have some knowledge of how to start and maintain an online business. After launching your app, you just need to use excellent marketing strategies where you can talk to doctors or persons having professional medical knowledge and attract them towards your business model. Then, go for patients who seek help.
Summing up:
The technological revolution has impacted industries and changed the lives of people across the world as patients and doctors both can be benefited in different ways. Doctors don't need to see every patient in person and through a mobile app, they can meet various patients through video chat. The entrepreneur who is investing money to create a platform will take advantage in the form of commissions when a payment is done. This platform helps in simplifying the lives of the people because they can also check their nutrition levels, heart rate, and many other things.