While many taxicab firms profit by splitting fares with their drivers, others profit by leasing their vehicles to the drivers, who are paid based on the number of fares they receive. Any business model can be profitable for a knowledgeable owner, but the optimum model for a company is determined by the size of the fleet and the level of involvement the owner desires.
Many taxicab businesses lease their vehicles to drivers on a daily or weekly basis, and the driver is responsible for covering his expenditures and earning a living. Cab leases can cost more than $500 per week, and the driver is required to have his car on the road at all times. This means the corporation is unconcerned about how much business the driver generates, but if it has a lot of skilled drivers, it stands to make more money in lease fees.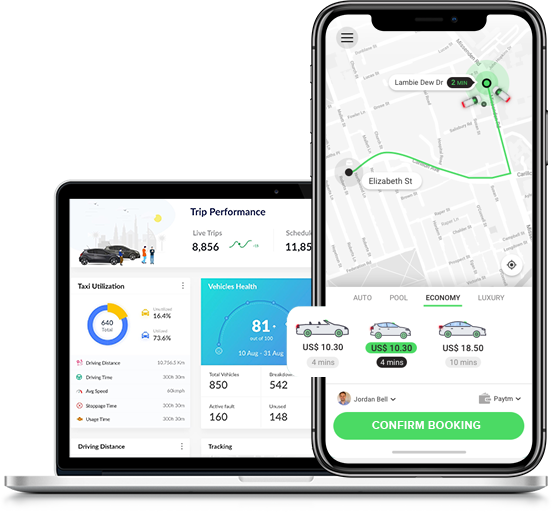 Readymade Cab Booking Application Adopted By 1K+ Cab Companies
Get customized & white-labelled taxi dispatch or booking solution for your business featuring customer app, driver app, and intuitive admin panel.
Request Demo
Pay
Go Live
A leasing scheme requires the driver to pay for gas while the firm is responsible for any repairs.
Larger taxi firms are more likely to use the leasing deal, which can be beneficial if the company has more than 100 vehicles. Even if the driver owns his vehicle, the corporation may levy a "terminal fee" to pay insurance and dispatching costs.
Some taxi companies divide fares with their drivers, giving them a vested incentive in the amount of business they dispatch. It's normal to have a 50-60% corporate-to-driver ratio, with the firm or the driver footing the bill for petrol. Smaller businesses like this model since a taxi can work multiple shifts in a day and earn more money per car.
Related Article: Top Ideas For Taxi Business in 2022
Another Aspect Of How Do Taxi Companies Make Money
The use of smartphone apps for various day-to-day chores has increased as technology has advanced and people's access to the internet has increased. Similarly, commuting has become substantially easier than previously, thanks to the widespread availability of booking apps in the app stores. There is a plethora of taxi dispatch software available these days, and there is always room for newer and better ones. Traditional taxi services have taken a back seat in recent years, and new ways of reserving a trip for oneself have emerged. On-demand taxi booking apps abound in the app stores, each boasting features that entice users to book exclusively through them. The growth of these applications has been fueled by the hard work and tenacity of mobile app development businesses. When it comes to booking a ride for oneself, they can be completely trusted.
So, how exactly do these apps work? It's fairly straightforward. On their mobile devices, customers must install one of these apps. The app's selection can be influenced by a number of factors, including the place in which it is available, the app's and services' reviews and ratings, and the services they provide. After downloading the app, users may register and save their home and business addresses so that they can order a cab with a single click. They can also choose the car they want to commute in using the app. After the software determines the distance and time of the travel, users can compare automobile fares. Finally, one can hire a cab and find out how long it will take to arrive. And there you have it: your ride is waiting for you right outside your front door. Isn't it straightforward?
Benefits Of Taxi Booking App
Taxi booking apps offer a solution to a number of issues, like saving time spent waiting on the road, seeking cabs in the heat, and so forth. There are various advantages to using these apps. Aside from the passengers, there are a number of benefits for the drivers. Take a look at the following advantages:
For drivers
They don't have to waste petrol driving around the city looking for riders. Meanwhile, they can just wait for a booking to arrive before departing from where they were stopped.
The majority of payments are made using online banking or mobile wallets, eliminating the need for the drivers to carry huge amounts of cash or change.
The drivers have the authority to provide each passenger with ratings and feedback. As a result, if they have a naughty passenger in their car, they may rate him appropriately and save the other drivers the horror.
Because these apps are GPS-enabled, drivers can easily locate their passengers instead of wondering about asking strangers for help.
There is less danger of wasting time because the driver will only arrive at the specific area and transfer his car once a reservation has been made.
For Passengers
The app notifies the passengers of the actual position of the cab and the estimated time it will take to arrive. As a result, they are able to put that time to better use.

Passengers can plan their rides electronically, so they don't have to leave their homes.

The payment mechanism is very convenient for travelers since they do not have to carry cash around with them. They can pay with their debit or credit cards online, or just attach their digital wallets to the app.

With the use of the app, there is more transparency because passengers can evaluate and rate cab drivers.

They don't have to stand on the side of the road, waiting for a cab. This saves them a significant amount of time and effort.
Why Invest In A Taxi Booking Mobile App?
Taxi booking smartphone apps have seen tremendous growth in recent years, and this trend is expected to continue in the coming years. It is an industry that will never cease to exist because it provides numerous benefits to passengers and app users.
The market for taxi booking apps was valued at roughly $ 36,000 million in 2017, and it is predicted to grow at a CAGR of 16.5 percent until 2025, bringing the total to $ 126,521 million. The global market for Taxi Dispatch Software has grown significantly during the last several years.
Take Uber, for example, the business model has developed by leaps and bounds in recent years, and the app is now used in a number of nations around the world. Who needs a car when they can make use of convenient and affordable taxi services?
Uber has risen to the pinnacle of success in less than ten years, with a market capitalization of USD 72 billion. This is their market value on a global scale.
Take a peek at some of the company's statistics:
Uber recorded gross bookings totaling USD 12 billion in the fourth quarter of the year.

In nearly 80 countries, it has 75 million active riders.

Until now, the firm has completed more than 5 billion rides.
Below Is The Figure Depicting The Success Story Of The Uber.
Business Models for Taxi/Cab Booking Mobile App Business
We'll now discuss the two main business models used by on-demand taxi booking applications:
Dedicated Taxi Booking App
These are apps designed for a taxi company that already exists or for someone who owns a fleet of cars. All they have to do now is have an app created specifically for them and launch it on the app store. To grow their user base and receive more taxi service requests, these applications will need to be promoted. They gain from having their existing clients, and they can expand by attracting new users to their app.
Users book cars through mobile applications in this scenario, and taxi proprietors must ensure that users are informed about the time, location, and price of the service and that the taxi is available for the passenger in the shortest time possible.
Aggregator Taxi Booking App
This app is similar to Uber and Ola, which are taxi booking apps. These apps provide a platform for taxi firms and individual taxis. Taxi drivers must first register their vehicles with these applications before they can begin using them. A person with a single automobile can also make money by offering his vehicle as a taxi service to the public. Users must first download the app and then book directly through it. They must indicate their pick-up location as well as their destination. The app estimates their ride fare, which they must pay once the ride is completed.
As you are familiar with the concept of how much do taxi companies make with mobile applications. We over here would be giving you some pro tips to boost your mobile application for your taxi booking business.

Learn How Do Taxi Companies Make Money By Boosting Your Taxi Mobile Application
Online Presence and Promotion
It has been the most accurate and best way to boost your taxi business to new levels. Getting your taxi business to the limelight brings you an engaging audience of 80% and conversions of visitors to a permanent one. To gain an ample amount of online recognition, you need to upscale your website and app with highly advanced features. Before getting started, you should consider the drawbacks. The internet has brought many benefits, but it may also make you squirm. The first step is to establish your presence by utilizing a well-designed and integrated application system.
It is always worthwhile to have a social media presence.
The overall number of people using social media will rise from 2.46 billion to 2.77 billion by 2020. From 2014 to 2020, this amount of increase has occurred. You can imagine how important social media management could be in building a large consumer base. Around 71 percent of internet users also use social media. Many people these days use Facebook or Twitter to personalize their requirements. Create a business account on one of the big social networking networks. Platforms like Facebook, Instagram, and even YouTube can assist you in getting your hands on something. Furthermore, marketing your brand online will assist you in obtaining relevant content such as articles and even photographs in addition to media.
With a Recruitment Service, Fleet Branding is possible
You've probably seen the Uber logo when it comes to picking you up. Placing your logo on your fleet vehicles or wrapping them in your company's branding is a terrific method to reach out to more customers. More than 3000 persons in a busy location are exposed to a firm's logo and images, according to the corporation. If your firm has a great branding strategy, you will not only pay for the ads, but you will also assist customers with attracting their attention.
First and foremost, recognize that every other business must sit down and consider its recruitment strategy. The whole point of the recruitment procedure is to get in touch with you so that your service may be completed. Drivers who can converse with passengers and tell them about your organization are essential for every business. You can ask for 100 drivers to sign up and test your app, and if it works, you can recruit more drivers.
Offers and Promotions in Marketing
Discounts and coupons, in addition to promotional incentives, have been proven to attract new clients. If you adopt this strategy, 79.8% of your consumers will use their coupons, and 80% of them will be on the lookout for special offers. Customers must have a clear understanding of where you may invest in your company's name.
The easiest technique to get out to your customers on time is through marketing. You may immediately provide a list of discounts to your consumers. Install taxi dispatch software or send an SMS or a message to anyone to accomplish this. The procedure is straightforward. You provide timely discounts to your clients, and they are willing to invest their time. With the Taxi Dispatch System, consumers benefit from 24/7 availability, cashless purchases via debit/credit cards and the UPI app, and more.
Conclusion
It's difficult to start and run a cab business for the first time. Idea Usher has a perfect idea right here for you if you want to know how to expand your taxi business from the beginning. Our entrepreneur's ebook teaches young minds how to convert leads into revenue. We're here to support you during every stage of your life.
Do you want Uber Like App Development? For you, our professionals have the ideal option. Contact us to learn more about what you can do and when you can do it. Assist us in assisting you.