Besides the buzz we hear about tinder, we all are curious to know is tinder profitable? The obvious answer is "yes". Tinder runs on simple ground i.e. swipe to find a match, flirt, and date and have created a lot of profit margins.
It's no surprise that Tinder is Match's most profitable app. Tinder makes a lot of money from the world's single people. Tinder sells in-app subscriptions that give users access to many features. These are unlimited swiping and greater profile visibility among nearby users. It also contains advertising that pops up every now and then in between swipes. All these lead to Tinder's profit. So we have the answer to your curiosity, is tinder profitable?
How Did Tinder Start Making a Profit?
Tinder was able to stay afloat for the past two years without relying on any type of revenue. Tinder was rolled out extensively to tremendous success after being piloted on a variety of US college (university) campuses, processing 350 million swipes per day by late 2013 (that's 4,000 per second), and rising to one billion swipes per day by the end of 2014. Now, the free matchmaking Tinder app is experimenting with a new profit model in an attempt to capitalize on the $2 billion-a-year worldwide online dating sector. Tinder introduced a premium subscription model with additional features (Tinder Plus) in 2015, and the third level in 2017. (Tinder Gold). In-app purchases can also be done on a one-time basis.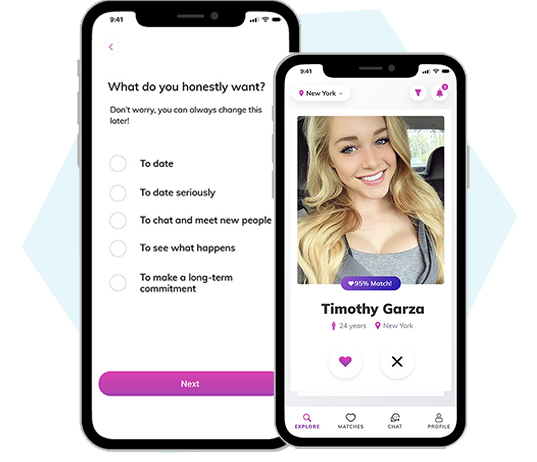 Launch Your Own Tinder Like App With Our Readymade Solution
Request Demo
Pay
Go Live
Tinder has only risen in popularity since then, becoming an indisputable part of the modern dating landscape. With 75 million monthly active users and 6.2 million monthly subscriptions, it remains the most popular dating app. So, will be able to say now, is tinder profitable? Tinder has fresh competition from Bumble in the United States and Badoo in Europe.
Related Topic: A Complete Guide To Build & Launch A Tinder Clone App Like Pro
Tinder Profit Statistics That Will Surprise You
Tinder's financial model has a unique selling proposition: instead of linking users with people they previously knew, it connects them with strangers they would not have met otherwise. Tinder users are on the rise, and online dating practices are shifting. Young people appear to be willing to pay for online dating. The best way to look at "is tinder profitable?" is their statistics. Look at some statistics:
Tinder Direct Revenue was $1.4 billion for the entire year of 2020, up 18% increment year over year.

Tinder's revenue increased 15% year over year in the second quarter of 2020. It owes to an 18% increase in average subscribers to 6.2 million, largely offset by a 2% decrease in ARPU.
Tinder had the highest in-app purchase income in the previous month, totaling more than $65 million, as of January 31st, 2021.

Tinder's income from the App Store is expected to be $38 million in July 2020.

Tinder revenue increased by 31% year over year in the first quarter of 2020, with a 28 percent increase in Average Subscribers and a 2% increase in ARPU.

This app had $1.2 billion in revenue in 2019.

I think you got your answer to the question is tinder profitable?

Tinder made $66.4 million in revenue in the fourth quarter of 2019 on iOS in the United States, followed by $8.28 million in sales from the United Kingdom.
Tinder Net Profit
Tinder's net profit in 2020 was $1.35 billion. The dating industry is ruled by Tinder's net profit margin. With over 66 million users globally, Tinder is unquestionably one of the most popular dating apps. Tinder is also the most popular dating app in the United States, with over 7.8 million users according to estimates. Hence, when someone says is tinder profitable? we can undoubtedly say yes it is.
Tinder Profit 2021
Tinder's net profit in 2021 is about to be revealed by the Match group. Without a doubt, dating applications have turned into cash cows. Swiping has increased on Tinder, Bumble, and Hinge in the last year, resulting in a 12 percent increase in usage for the top eight dating apps combined. Tinder is consistently among the top ten most popular applications each month, while Bumble was in the top ten multiple times last year. After seeing the profit margins of tinder you must be curious to know how tinder makes money? As you understood the fact that is tinder profitable, now read further to get an answer to all your curiosity.
How does the Tinder app generate revenue?
The revenue generated by Tinder comes from a variety of sources. Top Pics is a paid feature available on Tinder Gold and Tinder Platinum that shows users a selection of the most swipe-worthy possible matches. Tinder Plus and Free users receive only one Top Pick per day, whereas Gold and Platinum users receive a set of Top Picks that are available for 24 hours. Every 24 hours, a new set of Top Picks profiles is added to the site. This is how tinder makes money.
Revenue Streams on Tinder
Tinder generates money through its primary membership options as well as premium features such as boosts and super likes, among other things. The Tinder app, which matches possible hook-ups based on a quick view and swipe of a user's photo, is simple to use and eliminates the time-consuming elements that may be overwhelming for users on traditional dating sites. This user-friendly strategy generates 15 million matches and 1.2 billion profile views per day. There are some exclusive ways how tinder makes money. Let's take a look at each of Tinder's revenue streams independently.
Tinder Plus: A new version of Tinder
Users can obtain unlimited likes and prizes with 5 super likes every day for $9.99 per month. For individuals who are utilising the service while on vacation, the location can easily be altered. Tinder Plus, Tinder's new subscription-based service, will provide opt-in features for a cost while keeping the app free for those who don't want to pay for a premium account. Passport is one such add-on that will expose users to more matches by removing geographical constraints and giving them access to profiles that aren't restricted by the user's location (the existing model limits users to profiles within a 120-mile area). This is how tinder makes money. Passport will appeal to Tinder travelers, allowing them to browse profiles from all around the country and the world.
Tinder Gold: A type of golden version of Tinder
Users can access all Tinder Plus features, as well as top selections and the opportunity to see who likes them, for $29.99 per month. Tinder Gold is a members-only subscription that includes Passport, Rewind, Unlimited Likes, five Super Likes per day, one Boost per month, and additional profile controls—along with our new Likes You feature, which allows you to see who likes you before you swipe. Consider it your personal Swipe Right concierge, accessible 24 hours a day, 7 days a week, bringing you all of your pending matches. You can now relax, sip a great cocktail, and peruse profiles at your leisure.
In the coming days, Tinder Gold will begin testing in Argentina, Australia, Canada, and Mexico. We plan to make it available to all of our members as soon as possible.
Tinder Platinum: An extra privileged model
Prioritized likes and the ability to message people before they match are available to Platinum users. Tinder Platinum is currently only available in a few locations as an upgrade for Tinder Plus and Tinder Gold subscribers. If Tinder Platinum isn't visible, it's either not available in your country or you aren't a premium subscriber. Once you've upgraded, you'll be able to Super Like up to 5 Tinder users per day and write them a message. Ultimately, a better answer to the question of how tinder makes money is all explained. Again if you can tell better is tinder profitable or not?
Tinder Made
Tinder announced in February 2021 that it would be introducing a line of mobile accessories under the Tinder Made brand. During the peak of the pandemic in the United States, the app recorded an all-time high in users willing to "go on a date," as opposed to virtual and online talks. It provided pair of testing kits to some matches in order to encourage safe behavior as users reintroduced face-to-face interactions.
Tinder's Net Worth
Tinder has a net worth of $42 billion as of October 14, 2021.
As Tinder is the most popular app, you should expect to be surrounded by thousands of people. You have the ability to swipe right and left on half of the people of the city you're in. It's a highly practical approach to meeting new individuals. Especially if you're a newcomer to the area. Tinder is worth it if you're willing to interact with those looking for hookups or casual dating.
Statistics on Tinder's Growth
Tinder was the most downloaded dating app in the world as of May 2021, with over 6.5 million monthly downloads.

According to Apptopia, Tinder dominated the global dating market with a 53.8 percent market share in the last quarter of 2020, with 66 million average monthly active users.

Tinder is the most popular adult dating app in the world as of August 2020.

With 3.24 million global monthly downloads as of May 2020, it is the most popular dating app on Google Play.

Tinder was the top-grossing app in the world in the last twelve months, excluding games, through March 31, 2021.

As of June 2020, 34.7 percent of Tinder users in the United States are actively using the app 13 times a month on Android.

Adults aged 33 to 44 years old were the most likely to use Tinder in the United States as of April 2020.

Males made about 76 percent of US Tinder users on the Android platform as of March 2021.

Tinder had over 6.7 million average subscribers as of the fourth quarter of 2020. (Match) In the United States, 72 percent of Tinder users on Android are male as of June 2020.

We can surely answer the question is tinder profitable?

37.5 percent of Tinder users in the United States use the app on a daily basis as of June 2020.
Final Thoughts
Tinder's dominance over the online dating app business is undeniable. Tinder has become the most popular dating app in the world, thanks to its effective targeting tactics. Furthermore, the Covid-19 pandemic increased demand for internet dating services, boosting Tinder's popularity even more.
Want a Tinder Clone App? Our experts have the best solution for you. Contact us today to figure out what you can do and when. Help us to help you in the best possible way.