Over the past few decades, modern technology has changed man-machinery relations and started impacting interpersonal relationships. Therefore, the demand for dating apps like Tinder is rising every day. 50 million users across the globe, 60% are from the US, and the total $1.6 billion (dab to be) worth are some witnesses of the inclining user's trend toward online dating apps like Tinder.
If you are planning to build a dating app like Tinder, congratulations!! You are stepping towards a stunning profit-making business strategy. A huge customer base, high engagement level, and more return are some of the Win-Win situations for your business success.
Related Article: Is Tinder Profitable?
So, If you have drafted an idea regarding features, functions, users base, and more, GREAT!!! You can discuss these with the best tinder like app development company to get fruitful results.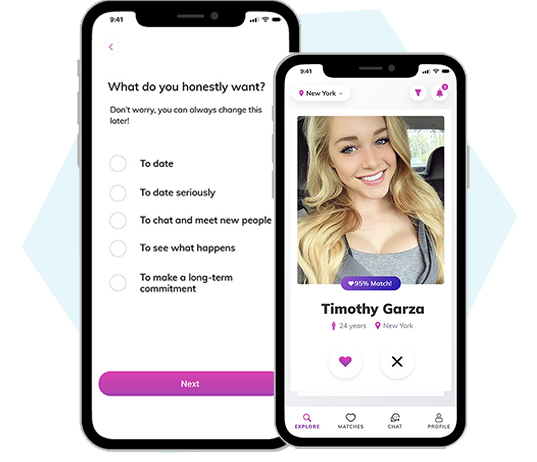 Launch Tinder Like App with Our Readymade Solution
Request Demo
Pay
Go Live
But if you are a newbie and have no clue about app development or other significant details, you are at the right place. Here we have curated important things from scratch. These will guide you on why you need a dating app for business? How do dating apps work? How can you create dating apps?
Let's go!!
Tinder: A Cupid Stunt?
"Should I look for a partner on Tinder or not?" This might be a confusing question for users at first glance! But once a person creates an account and starts swapping on Tinder, It's hard to jump out of! The ease of finding a perfect match, dating, and moving on with a single button is hard to define in words. Sometimes users meet with lifelong social friends, other times a little more!!
It's all about technology cupid stunts. A survey was also conducted and found that 49% of users look for romantic partners, 39% want to have fun, 29% install to see features and functioning, and the rest look for casual sex and boost self-esteem.
So, whatever your user aim is, the bottom line is each installation and every new user benefits the business. How? In terms of enhancing brand value, high monetization opportunities, increasing retention rate and revenues. Each installation benefits the users and business.
Matching/Non-Matching Game
Matching and Non-matching games have a great significance in dating apps. Most dating app players fail because of this feature, but Tinder is winning the rat race by leveraging technology. How? Tinder follows the simple trick of understanding customer expectations and delivering the same results via the app. Let's check out some of these for your Tinder Like App creation;
A simple yet elegant interface is one of the key factors of accepting apps worldwide. Easy to swipe features to accept or reject matches gives a reason to express feelings to users. But, if these key features are missing in your app, users will take no time to abandon your app.
Apart from that, the SaaS model's most significant benefit is its accessibility. A SaaS-based taxi app solution can be accessed from anywhere, at any time, because the software is hosted in the cloud over the internet.

Modern users won't like long-distance relationships like one is in the USA, and another is somewhere in India. For this, they have to meet with legal compliance to cross international borders for dating. Therefore, Tinder uses location-based dating solutions to match nearby partners, which users highly appreciate.
Privacy protection policy is one of the crucial aspects of dating apps. As users want their information to be safe and secured. It's also one of the USP factors of apps like Whatsapp. Users should have the option to choose between the server's data and local device to store information. It earns brownie points for businesses to build trust and reputation.
Creating a dating app means building a profile for an interview. This is something that every customer hates!! Therefore, the best thing is to make your profile short and crisp. The minimalist details can let the customer enjoy all features. The rest details can be searched by the app based on location, gender, or age. You can also look for community-specific apps such as
"Hinge" for serious relationship seekers,

"Bumble" platform for confident women

"OkCupid" a free-dating platform

"Clover" confirming the date,

"Her" for lesbian, bisexual, and queer women,

"Eharmony" for marriage seekers.
You can also look for these apps features and build your app in a similar way to the tinder app framework.
After considering the UPS factors of the tinder style app, let's have a look at the technicalities of tinder style app development.
A journey from Chatbox to monetization
"The more you will interact with people, the more you can learn about them" is the golden rule for creating a chatbox. But this can also be applied to your business growth. The more you will communicate with them, the more you can learn about their expectations and preferences.
You can monetize this opportunity to pump up your business profit. You can offer various premium plans to unlock the key features of the Clone App Like Tinder. The exciting and demanding features of the app have become an inspiration for many users.
Tinder Style App Workflow
Days are gone when Tinder shows results based on Elo score or Elo rating system. Now the all-new features showcase outcomes based on your profile score. Your recent activities, taste, preferences, and locations are some of the key determinants. Besides that, profile likes or noped are essential factors to connect both parties.
Now. let's have a look at some simple onboard Tinder architectures:
Signing Up is the first impression of an app. It must be as simple as it can be so that it can provide ease to customers to sign up quickly. Modern app use allows social media email id or mobile numbers for swift login. It makes the signing up faster and fetches the email id or mobile number of users for future offers and references.
Once you are done with signing up, the next step is to create your profile. It involves adding up basic details such as name, photo, age, gender, preferences, and location. A simple registration process enables the system to find results. You can also give a name or profile like "MY" to give a personal touch, and they won't get bored registering.
Here the main screen of the Tinder clone script comes on your gadget. We understand people have the curiosity to meet a partner. Simultaneously, there could be a plethora of options that won't suit the user's profile. Therefore, easy to swap left/right or up/down options keep users' interest alive in the app.
Meeting potential partner
When the user starts getting new messages or notifications, the heartbeat rises. Rest the Hello/Hi will decide whether both customers are willing to date and continue the relationship. Otherwise, unmatching and moving ahead can give them better options.
Swipe and swipe hit the likes, get a perfect match, jump into Chatbox are key strategies for getting a perfect match. All these help to make a decision!!
You Must Know: Your tinder style app script must be simple and sophisticated. But don't forget to work on the attractive UI/UX of the app designing factor.
How to Create an App like Tinder:
The foremost step for creating a clone app like Tinder is to be aware of your area and purpose of serving. You have to know your target audience, their preferences, and geolocation. This will scrutinize your details and make it easy for tinder style app development company to frame your idea. Experts choose app themes, color selection, layout according to the target audience.
Most of the dating apps face failure in the beginning because of inadequate research work. Whereas proper market research assists in building unique and successful business models. Therefore, focus on market research, competitor analysis, marketing needs, and business model, etc. Because health research works results in:
Enhancing brand value.

Define business model.

Develop a unique selling point.

It helps to make better applications and higher engagement levels
Know the Business Model
While deciding on a business model, you must be prepared with what type of monetization method will suit your needs. Like,
Paid subscription

Freemium

In-app ads

Third-party services
Tinder allows its users to enjoy free services. But these have restrictions on information sharing. To unlock the major features, users must buy any of the subscription plans. You can also go with a hybrid approach to engage the audience.
User Experience and User Interface
While designing dating apps like Tinder, developers need to learn about human psychology, matting patterns, and social norms to win the user's heart. With this, easy to understand and navigation features fulfill all needs.
Building a craze among users is one of the sought-after features. It not only boosts engagement levels but also motivates new users to install and use Tinder Like Clone App. So, be careful about these features. Consulting with our experts, here we have also listed some features. Check out them;
Authorization and User Login

Profile

Geo Location

Push Notifications

Profile Matching

Private Chat and video calling

Social media integration

Payment methods

Customer support

Feedback system
Besides these, we have also curated other must-have features in your app. Like
Appealing Interface
Prompt way to introduce yourself and define your sentiments
Eye-catchy dating, friendship, social meet-ups options
Advances chatbots to share images, GIFs, images and videos
Spam detectors to find out time killers and frauds
ID verification for advance security and safety
Advanced AI algorithms to understand preferences, behaviors, and other similar factors
Technology Stack
Regardless of the engaging features, choosing the right technology for a scalable, robust, and responsive application is significant. There are multiple programming languages, development tools, and UI frameworks for native and cross-platform applications. This is where you will need a tinder like apps development company that understands market norms and audience expectations to flourish your brand. Some of the widely accepted technology slacks:
Programming Language:

React Native

Development Tools include

VS Code

.

UI Framework:

Internal React Native Libraries
Once you have finished the Tinder Like Clone App, the next step is, to begin with, testing. The primary objective of testing is to find faults, bugs, or errors that meet the client's requirements. The team of highly experienced developers tests every line of coding before giving it approval. Testing builds brand value and user experience that improves performance, saves time, cost and improves satisfaction.
After testing, the next step is to check out security and check out vulnerabilities in the app. Your app contains all the valuable information of users like:
Birthday

Gender

Interest

Location

Address

Hobbie

Contact Number
Therefore, make sure modern security norms must be embedded in your app. Tinder style app Clone script development company like us can help you to reach your goal.
Once you build a successful app, the next step is to work on support and maintenance. Our professional team will provide you with the necessary support to resolve upcoming issues. You can also keep on updating features and fulfill users' expectations.
Marketing helps businesses to target audiences and convert them into users. Therefore, companies use various strategies like digital marketing, influencer marketing, affiliate marketing, or more to reach millennials and GenZ. Here we have some other marketing strategies to achieve positive results.
Here are different ways to market your application and get the right audience;
Media Outreach

Paid Promotions

App Optimization

SEO Optimization

Influencer Marketing
What do Statistics say about Tinder?
Launched on 12 September 2012, Los Angeles, California, by Jim Lanzone (CEO), Shar Dubey (CEO, Match Group).
Tinder is available in 190+ countries and in more than 40 languages.
Active Tinder users log in on average four times a day.
Tinder generated $47 million in profits in 2015 with 0.3 million subscribers and $1.4 billion in 2020 from 6.2 million subscribers.
Around 28 Percentage of users belong to the 25-34 age group, and 16% are from the 55+ age group.
Partner with a Development Company!!!
Selection of the right tinder like clone app development company can assist you to stand out from the crowd. Once the users start believing in your app, word-to-word marketing can do wonders where the other tactics sometimes fail. Just you need to be sure about your target audience and choose a reliable helping hand who can guide you all the way!!
Suffescom solution, a leading app, and web development solution, can help you all the way long!! Our team of experts provides 24*7 assistance, hence all your queries can be resolved instantly. Reach us immediately and build a top-notch app that look like tinder script.