The future has arrived: Sci-fi and virtual inventions are becoming a reality.
Remember offline conferences or office meetings? Traveling to a destination, gathering with the mates, making some inspiring conversations with a good panel. Then came Covid-19, redefining the ways of remote work meetings.
The effect? It shifted in-person meetings to the online Zoom/Google Meet meetings; further, some big tech giants transformed meetings from 2D environments to virtual spaces with 3D avatars.
Suffescom Solutions Inc. helps you to dive into the metaverse workspace concepts with virtual meeting platforms. The team at Suffescom is working and will soon launch its first workspace in the metaverse. We help you to set up a genuine virtual office to conduct conferences or meetings in the Metaverse.
The question arises: What does metaverse hold for future meetings, conferences, seminars, and more? Read further to clear all your concerns about this concept.
Maybe you are interested: Opportunities for different business models in the Metaverse
Contact us as we can introduce you to the right people and products to help your company thrive. Our team assists businesses to flourish in the Metaverse.
How Meeting Will Go On in Metaverse Conference Room
The metaverse combines many technologies to interact with others in a very new and real way. If it sounds strange, you're not just the one. This digital world allows users to live or work using various tech stacks like VR, AR, and video. People can connect with family and friends to work, play, and other daily activities.
For workplaces, users need to log in with their virtual avatars to visit the virtual meeting rooms to meet and interact with other group members just like they meet in a physical office meeting area. The employees need VR goggles to feel the realistic approach of the virtual world.
The metaverse is the best solution for remote meetings where people participate in two-way dialogues without physically moving to any specific location. Being accessible is one of the reasons for the metaverse's success. It lets people worldwide combine virtually in a single place and perform all tasks they usually perform at office meetings or conferences.
Why Should Companies Go For a Metaverse Conference Room?
Working remotely and holding virtual meetings is normal after the pandemic hits hard. However, that are a few drawbacks to using Zoom or Google meets for virtual meetings. The users can face many distractions, and they are not able to see each other.
To overcome this, VR offers fully interactive and immersive workstations to do virtual meetings and conferences. It allows users to check the body language of other members and listen to their audio. Communication becomes realistic as the members can use their hands to communicate and change their postures. Further, VR headsets will remove all distractions and give you a comfortable meeting experience.
You must consider choosing any below-mentioned option to create a virtual world.
The first way is to consider creating your own virtual space and then build your office in that space. You'll need a server to host your space to make it accessible for all your workers. You can use advanced tools and tech stacks (Unreal Engine 5) to create your office area free of charge. Still, creating a dedicated server hosting can be highly expensive, and other technical issues can increase your budget.
Another way is to select the existing metaverse and choose the pre-built virtual office. You must consider the platforms that are designed for office collaborations. Many companies can help you purchase your virtual office space.
Last but not least, you can create your office space in the existing metaverse. You can select any decentralized virtual worlds like Decentraland, as they can be easily accessed worldwide. It is cheap and completely customizable.
Read further to know how businesses can use Decentralized world platforms to create their virtual office space and hold any meetings and conferences.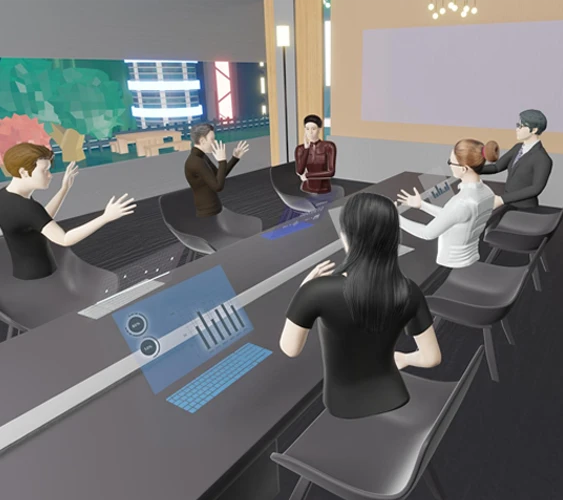 Launch Decentralized Lottery Platform
Development from scratch or Whitelabel
Development of lottery concept
License
Lottery website development
Get in Touch
Creating Your True Virtual Office
We'll discuss the steps to setting up your virtual meetings by creating and deploying your own metaverse world using Decentraland.
Creating A Virtual Wallet
Ethereum-based virtual world, Decentraland, allows any users to explore platform experiences. It is the best scenario to create any virtual office space. Users need to create an account that requires a virtual wallet that acts as the bank account and the platform payment method. MetaMask is considered the ideal choice for a browser-based virtual world.
Purchasing Crypto
Most features in the metaverse are free, but some transactions are paid and require mining fees. Users need to have a good balance in their wallets. You need to purchase cryptocurrency from any local currency. After that, you must buy Ether and Mana (native currency) to pay Ethereum gas fees. Account Creation
After purchasing crypto, go through the simple process of creating your account. Select Get Start, and you'll have the option to link your wallet. Once it's done, you can customize your avatar and change it anytime, accordingly. To be a permanent member, you need to add a unique avatar name by paying some cost. Go through the tutorial mode in the platform to keep things very clear.
Purchase Land
Further, you need to buy the plots of land that you can own as a real physical location. These plots are NFTs, unique digital assets. You are the true owner of the land for the lifetime once you purchase it, and you can start construction. Virtual land purchasing is like real estate but with zero tax, maintenance fees, or other regulations.
Start Building Your Office
Use a drag-and-drop 3D builder that is easy to use. Choose any free or paid assets from the builder library, or create custom 3D assets and import them to the library. This provides a personalized space according to your company image.
Creating Coworkers' Account For Meetings
Finally, you need to create accounts for every employee you want to add for the meetings or conferences. The coworkers can register their unique names on the platform. Now, you need to schedule the meetings and conferences. Just give the plot number to the employees who can easily join the meeting. You're all set to go.
Also read: Relevance Of Businesses In The Realms Of The Metaverse
Metaverse For Work Meetings Enhancement
A Rise In Productivity
An immersive experience has an immediate positive impact on productivity. The sessions would appear "live" and similar to those held in person but more flexible. Even human capital search firms will look for individuals with a strong understanding of the Metaverse.
Improved Team Cooperation
The foundation of communication, morale, team cohesion and team bonding is on the top note. Team bonding appears to be declining in the absence of physical meetings. With Metaverse, however, workers may gather in the same location without feeling socially isolated, experience a human connection, and foster empathy.
Not Too Expensive
Costs associated with establishing this digital infrastructure were a problem for businesses. Prices of AR/VR gadgets have started to drop as more businesses enter the ecosystem. The day companies employ Metaverse for hiring and interviewing is not far off. It will soon change from a sellers' market to a buyers' market.
Unrestricted Room For Ideas
With such cutting-edge technology, we take limitless space for granted. An office can accommodate only so many TVs, seats, and whiteboards. A laptop screen can only accommodate a certain number of camera panels and shared documents. The metaverse quickly resolves the issue of space.
Remoteness In Remote Work
Employees will feel less cut off from their coworkers if the remote office is moved from the computer screen to the metaverse. The immersive elements of the metaverse's singular experience will improve employee engagement and workplace culture. Your coworkers will feel closer because they are in the same world, even if virtual, in a way that Zoom never would.
Interactive Experience
You might be unsure about how to duplicate the complete in-person experience. To create a world where you have a truly unforgettable experience, all of your senses—sound, sight, smell, and touch—would be activated. According to some experts, this experience might be superior to using a conference room in person. Two persons who are kilometers apart can easily hold business meetings when they meet because the distance will no longer be an issue.
Infinite Opportunities
There are countless networking opportunities in the metaverse. Your network won't be restricted to the cubicles or conference room surrounding you. Everyone in the virtual ecology is reachable. Every event can hold an infinite number of audiences, and the location won't be a problem.
Choosing Suffescom To Setup Metaverse Conference Room For Office Meetings
Suffescom Solutions Inc. is a leading metaverse development company that helps businesses create a virtual world by providing robust metaverse development services. The company has 6+ years of experience in providing metaverse technologies. We help businesses create a virtual corporate office to hold meetings and conferences. We provide immersive features, functionalities, and futuristic UI/UX design that let businesses shine amongst their competitors.
Our hosting of your project on a high bandwidth for permanent real-time connections enables decentralized data transmission. To support 3D apps and elements, we provide interoperable standards for project material, including text, photos, audio-video, 3D things, and 3D sequences.
Open programming languages used by the Metaverse app development company include HTML, JavaScript, WebXR, WebGPU, and shader. We create and use smart contracts to give you increased security and effectiveness. It will make transparent transactions in the Metaverse easier.
Liquidity pools are cutting-edge technology that enables crypto wallets and payment gateways to facilitate payments. We offer maintenance and upgrade services to maintain good usability so that your network, nodes, and smart contracts never go down.
Ignited To Launch Your Metaverse App Platform? A Metaverse Application Development Company Is Here!
Get Started
Prepare Your Businesses For The Metaverse Trends
It could be just hot air, but we must consider how this technology will affect the corporate world. As per the rapid growth in metaverse technology, there is a high demand to adopt VR headsets to be a part of this futuristic experience. 
Businesses enthusiastically take advantage of VR's opportunities because it allows executives to combine the greatest elements of the physical and digital worlds. This has benefited not just their business but also their customers and staff.
It's important to note that the number of VR startups has increased by 14% in less than a year. These businesses were founded to alter how we shop, pass the time, and conduct business.
So, consult our experts if you're running a business or remote work startup and think of creating your own virtual office space. We're ready to help.
Are Metaverse meetings the future of remote work?
Yes, in future most of the business follow the metaverse meeting conference