Technology is certainly evolving with time. New technology trends emerge from time to time, becoming a topic to talk about worldwide. In recent times, the Metaverse has become the most talked-about technology. Everyone is talking about it, from common people to prominent business leaders.
With each passing day, the Metaverse is becoming a phenomenon. It is being adopted with open hands by gamers and businesses across different industries. Why not? It has the potential to shake the business industry. But it might have the most impact on the event industry.
Once the Metaverse comes out with its full potential, it might offer limitless opportunities to them. The event business can take advantage of that potential with the help of metaverse event platform development. Let's explore more about how Metaverse will define the future of the event industry.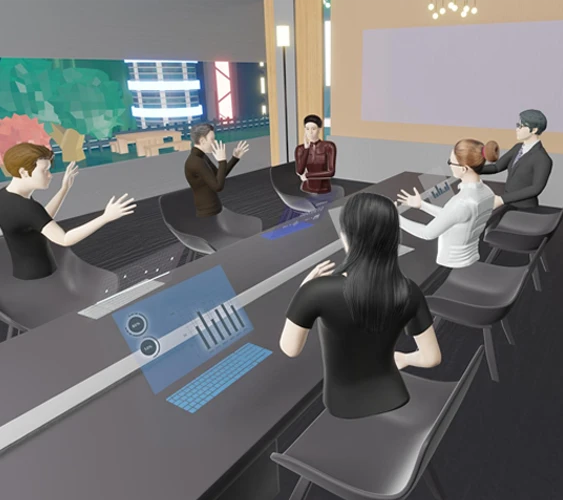 Test The Limits Of Your Imagination
Create your own virtual metaverse platform for event as per your planned objectives with the right choices of technologies.
Get in Touch
How Does the Metaverse Work?
To know the working of the metaverse, you must first understand what exactly it is. The metaverse refers to an embodied internet. It is where the customized avatars of each & everything is being used to create a virtual world. As a result, people can easily socialize even from their homes. It will be almost the exact match as the real world.
The metaverse will be like a persistent world. Firstly, you will create a virtual avatar of yourself. It will present you as a person indulging with other people there. You can perform your regular activities such as:
Attend Business Meetings
Socialize with People
Play Games
Buy Real Estate
It will start from wherever you left before that fascinates people more than ever. You will feel like you are living in the actual world. But, to be clear, there is no such metaverse world right now.
Many companies are massively working on the metaverse event platform development. The most popular example out of those is Meta (previously known as Facebook). The metaverse development makes use of technologies like Augmented Reality (AI), Virtually Reality (VR), Artificial Intelligence (AI), and much more. It creates an immersive experience for the users.
But, What Does Metaverse Means For The Event Industry?
As a result of the pandemic, everyone shifted from in-house meetings to virtual video conferencing. But, the metaverse will take it a step further. The event industry will undergo a revolution with the integration of virtual conference platforms. Undoubtedly, it will define an era of how event professionals organize an event and how people attend it.
The lockdown restrictions have been lifted in various parts of the world. Still, people enjoy more while attending virtual events. It allows them to be present in real-time at the event while being in their own comfortable space. That's the reason why hybrid events are gaining popularity. Some people favor hybrid events for the attendee to have an enhanced overall experience. The people have a sense of freedom to choose from attending it physically or virtually.
The hybrid events focus more on increasing engagement and building community. It is one of the significant advantages leading to virtual reality platforms development. Integrating this technology into the event industry will create incredible opportunities to develop a remarkable online experience.
Impact Of Metaverse on Events & Meetings
For the event sector, metaverse gives an ability to write unparalleled ideas on a piece of paper. You can stretch creativity and innovation as far as you want to. When you hold a meeting inside a conference room, there is limited seating for the people. But, it won't be the case with the metaverse. There are no limitations on the number of people attending any event.
There are multiple reasons that people are choosing the metaverse to hold events & meetings. The metaverse has an extensible nature. It can host events of any size from international exhibitions, business conferences, and more events like Dubai Expo 2020. The metaverse event platform development has given rise to such opportunities that nobody can ignore. Let's take an example, you want to organize a business meeting where people from all over the world are going to participate. You can do it the same way on the metaverse compared to the physical world. Isn't that exciting? We think it is.
Not only the industry business leaders are going to benefit from the metaverse. The small scale businesses can use it to do real-time business meetings. It will help increase productivity and efficiency when the employees are working remotely. They can't achieve something like this with Google Meet or Zoom. That's the power of the metaverse.
You can launch virtual event platforms to have more significant engagement. With the support of the concept of gamification, you can explore effective ways of engaging your customers, participants, and employees as well. It can result in a more dynamic world where everyone connects to each other in real-time. Hence, the workplace connects in a better way. Show your creativity by expressing yourself through different avatars in the virtual world. There is no limit to the ways you can interact with each other.
The marketing also goes hand-in-hand with the metaverse. The concept of e-commerce will evolve. People can visit the shop in the metaverse. It allows the businesses to create a shop where people can see and try the products they are interested in.
The metaverse is such technology that will flourish in the coming years. It diminishes the experience difference while attending an event physically and virtually. Both the participants will have a similar enhanced experience.
How Metaverse is Useful in The Event Industry?
Immersive & Exciting Experience
With innovative ways of attending the events, the attendee will have a fantastic experience. Anyone can attend the events happening in the metaverse. People become excited while going to participate in the event. They should be. It's because they will have a never-before experience. Once the metaverse is going to be fully developed, people will have such a kind of experience in their day-to-day life.
Reusable Potential
Multiple events happen at the same venue again and again. If you have organized an event at a place, it will be possible to arrange a new event at the same venue in a couple of months. The same happens in the metaverse as well.
Once you implement virtual event platforms development, it has a high chance of being used long-term. Only the hardware and software should stay active. So, you can use it again for any other event. It adds up to the versatility of a platform. You can even add additional functionality as per the requirement of the event.
Encourage Sustainability
People don't need to travel when attending an event through a metaverse. It's one of the most significant advantages for event professionals. It helps to contribute toward a sustainable environment. The attendees will neither travel nor stay at an accommodation. It will reduce food or any other material waste. Through this, the environmental policies remain intact. Therefore, there won't be any adverse effects on the environment.
Read About: What Is Metaverse Gaming, And What Does It Involve?
No Space Limit
The physical events happen in stadiums, concert halls, or more. These places have a limit of people who can attend them. But the metaverse events have overcome the problem. There are no space restrictions on the number of people attending the metaverse. Most importantly, everyone will get a seat in the front row—no possibility of any quarrels or any major incident.
Nurture Diversity & Inclusion
Metaverse opens up the opportunity for people of any geographic location, cultural background, or ability to attend the event. People can meet new people and get to know about different things. It will make a whole world like a family. The attendees are free to make their avatars without any restrictions. People joining from different countries won't have any concerns and can express themselves as they want to.
Easily Customizable
Metaverse has a long list of features and functionalities. It is a versatile technology that can be easily customized. So, it is easy to add the unique features you require. With expertise in metaverse event platform development, you can easily apply a strategy to come up with a list of unique features. You can partner with the metaverse development company with experience in the same domain to achieve the desired results.
Some Thoughts To Help You Host Events in Metaverse
Now you must be sure that the event industry can deliver a high-quality experience by holding the events in the metaverse. But it includes a lot of things to hold a virtual event successfully with the assistance of virtual event platforms development. Before planning the event, you should keep these things in consideration:
Schedule Training Sessions
Metaverse is a new technology. Most people aren't familiar with it. A lot of people might be attending a virtual event for the first time. So, you are responsible for organizing a training session for the participants, speakers, and others. They will get familiar with the whole setup. It would be best if you infused confidence among the people regarding the incredible experience of the metaverse.
Increase Multi-Media Content
Add more visually interesting things to make the event more engaging. The avatars will have a large number of expressions. Take it like a presentation. You can use music, live streaming, video, and more. The more lively elements there will be, the more the audience engagement. It will truly represent the real world.
Make Use of Scalability
Metaverse is a scalable technology. Moreover, you can easily add new rooms, functionality, and building features. Everyone knows that it isn't possible in the real world. So, you must use this feature as much as possible in virtual event platforms development. While an ongoing event, you can add more space if you think it is the right thing to do. With this feature, metaverse eliminates a lot of real-world problems. It allows you to adapt according to the situation.
Related Article: How Effective Can Be Education In Metaverse?
Allow People to Socialize
People don't like to just sit on their seats and attend the event like a statue. They want to roam around and meet new people. It allows them to enhance their network. So, there must be a space where people can explore and interact with each other. It will improve the overall experience. You should add some recreational areas where people have a chance to talk with other people. The virtual event will have the upper hand as something like this can't be done in a video conference or seminar.
Set Some Parameters
In the real world, you can't just anywhere. There are some places that you can go at a specific time or not at all. It would be best if you implemented the same criteria in the metaverse world. Keep some places open for a number of hours during the daytime. So, the people won't wander where they aren't allowed to. Only the permitted people should be able to go to such places.
When will the Metaverse Revolution Completely Arrive?
It's not clear when the metaverse will take over the world. But one thing is sure: it will happen in the next few years or 10 years. The metaverse revolution will arrive, shifting people's perspectives and ways of organizing events. The immersive hardware like VR headsets and more will play an essential role in popularizing the technology. Before that, there are multiple challenges that you should overcome. The best way to do that is by partnering with the metaverse event platform. So, make sure you choose the best one!
Suffescom Solutions is the leading in offering the metaverse event platform development with innovation and creativity. With an experienced team of developers, you can rely upon us to guide you through providing an enriching experience to your customers with the help of the latest technologies.
The metaverse is more than you might imagine. It has those possibilities to give your brand an edge over your competitor. Our vision & experience will enable you to put in place a futuristic brand experience to stay ahead in the race in the metaverse universe.