The tech world is evolving every day. Experts are introducing something new in the world of NFT marketplace, blockchain technology, and bitcoins currency to excite new users and keep existing customers engaged. Then how one can forget about NFT Auction Portal development.
An age-old technique of selling assets at a higher price can also be leveraged with Non-Fungible Tokens. Creators can generate high revenue by selling unique assets at exceptional prices. On the same side, platforms are also gaining massive income from the same platform. If you want to take advantage of a whole new approach to making money, plan to start your journey by developing an NFT auction platform. You are at the right place.
Here you will get a complete insight about NFT Auction, working scenario, essential features, industries taking advantage of it, and how you can build your platform. So, keep scrolling……..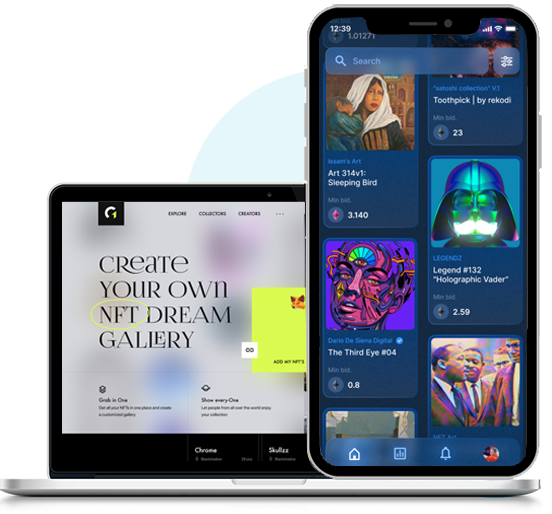 Launch your own NFT Auction Portal
Launch Your Own NFT Auction Portal and take your business up a notch.
What is the NFT Auction Platform?
NFT Auction is an internet platform that allows non-fungible tokens to trade on a bidding basis, just like other e-auction platforms. To sell to the highest bid, one can create and mint NFTs such as images, videos, GIFs, domain names, and more. All the transactions like sale, NFT minting, asset transfer, and payment are conducted through smart contracts. The best thing is that NFT auctions provide real-time data access, such as the number of bidders participating in a bid and with how much price. Users can also check closed bid prices.
How Does An NFT Auction Portal Platform Work?
The functioning of the NFT auction marketplace is similar to e-auction websites that allow buyers to participate in auctions. The highest bidding price payer can acquire the assets, the same lies in the NFT auction platform. But the only difference is the contract and currency exchange. The NFT auction platform involves only crypto currencies for trade. And smart contracts ensure a particular bidder is fulfilling pre-defined conditions before transferring unique assets. Blockchain technology is also integrated into NFT auction portals to ensure data transparency and security and boost users' trust in the platform. Now when you're clear with your thoughts that how does NFT auction work, let us further see the perks of this platform.
Understand The Ultimate Benefits of the NFT Auction Platform
Attract versatile audience
Provides conscience to users
Provide a longer bidding window
Facilitates instant engagement
Provides excellent exposure to digital and exceptional assets
Facilitates quick engagement through digital marketing strategies
Increase output throughput of the process
4 Pillars Of NFT Based Auction Portal Solutions
Everyone knows that NFT auction platforms are backed by blockchain technology. But it's not only blockchain networking. There are more like smart contracts, cryptocurrency wallets, auction mechanisms, and gas charges on which the modern auction platforms are based. Let's get into more details of the same:
Smart Contract: When NFTs are created, minted, or transferred on the NFT auction smart contract platform, every transaction is processed through smart contracts. Generally, these types of transactions are more complex and are difficult to track. But smart contracts ensure a super reliable and secure way to track and protect platforms from hackers and cybercriminals. 
Cryptocurrency Wallets: Buying or selling NFTs only becomes possible when you buy NFT transactions using Metamask clone, Enjin, or other trust wallets clone. So, if you are planning to develop an NFT auction marketplace, do not forget to consider the second pillar. 
Auction Mechanism: Building an NFT auction platform involves implementing English, Dutch, Japanese or other mechanisms. For this, you need a secure, automatic, and reliable platform that can assist users in navigating instantly throughout the process. 
Gas fee: Another important pillar of NFT auction platforms involves paying for gas fees and getting faster transactions that depend on the size of the fee. If you plan to add an NFT fee section for selection, users surely like to pay higher for the fastest transaction processing.
Several Industries To Employ NFT Auction Portal Platform
Here we list industries that employ the NFT auction marketplace to enhance their experience.
Digital Art
You can explore the new world of one-in-piece artwork by artists with the power of the digital art NFT auction platform. The marketplace motivates contemporary artists to come forward and sell their artwork without compromising property rights.
Fashion
Famous designers can sell their designs with the power of the NFT auction marketplace. The platform allows fashionistas to acquire design directly from designers and feel proud to be the first users of a particular design.
Gaming
Unlock the potential of the gaming world with the auction platform of NFTs for selling games and gaming items at a higher price. To motivate more users, one can conduct special auctions to sell weapons, accessories, and other equipment at lower than usual prices.
Sports
You can sell special event sports tickets like FIFA, world cup, or others at the NFT auction smart contract platform to generate more income. It's a great option to sell limited edition items at a higher price and stop block marketing. 
Domain
You can sell special domain names to users at higher prices, especially those in high demand with the ability of smart contracts and crypto currency.
Licenses & Certificates
Another way to utilize your NFT auction platform is to start conducting license and certificate auctions on the platform. The unique feature assists in handling the transfer of goods and funds.
Core Features of Our NFT Based Auction Portal Solutions
As you have understood, what you can list on your NFT auction platform helps you build a new selling strategy. Now it's time to understand the unique features of our NFT Auction Portal Development Services. We integrate the following features into your platform:
Online Bidding
Admin can track and manage all the transactions on the platform with a bird's eye view. Also, the admin has the authority to remove suspicious bidders from the platform to make it more authentic.
Seller Profiles
The platform works as a one-stop destination for sellers as the seller/creators can get all information in one place. Users can reach them with the ease of showing directories to users.
Advertisements
The power of advertisements can empower your business to monetize. You can use Google Adsense to monetize your platform using the inbuilt system.
Multiple Categories
Whether it's artwork, photography, fashion, domain, or other, each item can be sold according to its categories. Admin also has the right to add or remove the items from the category list or even remove the complete category.
Bid Closing Time
Bid closing time on the bidding option works as icing on the cake for sellers and admin to attract more buyers on sale on the platform. Also, closing time keeps a clock Tik-Tik in buyers' minds, motivating them to make prompt decisions.
Agility
Our NFT auctions platforms are agile, therefore, have the ability to handle multiple transactions at one time. Users can participate and close the bid without wasting time and effort.
SEO Friendly
Our online auction platforms are embedded with all the features of SEO. HTML tags, sticks, and other features ensure faster transactions.
Advanced And Intuitive Design
We came with quick designs that you can imagine with any design or storefront. It helps you to catch- users' attention.
Types of Auctions on the NFT Auction Platform
We have a list of auctions you can conduct on your NFT blockchain auction platform to enjoy more profits. 
Classic Reverse Auction
The process involves where the sellers can conduct an auction of all the NFTs, buyers can choose the best option that fits into their pocket and choice segment.
English Auction
The most common form of bidding is where auctioneers announce the winners, and they pay and receive digital assets. The process is user-friendly and helps to reduce transaction costs.
Dutch Auction
The auction strategy starts with a higher price and ends at the lowest price. The platform can be used for selling gaming items.
Vickrey Reverse E-Auction
Under Vickrey Reverse E-Auction plans, buyers who wish to buy particular items can indicate the maximum price that they are willing to pay. On this bidding option, the platform only showcases the lowest price for the buyers.
Sealed Bid E-Auction
Under this Auction, buyers submit sealed bids on the platform and the highest price bidder wins the Auction. Here bidders cannot see what suppliers have submitted until bidding is closed.
Significant Traits of Our Online Auction Software
Location-Based Search
Our online NFT auction portal comes with an advanced feature where users can sell in particular locations. And users can find the Auction by entering zip or postal codes on the platform.
Product Rating
Digital assets collectors can rate the assets that they have purchased. It helps in increasing the visibility and rating of a product.
Favorites
Make bidding easy for bidders by offering a wishlist on the platform. A quick notification about any updates for specific bidding keeps users engaged with the platform.
Product Management
Sellers can easily manage product lists by adding or removing items from the list. One tap away from managing product lists and categories enables a cakewalk experience for users.
Bid Offer Management
Sellers can check out various bids offered by different sellers on the platform that enhances their worth and ensure better revenue generating opportunities.
Store Management
Sellers can manage stores easily by providing product details and contact information on the platform.
Monetization Strategy For NFT Based Auction Portal Solutions
There are numerous ways to generate income from NFT-based blockchain auction portal. You just need to pick what suits your business needs and customer expectations. Want more? Here we have a list of a few:
Listing Fee
A listing fee is charged to creators who want to list their assets on your platform. The portion of the fee aims to cover platform development and blockchain technology usage charges.
Sales Fee
Every time creators sell their assets on your platform, you can charge a fee. Some platforms charge less or no price on first-time sales, whereas a fixed percentage is mentioned for subsequent sales.
Membership Fee
Instead of paying every time listing fee, you can offer a membership fee for creators and allow them to list a specific number of assets. The win-win strategy assists you in generating more revenue and benefits creators.
Advertisements
Offer banner ads on your platform for upcoming auctions and listings. The perfect way to boost users' interest and pump up your income.
Auction Fee
You can offer an auction fee for creators and buyers. For creators, the fee is paid to buy a particular slot on the platform for auctioning their assets. And from the buyer, the amount is paid for participating in the auction process.
Private Auctions Fee
If the seller wants to auction their assets at a particular location or to a specific audience, you can offer a private auction fee. Buyers included in the list and for new buyers, after taking approval, can participate in the bid.
How To Build An NFT Auction Portal? How Much Does It Cost To Develop An NFT Auction Platform?
These two questions can be easily summed up in a solution. Therefore we have highlighted a single solution for both.
Generally, there are two ways to build an NFT blockchain auction platform, i.e., building from scratch or using a white label solution. The cost of your platform will depend on which strategy you will choose to make the platform. Let's discuss them:
Development From Scratch
The first way to create an NFT auction platform is to develop it from the ground. Here you need to conduct complete research about the market, top competitors, business strategies, required features, functionality, smart contract, crypto wallet, and blockchain technology. After discussing all these, you can plan to build your platform. Still, you need to think about technologies such as platforms used to create secure platforms. All these processes can take 6-8 months. Undoubtedly, based on time and research mode, the project's cost will be around $180000, but you will get the desired results.
Development From Whitelabel Solutions
Another main way of development is to use white-label solutions in the market. This is a readymade solution that involves all the essential components used by your competitors. You just need to define functionality and required features, the developers can prepare your platform in a few days. Based on time spent by developers, the cost of building an NFT auction marketplace requires less time.