Our 21st century defines an era of trending technologies and the latest innovations. Around the digital space, the unique concept of NFTs is creating a new buzz.
This all-new arrival is now ready to make a huge difference in the event ticketing market by connecting physical and digital ticketing. When traditional-based ticketing lacks keeping up memories, the emerging NFTs go beyond the hype to make tickets more functional and valuable.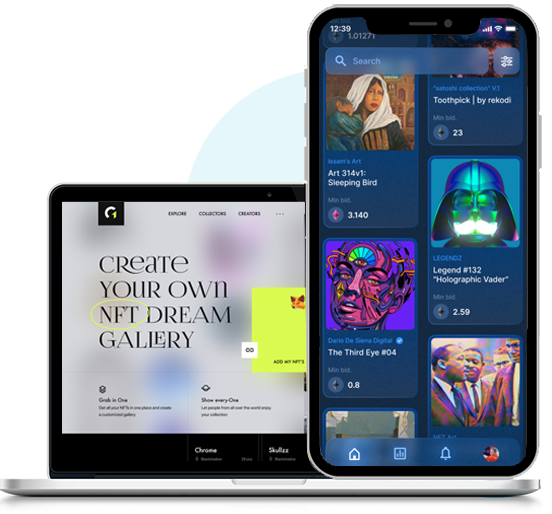 Launch Your Own NFT Marketplace to Book Tickets
We have already developed NFT marketplace on Solana, Polygon. We understand NFT business model completely. Launch Your Own NFT Ticketing app With Us
Remember the old days when you were likely to purchase tickets for a music festival or World Cup match. What was likely to happen with the end of the event? You might drop a paper-based ticket, or it might get wet or ruined. It means traditional tickets lack the memory part. If someone wants to remember special moments from past events, it's impossible. That's where NFTs ticketing greatly replaces the traditional ticketing process. With NFTs, the whole ticketing process becomes streamlined, functional, and memorable.
Hire Full-Stack Ethereum Developer
There is no need to think twice as NFT technology arrives to benefit both event arrangers and visitors. Entrepreneurs out there can step into the ticketing world to replace the traditional ticketing system with NFTs. They can go with NFT ticketing marketplace development as per their requirements and make things easier for event organizers and guests. So let's begin this blog and understand the concept in detail:
What Are The Challenges Associated With Traditional Ticketing Systems?
There are some flaws to see in almost every industry where traditional ticketing systems are also not an exception. Following are some of the challenges that might arise with traditional ticketing systems:
Black Marketing
Ticket scalpers have created havoc on the industry, leading genuine fans to lose their seats. The goal of black marketing is to let event organizers charge extra costs while sending security alerts. As technology advances, NFT tickets have ended this problem.
Lack Of Data Exchange
The lack of exchange protocol gives rise to fraud on the secondary market. In the case of a ticket being sold to another buyer on the secondary market, it no longer relates to the actual buyer who actually owns it.
This makes it impossible for the event organizer to determine who is actually attending the event. This is where NFTs ticketing enables tickets to be issued in a way that can't be used for exchanges. One can't change the name of the ticket holder.
Customer Trust
One of the most common concerns among ticket buyers is whether they have purchased a real ticket or a fake one. It is also estimated that two-thirds of the customers are actually afraid of purchasing forged tickets or being victims of any fraud.
Solana Blockchain App Development Company In USA
The Arrival of NFTs In Ticketing For Special Events
NFTs are blockchain-based digital tokens that are one-of-a-kind. They can be digitally sold to customers once they've been produced on the blockchain. Customers can then keep their NFTs in a secure wallet and can access them from any device. NFTs, bring great opportunities for event organizers to make use of the preferred blockchain platform to mint the required quantity of NFT tickets in the ticketing system.
They also take their step to program the NFTs to establish the sale price or an auction where people can participate in bidding on tickets. Customers can make purchases of NFT tickets on the marketplace and further save them in their digital wallets using their smartphones. How NFTs are perfectly suited with event ticketing:
Non-fungible: No other NFT ticket grants the right to the same seat at the same time.
Only One Owner: Only one buyer has a valid ticket for the specific seat.
Integrated payment option: Cheating is completely impossible as handling of tickets and payment process are linked together.
Built-in intelligence: In case an NFT ticket is resold, smart contracts allow some percentage of money to automatically come to the owner.
The Role Of NFTs in The Ticketing Industry – Let's Read In Detail!
Non-fungible tokens are digital assets that are stored on blockchain technology to allow selling and buying digitally. Buyers out there can store NFT tickets securely in their wallets and access them from any device. NFTs are not the same as other traditional tokens, including BTC and ETH. They can't be exchanged, and if we put it in another way, they are like an art piece that has just only one copy.
Solana Blockchain Development Company
Amazingly, the content of the non-fungible token can be customized to meet the demands of NFT ticketing sellers. They can participate on the NFT marketplace and start selling special tickets in the form of non-fungible tokens. NFT tickets can be further purchased and stored in the wallets of the consumers.
NFT Ticket marketplace necessitates the uploading of NFT tickets. Before attending an event, buyers can purchase the NFT-based tickets and pay a specific fee to the ticketing firms. On the platform, ticket owners can also enable NFT tickets to be resold. When another buyer buys the same ticket, the smart contract is triggered, and the total money amount is sent to the seller.
Polygon NFT Marketplace Development
How NFTs Help Revolutionize Your Ticketing
By taking advantage of blockchain technology and NFTs, you can take your ticketing system to the next level by having
Stronghold Over Secondary Marketplace: It gives a chance to capitalize on the secondary ticket sales within the marketplace. You can gather true fans that actually wish to purchase tickets at fair prices. On every sale of the NFT ticket, you can generate high revenue.
Highly Functional NFT Tickets: The ticketing marketplace built on the NEAR blockchain allows the prevention of fraud. Because of the ultra-low transaction fees and blockchain speed, artists and event organizers sign up, set up a profile and mint their NFT tickets in a few minutes.
Collectible NFTs: By having a powerful NFT marketplace for ticketing, you can enable the audience to mint unique NFTs. These collectibles can be either visual or audible, further rewarded to all ticket holders, displayed as a memory of the event, and ultimately can be resold at a later date.
Working of NFTs In Ticketing
A Buyer
Set up a profile
Connect the wallet
Search for specific ticket NFTs
Buy NFTs on the marketplace
Agrees to terms and conditions
Send money to buy NFTs tickets
Get Ownership
A Seller
Set up a profile
Connect the wallet
Build cricket NFTs
Sell NFTs on the marketplace
Agrees to terms and conditions
Receive payments for sales
Ownership transfer to buyer
A buyer on the marketplace books the NFT tickets and further pays the amount to the ticketing company. Once the payment is received, the smart contract triggers and the ticket will be further sent to the buyer from the ticketing database.
The ticketing company requests to upload the ticket on the InterPlanetary File System (IPFS). NFT tickets are further created and uploaded to the requested NFT marketplace. The owners of the tickets can also resell them, and once the buyer purchases them, then the smart contract triggers and the payment is sent to the seller automatically.
NFT Auction Platform Development
Benefits Of Building Marketplace For NFT Ticketing
NFTs are all designed to benefit both participants and event organizers. They help in delivering the best ever experience. All thanks to the blockchain and NFT technology that made everything possible in the ticketing industry. Its addition helps bring a better shape to the market and a boost in sales. Let's discuss those countless benefits one by one:
Prevents The Origin of Fake Event Tickets:
NFTs generate trust among both ticket holders and event organizers. Each moment of NFT is recorded in the blockchain, allowing parties to verify the event tickets independently.
Reduction In Costs:
Compared to the traditional ticketing system, the costs associated with selling NFTs are quite minimal. One can get the ticket for less cost with an option to validate the ticket authenticity and track ownership history.
Quick production:
NFTs for event tickets can be quickly minted. Rapidity is the most attractive feature that makes NFT tickets to be produced and distributed in a matter of time.
Continual Revenue:
Programmable NFTs include the built-in rules for resales enabling event organizers to access continual profits.
New Opportunities:
The resale of NFT tickets as collectibles has endless potential for additional revenue streams.
For Guests
The event organizer can help you earn incentives.
Tickets for future events that you will be unable to attend can be sold or transferred.
Helps you keep tickets safe to keep memories alive.
Become a member of the event planning team.
For Organizers
Explain the uniqueness of each ticket and validate the owner's identity.
When a ticket owner resells an NFT ticket, you get a portion of the profit.
To make things better, events have better access to potential data.
Distribution of NFT tickets by email or SMS.
STEPS INVOLVED IN BUILDING NFT MARKETPLACE FOR TICKETING
Plan Your Marketplace: The very first step is giving shape to your idea of creating an NFT marketplace for ticketing. In this, everything is carefully analyzed including the business scope, technology stack, target audience, current market, etc. Other factors like the solution are either white-label or from scratch, payment for NFTs, and so on.
Creating The Prototype: After the basic understanding of what type of NFT ticketing platform you need, the next step is to build the prototype. There is a need to find out whether the target audience prefers the most – mobile app or desktop.
How To Create An NFT Minting Website?
Develop the Platform: In addition to building an NFT marketplace for tickets, the development team further incorporates smart contracts based on specific needs.
Thorough Testing: The marketplace is further tested both automatically and manually to fix the errors.
Deploy Marketplace: The final marketplace will be deployed after the continuous monitoring of its performance.
Startups Are All Set To Revolutionize Ticketing Industry With NFT Ticketing Marketplace Development!
The event and ticketing industry has been hugely impacted by NFTs' potential. Both ticketing firms and event organizers can participate in this business to keep an eye on new possibilities. NFTs for ticketing is a rising technology trend allowing secondary buyers to make a purchase of genuine tickets they are interested in.
So are you ready to enjoy the benefits of NFTs in ticketing? Suffescom is a top-rated NFT ticketing & white label NFT Marketplace Development Company that approaches for NFT ticketing marketplace development. Our expert team can help you unlock the unlimited potential of NFT for your ticketing business. Just Drop business inquiries now and let our NFT marketplace developers do the wonders.