The crypto market is a treasure of endless business opportunities for entrepreneurs. Companies are eying to score big time to gain a strong foothold in the thriving crypto world. Poloniex is a name attracting people wishing to enter the crypto market in the shortest time possible and, Poloniex Clone development has become a hot trend.
If you envision launching your cryptocurrency exchange charged up with features, Suffescom Solutions can assist you throughout the process. We have already developed feature-rich feature-rich apps like Robinhood Clone, WazirX Clone, CashApp Clone, Upstox Clone, Binance Clone, WeBull Clone, MetaMask Clone, etc that will outsmart the competition.
Start your crypto journey with our white-label Poloniex clone solution, and success will follow. Choose the greatest crypto-to-crypto exchange platform that renders safety, dependability, and longevity.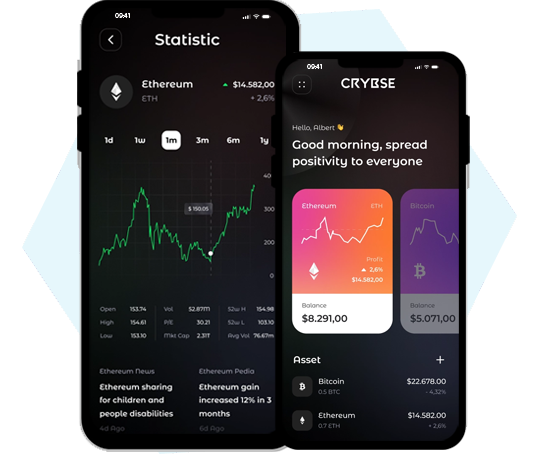 Let Your User Trade like a legend on the Legendary Crypto Exchange Platform – Poloniex
Get into the market of crypto trading with our customized Poloniex Clone Script.
Request Demo
Pay
Go Live
What is Poloniex?
Poloniex is a popular veteran cryptocurrency exchange based in the U.S. It doesn't feature fiat-to-crypto currency trading, and users cannot trade their cryptocurrencies against fiat currencies. However, stable coins support hedging.
Poloniex has the most significant number of cryptocurrency trading pairs, which is a crucial aspect for crypto traders.
It provides storage for cryptocurrencies without any halt. The platform also offers a good range of customer support options and instantly processes a good amount of transactions. Poloniex asks for verification only when the trading is of large amounts.
What Is A Poloniex Clone Script?
Poloniex Clone Script is a website script that comes with features to help you create your own crypto exchange platform. These are completely designed, developed, tested, and can be deployed instantly. A few customizations and you are ready to start a crypto exchange of your own. The Poloniex Clone Script applies to centralized and decentralized bitcoin trading platforms.
Poloniex Fees
Poloniex has a fee structure for market makers and takers. Makers create new orders and pay lower fees. On the other hand, takers take existing orders and pay higher fees. The fee is charged on a per-trade basis and is beneficial for traders who trade more volumes.
Market makers pay fees that range from 0% to 0.10%, while market takers pay fees ranging from 0.10% to 0.20%.
Poloniex charges margin interest fees on loans, and every loan attracts a different margin interest fee. Additionally, it also charges 15% interest that a lending customer earns as a lending fee.
A basic account (Level 1 account) cannot withdraw more than $10,000 per day. This limit increases to $20,000 after two-factor authentication.
Level 2 accounts have a withdrawal limit of $250k. The limit increases to $750k per day.
Why Start A Crypto Exchange Platform Like Poloniex?
Multiple features of Poloniex point out the reason to start a crypto exchange platform that is similar to Poloniex.
Poloniex is the best cryptocurrency exchange in the United States that supports trading with multiple crypto coins across the globe.

It accepts global exchanges that can be used for trading by anyone residing in another country as long as there are no laws against cryptocurrency trading.

It is an open-source exchange where traders can view the execution of trading interface codes.

Traders can learn and examine the trading executions.

It consists of many data analysis tools that can be used effectively.

Poloniex API allows traders to create tools for account management and data analysis.

It supports features like an exchange, lending, margin trading, and more.

Poloniex follows the "maker-taker" model, which means the higher a user's trading volume over the previous 30 days, the lower the fees that the user experiences.

Poloniex Exchange supports more than 56 cryptocurrencies and more than 117 trading pairs.

The limits for withdrawal and deposits are different at each verification level. This feature makes it unique.

Poloniex keeps a check on the hacker by providing air-gapped cold storage offline.

Its auditing programs monitor the exchange activities at all times.
What Does Poloniex Clone Script Offer To Customers?
Insurance Coverage
Poloniex Clone

offers insurance coverage for the crypto assets on the exchange platform.

Security
Poloniex Clone Script

is committed to providing security and storing a significant portion of customers' funds in offline mode.

Customer Protection
Poloniex Clone

protects the customers by following the best security practices and coordinating with industry peers.

Margin Trading
Poloniex Clone

allows margin trading across a range of pairs for better returns.

Fast APIs
Poloniex Clone Script runs on smart algorithms and crypto trading bots to deliver better alpha.
Features Of Poloniex Clone Script
Supports 200 crypto assets, including BTC, ETH, DOGE, and XRP

Margin trading

Poloni IEO and DEX launchpad

Low fees

Cryptographic signatures

Hassle-free account registration
Process Of Poloniex Clone Software
The users first need to create an account for registration. Once they have entered the country, email, and passwords for a signup, they will enter the Poloniex Clone account. Additionally, the user will have to provide details like name, phone number, address, and scanned IDs for profile verification.
Trading or lending isn't possible if the account is not funded. Poloniex Clone only takes crypto deposits in the form of bitcoins or altcoins through a wallet, a third party, or another source.
Poloniex Clone supports three wallets: Exchange wallet for trading, Margin wallet for margin trading, and Lending Wallet for a loan to margin traders.
Users can begin trading by selecting the trading pair tab. It supports Bitcoin (BTC), Ethereum (ETH), Monero (XMR), and Tether (USDT) along with other cryptocurrencies.
Margin trading is trading with borrowed funds. On placing a margin order, all the money you are using is borrowed from other users that offer their funds as peer-to-peer loans.
You can lend your assets to margin traders in exchange for regular interest upon choosing the lending option.
The tracking history option offers a complete analysis of every transaction, and the history can be checked from two individual options: deposit history & withdrawal history.
What Cryptocurrencies To List On The Poloniex Clone?
WazirX Clone App
We have already developed WazirX Clone App with all the latest features compatible with mobile devices and ensure the best-ever trading experience.
Back in 2016, Poloniex was the first cryptocurrency exchange to list Ethereum. The exchange lists 166 digital currencies that include:
Bitcoin (BTC)

Amp (AMP)

Cosmos (ATOM)

Balancer (BAL)

Bitcoin Cash (BCHABC)

Basic Attention Token (BAT)

BitTorrent (BTT)

Ethereum (ETH)

Ripple (XRP)

Binance Coin (BNB)

Compound Governance Token (COMP)

Dash (DASH)

Ethereum Classic (ETC)

Eos (EOS)
Apart from the names mentioned above, there are other 152 listed assets.
Features We Include In Our Poloniex Clone
We ensure you have a stable wallet and are highly secure for the users to use.
Our CMS platform lets you easily manage and update your business information at any time.
With Poloniex exchange, you will create a niche market for your clients.
Our decentralized framework supports all devices to simplify transactions. We offer integration of a secure wallet to offer stable services for mobile wallets.
We incorporate the new and most versatile payment methods to make the payment process seamless.
You can add or delete a trading pair of cryptocurrencies, share orders, and payment options.
Users can choose among numerous languages to have seamless trading on the platform.
With our liquidity management feature, you can liquidate your earnings in the right manner.
Two-factor Authentication
Two-factor authentication prevents any unforeseen breaches from occurring and makes the platform safe.
You can set withdrawal limits as an administrator and guarantee the regular inflow of commissions.
How To Start An Exchange Like Poloniex?
Devise the best business plans and strategies before you begin developing Poloniex Clone.
Check the existing features in the Poloniex crypto exchange. Check for the additional features that can be integrated into the platform to make it unique.

Check for the laws of the country where you are planning to launch the crypto exchange.

Hire a solution provider to get Poloniex Clone Script. Look for the following set of features that must be integrated into the platform.
IEO Launchpad

Admin Console

Trader Console

Mobile Trading App

Payment Gateway Integration

Cryptocurrency Wallet Integration

Liquidity API

Atomic Swaps

Security Token Exchange

Trading Bot
Is Poloniex Clone Safe?
Poloniex has been around since 2014. However, hackers managed to gain access to the network after two months of its launch, and it had to suffer a loss of approximately $50k worth of Bitcoin. Notwithstanding, Poloniex introduced KYC and AML guidelines that were stricter than ever. Before setting up an account, new users had to provide verifiable personal details.
Additionally, it has notable security measures that include comprehensive protection against DDoS hacks, DNS cache protection, IP lockouts, and email confirmations, registry lock, and more.
While developing Poloniex Clone, complying with security practices can make the platform highly secure for users to use. Therefore, it is highly imperative to integrate safety measures into the solution. A reliable Poloniex Clone development company can develop a safe solution that can fight hackers and prevent them from carrying out malicious activities.
In crux, it can be said that Poloniex Clone is safe if it is enriched with security features.
Why Choose Suffescom Solutions?
Suffescom Solutions has a team of experts who work dedicatedly to provide solutions that meet the clients' requirements. We provide branded Poloniex Clone Script. Few features of our services set us apart from other service providers in the market.
Analysis Of Customer Needs
Our team is highly experienced and understands the clients' needs and prototypes them to develop the best possible solution.
We focus on delivering quality and result-oriented solutions, which are as per the market trends.
Suffescom Solutions always provide fully-tested solutions after they pass design and functionality tests.
We provide customizable solutions to help businesses get what they require.
Our team provides constant technical support to the clients once the solution has been launched. The technical support experts keep updating the solution to meet the current needs.
Conclusion:
There is no doubt about the capability of Poloniex to meet the needs of crypto traders. Its intuitive user interface enhances the trading experience.
The Poloniex exchange has multiple screens, boxes, and windows that let users navigate the platform. They work to make the work easier and maximize productivity.
If you envision launching your cryptocurrency exchange charged up with features, Suffescom Solutions can assist you throughout the process. We deliver a feature-rich Robinhood Clone, WazirX Clone, CashApp Clone, Upstox Clone, Binance Clone, WeBull Clone, MetaMask Clone, etc that will outsmart the competition.
Schedule a free demo of our white label solutions and share your requirements with us. We will begin working on your idea and develop a solution that is similar yet better and more functional than Poloniex.