The gaming industry is one of the sought-after industries to break the ice of isolation. Therefore the businesses that offer play-to-earn platforms are gaining huge popularity in less time. So, if you are planning to build a Play to earn platform backed by advanced blockchain technology, it's a perfect time to go with our Splinterlands-like App Development services.
Wondering why apps like Splinterlands only? Remember, gaming platforms like Splinterlands offer great opportunities to trade, sell or lease gaming cards and earn handsome rewards in the form of tokens from the platform. The platform is embedded with much more thrilling features for game lovers that keep them engaged, you will read about them in detail in this blog.
Now, If you are astonished why we? let's have a glimpse about us:
Over 13 years of Industry experience
Avail services of 150+ blockchain passionate developers under one-roof
Developed and delivered Metaverse technologies like projects
Expertise in launching Play to Earn platforms.
Customized token development services
Tailormade crypto-wallet development services
Let's get back to the topic…
What Makes The White Label Splinterlands Platform Unique?
Rarities – White label Splinterlands clone offers 4 different layers or levels of the game to enhance users' experience. These are Common, Rare, Epic, and Legendary, powered by different features and rewarding options.
Stats: Robust stats feature in the platform provides complete detail of costing and various forms of attacks such as Melee, Ranged, Magic), Speed, Armor, and Health! Real-time system tracking helps to boost users' experience.
Elements: The platform uses 7 different elements to keep users engaging. These are Fire, Earth, Water, Life, Death, Dragon, and Neutral. These elements maintain users' interest in the platform. Do not miss these in your Splinterlands like an app.
Abilities: The platform involves 64+ unique abilities that allow the players to turn the tide of the battle unexpectedly and excitingly.
Cards: Unique combination with amazing power, the platform offers 500+ cards to users. The robust variety and unique combination motivate users to go for ONE MORE!!
Multiple Wallets: The platform offers not only multiple cards but also multiple wallets – metamask, wombat, wallet, and venly features that provide the liberty to choose and use the platform as per their wallet choice. If the user already has a wallet, it eliminates the hassle of creating an account on a new wallet.
Multi-language Support: The platform's Multi-language support feature helps grab users' attention and remove language barriers.
Features Embedded in Our White Label Splinterlands Development
Shop: This feature is embedded with complete details of the shopping of packs, nodes, land, potions, and skin. Users can find and participate under special categories even if some events are going on. For instance, if a user wishes to shop for a special skin type, going to the shop option can let them enjoy the skin type available under the Skin option with price and other particulars.
Open: The option involves booster details. Players can buy special powers to enhance their gaming experience. For this, participants need to click on the buy option, and the platform will show every detail for the avail option, or the user needs to buy a particular booster from other participants.
Market – Splinterlands clone app script involves card details. The information involves card sales, card rentals, land sales, and others that help users to pick their desired card quickly. Players can also select cards based on edition, foil, rarity, element, and role.
Filter: The filter option in Splinterlands clone lets the users find the desired game without scrolling and searching among thousands. Users can buy cards from the marketplace based on price, rarity, speed, health, attacks, and levels. Cards with other details such as price, Lvl, BCX, Power, Card ID, and Seller will be visible as soon as you click on any random selection.
Cards: To enjoy card features, users need to create an account or log in with the wallet details on the platform. Users can shop and enjoy games with different card options with their tokens.
Battles: The amazing feature encompasses battle details like Battle Log, Top Battles, Leaderboard, and last season. Gammers can also check rewards for time-based auctions with one-click shopping options. To catch users' attention, Splinterlands add top battles based on BRONZE, SILVER, GOLD, DIAMOND & CHAMPION league with a number of participants involved and ranking details.
Events: The feature provides a clear picture of events listed on platforms. Gamers can filter the details based on Upcoming events, Public events, rules, types, coins, and other details. The event feature provides details based on timings, rules, prizes, and entry fees.
Guild: The feature provides gaming details based on ranking, name, levels, rating, member, membership, languages, and more options. Players can also apply filters to find relevant gaming information.
Help: The help feature on the platform provides a complete detail regarding how participants can play, purchase, sell, and other details. Users can also click on FAQ & blockchain basics, key management, locking & unlocking cards, and much more.
Other Ultimate Featured Of Splinterlands Clone App
Rent Cards To Other Players
The ultimate feature provides a great opportunity for users to rent their cards and earn a handsome income. Other players can hire these cards for a specific time, then return them to the real owner.
Sell On Multiple Platforms
Users can not only use these cards but have the option to sell at lucrative deals to other players. The token-based cards can be easily traded on other platforms such as Open Sea, PeakMonsters, Monster Market, and elsewhere.
The platform offers no restrictions for players to trade. Users can trade with anyone through a decentralized gaming approach.
Splinterlands clone is a hassle-free way to convert cards to crypto or vice-versa. Users can get the money into their wallets without spending much time on transactions.
Combine Cards To Gain Levels
Gamers can combine various cards to enjoy an extraordinary gaming experience. The unique combination of cards lets the users engage with the platform for longer.
Why Splinterlands Clone Script only?
Splinterlands Clone website and application have become a prominent choice of modern players. Here we have some reasons defining why;
100% Decentralized platform
Multi-chain support users to smart port contracts between BSC and ethereum Splinterlands provide its own native tokens named SPS to players as rewards.
Tokens are powered by Decentralized Autonomous Organization (DAO)
Smart contracts can be published in any blockchain technology.
Low transaction fee & Faster transaction speed
After employing a smart contract, it is governed by DAO voting for any amendments.
Tokens are controlled and governed by the community.
Understand The Workflow of Splinterlands Clone Script Platform
Splinterlands is a one-to-one gaming platform where players are matched and baked on similar rankings.
Players will be assigned battle parameters randomly, and both have to set a time to make the deck of cards.
Following the battling rule, both players start fighting with their own strategies. Finally, the game ended with either or three options – win, lose or tie.
Blockchain technology and NFTs allow participants to buy, sell or trade their assets within the game.
Splinterlands clone also lets users purchase a wide range of items such as land, dice, cards, potions, and more to customize their characters.
The platform has a special feature: anyone can rent items to other players to generate additional income.
Players can also win rewards by participating in various tournaments.
The platform also provides reward-winning other options to users, regardless of their card collection, size, and other features.
Splinterlands Clone Script and Blockchain Technology
Website & App like Splinterlands allow users to buy, sell and lease their digital assets to other players. As the platform is highly appreciated by gaming enthusiasts and involves handsome reward options. Therefore, malware and cybercriminals will have a higher chance of attacking.
Blockchain technology keeps control over in-game assets to protect the platform from fraudulent activities and make a secure purchase process. Blockchain technology in Splinterlands Clone Script enables flawless trade of digital card collections with 3rd party platforms such as OpenSea, Monster Market, PeakMonsters, and others.
Rest, the platform also provides ultimate features (as also discussed above) such as:
Rent cards to Other players
Convert cards to crypto
Trade with anyone
Combine the cards to gain levels
Sell on Multiple Platforms
Prominent Blockchain Networks used to build Splinterlands Clone
Splinterlands is built on Hive blockchain technology and provides a superlative experience to users. Blockchain technology provides an opportunity for users to convert their tokens into NFT gaming assets. But, just like Splinterlands, Splinterlands Clone also supports cross-chain networking, enabling faster and low-cost transactions on the platform. Here we have mentioned some technologies that we use to build your multi chain platform.
Binance Smart Chain
Ethereum
Hyperledger
Azure blockchain
Stratis
Openchain
Corda
Steller multichain
Steller
Understand the Roadmap Of Your Splinterlands Clone App Development
Call us or join us directly and talk about your business idea. Our experts are 24*7, ready to grasp your business needs.
We craft a well-executed plan that involves exciting features and functionalities both for admin and users. We also care about your selected technologies and cost parameters.
Our dedicated developers work on designing impeccable website designs that make your target audience skip a breath.
Our robust back-end infrastructure ensures flawless platform working that can surprise your user's ultimate performance.
We run numerous testing before delivery. Therefore won't leave anything stone that can hinder your user's experience.
Let's go with us and hit the craze of people by announcing a world-leading featured platform backed by top blockchain technology security.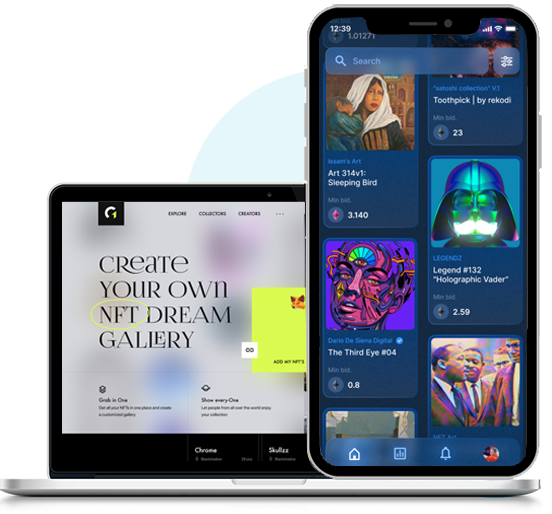 Launch Your Own Multichain NFT Marketplace
We have already developed Multi Chain NFT Marketplace Platform.
Where to Get the Best Spliterands Clone script?
If you are seeking to build a platform like Splinterlands, Suffescom Solution is the perfect place to start. We are leading in the world of play to earn platform development that helps you to quickly launch your platform. Our blockchain industry passionate developers design cutting-edge solutions that keep your gaming platform one step ahead of competitors.
We are a one-stop destination for tailor-made needs and can manage work effectively. To know more, we offer
Ready to launch platforms for diverse industries
Designed and developed customized NFT marketplaces
Blockchain consultancy services
Experience in building AR, VR, 2D, and 3D platforms
24*7 technical support system
SEO friendly platform
100% data security and confidentiality