How to Start a Property Management Business?
Running a rental business is one of the most trending entrepreneurial opportunities in the market these days. Thanks to solutions like Airbnb for becoming an inspiration to those looking for more growth in the business world. One can now literally set up a business similar to Airbnb and get more exposure with travelers worldwide. As the craze for running a house rental business is inspiring many young minds, it's time for you to think out of the box and develop a property management app like Airbnb. In this blog post, you will explore the idea of starting a rental property company leveraging the Airbnb like app, cost estimation, and many other things.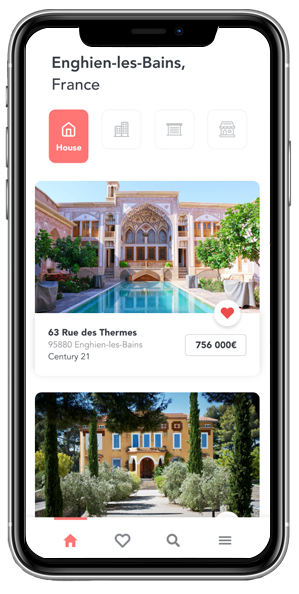 How To Start A House Rental Business App Like AirBnb
Start Profitable Property Rental Business
Boost revenues
More Visibility
Business Control & Performance
How to start a Home Rental business?
Although several on-demand business ideas exist, house rental services have captured the huge limelight these days. The reason is the quick popularity of Airbnb in the market. For more clarity, let's discuss some of the facts related to Airbnb:
The use of the Airbnb app is now in more than 150 countries worldwide.
Over 100M people depend on Airbnb apps to search for the most affordable rentals.
If we talk about the number of hosts who post property rentals on Airbnb platforms, it's over 650,000.
Entrepreneurs who are highly inspired by the success of Airbnb can plan to set up a similar kind of business with the best Airbnb clone app developer. The clone script of Airbnb is highly optimized with all essential features needed for the smooth running of the house rental company.
Know About Airbnb Business Plan For Home Rental Services
An Airbnb business plan for rental services is the foremost step you have to take if you want to take your business to the next level. With a business plan Airbnb in place, you can easily define the strategy that further helps guide on how to start a house rental business. Moreover, you can also secure funds that you actually need to develop a property management company from lenders or investors.
Creating a viable Airbnb business plan for your property rental business will also help you identify the potential risks before you invest in such a business venture. Below are a few things you need to include in your business plan:
Describe Your Property to Start Short Term House Rentals – You have to provide a complete description of your business in the plan. You can start with an in-depth analysis of the offerings that your business can bring into the market. You have to describe your target customers, including the guests your business wants to attract.
Build A Powerful Marketing Strategy- On the next step, you have to outline your position in the vacation rental market and explain the market size in detail. You can also describe the technology required to grow your short term house rentals business. Your plan must include a discussion on the channels that you need to use to advertise your property rental business.
Management Structure: If you have a sound management structure in place for your vacation property rental business, it will definitely enhance productivity. So explain your business's management structure, including its current state, services you use, etc.
The Biggest Reason Entrepreneurs Can Benefit From Rental Business Idea
More Consumer Engagement: As you can see a big audience shift towards online space, businesses have a good opportunity to get them digitized. App Like App offers one of the best rental services to bridge the gaps between hosts and guests.
Faster Profit Making: Entrepreneurs inspired by the popularity of a house rental business like Airbnb also desire to start a business on the rental script. All they need is to approach the best Airbnb like mobile app developers to start a house rental business instantly.
100% Customizable Solution: The Airbnb like mobile app is a ready-made script with vital features. As the script of Airbnb is completely customizable with 100% flexibility, this will surely add utmost compatibility to one's specific business idea of the rental business. A highly customizable Airbnb-like app makes it possible for your business to grow effortlessly and reach a wider audience.
A Quick Guide To Start A House Rental Business Like Airbnb
If you found Airbnb the perfect business idea, your next step is to launch it. You need more to start a house rental business than just get it registered. Below are a few steps that will ensure your new business will be well planned out.
Start With Proper Planning: A clear business plan is essential to get success as an entrepreneur. You can start by mapping out the specifics of the house rental business. You have to gather information for the related questions:
What are the ongoing expenses for your startup home rental business?
Knowing the ongoing expenses is important than ever as you are now ready to start a property rental business. As a business owner, you can charge some fees from the renter and the customer. Business costs will include:
Guest service fee
Renter service fee
Security fee
Who is your target audience and market?
The majority of customers found personal touch in Airbnb space rather than in a hotel. For renters who offer entire homes, their target audience may be group persons on business trips or seminars or attending music concerts in a specific area.
How to make renting your home business more profitable?
The only way to make your property rental business run smoothly is to keep the photos of rental properties updated. On the other hand, you can also consider marketing your business app on social media. This will help you reach the returning customers, which is a key to a successful business.
Establish A Legal Entity: Forming a legal entity of your business will save you from being personally liable in case if your property rental business is sued.
Get Your Business Registered For Taxes: Before you open your Airbnb-like business, you must register for various taxes. There are specific taxes that you might have to apply for your business.
Obtaining Necessary Licenses: Failing to get the licenses might make you pay hefty fines. This may also cause the business to shut down. It is essential to learn about the licensing requirements you have to fulfill.
Purchase Business Insurance: Your business starts operating safely and lawfully. After obtaining the necessary licenses. Similarly, with business insurance, you can protect your company's financial aspect in case of a covered loss. The purpose of business insurance is to protect you from the risks your business may face.
Defining Your Brand With Airbnb like App – Its Craze Is Revolving Around The World!
Airbnb is a home rental platform where hosts can join to list the homes for rent, and guests can find them. It gives popularity to the concept of home-sharing while traveling. There is no doubt in this; Airbnb is the most popular app, so let's understand its working model:
Working Model Of An App Like Airbnb
With different powerful dashboards, the Airbnb like app comes with a comprehensible workflow:
The Workflow of Guest App
Guests have to log in on the app by their social media account or phone numbers.
After the successful login, guests can look at the properties listed on the app and choose a specific room to stay.
After getting the approval from the host, a confirmation will be sent to guests through push notifications, text messages, and email.
In the final step, guests have to pay for the stay using any of the payment methods available on the app and enjoy the stay.
The Workflow of Host App
Hosts also have to make secure login on the Airbnb-like app using any methods.
Hosts can further list the property on successful sign-up and login, mention terms and conditions, schedules, and more.
On receiving the request from a guest, a host has to further approve the request after verification.
Finally, hosts will get paid on time.
Distinguishing Airbnb like app features:
The Airbnb like app comes with several attributes that further help entrepreneurs engage more customers and stand apart in the market. Below are a few features that you can consider adding to your Airbnb like app:
Multi-purpose dashboard: An app like Airbnb has three main dashboards; for hosts, for guests, and one for the admin panel. All these three panels are designed with the aim of providing a pleasant user experience.
Easy booking facility: There is an instant booking option on the Airbnb like app for guests. Users can avail instant booking at multiple locations as per the need.
Secure payment options: Guests can pay for bookings quickly via any payment method – credit/debit card, UPI, and any other. All the payment options inside the app are secure.
Booking Cancellation: Various cancellation policies can be included by hosts on the app while listing a property on your airbnb like app.
Business Management: An admin of the app will be provided with a powerful dashboard to manage the business more efficiently.
Multiple Language Support: One can view the Airbnb app in any language. The multiple language feature allows customers around the globe to use the app effortlessly.
In-app booking history: The booking history is visible both to guests and admin using this feature.
Booking Management: With the help of this feature, hosts can reschedule the bookings, cancel them, and change rooms based on the guest's request.
Multiple property listing: The feature allows hosts to list various properties right from one dashboard. It is a great way to generate revenue.
Wishlist Rental Property: There is also an option for guests to mark any house or property as their favorite and get it moved to the wishlist. With this, they can easily pick out the place the next time when they look for accommodation while traveling.
Feedback and ratings: Registered guests can quickly rate the hosts and services they got during the stay.
How Much Is The App Like Airbnb App Costs
The answer to how much is the Airbnb like app – it depends upon some factors. If you plan to launch an app with all must-have features and high-end technology stack, the cost of the app will range somewhere between $ 50k to $60K. However, you should know that it is just an estimation since the overall cost will vary depending upon the business-specific requirements.
Concluding Lines!
Our modern technology has given us an ultimate opportunity to get everything online and property rental service is also on that big list. With the arrival of platforms like Airbnb, a lot of startups are also trying to understand the core concept of kick starting online house rental marketplace to gain massive revenue. The role of Airbnb like script is to allow users to book online for residential and commercial houses on rent while traveling.
The script not only helps with running holiday rental operations, but is also feasible for all types of rental businesses. The information mentioned above and features will give entrepreneurs an idea of how to create similar apps to AirBnB. It takes a short period to launch a successful rental platform on Android and iOS platforms. All you need is a top-notch app development company.
So If you are looking to get your house rental business online, don't hesitate to connect with the most reputed on-demand app development agency offering ready-made Airbnb Clone. We at Suffescom, help entrepreneurs to get the right platform to kick-start their online marketplace for booking house rentals. Our ready-made script with data like price, room types, amenities, and much more is ready to be integrated inside the system for seamless transactions.