With so many transport options available, it's visible that entrepreneurs have a hard time deciding which one will work for a new startup.
How to Start a taxi business in 2022? This article is designed to help you determine if your taxi business idea is feasible. We have already listed 20+ creative taxi business ideas that will work in 2022.
Think. Launch. Grow.
At the end of the article, there are three valuable free gifts waiting for you as a token of appreciation. As we always support startups and entrepreneurs. Suffescom has FORMED A BODY to support startups like you from beginning to success. Whether you're starting out, or scaling to meet demand, connect with the right people, products, and best practices to help your startup grow. Connect Us Now!
To identify questions and problems you will face in converting your idea into reality. And to prepare for starting your taxi business. The article features all the essential aspects you must consider before you start your taxi business in the USA, UK, Australia in 2022.
We find us more eligible to give you advice on the same as we have already converted 150+ taxi business ideas into reality. We have developed Taxi Dispatch Software, Uber Like App Solutions, Lyft Clone, Ola Clone, Careem Clone, etc.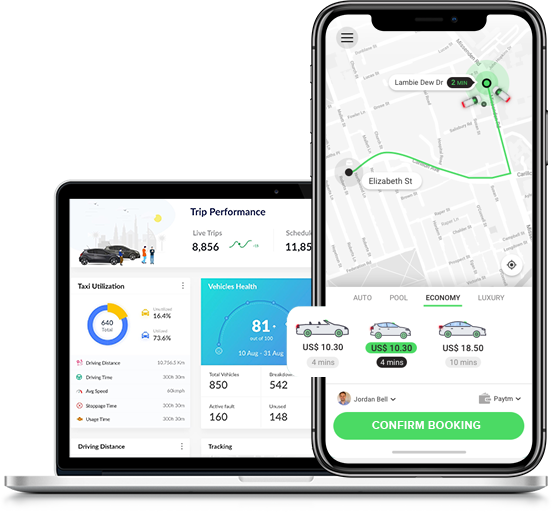 Kickstart Your Taxi Business With Ready to Solution
Get customized & white-labelled taxi dispatch software solution for your business featuring customer app, driver app, and intuitive admin panel.
Request Demo
Pay
Go Live
Operation and Success of Taxi Business Will Depend on the Following Four Conventions.
One, a practical plan with a solid foundation,
Dedication and willingness to sacrifice to reach your goal.
Three technical skills for basic knowledge of management finance,
Record keeping and market analysis.
Check the reasons that apply to you.
Freedom from the nine to five daily work routine
Being your own boss.
Doing what you want when you want to do it
Improving your standard of living
Freedom from boredom with your present job.
Having a product or service for which you feel there is a demand.
Some reasons are better than others, but none are wrong.
While starting a cab company is not a bad idea, taxi-hailing services like Uber, Lyft, and Ola have gained popularity in less than no time.
People no longer need to wait for hours to board the vehicle and reach the desired location.
The ease of moving from one place to another is remarkable; one can enjoy such transport options anytime on demand.
Preliminary analysis of major flaws to get the answers to questions such as the following would indicate that your business idea has little chance for success.
There are many causes, such as restrictions, monopolies, shortages, that make any of the required factors of Operation unavailable, such as unreasonable cost or scarce skills.
Capital requirements for entry or continuing operations excessive?
Is adequate financing hard to obtain? Are there factors that prevent effective marketing?
A self-analysis of starting a business requires certain personal characteristics.
Are you aware that running your own taxi business may require below
Though brief, the next group of questions is vitally important to the success of your plan. It covers the physical, emotional, and financial strains you will encounter in starting a new business.
Working 12 to 16 hours a day? Six days a week and maybe even Sundays and holidays?
Do you have the physical stamina to handle the workload in the schedule?
Do you have the emotional strength to withstand the strain?
Are you prepared if needed to temporarily lower your standard of living until your business is firmly established?
Is your family prepared to go along with the strains they too must bear?
Are you prepared to lose your savings in case your plan fails?
A Whitelabel Taxi App can be the solution to the above questions. Instant launch uber like app solution with our Uber clone app. Request Free Demo and Go Live. Or check the full app features we provide.
How to Start a Taxi Business Makes a Good Choice?
The transport industry is growing at lightning speed. Our experts have presented growing trends in the taxi Industry, Trend & Forecast. It will help you make decisions more conveniently. According to the available data, there are countless business opportunities that one can get if they are looking for how to start a taxi company. You can be the boss of your own business and have flexible schedules. Thanks to the technological advancements that have made taxi businesses run easier than ever. With on-demand app development and effective marketing, you can bring great returns to your businesses.
To assist entrepreneurs like you we have created a case study and roadmap of Uber & Ola Success Story
Many taxi business entrepreneurs plunge into a business venture so blinded by the dream that they fail to evaluate its potential if your business idea is feasible thoroughly. Before you invest time, effort, and money, the following exercise will help you separate sound ideas from those bearing a high potential for failure.
Identify and briefly describe the business you plan to start to identify the product or service you plan to sell. Answering yes to any of the following three questions means you're on the right track.
Does your product or service satisfy an unfilled need?
Will your product or service an existing market in which demand exceeds supply?
Will your product or service be competitive based on its quality selection, price, or location market analysis?
An answer of no to any of the questions indicates a weakness in your plan.
For a small business to succeed, the owner must know the market. To learn the market, you must analyze it, which takes time and effort. You don't have to be a trained statistician to analyze the marketplace, nor does the analysis have to constantly analyze the market to gather facts about potential customers and determine the demand for your product or service.
The more information you gather, the greater your chances of capturing a market segment.
So do your research until you can answer each question with a yes. One.
The following questions will help you collect the information necessary to analyze your market and determine if your product or service will sell. This brief exercise will give you a good idea of the kind of market planning you need to do.
So do your research until you can answer each question with a yes.
Do you know who your customers will be?
Do you understand their needs and desires?
Do you know where they live?
Will you offer the kind of products or services they will buy?
Will your prices be competitive in quality and value?
Will your promotional program be effective?
Do you understand how your business compares with your competitors?
Planning your startup to run taxi business?
So far, this article has helped you identify questions and problems you will face converting your taxi business from paper into reality and determining if your idea is feasible. Through self-analysis, you have learned of your personal qualifications and deficiencies. Through and thorough market analysis, you have learned if there is a demand for your product or service.
The following questions are grouped according to function they are designed to help you prepare for opening day name and legal structure.
Have you chosen a name for your business?
Have you chosen to operate as a sole proprietorship, partnership, or corporation?
Business premises in location?
Have you found a suitable building in a location convenient for your customers?
Can the building be modified for your needs at a reasonable cost?
Will you have a lawyer check the zoning regulations and lace merchandise?
Have you decided what items you will sell or produce or what services you will provide?
Have you made a merchandise plan based upon estimated sales?
To determine the amount of inventory you will need to control purchases?
Have you found reliable suppliers who will assist you in the startup?
Have you compared the prices quality and credit terms of suppliers and their business records?
Are you prepared to maintain complete records of sales, income and expenses accounts payable and receivables?
Have you determined how to handle payroll records tax reports and payments?
Do you know what financial reports should be prepared and how to prepare them. Finances?
A large number of small businesses fail each year. There are a number of reasons for these failures. But one of the main reasons is insufficient funds. Too many entrepreneurs try to start and operate a business without sufficient capital money. To avoid this dilemma, you can review your situation by analyzing the following three questions.
How much money do you have?
How much money will you need to start your business?
How much money will you need to stay in business?
In order to answer the second question, how much money will you need to start your business? You need to prepare an estimate of all your taxi business startup costs.
Here is a List of Items You May Need to Take into Account Before Starting a Taxi Busines
Note that this list is for retail business items will vary for service construction, manufacturing or online firms, decorating and remodeling fixtures and equipment installing fixtures and equipment, services and supplies beginning inventory cost leads professional fees, licenses and permits telephone utility deposits insurance signs advertising for opening unanticipated expenses.
Now the answer to the third question in the above section that is how much money will you need to start a taxi business must be divided into two parts.
Immediate costs
Future costs.
From the moment the door to your new business opens, a certain amount of income may come in. However, this income should not be projected in your operating expenses. You will need enough money available to cover costs for at least the first three months of taxi business operation.
The following list will help you project your operating expenses on a monthly basis.
Typical expenses for one month may include. (If subjected to you)
Your living costs
Employee wages
Rent
Advertising
Supplies
Utilities
Insurance
Taxes
Maintenance
Delivery
Transportation
Miscellaneous.
Conclusion if you have carefully answered all the questions in this article. You have seriously thought about your goal. However, there may be some things you may feel you need to know more about. Owning and running a taxi business is a continuous learning process. Research your idea and do as much as you can yourself but don't hesitate to seek help from people who has 11+ experience serving the automotive industry. As I said at the very starting, Suffescom has FORMED A BODY who can tell you what you need to know.
As we conclude the first part of this article, here are your three free gifts.
Get one extensive business plan template created by our industry experts.
Get up to 60% discount on Whitelabel Taxi Booking Software
1 Year Free Support and Maintainace.
Readymade Cab Booking Application Adopted By 1K+ Cab Companies
Get customized & white-labelled taxi dispatch or booking solution for your business featuring customer app, driver app, and intuitive admin panel.
Request Demo
Pay
Go Live
Let's Discuss Why and How to Start an Online Cab Business?
Easy to run business type: If you have set your mind on running a successful taxi business, you do not have to go through so much hassle once your taxi business is established successfully. You can go with transforming your taxi business into an app to manage day-to-day tasks with ease. Just hire a team of highly skilled drivers who can run your business smoothly and effectively.
More profits or returns: If you have an idea of How to Start a Taxi Business, then you are on the path to driving good returns. If everything goes smoothly and effectively, then the chances are higher your business returns will double in less time. On the other hand, the profits will reduce if you give your business a lease. So, try to handle everything on your behalf, the profits will be yours only. The global industry for Taxi Dispatch Software has grown significantly in recent years.
How To Start A Taxi Business – STEP BY STEP CHECKLIST
Just like other businesses, you also need to understand the taxi industry and its possibilities. Have a clear idea of contributing to how to start a Taxi Business successfully. Address the issues you've to solve and challenges that might arise. Also, knowing the current market will provide you with an idea about the business type and size you could start with.
Related Article: Top Ideas For Taxi Business in 2022
taxi-statup-guide-and-business-idea-for-2022

How to Run a Successful Taxi Business in 2022
Know The Market Plus Competitors
Determine the demand of the taxi business in the area you are planning to operate. You must prefer establishing or running your business in the selected areas. The existing businesses can simplify your decision. This will provide you with all the necessary details.
Clarify Your Business Idea
To learn how to start an online cab business, it's vitally important for you to create a taxi business plan. Check for specific details like the region where you want to operate the business, the number of vehicles to buy, the kind of drivers you must hire, and so more.
How to start a taxi business by considering Market Size, Growth, Trends, and Forecast?
Legal Formalities
Once you have finally decided on how to run a successful taxi business, your next move should be towards completing a few taxi business requirements, including legal and insurance processes. Licenses to operate the taxi business are an absolute necessity you can't ignore. Getting all the paperwork done on time will save you from unwanted fines.
Register your taxi business
You have to register your taxi company with all required authorities. Once your business is successfully registered, you will get the employer ID number, important licenses, permits, etc.
Register your vehicles
The need is to register the taxis with all necessary documents and permits for commercial use. It's essential because vehicles are usually verified during operations across different regions.
Taxi Operators' License
If you are still wondering how to start a taxi business with a license? Then, one also needs to apply for the taxi operators' license. With a license, operators can also provide cab services off the street. If an operator drives a vehicle without a license, then the chances are higher they get involved in some legal mess.
Insurance
In addition to registration and obtaining a license, it's also important to consider taxi business insurance. When it comes to starting a taxi business, it's a legal requirement one can't ignore. It's something that ensures your business is protected in all areas and all the time.
Developing A Cab Business
Looking at how to start a taxi business is not as easy as it looks. One has to make sure all the legal requirements are well accomplished before serving the services. Also, all are necessary for taxi operations, right from preparing vehicles, acquiring office space to the availability of 24/7 support services.
For all the taxi startups, it is highly recommended to set up a highly functional taxi app that can connect riders with taxi drivers at the needed time. The app consists of a customer app, driver app, and central dispatch system. Customers can download the app to book a taxi easily, whereas drivers can use the app to make informed decisions.
On the other hand, a central dispatch system in taxi dispatch software can also monitor the customers and drivers all from the panel. The app must have all the features that meet all the business needs.
Breakdown of Taxi Business Startup Costs
There is stiff competition to see among modern taxi companies like Uber and Ola. No doubts! Starting a larger taxi business will require more investment than a small one. Before making any investment to launch a taxi business, it's important to know the market so that you can save significant money and time as well. So that you are at the point of starting a taxi business, here is the breakdown of taxi business startup costs.
Vehicles And Equipment
Whether you are planning to start with a good number of taxis or just 7-8 taxis, it's crucial to invest in a few things. You'll likely spend on interiors and exteriors; need to paint the vehicle, meter installation, and so more. Everything is of good quality along with all the necessary equipment. All these additions to the taxis might cost somewhere between $10,000-$20,000 or beyond. It all depends upon your business requirements..
Insurance Costs
In addition to paying for vehicle accessories, you also have to deal with insurance costs. Most of the insurance policies range somewhere around $12k or more. Your taxi business requires an insurance policy that offers protection at needed times. The more expensive policy you go with, the better level of protection you will get for your business.
Registration/Licensing Costs
Getting a business license is also the main requirement, and the cost of this may vary from location to location. Based on the local licensing requirements, the cost will be a hundred dollars or above.
Advertising Expenses
Taxi businesses out there do lots of activities for the growth of the business. They are likely to invest in business advertising and promotions to reach the utmost heights. The expenses all depend upon what marketing strategies and promotional activities one prefers. It's ideal to start slow and invest in small things and perform activities as much as possible at zero cost.
Considerations of How to start Taxi Business
One of the primary things you need to consider when starting a Taxi service is what it costs to get set up for business. When running a taxi business, you will get the best income potential, and you must drive in a highly responsible manner.
If you are on the way of how to start a cab company, then you need to consider the following things:
1: Insurance
Wondering! How to Start a Taxi Business: First, you need to be aware of insurance policies and their updates. Insurance plays a vital role in opening a taxi service, and it can be challenging to get it. When you start figuring your startup costs, you need to plan between $60-$100 per week for insurance. You will also have to develop the premium down payment, which usually runs about 20% of the total annual policy.
2: Licensing:
If your taxis are painted and equipped well for inspection, then licensing should not be a significant problem, and the cost would be roughly nearly $3000 per year.
3: Office costs:
The biggest question that must come to your mind of Starting your own taxi business is its cost of Operation. You might be glad to know that office costs for starting a taxi business are negligible as the client doesn't come to the office area.
Also, one of the most important things when starting a taxi business is to look for office space that offers you enough parking to hold your taxis.
4: Research well:
When looking How to run a successful taxi business, you need to take some time and research the taxi services in other locations. In this way, you can learn about all the business operations. You will see the overlooked essentials if somehow you missed them by mistake. Try to carry a notebook or recorder with you, take notes, and keep a list of things you might need to buy to get your business started.
5: Choose a Driver or ride for yourself
If you are looking for How to start a taxi company, you first need to understand all the driving techniques well. Taxi is one of the most viable transportation modes for the people. It would help if you found a trusted driver who can ride your taxi. Also, if you have the time, you need to consider driving the taxi by yourself, and in this way, you can monitor how the fleet is being operated.
6: Understand your business:
Thinking of starting an online cab business, you need to understand many things regarding this business model. The people around the city don't always hail taxis, so you need to be willing to work all the time, including holiday and peak hours.
So, if you want to be successful, you need to understand your customer and when they require a cab facility.
7: Define your audience:
In most cases, it has been seen that taxi owner don't put the required measures in place to grow the business. The taxi service becomes quite competitive when you choose the bigger cities to drive a vehicle. Users can benefit from the Taxi Dispatch System's 24-hour availability, cashless purchases via debit/credit cards and the UPI app, and much more.
If you are in a state of mind where you are thinking of How to run a successful taxi business, you should first try to find out the best location where you are going to provide the service. Moreover, you should know about the potential customers and their requirements well.
You could also establish yourself in a crowded marketplace by implementing specialty services. For example, you might place yourself in the top taxi service providers to a hospital in your area.
Leverage the Trending Technology And Get Started!
Hopefully! You got an idea of how to start a cab business. A successful taxi business can do wonders – right from significant growth to delivering good returns. In turn, you have to take some crucial steps like creating a business plan, financing, licensing, cost determination, etc. One who successfully performs all these steps can never feel hassle in the long term.
You'll easily find successful entrepreneurs managing a good number of bookings per day. All credit goes to advanced technology or a taxi dispatch system. An app built on advanced software helps businesses make ideal decisions. Go for the development of a feature-rich app with a high-experienced mobile app development company. Although there are so many companies, you need to pick one that holds the right expertise