NFTs are in great demand right now and the sales are just exploding by massive numbers. It is the best time for entrepreneurs to invest as well as kick off their business in the NFT marketplace. It has become the most successful and commercially viable marketplace that has created an uproar in the NSFW nft marketplace. Today is the time of social media where one can enjoy entertainment as well as earn megabucks on the same platform. Besides this, there has always been a demand for adult content consumption over the web. To satiate the demand of people, several subscription based adult applications have been built. One of the most popular among them is OnlyFans. If you are interested in creating NFT Based OnlyFans Clone Development Solution, then you are at the right place. But before that let's have extensive knowledge about NSFW and terms related to it!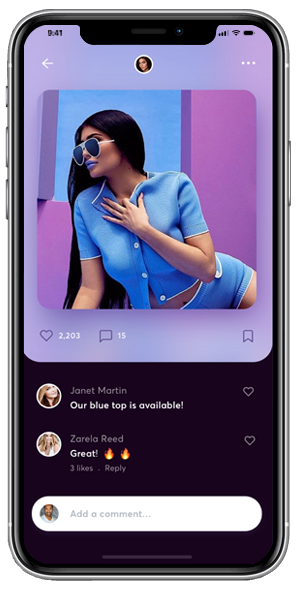 Request For A Demo
You can request a demo today to see how our comprehensive OnlyFans Clone app helps eliminate the gap between celebrities and fans.
Payment & Customization
If you are interested in building an OnlyFans Clone app, you can pay further and customize the app suiting your business requirement.
Get Your App Live
Just feel free to share your unique ideas with us. We will evaluate them and put them to work for a quick launch in a matter of minutes.
NFT Marketplace for NSFW Content
THE NSFW NFT Marketplace is a subscription based service and has gained popularity among the larger audience. This platform is generating very safe, righteous, genuine and original content. This exclusive content is devoured by the consumers by paying some fees either on a monthly or yearly basis.These virtual assets available on NFT platform are represented by some unique labels.This is done to safeguard the asset as well as the profit obtained from it.
Statistics
There are approximately 170 million users (both creators and users) on OnlyFans
Every day new joiners are about 500,000 people
In 2020, the OnlyFans app expanded to about 500%
The valuation of the OnlyFans app is estimated to be around $6 billion in 2021
The estimated figure regarding the content creators is 1.5 million
The creators on OnlyFans app are making nearly about $100,000/ month
Up until now, more than $2 billion has been paid by Onlyapp to its creators
How OnlyFans NFT is generating revenue?
OnlyFans is a subscription-based social media platform where the content creators, mostly related to adult creating apps, upload their content. Then that content is made available to users quoted as "fans" with some charges. On providing the fees, users get a chance to watch, enjoy and even interact with them.
The most exciting thing is that now OnlyFans has entered the NFT marketplace. The onlyfans nft marketplace allows the creators to keep their work on sales such as images, videos, or any sort of artwork. The key element that helps in generating revenue is that every time a user wants to communicate with the creator or view their content, a hefty amount is deducted from their account. And due to the availability of numerous users online, willing to pay any amount, has induced large profits.
What is the NFT profile picture feature?
Another thing is OnlyFans offers NFT profile picture feature. In the beginning, it will only be assisting the NFT based on ethereum blockchain technology. Only those NFT profile pictures will be considered as verified. The aim is to allow the users to rake in money by selling their content directly to their fans or subscribers. The job is to entitle the digital creators to recognize their all-encompassing capability. A similar trend was followed by other social media channels like Twitter and Reddit where they licensed the users to connect NFT as their profile picture. This is being done to assist only those minted NFTs that support the OnlyFans NFT profile picture feature.
Related Article: NFT Marketplace For Onlyfans
Earlier in 2021, the company's management decided to shift from adult content. It caused a lot of turmoil due to which the decision was taken back. Content of any form should be attainable everywhere but when it comes to subscription based adult creating apps like OnlyFans, then it seems quite impossible.
NSFW Content Distribution
Whenever a creator displays its content in any form, be it music, video, image, etc., they don't avail all the benefits of monetary gain that they deserve. It is also applicable for NSFW content; therefore, there is the formulation for NSFW Content Distribution. It is still in its Beta phase but hopefully will be carried out successfully in all stages. Basically, it will help eliminate the mediators so that every creator can get the money they deserve. Before this, there used to be some money cut that creators had to pay to the platform. Thanks to blockchain technology, cryptocurrencies, and NSFW Content Distribution, the content generator will be able to legitimize its own brand.
NFT Based OnlyFans Clone Development Solution
More and more business organizations are interested in getting into NFT Based OnlyFans Clone Development Solution. The reason behind it is a remunerative sector because it is the amalgamation of two platforms. One is the content-based platform, and the other is the world-famous NFT. Also, the profit generated is huge because of the mingling of the two platforms. This will result in an increase in the number of users that will inadvertently increase the revenue. So, a lot of speculation regarding enormous money convergence is the main reason behind firms venturing in NFT Based OnlyFans Clone Development Solution.
NFT Marketplace For Adult Content Creators
Readymade Subscription Based NFT Marketplace for NSFW Content Creators with latest technology adoption & more with affordable pricing along with complete security 100% satisfaction.
Functionality Of NFT Based OnlyFans Clone Development Solution
Firstly, there is a signup facility, where users have to verify their personal details, followed by a sign-in feature
The user then has access to surplus content, from there, they can choose which creators to view and follow
The user is then given the option to rectify any details and enhance their biography
In the case of creators, they can create the desired content and upload it. Whereas users can simply browse to their idols' content
The artist is given a complete choice to decide the price of the post
The user has to pay the subscription fees to have access to their favorite's post
Features of NSFW NFT Marketplace
One can search for their favorite celebrities or any famous star via the search bar
There is a probable spike in the user's section as they can tag their content mates while posting their stuff leading to great impressions
There is an option to buy the digital content generated by the artists
There are other available options like chat with the stars along with blocking, sending, and unsend messages
For the flawless transaction, without any hindrance, the cryptocurrency wallet is assimilated into the application
There is a dedicated attribute regarding the acquirement of the NFTs by their favorites which is fulfilled by the bidding process
The creators of onlyfans nft marketplace are provided with a dashboard that gives them insights about their outreach, income, and performance.
In case a celebrity wants to increase its earnings; it's a perfect place for brand promotion
Advantages of NFT Based OnlyFans Clone Development Solution
Royalties: The most common problem that a celebrity or star faces are that they are not given enough recognition. For instance, there is an artist whose work is currently in the public eye and being telecasted on a certain medium. Then, it's natural to get all the appreciation and money at the present moment. But if the same work is being telecasted on another platform,then they are not acknowledged. So, to curb such a situation, the onlyfans nft are provided royalties in the form of an allowance as a matter of appreciation.
Escalation in revenue: Content subscription platforms are viable to generate enough profit but when these mediums get into the NFT market, then the earnings just shoot up. There is a lot of money in the adult market industry. But the only issue was people used to fetch such content from an unauthorized source. The onlyfans nft marketplace has given an opportunity to the enthusiasts to view the content in a legitimate manner. For this, they have to pay some amount of fees to the platform. And seeing the craze of the public, the users are just mushrooming, thereby leading to incredible earnings. The artists, along with the subscription fees, are allowed to sell their virtual collectibles to their fans. The NFT Based OnlyFans Clone Development Solution allows creators to create their account for free while charging from the users. But in case of any money generated from the artist, the platform rakes in 20% of earnings and gives out 80% to the artist.
Security assurance: The onlyfans nft marketplace has put forward a safe place for the users. There is absolutely no need to worry about the endangerment or security breach. These platforms are built on blockchain, based on advanced technologies. There is a scope for greater transparency, accurate trackable option, and end-to-end encrypted transactions. An adequate amount of data stored on the network blockchain is very hard to get manipulated.
Conclusion
The NSFW NFT marketplace is in full swing and is in the phase of blooming. This is a great time to invest in such an industry and be a part of onlyfans nft marketplace because it has a blend of both.
Moreover, it requires a lot of brainstorming, an organized plan of action, amazing design, testing, and successful launch. Creates a distinguished brand identity with a powerful marketing strategy, and, most importantly, brings the fans closer to their favorite adult stars.