Internet and instant messaging go hand in hand. The era in which we are living is mostly dependent on various messaging apps to stay in touch with friends and relatives. It is estimated that the trend of such instant messaging apps is not going to fade away in the coming future, instead, it is going to change with changing time.
The chat market today is completely centralized i.e. the complete information of the user is saved in the central entity. This arises concerns regarding privacy issues and data exploitation. To resolve these issues, the need for a decentralized messaging platform emerges.
The emerging Web3 has brought decentralized blockchain technology which will eliminate security issues. The rising blockchain technology brought the latest tools to build such apps on the web as well as mobile. To build decentralized messaging apps, skillful blockchain developers are required which can be easily found at Suffescom Solutions.
Do you want some exposure to how decentralized messaging apps can be built?
Continue reading this blog till the end…
What is a decentralized chat app?
Decentralized messaging apps are those where no central entity is involved and messages are done peer-to-peer without any third-party involvement to manage the conversation.
Developing such decentralized apps could be the right decision for your life as more and more individuals want to have a secured platform for conversing with one another. You can provide these kinds of secured chat apps to your users.
Investing in a decentralized chat application ensures higher ROI as the world is jumping into blockchain technology and everything is going to be decentralized soon. When it is clear that the upcoming era is soon going to be called as decentralized era, it is the right time to build your own decentralized chat app.
Talk to experts of blockchain developers to develop such an app with all essential features.
To acquaint yourself with some of the basic features of the decentralized messaging app, continue reading below.
Features of decentralized chatting app
Suffescom provides amazing features of a decentralized chat app by utilizing the Ethereum blockchain network. Though the owner of the app can customize the app with any number of features, a few features are must-haves. Let's have a look at some of the basic features of the decentralized chat app.
User Login
Every app has unique features and the most feature in every messaging app is the User Login. This feature of the decentralized app works in a similar manner as centralized apps. The only difference between the two is the way of logging in. In traditional messaging apps, users log in with email, passwords, or mobile numbers but in decentralized apps, the use of a crypto wallet is preferred.
Chat Window
Upon logging in, the immediate screen that pops up is the chat window where a complete list of connections can be seen. Users can read and send text messages or emojis to one another by tapping on the paper plane icon.
Typing feature
This feature of the chatting app lets the user know when other users are typing. It is depicted with three blinking dots. Moreover, users' names and wallet addresses can also be seen subsequent to sent messages.
Unique public and private key
A decentralized chatting app is often protected via unique public and private key pair. With this, the messages can be protected from unwanted views. This feature is incorporated in many decentralized apps till now.
Group chat
A messaging app without a group chat feature is like "tea without sugar". The decentralized instant messaging app also has this amazing feature where a limited number of people can participate in the group chat.
Integration with Tor Network
Integrating your messaging app with the Tor network adds a security level, bypasses restrictive firewalls, and enables the creation of accounts on XMPP servers.
Voice calls
Another basic feature of a decentralized message app is voice calling. Users can securely share voice messages among themselves.
These are not the only decentralized chat features, you can make your app as complex as you want with the desired features that you want to incorporate. If you need some advice for your project, your can contact us anytime.
With this, it is the end of the decentralized messaging app features. Let's move further to the steps involved in building the app.
Hire Our Highly Professional Ethereum Consulting Company profound In Latest Technologies
Get In Touch
How to build a decentralized messaging app?
Having a decentralized app for messaging now can bear long-term fruits. With the internet being on the track to going decentralized, the need for blockchain-based messaging apps would arise in the future. So, having your own decentralized chatting app will be highly beneficial from a business perspective.
To build highly responsive apps, it is high time to invest. Contact an experienced team of developers employed by Suffescom and consult them for your project.
In order to build a decentralized messaging app, there are some steps that must be followed for successful development.
Step 1- Server Setup
In order to set up a server, create a free account with an email and password. The next is to confirm your account by going into your mailbox and clicking on the confirmation link. Further, when entering into your account, create a new server and select your preferred network type. Now, a pop-up window appears where you need to add the server name, region, network, and chain.
Once your server is set up, access its details, and copy your App ID and server URL for future use.
Step 2- Mobile boilerplate quick start
Now that your server is ready, it's time for a mobile boilerplate quick start. Begin by cloning or splitting the Ethereum mobile boilerplate. Click the copy icon adjacent to GitHub URL, open the code editor, open a new terminal, and paste the copied URL into the command line. Further, you can apply tweaks to the boilerplate code.
On a note, using Ethereum Mobile boilerplate dApp at the starting point is recommended by experts followed by tweaks and adding extra code for the desired outcome.
Step 3- Addition of send functionality
We cover all the functionalities of the decentralized messaging platform and brilliantly handle the messages by using databases and servers. The team of developers builds a code for the task.
Step 4- Display sent messages
In order to add code for displaying messages in the decentralized app, cloud functions are used.
Step 5- Addition of "typing" functionality
To add this functionality, various similar tools are used which are used for the above functionalities. A new class called "UserTyping" is created for another cloud function. This feature let users know that the other person is typing.
By incorporating all the 5 steps mentioned above in your decentralized app, you will not only be successful in building a useful dApp but also get an idea about how to develop the app effectively. However, building an app on your own is quite difficult as there are many other things that can't be briefly explained. Therefore, it is beneficial to hire some experts for building the app and offering an excellent user experience.
Some of the popular decentralized messaging applications
Matrix is a popular decentralized messaging protocol that provides real-time communication. It is utilized for sending or receiving text messages, audio/video calls, and bot creation. Some of its exclusive features are:
Replication- A local room is created which is replicated among all the participants, ensuring no single point of control.
Bridges- Bridges are used to gather all the chats in one place and communicate with users of different messengers. Some of the officially supported bridges are Slack, IRC, XMPP, and Gitter.
Widgets- Through widgets, third-party applications are brought into the room.
Bots- Matrix allows custom bot creation as well.
Text messages- It is easy to edit or format the messages with this feature.
This is another decentralized app that aims at protecting your conversations and calls with end-to-end encryption. It ensures reliable data transfer between users and no risk of third parties. Moreover, Wickr has a self-delete timer that can delete messages of the past six days. Some of its features are:
Shredder- The user can remove the deleted messages including images, videos, documents, etc. from the device having this app.
Security- All the data is completely secured in Wickr.
Anonymous- The most prominent feature is that the user ID is not disclosed and the conversation can not be tracked.
Groups- Group chatting is possible with a maximum of 10 persons in a group.
This decentralized and open-source app is owned by the nonprofit foundation. It offers end-to-end encryption (E2EE) and no one has the access to the information except the participants. Some of its features are:
Messaging- One can message a single person or can create a group for chatting with a maximum of 1000 participants.
Applications- Signal messenger can work in the form of application only, not for the web. One number can be used to install the app on 5 different devices like Windows, macOS, Linux, Android, iPhone, and iPad.
Why choose Suffescom for decentralized messaging app development?
When the need for a decentralized messaging app arises, Suffescom always stands at the front. We provide top-rated services in developing decentralized apps. We leverage protected, scalable, and trustworthy solutions for our clients to grab the top position in the competition.
Our highly experienced team holds enough experience and a broad understanding of blockchain technology. Our numerous successfully delivered blockchain-powered projects managed to build our reputation in the market.
Bring your project to us and our team will understand the minor points of the messaging app development and work towards perfection!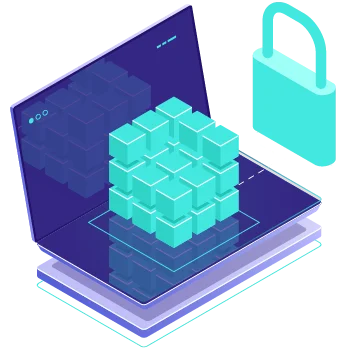 Want To Redefine Your Business Idea? Give Us A Chance!
We are a well-recognized Enterprise Blockchain development company serving businesses across wide industry verticals with best-in-class blockchain solutions.
Get in Touch
What else do we offer?
24/7 technical support- We never lag in providing support to our clients' pre-and-post deployment. Our motto is to stay with them till they are completely satisfied.
Customized white label solutions- Suffescom can build apps from scratch or can also build clones. Talk to us now.
State-of-the-art technology- We use state-of-art technology to provide the best solutions to our customers.
Team of blockchain experts- We employ the world's best developers with thorough knowledge of blockchain and decentralization.
Conclusion
It is crystal clear that decentralized messaging application evidently have a massive impact on the market because communication is peer-to-peer and highly secured. The messaging apps that we use today such as Whatsapp, Facetime, etc. are not secure enough and are incorporated with third parties. Hence, it results in the leakage of personal information.
However, the upcoming decentralized messaging market is completely opposite to this and provides full security without any data leakage and third-parties involvement.
Knowing the positive factors associated with decentralized apps, a number of companies are inclining toward building such platforms for messaging. Many government agencies have already started using decentralized platforms for chatting like Matrix to maintain privacy and data leakage.
Are you also upto developing your own decentralized chat app? Contact us right now! We will provide free consultancy for your project.