Investing in real estate is a dream for every generation and a lucrative business opportunity for property agencies. But, the same way you can't deny, property buying and selling of property is not an easy game. No wonder, people meet with many investors, but the deal remains hard nut.
Now, no more visitor's visit the property and no need to look for a single property investor. Thanks to NFT real estate tokenization that helps people to buy a fraction of property while sitting on the other corner of the world.
Suffescom is a well-known company in the Blockchain, NFT marketplace, and crypto wallet development. Hiring us lets you enjoy an all-in-one solution at a single destination. We develop exceptional quality white label solutions at affordable prices. We also build websites from scratch for businesses looking for smoothing out of the box.
If you are into the real estate business, step out of traditional ways of introducing properties and selling offline. Online sales offer a plethora of opportunities to invite national and international customers. When it's about security, blockchain technology is there to take responsibility for data privacy. The ultimate combination of real estate property + tokenization + NFT + cryptocurrency works like icing on the cake for your real estate business.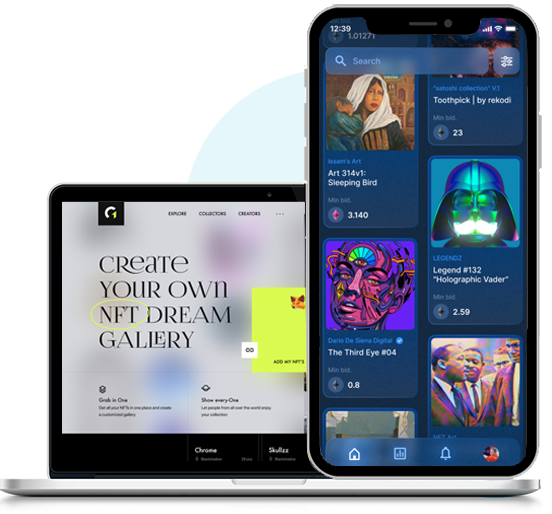 Launch Your Own White Label NFT Real Estate Tokenization Platform in Budget
Launch Your Own NFT Real Estate Tokenization Platform Turn Business into a Success.
What is Real Estate Tokenization in NFT?
Real estate Tokenization is an emerging phenomenon that boosts the number of available investment options in the market. It divides the property into several virtual digital tokens. Further, these tokens are sold on the real estate NFT marketplace. The purchaser of the token owns the ownership right for the particular token or portion of the property. The property can be commercial, residential, or trophy, which is used for tokenization. Most importantly, every transaction in real estate tokenization involves smart contracts therefore, investors don't have to struggle with traditional paperwork.
Types of NFT Real Estate Tokenization
Understanding the type of real estate tokenization can help you to build a platform as per your business needs. You can choose one or all of these properties from the NFT marketplace for real estate tokenization.
Commercial Tokenization: Tokens work in commercial properties as a securitization, but tokens are used instead of stocks and bonds. Investors can buy an office, or a single story rather than investing in a multistory building.
Residential Tokenization: The process involves fractioning homes for investors, owners, and developers. Owners can let out a portion of property or room rather than buying 3 or 4 BHK apartments or homes.
Trophy tokenization: If the users want to invest in iconic real estate properties located in prime locations. But not willing to buy a full portion, choosing real estate tokenization can help them to go with desired real estate investment.
Note All the real estate property transactions are recorded in digital form. And the rights of property transferred with smart contracts in blockchain networking.
How does NFT real estate tokenization work?
Learning about your tokenization real estate business model is a crucial step that lets you enjoy profitable business opportunities in the market. Let's elaborate the workflow of your real estate Non Fungible Token Marketplace with an example:
Suppose your customer has a property worth $300,000 and wants to sell through tokenization. The tokenization process will be routed as follow:
Property owners or representatives will submit an application on your platform. The application has to submit property details such as owner, property characteristics, other essential information, etc.
Then, the platform tokenizes the real estate property by dividing it into tokens. Like 1000 tokens for 1000 virtual parts, each will be worth $30.
All the tokens will now be put for sale, and the initial price of the token will be $30. The price for sale can also vary depending on demand and supply.
Investors will buy tokens to become a co-owner of the property. Investors have the right to sell or hold property.
To Know More Hear From Our Marketing And Developing Team
How to create a Real Estate NFT Tokenization Marketplace?
Know Your Audience
To embark on the development process, the first thing is to understand your target audience, like in real estate, whether you want to cover commercial properties, residential, trophy or all. Depending on your target audience's choice, website design will also vary. Commercial properties involved with more professional appearance and residential requires homely experience. In contrast, universal websites have different scenarios.
Do Market Research
Conducting marketing assists you in developing a fully-fledged NFT marketplace. Most importantly, you can personalise the customer's needs. When it's about how to do market research for real estate NFT tokenization? There are several ways – following industry-oriented journals, competitor analysis, blogging sites, magazines, and more. Choose what suits your business the most or take assistance from our marketing expert team!
Design NFT Marketplace
NFT marketplace in real estate for tokenization is an emerging concept and requires an extensive business approach. Because you are going to build a platform to attract users and convert them into customers. Therefore, make sure your platform should have the opportunity to include real properties, virtual lands, and more.
As the metaverse concept is at an infant stage, your real estate tokenization can gain lots of opportunities in the meta world. You can buy or sell a fraction of properties in tokens.
Develop UI & Code Features
The user interface is your NFT marketplace's face, make sure it should be lightweight, comprehensive, and can convey your business message effectively. Focus on the elegant storefront, quick token search, search filters, listing, smooth bidding interface, wallet, etc.
You can also consult with the White Label NFT marketplace development company to finalise your project requirement details. You can ask for User Interface, technology slacks, and other details.
Now, if you have a question regarding technology slacks, remember NFT marketplace requires:
Cloud Hosting Platform: Google Cloud Platform, AWS, Microsoft Azure Oracle Cloud Infrastructure, etc.
Database Management System: MongoDB, MySQL, and PostgreSQL
Frontend and Backend Platforms: JavaScript, Kotlin, Python, Solidity, Swift, and Typescript
Implement Blockchain Model
The NFT marketplace cannot be imagined without smart contracts and blockchain technology. Therefore we use frameworks like Drizzle, Ganache, and Truffle to create Smart Contracts. Some of the most popular Blockchain frameworks for real estate NFT tokenization are;
Ethereum
Quorum
Hyperledger
Fabric
Stellar
Corda
Open Chain
Multichain
Integrate Crypto Wallet:
To ensure easy and secured transactions, we integrate digital wallets like MyEtherWallet, MetaMask, Coinbase Wallet, Fortmatic, Portis, Torus, and WalletConnect. Why crypto wallet? These wallets help users to manage, control, send, receive, and browse all their transactions. Moreover, crypto wallets can protect their transactions from unauthorised transactions.
Testing
Once your website's designed and developed process is completed, it's time to test your platform. You may find major loopholes, bugs, and errors on the platform. But an in-depth analysis of the final product can let you enjoy bugs-free and error-free solutions.
Deploy & Launch
Your solution involves the deployment and launching process. The deployment includes smart contracts integration with blockchain technology. With this, you cannot ignore the right choice of crypto wallet integration for your business needs.
If things go well, finally, it's the right time to launch your real estate NFT tokenization. And go ahead with your dream project.
If you are wondering how you can make money out of it, you can read our NFT business model Blog or Speak to our marketing team. We have also curated a glimpse for your assistance in this blog.
How to monetize Real Estate NFT Tokenization Marketplace?
Earning through renting is a common way to generate revenue in the real estate business. Because every transaction passes through your web portal and is decided as per smart contract. You can earn here too as a weekly or monthly commission on rental income of properties.
You can set a listing fee for every property listed on your platform. The listing fee could be a gas fee or fee paid to list properties under a specific category. So, decide how much you want to charge as a listing fee from your users.
As the name sales fee levied on every token sold. The fee can be charged from buyer and seller to make secured transactions. App Like OpenSea, the largest NFT marketplace charges 2.5% on every transaction. You can plan accordingly to enjoy a big chunk of market share.
Sellers always look for a quick way to promote and sell their properties. You can leverage its advantage and start affiliate programs on your platform. You can promote the recent launches, trending tokens, and upcoming.
Top 7 Best Real Estate NFT Marketplace
When it's about building an NFT marketplace for real estate, everyone wants to look at the tech giants, their profits, and more. So, here we have listed the top of real estate NFT marketplaces.
OpenSea
Decentraland
Cryptovoxels
Polka City
SuperWorld
AtomicMarket
Upland
Why Hire Suffescom Solutions For Developing Your NFT Real Estate Marketplace?
Suffescom Solutions is a world-renowned NFT marketplace development platform. We have developed 50+ NFT marketplace projects. Here are some reasons why we are the perfect choice for NFT real estate tokenization development services.
We develop the NFT marketplace based on customers' specifications and market demand.
We have the right set of tools and resources to develop various blockchain networks like Binance Smart Chain, Ethereum, TRON, etc.
The dream of NFT marketplace success cannot be achieved without crypto development. So, we also provide crypto wallet development services to meet all your requirements.
Being a quick and affordable solution, we also provide post-marketing services for your NFT marketplace maintenance.
You can also get all services under one roof like, from development to marketing, such as content marketing and social media, to boost investors' visibility.